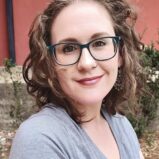 Education
Master of Education - LeTourneau University
Emily Kelley is a former teacher and lifelong word nerd. She is happily married to a very patient man with whom she shares one adorable, mischievous little boy and two rescued dogs. When she's not momming or working, she enjoys painting, reading, watching horror movies, hanging out with her family, and exploring the woods that surround her home in East Texas.
Emily's Advice for Future Students
Experiential, hands-on learning is a powerful way to cement your knowledge, sharpen your skills, and identify areas of weakness, so seek as much of it as you can.
---