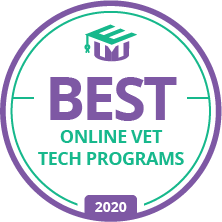 Best Online Vet Tech Programs for 2020
You could spend hours searching the web for accredited online vet tech programs. Schools across the U.S. continue to offer students the flexibility of online learning with the hands-on training needed to work with animals as a career. But which of these schools and programs have what you need to begin your vet tech journey with confidence?
Using data from the Integrated Postsecondary Education Data System (IPEDS), EduMed.org has identified the 2-year and 4-year schools with the best combinations of affordability, student support, online learning, and academic excellence. See which programs came out on top for 2020.
or
About the ranking
X
Methodology for EduMed's 2020 Rankings
To be considered for this ranking, each school must have the following:
Institutional accreditation from an organization recognized by the U.S. Department of Education.
Program(s) offered at least partially online.
School Metrics Explained
EduMed.org data scientists analyzed government higher education data and created a proprietary algorithm to rank each U.S. postsecondary institution and its online programs using 5 primary factors:
Cost: Relative cost of attendance compared to peer schools on the list. Based on tuition and fees per academic year.
Online Program Availability: Number of online programs in subject area reported by school to Department of Education.
Academic Counseling: Existence of this service on campus or online.
Career Placement: Existence of this service on campus or online.
Students w/ Institutional Aid: Percentage of students who receive financial aid from the school itself.
About Our Data
EduMed's rankings use the latest official data available from The Integrated Postsecondary Education Data System (IPEDS).
Most recent data pull: February 2020
#

School Name

Type

Cost

Online Programs

More Details

School Information

Online Students

Academic Counseling

Career Placement

Students w/Institutional Aid

Median Earnings 10yrs After Entry

Accreditation

1

San Juan College

Farmington, NM

Public

$

3

San Juan College's Veterinary Technology Distance Learning Program (VTDL) offers an online Associate of Applied Science in Veterinary Technology degree that provides students with the basic knowledge and skills needed to become a veterinary technician, and qualifies graduates to sit for the National Veterinary Technology Examination and/or similar regional exam in the graduate's residential jurisdiction. Earning the degree requires completion of 76-80 credit hours of general education and major-specific coursework that can be completed in two years (six semesters, including summers) of full-time study. Part-time study is an option. The program features online coursework, but students are required to complete labs and other hands-on experiences at an approved veterinary practice site, normally in the student's local area.

Program Overview:

Veterinary Technology Distance Learning (AAS)

Credits: 60
Mode: Partially Online
Accreditation: AVMA

Academic
CounselingYes
Career
PlacementYes
Students w/
Institutional Aid36%

Accreditation

Higher Learning Commission

2

Cedar Valley College

Lancaster, TX

Public

$

2

The Associate of Applied Science in Veterinary Technology degree available from Cedar Valley Community college prepares graduates to perform a range of technical duties typically in a private veterinary practice. Earning the degree requires completion of 60 credit hours of coursework consisting of general education and major-specific veterinary classes and labs. While all didactic coursework is available online, students are required to complete in-person, clinical/work experiences either through the student's employment in a veterinary setting or under the supervision of a clinical professional. Full-time students can complete the entire program in less than two years (five consecutive semesters, including one summer session). AAS degree-earners are eligible to sit for the Texas Veterinary Medical Association Exam leading to becoming a Registered Veterinary Technician (RVT).

Program Overview:

Veterinary Technology (AAS)

Cost: $3,540
Mode: Partially Online

Academic
CounselingYes
Career
PlacementYes
Students w/
Institutional Aid8%

Accreditation

Southern Association of Colleges and Schools, Commission on Colleges

Our AVMA-CVTEA fully accredited Veterinary Technician training program can help you gain the skills to take the first steps towards an exciting new career in the booming field of veterinary technology. In our online veterinary technician school, you'll study a wide range of topics and gain real-world vet technician experience during the clinical externship portions of the program. Plus, our online courses allow you to earn your associate degree and prepare for the VTNE exam at home or on the go, and study on your schedule.

Earn your AVMA CVTEA accredited associate degree through our flexible, affordable, and career-focused vet tech program online. The program includes 270 hours of clinical experience, giving you hands-on practice working with animals while you do your coursework online. Upon graduating with your Veterinary Technician Associate Degree, you will be eligible to pursue professional credentialing/testing or licensure and ready to reach your potential in the booming pet care industry.
Earning Your Vet Tech Degree Online
Veterinary technicians have hands-on jobs. They must know how to safely restrain animals, administer medications, and perform basic laboratory tests. That may leave you wondering how students learn to do these things when studying online. The answer can vary from institution to institution, but the bottom line is all accredited online vet tech programs will include some in-person requirements. The difference between online and on-campus programs is the flexibility offered by distance education degrees.
With an online vet tech program, you have more control over how and when you gain clinical experience. Schools ask that students work or volunteer in an approved veterinary clinic for a minimum number of hours, but students can often arrange that work at times that are convenient for them. With academic courses completed entirely online, students can work at a full-time job during the day and study on the nights and weekends.
As you review your program options, keep in mind that online degrees can fall into one of two categories.
Mostly online
These vet tech programs offer the maximum flexibility. Some are offered in an accelerated format while others allow students to pursue their education on a part-time basis. Using a combination of online textbooks, discussion boards, and multi-media presentations, these degrees can be completed almost entirely off-campus. Students collaborate with one another and with faculty members using digital resources.
While mostly online programs still have clinical requirements, they can usually be completed at an off-campus veterinary clinic on a schedule of the student's own choosing. On-campus laboratory work may be limited to just a few times per semester. The programs we've featured on this page can all be completed mostly online.
Partially online
Partially online programs often allow students to complete academic classes and general education requirements through distance education courses while traveling to campus for clinical requirements. These programs may not require students to volunteer or work at a veterinary clinic while earning their degree.
While not as flexible as mostly online programs, partially online programs can be a good choice for those who have limited hours to be on campus each week. Time on campus can be focused on clinical classes while other program requirements can be completed on a schedule that is convenient for you.
Looking for another education and career path working with animals? Check out EduMed's guide to online veterinary assistant schools.
Online Vet Tech Degree Options
If you're wondering how long does it take to become a vet tech, the answer depends on the type of degree program you pursue. Vet tech schools typically offer two degree options: associate degrees and bachelor's degrees. An associate degree is usually completed in two years while a bachelor's degree is a four-year program.
However, the timeframe isn't the only thing different between an associate degree and a bachelor's degree. Your program choice may depend largely on where you see your career going in the long run.
Associate degree
Most accredited schools in veterinary technology offer an associate degree, making these two-year programs the standard education for veterinary technicians. Sometimes called veterinary nursing degrees, an associate degree in veterinary technology will cover all the basics needed to work in a private clinical practice. Most curriculums cover small and large animal care, surgical procedures, pharmacology, and dentistry among other topics.
To be admitted to an online vet tech associate degree program, you may need to first complete some general education classes. Students may do that by first enrolling in their selected school in a non-major program. Then, once they have their prerequisite classes completed, they can apply for admission to the vet tech program.
An associate degree can be a smart choice for anyone who knows they want a hands-on career with animals and would like to enter the workforce quickly. Veterinary technicians are expected to see 20 percent job growth from 2016-2026, according to the Bureau of Labor Statistics, and a two-year degree may be the fastest way to qualify for these jobs.
Curriculum Focus: Online Classes & On-Site Clinicals
While individual classes can vary, all online vet tech schools cover the same basic topics. Their curriculum is intended to prepare students to provide both routine care as well as work in high-stress, emergency situations. Classes are broken down into online, academic course, and on-site clinical work. Here's what you can expect from both.
Vet tech online classes

The following classes are usually offered as online courses. They provide a foundation of knowledge that will then be put to work in a clinical setting.

Animal Anatomy: This is often one of the first classes a vet tech student will take. It covers all the major body systems, such as skeletal, respiratory, circulatory, and urinary. At the end of the course, students should be able to identify tissues and organs and understand how systems are interrelated.

Animal Diseases: This course typically focuses on common animal diseases and their immune response. The goal with this course is not only to be able to identify diseases but also understand appropriate treatments and preventive measures to avoid the spread of communicable illnesses.

Pharmacology and Toxicology: As with human medicine, veterinary care relies on pharmaceuticals to combat illness and maintain good health. In this class, students learn about proper administration and potential side effects of veterinary drugs. Upon completion of the course, students should be able to calculate proper dosages, recognize various drug classifications, and understand potential dangers associated with certain medications.

Animal Behavior: Vet techs need to understand how animals behave and proper handling techniques. This class offers instruction in typical animal responses to stressful situations and options for providing care in a safe manner. Courses on animal behavior may focus on cats and dogs or branch out into other species as well.

Veterinary Office Procedures: While veterinary technicians work in the exam room, they may also be responsible for taking notes, inputting patient records, and responding to client concerns. Courses in office procedures cover the proper way to perform these tasks effectively while maintaining patient confidentiality and complying with any government requirements.

Vet tech on-site clinicals

Clinical requirements ensure students are able to take the information presented in lecture classes and put it into practice. Here are three lab classes you may take as part of a vet tech program.

Anatomy Lab: Students may be required to take an anatomy lab in conjunction with an online class in anatomy. This hands-on class may include dissection and necropsy procedures. Given the nature of this class, it may be one of the few on-campus requirements of online degree programs.

Emergency and First Aid: This clinical requirement ensures students know how to respond to a number of emergency situations. It will cover topics such as cardiac arrest, shock, poisonings, and trauma. Upon completion, students should be able to evaluate animals in an emergency situation and administer appropriate first aid treatments. This clinical requirement can often be met at a local veterinary clinic where a student is working or volunteering.

Clinical Procedures: As an introduction to laboratory procedures, this clinical requirement teaches students basic lab techniques and diagnostic methods. It will cover topics such as hematology, organ function tests, and post mortem examinations. As with other clinical classes, these requirements may be filled at an approved veterinary clinic rather than on-campus.
How Much Does Online Vet Tech School Cost?
For many students, a top concern is how to pay for college. Fortunately, many online vet tech programs are offered by community colleges which traditionally have lower tuition rates than four-year schools.
Tuition and fees for in-state students at community colleges average $3,660 per year in 2019, according to the College Board. Out-of-state students pay an average of $8,660. Average tuition rates at four-year colleges and universities range from $10,230 to $35,830, depending on your residency status and whether a school is public or private.
Before you write off vet tech programs as too expensive, remember there are numerous financial aid options to pay for a higher education. We have a page dedicated to specific scholarships and spotlighting online vet tech schools that accept financial aid.
Vet Tech Certification & Licensing
Earning a vet tech degree is only one step in beginning your career. You also need to be licensed to work in your state. Professional credentialing can vary from state-to-state but almost all jurisdictions use the Veterinary Technician National Exam as a prerequisite to licensing. Here's what to expect:
The Veterinary Technician National Exam
Once you graduate from an accredited vet tech program, you should be eligible to take the VTNE. The exam is offered during three windows each year. This computer-based exam takes three hours to complete and includes 170 multiple-choice questions. Of these, 150 are scored and 20 are pilot questions that may be used on future exams. The exam is offered in both English and French.
When you apply for the exam, you'll need to submit a copy of official final transcript and pay a $325 fee. Once your application has been accepted, you can schedule your exam time at a local testing center. An official score will be provided immediately at the conclusion of the exam.
While the VTNE is administered by the American Association of Veterinary State Boards, that organization does not actually credential vet techs. Instead, you need to send your official score report to your state veterinary licensing board.
State Veterinary Licensing Board
State veterinary licensing boards are the entities that approve vet technicians to work within their borders. Each board has its own licensing criteria, but there are some common requirements across jurisdictions.
States often limit licensing to those who have graduated from an accredited vet tech program and passed the VTNE. Many have a separate state licensing exam as well. This state exam isn't focused on clinical skills but rather an applicant's knowledge of state laws.
After passing the necessary exams, licensure applicants may be required to pay an additional fee, pass a background check, submit a letter of recommendation, or meet other criteria. Check with your state veterinary licensing board for the specific requirements in your area.
Career & Salary Outlook: What You Can Do with a Vet Tech Degree
Job prospects look bright for veterinary technicians, according to the Bureau of Labor Statistics. The government agency estimates the occupation will see 20 percent growth from 2016-2026, a rate that's much faster than the average for all occupations. Since only those who earn the appropriate education and credentialing will be eligible for these jobs, employment opportunities should be good in the coming years.
The vast majority of vet techs – 91 percent according to the BLS – work in the veterinary services field. There, they may be employed by private clinics, animal hospitals, and laboratories. The remaining nine percent may be employed by colleges or social advocacy groups such as humane societies.
Depending on where they work, vet techs may have night, weekend, or holiday hours. That's particularly true for those working in 24-hour clinics offering emergency services.

How Much Do Vet Techs Make?
As of May 2017, the median pay for veterinary technicians and technologists was $33,400, according to the BLS. However, salaries can vary significantly depending on factors such as where someone works and their years of experience. In 2017, the bottom 10 percent of workers earned less than $22,880 while the top 10 percent made more than $49,350.
Vet techs working in research facilities may earn more than technicians employed by private practices. BLS data indicates those working in higher education as college instructors tend to have higher salaries as well.

What Career Paths are Available?
Working in a private veterinary clinic is only one career path to consider. Earning a vet tech degree can also give you the skills needed to work in one of the following specialized fields, many of which are governed by societies and academies offering their own credentialing process.
Critical Care
Critical care technicians are employed at emergency clinics where they assist in treating seriously injured or ill animals.
Veterinary Technician Student Resources
If you're ready to learn more about being a veterinary technician, start by contacting schools offering vet tech programs. Then, check out the resources below that offer more information for students and others interested in this career path.
National Association for Veterinary Technicians in America: The NAVTA is a professional organizations for vet techs. Its website includes information about veterinary careers and education options.
Veterinary Technician Specialties: If you think you want to specialize your career, this page from the NAVTA website includes links to all the societies and academies overseeing vet tech specialties.
Accredited Veterinary Technician Programs: The American Veterinary Medical Association accredits vet tech programs, and you can find a list of approved schools on its website.
American Association of Veterinary State Boards: The AAVSB oversees the Veterinary Technician National Exam, and this site is where you can apply to sit for it.
State Licensing Boards: Each state has its own regulations for vet techs. This page on the AAVSB website provides links to each state licensing board.
WhereTechsConnect.com: This jobs board lists employment opportunities for vet techs across the country.