Written By


last updated

09/06/2023
You really want to work in healthcare, but you don't have years to dedicate to a medical degree. You want to get your foot in the door as soon as possible, but you're not sure where (or how) to start. If this sounds like you, earning your online phlebotomy certification could be a great option. As a professional phlebotomist, you'll play a critical role within your healthcare team, from drawing blood and labeling specimens to organizing samples and recording key patient information.
In May 2020, the Bureau of Labor Statistics (BLS) reported that phlebotomists earned a median annual salary of $36,320. The top 10% in the field brought home an estimated $50,740. According to the BLS, the U.S. economy is expected to see a 17% growth rate in phlebotomy job openings from 2019 – 2029, much faster than average.
Earning an online phlebotomy certification could be your first step toward a career in healthcare. Keep reading to find the top online phlebotomy certification programs of 2024, and to learn how you can get your higher education started today.
Top Online Phlebotomy Classes & Certification Programs of 2024
Because phlebotomy training exists as a short-term certification rather than a full degree, finding a program that holds proper accreditation and thoroughly prepares you for the rigors of the job is critical. Not all programs are created equally and doing your research is a must.
Since so many students pursuing this path are also balancing personal and professional responsibilities, EduMed is here to help. We've compiled a list of the top programs for 2024 to help you make an informed and confident decision.
or
About the ranking
X
Base Methodology for EduMed's Best Online College Rankings for the '23-'24 school year.
One: Create list of Eligible Schools and Programs
To be eligible, schools were required to meet the following criteria based on data pulled from The Integrated Postsecondary Education Data System (IPEDS), which was self-reported by the schools themselves.
Institutional accreditation from an organization recognized by the U.S. Department of Education.
At least 1 online component in a program within the ranking-subject area.
Two: Assign Weighting
After creating the list of eligible schools, EduMed data scientists assigned weights and ranked schools based on a mix of metrics, which were all self-reported by the schools themselves to the U.S. Department of Education and IPEDS.
The metrics are listed below in order of most- to least-heavily weighted.
Online Programs – Number of online programs in the relevant subject area.
Online Student % – Number of total students who are enrolled in at least 1 distance-learning course in the relevant subject area.
Tuition – The average in-state tuition for undergraduate students studying full-time, as self-reported by the school.
Institutional Aid – Percent of full-time undergraduate students who are awarded institutional grant aid, as self-reported by the school.
Academic Counseling – Existence of this service on campus or online.
Career Placement Services – Existence of this service on campus or online.
Student/Faculty Ratio
About Our Data: EduMed's rankings use the latest official data available from The Integrated Postsecondary Education Data System (IPEDS). Most recent data pull: July 2023
#

School Name

Type

Tuition

Online Programs

More Details

School Information

Online Students

Academic Counseling

Career Placement

Students w/Institutional Aid

Median Earnings 10yrs After Entry

Accreditation

1

American National University-Pikeville

Pikeville, KY

Private for-profit

$$

1

American National University-Pikesville (ANU) offers students with associate's degrees the opportunity to earn certification in phlebotomy and ECG operation in preparation for a career as a technician. This diploma program prepares you for a certification exam as either a phlebotomy technician (PTC) or EKG technician (ETC). Students must have an associate's or undergraduate GPA of 2.5 or higher. Study for this program can be online or hybrid with attendance at ANU's Salem, Virginia campus.

Program Highlights:

Phlebotomy and ECG Technician Diploma

Credits: 36
Length: 1-2 years
Cost: $12,600
Mode: Online or Hybrid
Accreditation: Distance Education Accrediting Commission (DEAC)

Academic
CounselingYes
Career
PlacementYes
Student/
Faculty Ratio14/1
Online
Student %100%

2

South Dakota State University

Brookings, SD

Public

$

1

The Phlebotomy certificate program at South Dakota State University provides students with the skills and knowledge needed to become successful phlebotomists. The certificate program can be completed on-campus or online, but students will be required to visit the on-campus laboratory to be trained to draw blood. Additionally, students in the program will complete 100 hours of clinical experience in health care settings. This certificate program is a suggested add-on for students enrolled in South Dakota State University's Medical Laboratory Science, Nursing, Human Biology, and Pharmaceutical Sciences bachelor programs.

Program Highlights:

Phlebotomy Certificate

Credits: 9
Length: 2 semesters
Cost: $354.75/credit
Mode: On-Campus, online
Accreditation: HLC

Academic
CounselingYes
Career
PlacementYes
Student/
Faculty Ratio17/1
Online
Student %50%
University of Tennessee – Martin

UT-Martin provides an online phlebotomy technician professional development certificate in connection with Health Ed Today. This offering requires 50 hours of instruction and can be finished in as few as eight weeks. Provided in a self-paced learning format, students receive six months of access to textbooks, course materials, and workbooks for $1,699.
Once enrolled, you can take advantage of interactive learning modules, labs, around-the-clock mentoring, and career services. During the course of the program, students can plan to learn how to safely collect blood specimens, perform safe and complete venipunctures, and manage the order of draw. Specific course topics include anatomy and physiology of the circulatory system, pediatric and geriatric blood collection, and blood collection equipment.
If you plan to enroll, you should already possess or be actively pursuing your high school diploma or GED. Upon completing UT Martin's program, you should feel prepared to sit for several state and national certification exams.
Alvin Community College

Alvin Community College provides a predominately online phlebotomy technician program that can be completed in just one semester. Offered through the Continuing Education Workforce Development Program, the program accepts students who are at least 18 and possess a high school diploma or GED at the time of enrollment. Students must also have certain immunizations and hold CPR certification from within the last two years.
All coursework is completed online but students do need to visit campus four times during the program to practice puncturing veins on mannequins. The program also requires you to complete clinical hours at an approved facility. Coursework includes clinical phlebotomy, labeling of specimens, and professionalism and ethics.
Courses are taught year-round and students pay $860 in tuition plus $71 in fees regardless of residence. If you need a part-time learning option, the school also makes this available.
FAQs About Online Phlebotomy Certification
Many schools and career centers provide online phlebotomy programs, but that's not to say they all guarantee equal student outcomes. It's important to consider questions around accreditation, graduation rates, and percentage of students who find work. The following section helps familiarize you with key parts of online phlebotomy programs and answer your most common questions.
What are the major types of phlebotomy certifications?
Several different professional associations and certifying organizations provide certificates to help phlebotomy technician program graduates demonstrate their skills and knowledge. You should carefully review each of the options below to find the one that best works with your education, experience, and career goals.
American Society for Clinical Pathology (ASCP): ASCP has certified more than 570,000 medical laboratory professionals since its founding in 1928. The society provides both U.S. and international certifications, including those for phlebotomy technicians. Applicants pay $135 and must demonstrate training and work experience before sitting for the examination.
The American Society of Phlebotomy Technicians (ASPT): Phlebotomy Technician Certification is available through the ASPT if you possess between 6-12 months of experience, completion of an accredited training program, and documentation of at least 25 successful venipunctures and 5 skin punctures. Applicants pay $90 and must maintain an active ASPT membership.
National Phlebotomy Association (NPA): The NPA provides the Certified Phlebotomist Technologist credential to any candidate who completed an allied health program with at least 160 contact hours and 200 hours of practice in clinical settings or on mannequins. Examinees must pay a test fee and pass the exam to receive certification.
National Healthcare Association (NHA): The NHA provides a variety of healthcare certifications, including the phlebotomy technician certificate. Applicants must have completed a phlebotomy training program within the last five years, hold a GED or diploma, and be at least 18 years of age. The exam costs $117 and requires renewal.
National Center for Competency (NCCT): The NCCT allows candidates to earn their certification through four different routes: current student, graduate, experience, or military. The requirements for each vary, so you should select the route that best matches your path. The exam currently costs between $90-$135.
American Medical Technologists (AMT): The AMT provides two paths to certification: education or work experience. Those following the first must have completed at least 120 clock hours of training, while candidates pursuing the second must have at least 1,040 phlebotomist work hours over the previous three years. The exam costs $120 for domestic applicants.
What do you learn in phlebotomy classes online?
Every online phlebotomy program looks different, but many offer courses, topics, and learning outcomes that overlap with those at other schools. All programs place great emphasis on understanding the legal and ethical considerations as well as ensuring students master vein puncturing and safe blood drawing. The following section takes a look at learning outcomes you can expect to walk away with as well as a few common classes.
Learning Outcome #1
Develop the skills needed to work in clinics, medical facilities, hospitals, and blood donation centers and ensure patients are properly prepared to have their blood drawn.
Learning Outcome #2
The ability to communicate effectively and empathetically with patients across the lifespan, paying close attention to any medical issues that could complicate or change how blood needs to be drawn.
Learning Outcome #3
Demonstrate an understanding of how the human circulatory system works, with emphasis on appropriate ways of conducting venipunctures.
Learning Outcome #4
An understanding of current laws and regulations around phlebotomy, including how blood samples must be labeled and requirements around patient consent.
Learning Outcome #5
An awareness of how samples must be taken, labeled, stored, transported, and processed and clear directives on what must be done if protocols are not followed correctly.
---
Common Courses
Phlebotomy Theories
This introductory course covers the basic principles and tenets of safe blood draws on patients across the lifespan. In this class you will learn about the various methods for extracting blood (e.g., finger sticks, venipunctures, etc.), how to care for both the youngest and oldest patients, and other common practices.
Anatomy and Physiology
Taking this course provides you with a broad, foundational overview of all the systems and parts of human bodies, including how they function. This course helps you understand cardiovascular and circulatory systems – both of which directly tie into your work as a phlebotomist.
Medical Terminology
Understanding the medicine-specific words used by physicians, nurses, and other healthcare providers help phlebotomy technicians avoid confusion and convey information in a clear, standardized manner. This course provides a study on common terminology and pronunciation.
Collection and Processing
The processes around collecting and processing blood specimens must follow specific protocols in order to ensure samples avoid contamination. This course provides a step-by-step overview of how to conduct these processes correctly. Students also learn about the various methods of processing and safely shipping samples.
Principles of Professionalism
Phlebotomy technicians work with individuals from all walks of life throughout their professional days, making it important that they know how to present themselves and their employers well. This course looks at how to properly address fellow healthcare professionals while also giving tips and tools for working with all different types of patients.
Can you earn a phlebotomy certification completely online?
Many phlebotomy training programs allow students to complete their classes online, making it easier to meet these requirements while balancing personal and professional responsibilities. Most, however, do require you to visit campus to practice venipunctures on mannequins and/or participate in clinical hours at an approved healthcare facility.
How long does it take to earn a phlebotomy certification online?
The amount of time taken to complete an online phlebotomy program depends on several factors. Some schools offer self-paced learning options where you can finish as quickly or slowly as you please; others require students to follow a set schedule. The time spent earning your online phlebotomy certification also depends on whether you can devote all of your energies to the coursework or need to study on a part-time basis.
The majority of programs take between four and eight months to complete, but some accelerated programs allow you to finish requirements in as few as eight weeks. You should check with several community colleges and vocational schools to identify available timelines before making a commitment.
How much does an online phlebotomy certification cost?
The cost of an online phlebotomy program can vary substantially between schools and institutions, making it important to check prices if you're on a tight budget. Finding a public, non-profit school often makes the most financial sense while for-profit, private schools typically charge more. Below, we look at the costs of three different programs to help give you a sense of what to expect.

University of California at Los Angeles' Phlebotomy Program
Total cost: $2,275

Weatherford College's Phlebotomy Technology Program
Total cost: $3,197

Campbellsville University's Phlebotomy Technician Certification Program
Total cost: $2,399
Can online phlebotomy classes work towards a certification program?
If you want to become a phlebotomist, all certification programs require that you possess a minimum amount of education gained through phlebotomy coursework. As discussed earlier in this guide, many vocational schools, community colleges, and even some high schools provide phlebotomist training – some of them online.
Before selecting your online phlebotomy training program, you should carefully read over the educational requirements. Some of the certifying agencies may even provide a list of approved schools. Make sure any program you pick meets the minimum requirements before enrolling.
Paying for Your Online Phlebotomy Certification Classes
Phlebotomy certification programs typically cost less than full degrees, but they can still be expensive. If you're working with a budget or don't want to go into debt to get your certification, there are several funding options that can help lower costs and make it easier to get yourself through school.
Scholarships & Grants
Because scholarships and grants don't need to be repaid so long as you meet all the terms, they are always a popular option. Professional associations, schools and training centers, and government agencies provide these types of awards to students. They tend to be quite competitive, so you should start applying early.
Student Loans
Student loans serve as an important part of the funding process as they help you meet any outstanding financial obligations once you exhaust personal savings and other types of funding. The U.S. Department of Education offers several types of student loans based on degree level and student classification.
Other Options
When filling out your Free Application for Federal Student Aid (FAFSA), the U.S. Department of Education will determine whether you qualify for work-study opportunities based on your individual/household income. If so, you can apply to open student positions posted by your vocational school or community college. These positions provide an hourly wage that can be used towards any school and/or living expenses.
Accreditation Standards for Phlebotomy Certification Classes
Attending a properly accredited phlebotomy program is of major important given that failing to do so can cause issues when seeking certification and/or looking for jobs. At the institutional level, you will either see regional or national accreditation. While regional is seen as the more rigorous of the two, you may also come across the National Accrediting Agency for Clinical Laboratory Science. The purpose of accreditation is to make sure schools adequately support students while enrolled and prepare them for their intended career.
At the programmatic level, the National Phlebotomy Association provides accreditation to ensure programs meet national standards. If you're unsure whether a school or program maintains accreditation, you can search the U.S. Department of Education's Database of Postsecondary Institutions and Programs.
Getting Your Professional License & Certification After Your Online Phlebotomy Program
Certification plays a big role in the world of phlebotomy, and for good reason: these professionals are trusted to take blood from patients, handle it carefully, and abide by ethical and legal regulations. The vast majority of employers require their phlebotomists to hold certification from one of the national organizations reviewed earlier in this guide.
To receive certification, you typically need to complete a postsecondary non-degree award such as those earlier discussed. Many certification programs also require candidates to possess some real-world experience, such as clinical experience gained during their program and/or work experience. As of 2020, four states (California, Louisiana, Nevada, and Washington) mandate that phlebotomy technicians hold certification.
Students must also renew their certifications every couple of years, with individual certifying organizations setting specific guidelines.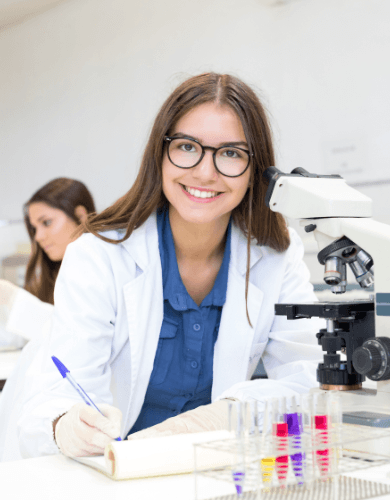 Careers & Salary Outlook for Phlebotomists
If you're looking for a steady career that offers job protection, phlebotomy could be a great fit. The Bureau of Labor Statistics projects that positions for phlebotomists will grow by an impressive 17% between 2019 and 2029, leading to the creation of nearly 23,000 new jobs in the coming years.
Healthcare facilities such as hospitals and laboratories all rely on phlebotomists to draw and analyze blood as this process helps physicians diagnose health issues. They may also work for blood donation centers to collect blood that can be used to help others during surgeries or health crises.
How much do phlebotomists make?
The Bureau of Labor Statistics reports that phlebotomists earned annual median salaries of $35,510 in 2019. Those in the bottom 10% of earners brought home less than $26,000 that year, while professionals in the top 10% commanded salaries over and above $49,750.
When thinking about potential income, it's important to know that some industries pay more than others. Outpatient care centers currently offer the most at $41,620 while hospitals pay average salaries of $33,720.
Continuing Education & Related Careers
As you continue to learn about what it's like to work as a phlebotomist, it's important to understand continuing education requirements. After reading through this guide, you may also feel that phlebotomy doesn't match your career goals, but a related job may be of interest to you. Here's what you need to know about continuing education and related degrees.
Continuing Education
As with other healthcare disciplines, the field of phlebotomy continues to grow and evolve as new research and studies uncover more information about how the human circulatory system works and how blood samples can be used in informing patient diagnoses and treatment plans. Because of this, it's important for phlebotomy technicians to stay abreast of changes and emerging best practices.
To maintain your certification, you must apply for renewal every few years. To do this, many certifying agencies require you to complete a set number of continuing education credits. Depending on where you live, your state board may also set continuing education requirements.
Related Degrees to Consider
A.A.S. in Medical Assisting These two-year programs provide the skills needed to offer clinical and administrative support services in hospitals, long-term care facilities, physicians' offices, and other healthcare settings. Many community colleges offer online medical assistant programs, making it a convenient and flexible option for students. The Bureau of Labor Statistics (BLS) found these professionals earned $34,800 in 2019.
Associate Degree in Nursing Pursuing this two-year degree allows you to become a registered nurse and test out the waters of this profession. While many employers look for candidates with bachelor's degrees, this program can help get your foot in the door. The BLS found that registered nurses earned median salaries of $73,300 in 2019. Learn more about earning your nursing degree online.
A.A.S. in Dental Assisting Offered through many community colleges and vocational schools, online dental assisting programs require two years of study and prepare you to work under the supervision of dentists and dental hygienists to perform both clinical and administrative tasks. The BLS reports that dental assistants brought home median salaries of $40,080 in 2019.
Resources for Phlebotomists Students & Professionals