The healthcare field is constantly adapting to the population's health challenges, and high-caliber nursing professionals are needed to help meet those demands. Advanced practice nurses who are looking to specialize their knowledge and advance their careers may consider enrolling in an online Doctor of Nursing Practice (DNP) program. This decision can have a significant professional impact, making it vital for prospective DNPs to do their research before applying to schools. Online DNP programs can vary in quality, content, price and format, so we've put together key information you need to choose the right program for you. We've also rounded up the top online DNP programs to help you start your search.
Simmons University

Simmons University offers a fully online DNP program designed for certified APRNs who already have a master of science in nursing. The Simmons online DNP is practiced-based but is research and writing heavy. Throughout the program, students work on a research-based project in their chosen area of advanced nursing practice. This research and the corresponding clinical hours are done independently, generally at the student's workplace. Although this is an online degree, classes are delivered live, so students have face-to-face interactions with faculty and peers. Since classes generally have 20 or fewer students, students have the opportunity to develop meaningful relationships and get focused support from instructors and peers. The 30-credit program is meant to be completed part time over seven 14-week terms and culminates with an on-campus symposium, where students present their final projects and meet their peers and instructors in person. To help students pay for their online DNP, Simmons offers multiple scholarship opportunities. Students are automatically considered for these scholarships and do not need to fill out an additional application.
12 Month Online DNP Programs
While most online DNP programs take between 15 and 24 months, some may be shorter, depending on whether you have a master's already and choose to enroll full-time. For those who wish to graduate within 12 months, Hawaii Pacific University's and Chatham University's online DNP programs may be the fastest available. Take a look at these 12-month online DNP options.
Hawaii Pacific University

Hawaii Pacific University's online DNP is a relatively new program, with the first cohort starting in 2017, but it's a great option for students who want to advance their practical nursing knowledge quickly. The 100-percent online program can be completed in 12 months of full-time study. It's designed for students who have an MSN and want to continue their education in their specific advanced nursing practice areas. The program begins with a one-week intensive in Hawaii. After that, students work through their coursework online and complete practice hours on their own. Students are also required to propose and carry out a final project. The project is discussed during the initial on-campus intensive, and students must meet project benchmarks throughout the program. Upon completing their projects, students must give a presentation and submit a final paper.
Accreditation and Online DNP Programs
When comparing online DNP programs, it's important to make sure the program you choose is accredited. Accreditation is a voluntary process that schools and individual programs of study undergo to show that they meet quality standards set forth by a board of experts. Prospective DNP students can look for two main types of accreditation: institutional and programmatic. Institutional accreditation assesses a school as a whole. Regional accrediting bodies governed by the Council for Higher Education Administration (CHEA) are the most widely recognized providers of institutional accreditation.
Programmatic accreditation is more specialized and focuses on certain areas of study. Online DNP programs may be accredited by the Commission on Collegiate Nursing Education (CCNE) or the Accreditation Commission for Education in Nursing (ACEN). The standards set by these accrediting bodies aim to further the nursing field and ensure that nursing professionals have access to quality education programs that prepare them for the current and future nursing landscapes. Graduating from an accredited program helps employers see that potential employees have a standard body of knowledge gained during their DNP. Furthermore, students must be enrolled in an accredited program to receive federal financial aid, so checking for accreditation is essential.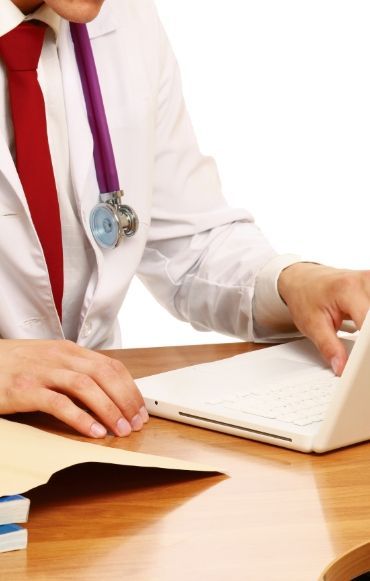 Inside Online DNP Programs: What to Expect
Before enrolling in an online DNP program, prospective students need to get familiar with program details so they can make the right choice for their education and career goals. Program requirements, expectations, delivery formats, cost and completion time should all be considered in advance.
How do online DNP programs work?
Online programs have a ton of variety, so students should be sure to check their prospective DNP programs for details. Online DNP programs may be synchronous, where students log into their classes at specific times to participate in live video lectures, real-time forum chats and face-to-face video conferences with instructors and peers. Asynchronous online DNP programs are also common. These classes generally provide students with 24-hour access to course materials, so they can complete assignments at their convenience. Students interact with instructors and each other through forums and online peer review. Some programs combine both synchronous and asynchronous elements.
Online DNPs may also be available as hybrid programs, where students take some classes in person on their school's campus. Regardless of the delivery format, online DNP programs require clinical hours and a final project. Some may also require short residencies on campus.
What will I learn in an online DNP program?
Curricula for online DNP programs can vary from school to school especially for students taking specialized tracks in their field. However, there are a handful of common courses that tend to serve as the foundation of many DNP programs. Checking out those course descriptions can help prospective nursing students see if an online DNP covers topics that suit their needs and interests.
Leadership
Leadership courses are central to DNP curricula. They can focus on many different aspects of leadership but tend to incorporate management theory to help students gain practical leadership skills used to implement change in healthcare systems. Organizational behavior, collaboration and quality improvement may be addressed.
Course titles to look for: Professional Leadership and Practice Change; Communication and Collaboration for Health Care Leadership; Transformational Leadership: Innovation and Implementation"
Quality in Health Care
Classes focused on quality in health care serve as useful complements to leadership classes. Students may learn how to act as leaders when directing quality improvement initiatives and use evidence-based research to promote safety and quality. Courses often examine quality improvement from a patient-centerd perspective.
Course titles to look for: Quality Improvement in Health Care; Quality and Safety in Health Care Organizations"
Epidemiology
Students will explore epidemiology, a population health science with observational data. In epidemiology courses, students learn how to measure the burdens of disease, track their causes, critically examine epidemiological data and apply findings to healthcare issues.
Course titles to look for: Epidemiology and Social Determinants of Population Health; Epidemiology
Health Care Policy
Health care policy classes tend to incorporate other essential elements, like ethics and politics, to help students recognize and address dilemmas in health care, particularly when it comes to health care policy and advocacy. Students may examine the multifaceted issues that come into play when creating healthcare policy and gain skills in policy development and presentation.
Course titles to look for: Ethics, Policy, and Advocacy for Population Health; Health Policy; Health Care Policy, Politics and Process
Evidence-Based Practice
Evidence-based practice courses often align with students' clinical practice courses. Students develop skills in gathering and analyzing their own data as well as translating pre-existing data. This is an essential foundational course for many advanced nursing practice careers and DNP practicum projects.
Course titles to look for: Developing Evidence-Based Practice; Evidence-Based Practice
Along with theoretical knowledge gained in classes, online DNP programs aim to give students essential skills that can help them in their advanced nursing careers. Skill acquisition and development can vary depending on a student's DNP concentration and practicum but may include:
Advanced clinical practice
Transcultural care
Research and data analysis
Interprofessional collaboration
Health policy development
What DNP tracks can I take?
One of the major benefits of a DNP is that it allows nursing professionals to advance their skills and knowledge in a specific area of focus. Often, students hone in on their particular area of professional interest through their practicum and capstone hours, but many DNP programs offer tracks that give students more specialized in-class study, as well. Many DNP tracks have certifications associated with them, which can increase employability. As the healthcare industry becomes more nuanced, nurses with specialized training play important roles client care and industry development. Specializing during the DNP can help prepare advanced practice nurses for nuanced, in-demand careers.
Family Nurse Practitioner (FNP)
Family Nurse Practitioners are advanced practice nurses who provide a range of care to families. FNPs work with patients of all ages and provide a broad range of care. They may act as primary care providers, offering holistic care, treatment of acute ailments and illness prevention techniques.
Pediatric Nurse Practitioner (PNP)
PNPs work with children to help them develop and maintain good physical, social and emotional help. These professionals educate families on the health and development of their children. They may work with patients from infancy to young adulthood and may work to prevent, treat and manage a variety of acute and chronic health issues.
Psychiatric & Mental Health (PMHNP)
This advanced nursing specialization helps prepare nurses to work with patients experiencing a range of mental health issues. PMHNPs may assess and diagnose patients who need mental health and psychiatric care. They also work with patients' families and may provide follow-up care to aid in continued patient wellness.
Adult-Gerontological Primary or Acute Care Nurse Practitioner
Whether as a primary care or acute care provider, these advanced practice nurse practitioners specialize in caring for adult patients, from adolescence onward. Nurses may focus on different age groups, like young adults or those in late life. Primary care practitioners provide holistic care to patients, while acute care nurses work with acutely and critically ill adult patients.
Clinical Nurse Specialist (CNS)
Clinical Nurse Specialists aid in the direct care of patients by diagnosing patients and developing treatment plans. They help manage the overall care of their patients and may use their specialized knowledge in specific areas of nursing and health care to advise and assist other nurses and medical professionals.
Nurse Anesthesia
In nurse anesthesia programs, students learn how to safely administer anesthesia to different types of patients in various settings. Nurse anesthetists assess pre-operative patients to determine the best course of care, and they help care for patients during and after anesthesia. As part of a DNP program, nurse anesthesia students learn anesthetic practices from a leadership perspective and gain advanced skills in patient care technology and informatics.
How long does it take to earn a DNP online?
On average, online DNP programs can be completed in about 18-24 months. However, some are designed to be completed in as few as 12 months of full time study. DNP programs require that students complete a specified number of practicum hours–usually 1,000 including hours earned during their MSN degree. Many MSN programs require 500 clinical hours for graduation, so students who enter their DNP program with fewer than 500 practicum hours may take longer to complete their DNP, as they will have to earn more practice hours during their program.
How much does an online DNP program cost?
A lot of variables come into play when determining the cost of online DNP programs, like available financial aid, completion time and the school itself. For instance, the online DNP at Simmons University costs $1,410 per credit, with 48 credits required for graduation. This does not include the $160 term fees or the cost of books and travel to on-campus immersions. Chatham University costs $1,017 per credit for their 27-credit 12-month program. Prospective students can use the rankings tool on this page to get cost information on different online DNP programs.
Paying for Your Online DNP
Nothing derails a program of study like not being able to pay for tuition. Ensuring that you can pay for your online DNPs before enrolling in a program can help you stay on track to finish your degree. Calculating costs can get stressful, but many financial aid options exist to help students pay for their online DNPs.
1
Scholarships
Scholarships are one of the best forms of financial aid because they don't need to be paid back and can be either need- or merit-based. Students can check for scholarships through their DNP program and can also apply for general scholarships offered by their institutions. Organizations like AACN can be excellent scholarship resources for nursing students as well. Advanced nursing students can also check out our list of top scholarships for medical and health students.
2
Financial aid
Students who fill out the FAFSA are considered for a wide range of federal financial aid opportunities like grants, scholarships and loans. Students must be enrolled in a regionally accredited institution in order to receive this aid. Head over to our financial aid page for detailed information.
3
Grants
Grants are similar to scholarships in that they are a form of gift aid and don't need to be paid back. Grants tend to be need-based but can be distributed based on merit or program of study. When filling out the FAFSA, students may be automatically considered for some government grants, but they can also extend their search to professional organizations, non-profits and local governments.
4
Private Loans
While they generally shouldn't be a student's first choice when seeking financial aid, private loans are available when other forms of aid aren't enough. Students should be mindful of high interest rates and penalties for untimely payments to keep loan debt manageable.
What's After Your DNP?
Many prospective DNPs have nursing experience and a good idea of where they want to take their careers, but before beginning their programs it's important that they do ample research on the advanced nursing industry and its myriad career paths. Understanding the requirements of getting into a given nursing career and what they'll get out of it can help professionals pursue the right career for them.
Do you need a special license or certification to work or advance?
DNP programs typically require students to have their nursing licenses, so advanced practice nurses should already have the RN certification required to practice. There are many certifications that advanced practice nurses with DNPs can pursue to highlight their expertise and increase employability. The American Association of Nurse Practitioners highlights the wide range of available certifications and the boards that award them.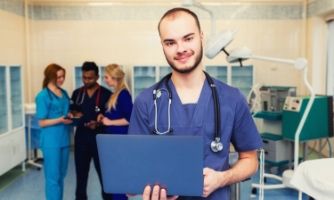 What can you do with an online DNP?
Earning an online DNP can open nursing professionals to a huge variety of leadership-driven advanced nursing careers in clinical and academic settings alike. After completing an online DNP program, graduates may further their work in client care, or they may want to move into careers focused on policy development and systematic change. Depending on their concentration area during their program, advanced nursing professionals may use their new skills and knowledge to analyze data and conduct research or shift into healthcare management careers. The small handful of careers below are just a few examples of career options available to nurses who hold DNPS.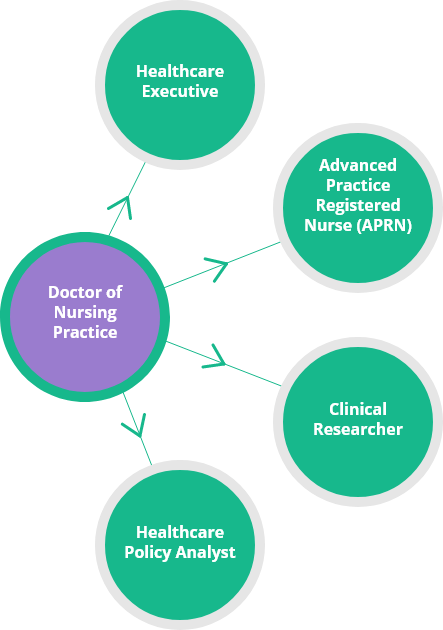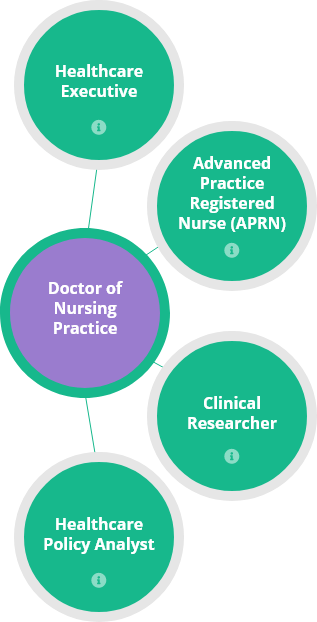 How much can you earn with a DNP?
To meet increasing demands for health care services, health professionals are highly sought. Nursing jobs in general are expected to see a 26 percent increase between 2018 and 2028 according the Bureau of Labor Statistics (BLS), and nurse practitioner careers in particular have an anticipated 28 percent increase over the same period. By comparison, the projected growth rate for all careers nationwide is 5 percent. The median annual wage for nursing professions in May 2018 was $113,930, but this can change depending on education level and professional experience. Take a look at the salary range for careers available to DNPs.
| Career | # Employed | Entry-Level | Early Career | Mid-Career | Experienced | Late Career |
| --- | --- | --- | --- | --- | --- | --- |
| Nurse Anesthetists | 41,990 | $117,520 | $143,980 | $168,280 | $198,660 | – |
| Nurse Midwives | 5,950 | $69,980 | $86,880 | $103,360 | $123,840 | $149,140 |
| Nurse Practitioners | 164,560 | $79,500 | $91,220 | $107,550 | $125,760 | $151,100 |
| Nursing Instructors and Teachers,Postsecondary | 4,200 | $58,870 | $74,330 | $97,950 | $135,430 | – |
| Registered Nurses | 2,585,920 | $51,210 | $58,810 | $71,560 | $88,030 | $106,260 |

Related Degrees
If a DNP doesn't seem like the right fit, students looking to advance their nursing careers or increase their expertise may want to explore other online nursing degrees. Earning an advanced education is a big decision that warrants careful consideration, so exploring alternative degree programs is a smart idea. These may be great options for nursing professionals who want to advance their careers but aren't set on a DNP route.
An online PhD in nursing is like the research-driven counterpart to the practice-drive DNP. Throughout their program, students work on a research project related to a specialized area of their field. This degree may be well-suited to nursing professionals who want to shift away from client care and into research or education.
Many DNPs are limited to applicants who hold Master of Science in Nursing degrees. However, online BSN to DNP programs are designed specifically for those who haven't yet earned their master'. These programs allow students to earn a doctorate and a master's degree at the same time. They tend to follow a traditional DNP curriculum with extra master's coursework and practicum hours to give new post-bac students the practice and knowledge needed for their advanced degrees.