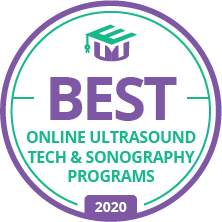 2020's Best Online Sonography and Ultrasound Tech Schools
Colleges across the U.S. continue to add sonography and ultrasound programs to their offerings. What's more, many of these colleges have made portions of these programs online. But so many choices can make it difficult for students to create a manageable list of schools for consideration. To help, we've analyzed data from more than 7,700 schools to compile a list of the most affordable and comprehensive online sonography programs today. See which schools have the best combinations of quality, affordability, student support, and online learning options in 2020.
or
About the ranking
X
Methodology for EduMed's 2020 Rankings
To be considered for this ranking, each school must have the following:
Institutional accreditation from an organization recognized by the U.S. Department of Education.
Program(s) offered at least partially online.
School Metrics Explained
EduMed.org data scientists analyzed government higher education data and created a proprietary algorithm to rank each U.S. postsecondary institution and its online programs using 5 primary factors:
Cost: Relative cost of attendance compared to peer schools on the list. Based on tuition and fees per academic year.
Online Program Availability: Number of online programs in subject area reported by school to Department of Education.
Academic Counseling: Existence of this service on campus or online.
Career Placement: Existence of this service on campus or online.
Students w/ Institutional Aid: Percentage of students who receive financial aid from the school itself.
About Our Data
EduMed's rankings use the latest official data available from The Integrated Postsecondary Education Data System (IPEDS).
Most recent data pull: February 2020
#

School Name

Type

Cost

Online Programs

More Details

School Information

Online Students

Academic Counseling

Career Placement

Students w/Institutional Aid

Median Earnings 10yrs After Entry

Accreditation

1

State Fair Community College

Sedalia, MO

Public

$

1

State Fair Community College's 22-month AAS in Diagnostic Medical Sonography degree program is presented in a hybrid format combining online didactic coursework, hands-on scanning labs (attended on SFCC's Sedalia, Missouri campus), and in-person internships completed in program-approved off-campus clinical settings. The curriculum consists of 80.5 credit hours of general education courses in subjects such as biology, math, communications, and English, along with DMS courses focusing primarily on ultrasound and sonography techniques. Students choose between two study tracks. General track students are taught to perform abdominal, gynecological, obstetric, small parts, and vascular examinations, while cardiac track students are trained in performing cardiac and vascular exams. Graduates qualify to sit for certification exams for specializations often required by employers.

Program Overview:

Diagnostic Medical Sonography

Credits: 80.5
Length: 22 months
Mode: Partially Online
Accreditation: CAAHEP

Academic
CounselingYes
Career
PlacementYes
Students w/
Institutional Aid13%

Accreditation

Higher Learning Commission

2

Cambridge College of Healthcare & Technology

Delray Beach, FL

#N/A

N/A

1

Graduates of the 28-month, partially-online Associate of Science in Diagnostic Medical Sonography degree program offered by the Cambridge College of Healthcare & Technology gain the knowledge and skills needed to become DMS professionals through both classroom education and hands-on training in real-world clinical settings. The degree's curriculum includes didactic coursework, hands-on ultrasound lab experiences, and clinical rotations conducted at hospitals, doctor offices, and imaging facilities. The program is offered through Cambridge's Miami, Orlando, and Delray area campuses in Florida, as well its Atlanta area campus in Georgia. Students must live near one of these campuses to participate in the program's on-campus classes and labs.

Program Overview:

Diagnostic Medical Sonography

Length: 28 months
Mode: Partially Online
Accreditation: CAAHEP

Academic
CounselingYes
Career
PlacementYes
Students w/
Institutional Aid0%

Accreditation

Accrediting Bureau of Health Education Schools
University of Cincinnati

The University of Cincinnati (UC) is one of the largest universities in Ohio. It has several regional campuses, including Blue Ash College. One of the many programs offered by UC Blue Ash College is the online Bachelor of Radiation Science Technology (BRST). This program takes four years to complete and has a few unique features.
First, it's almost completely online. All classwork is delivered through distance learning technology. The only non-online component is an internship. Second, this program is designed for individuals who already have experience in radiation therapy or medical imaging, such as sonography. By earning this degree, graduates will be able to expand their professional possibilities, including to potential teaching and management. Third, the curriculum was specifically developed in recognition of the ever-changing healthcare landscape. With so many regulatory changes and industry shifts in healthcare, graduates from the BRST will be in a prime position to take a leadership role in efficient and effective medical care delivery.
To be admitted, applicants must have the appropriate national professional certification as well as an associate degree in medical imaging or radiation therapy. UC Blue Ash will accept transfer credits for prior coursework.
Jackson College

Offering more than 70 degree and certificate programs, Jackson College serves as leading educational institution for students in the Jackson, Michigan area. Those interesting in a career in diagnostic medical imaging have two potential career paths to choose from at Jackson.
The first one is the Vascular Sonography Certificate. Accredited by the CAAHEP, this program is designed for practicing sonographers who would like to expand their professional prospects, such as earning the Registered Vascular Technology credentials. All the didactic requirements are available online for maximum flexibility; online work is combined with 12 months of supervised clinical course work.
Students can also choose the Associate in Applied Science in General Sonography degree. Just like the Vascular Sonography Certificate, the AAS in General Sonography is accredited by the CAAHELP and includes both online and clinical coursework. Upon graduation, students will have completed at least 1,350 supervised clinical hours at an approved healthcare facility. During the course of earning their AAS, students will receive training in two areas of specialization: obstetrics/gynecology and abdomen/superficial structures. This level of instruction will fully prepare them sit for their American Registry for Diagnostic Medical Sonography (ARDMS) certification.
Selecting an Online Sonography Program: Boxes to Check
Even though we've created a list of quality ultrasound tech programs to consider, you'll still need to do your own research. Depending on your specific needs, you'll need to be sure a potential program meets certain minimum standards; after all, there's no point in completing a program that won't put you in a position to work in your specific area or field of choice. Before applying to a sonography program, go through the following checklist.
Accreditation from the Commission on Accreditation of Allied Health Programs (CAAHEP).
The program meets the standards of the American Registry of Diagnostic Medical Sonographers.
The program offers the specializations specific to your goals.
The program has in-person elements such as labs and clinicals.
The school accepts financial aid.
Distance learning is available in an online format.
Online Sonography Program Options
Sonographers take an important hands-on approach to patient care, which is one of the reasons the programs require significant in-person training. However, it's important to remember that the hands-on work and online study can fit together quite well. Sections of the curriculum that cover fundamental theories and concepts easily translate into online learning. Let's take a look at the program options you'll encounter when trying to find the right one for your needs.
Hands-on training is essential for anyone looking to complete an accredited sonography program. Any special degree programs for sonographers that are "completely online" are for individuals who have sonography experience and therefore already have the hands-on training. However, "mostly online" programs are very popular. These programs allow the classroom requirements to be completed online, while the hands-on training can occur either on campus or at a healthcare facility close to the student.
In this situation, some courses – not all – can be completed online, while the hands-on elements are still in place as well. It's usually general education coursework that can be completed through distance learning, while sonography classes are completed in-person. Of course, it's also important to remember that the hands-on training does still require either completion on campus or at an approved facility closer to home.
Online Degrees by Level
Sonography students have three primary academic paths to choose from. The fastest to completion is the certificate or diploma, while the bachelor's degree takes the longest to earn at roughly four year of full-time sudy. But besides their average time to completion, there are other differences as well, each with distinct advantages and disadvantages. Depending on your resources and particular academic and professional goals, one path will make far more sense than another.
Certificate/diploma:
Many programs will require incoming sonography students to complete a certain number of perquisite courses before they're officially admitted into the program. These courses cover fundamental medical topics, such as anatomy, physiology and biology. Some programs may also require the completion of some general education courses. Core coursework includes substantive classroom and hands-on training for using equipment, learning ultrasound imaging techniques and gaining a fundamental understanding of scientific theory.

The certificate or diploma path takes the least amount of time to get into the workforce; many programs take about 12-18 months to complete. The biggest disadvantage is that because it takes the least amount of time to complete, there will be more non-degree sonographers looking for post-graduate employment than those with associate or bachelor's degrees. Some employers might require a college degree for hiring; if they accept someone with a certificate, the pay is likely going to be lower.
Associate degree:
Earning an associate degree will add another six months to a year in the length of time it takes to start working as a sonographer. It will also cost more money in tuition. So why is the associate degree a popular academic track for future sonographers?

The associate program provides a well-rounded education thanks to general education requirements. It also results in a college degree, which can be advantageous for hiring and advancement. Those who earn associate degree credits can often transfer those to a bachelor's program to further their education later. The associate degree might also better prepare students to sit for professional credentials, as well as provide an opportunity for specialization.

To enter an associate program in sonography, applicants must typically meet the general admission requirements for their school first. Once accepted, they must complete prerequisite courses in foundational fields, such as biology and physiology, and do so with a minimum GPA. Some programs will also require incoming students to have completed a certain number of general education courses.
Bachelor degree:
The vast majority of bachelor's degree programs are designed for individuals who are already practicing as sonographers or ultrasound technicians. This degree level allows the opportunity to specialize in a particular area of sonography or learn higher level theory and management skills, potentially leading to leadership roles within health organizations. Expect to take coursework that emphasizes higher level strategic thinking or a sonography specialization, such as:

Management principles
Breast sonography
Teaching health professionals
Research methodology
Multicultural healthcare
Doppler sonography
Advanced care delivery
Introduction to healthcare systems
Advanced pediatric and fetal sonography

Many bachelor's degree programs will only accept individuals who not only have an associate degree, certificate or diploma in a medical imaging field, but who also have their national certification credentials, such as an ARDMS certification. As a result, these programs are perfect for working sonography professionals who are looking to move on to clinical teaching, a different area of sonography or mid-level healthcare management.
Curriculum Focus: Online Courses & On-Site Clinicals
Becoming a diagnostic imaging professional requires intense training, and for good reason. Patients, doctors and other medical professionals rely on the ability of sonographers to achieve high quality images for treatment, assessment and diagnostic purposes. One mistake can lead to potentially missing a very serious problem. Therefore, you will learn a variety of skills and have the opportunity to demonstrate mastery of those skills, both during the program and when taking a national certifying exam. Here's what you'll learn.
Medical knowledge:
The best ultrasound imaging equipment and skills don't mean much if the professional obtaining the images doesn't have the proper background knowledge to understand what to look for and put the data into the proper context. A significant portion of the sonography curriculum will include the same type of courses a nurse or doctor might take during the beginning portions of their medical training.
Patient management:
Given the wide range of patients a sonographer is likely encounter, as well as sensitive questions and issues that are sure to arise, special training is necessary to help handle these situations in the most professional and compassionate manner possible.
Healthcare policy and trends:
Sonographers are members of an important medical team. To help provide a better understanding of how a sonographer's role fits at a hospital or clinic, students will learn how these types of organizations operate. Students will also receive background information on overall trends in healthcare and how the changing legal and professional landscape can affect how they provide care to the patient.
Imaging techniques:
Sonography equipment is very complex. Students will learn how to take full advantage of their equipment to provide useful and effective medical imagery, as well as gain a fundamental understand of how their tools and equipment operate.
Image interpretation:
Officially, sonographers may not interpret their findings to the patient. However, they must still have the requisite level of knowledge to understand if the images they have obtained will be sufficient for interpretation by the appropriate medical professional. A doctor's interpretation of medical images will only be as good as the quality of the images themselves.
Healthcare operations:
Through the use of clinicals or practicums, students will learn the inner workings of a diagnostic imaging healthcare facility. They will gain an understanding all aspects of patient care, from patient processing to equipment maintenance to providing patient exams.
Funding Your Online Sonography Program
Unfortunately, tuition for online sonography programs can sometimes feel a little steep. It's important to remember that not all schools charge the same amount for education, and many have different forms of financial aid available to mitigate the cost of their programs. Here are some points to ponder about the cost:
Program tuition:
Tuition costs can vary based on type of program, academic credential offers, location and more. However, most sonography programs will cost between $150 and $700 per credit hour. The number of credit hours will vary, depending on the academic track. Certificate and diploma programs require about 55-75 credit hours, associate degrees will require about 80 credit hours and a bachelor's degree will require anywhere from 80 to 140 credit hours, depending on whether it's a degree completion program.
Application fees:
Schools set their own application fees. These fees usually only apply when someone is submitting an application for general admission to the school, not the specific sonography program. The amount can range from $0 to $80 and anywhere in between. $30 to $60 seems to be the most common range.
Exam cost:
Graduates can choose from a plethora of national credentials to demonstrate their knowledge about diagnostic medical imaging. The cost to obtain a credential will depend on which organization the student seeks the credential from. But to give some idea of what it will cost, earning an RDMS from the ARDMS will cost $475, which includes the cost for the basic exam plus one of the specialization exams. Becoming a Registered Vascular Specialist through the CCI will cost $365.
Ways to Pay
Most students simply do not have the personal cash on hand to pay for their cost of attendance. This means finding alternative sources of funds to help pay for an education is a must. Keep in mind that these sources play just a small part in the total cost of an education. For example, if tuition is $10,000 per year and a student has a $5,000 scholarship, that education costs exactly the same as a school with a $5,000 annual tuition rate and no scholarship award.
Scholarships:

Scholarships (sometimes referred to as grants, although they are technically different) are the most desired forms of financial aid because they do not need to be paid back. Scholarships are available from many different sources, such as corporations, charitable organizations, state government, individuals and the schools themselves. Scholarships are usually awarded on the basis of a student's individual merit or characteristic, although financial need is often considered.
Financial aid:

For most students, scholarships or grants won't be able to pay for the entire cost of an education. In that case, the most popular form of financial aid will be a school loan, which must be paid back, sometimes with interest and usually after graduation. Other forms of financial aid include work study, grants and loan forgiveness. To apply for the most popular forms of financial aid, including some scholarship, students must complete the Free Application for Financial Student Aid, or FAFSA.
To learn more about how to pay for school, check out the following page: https://www.edumed.org/financial-aid/
Sonography/Ultrasound Certification & Specialization
Graduation doesn't necessarily mean the journey is done. At the very least, you will probably want to earn a nationally recognized certification. Not only does this help ensure you possess the requisite level of knowledge, but it may be a requirement for employment. Another benefit to certification is the opportunity to demonstrate a mastery of a particular specialization. The following is a list of three of the most common certification organizations, along with the certifications they offer.
The American Registry for Diagnostic Medical Sonographer (ARDMS)
To earn an ARDMS credential, you must complete your education requirements from an accredited program and have 12 months of full-time clinical sonography experience. ARDMS exam specialties include:
Abdomen
Breast
Fetal Echocardiography
Obstetrics & Gynecology
Pediatric Sonography
Adult Echocardiography
Pediatric Echocardiography
Vascular Technology
The American Registry of Radiological Technologists (ARRT)
Cardiovascular Credentialing International (CCI)
Earning Potential & Career Forecast
There are a variety of reasons an individual may choose a career in sonography. Working directly with patients is a major reason, as is helping people through either exciting or difficult points in their lives. But some of the biggest reasons are the potential for professional growth, earning a solid income and job security.
The overall job outlook for sonographers is fantastic. From 2016 to 2026, the Bureau of Labor Statistics estimates that the change in employment for diagnostic medical sonographers from 2016 to 2026 will be 23%. This is more than triple the national average of 7% for all other careers. The vast majority of these jobs can be found hospitals, although doctor's offices are common places to work as well.
How Much Do Sonographers and Ultrasound Techs Make?
As a consequence for this high demand for diagnostic medical sonographers, salaries are pretty generous. The Bureau of Labor Statistics states that the median salary is $72,510. But even those who are in the bottom 10% will still make around $51,430 while sonographers lucky enough to be at the top 10% can make at least $100,480. To put this numbers in perspective, the median salary for all jobs is $38,640.
What Career Paths are Available?
The sonography field is filled with specializations. Given the complexity of the human body, there are a number of different career paths a budding sonographer can choose to pursue. Let's look at some of the more common ones.
Abdomen: As its name implies, this area of sonography focuses on the abdominal area of the human body, specifically soft tissue and organs.
Cardiovascular: Focuses on the cardiovascular system and obtaining non-invasive imaging to diagnose and assess the status of arteries, especially those around the heart.
Fetal echocardiography: Heart defects are some of the most common forms of fetal birth defects. This specialty plays a pivotal role in creating imagines of the heart of unborn babies for assessment by other medical professionals.
Obstetrics and gynecology: When most people think of ultrasounds, they're probably thinking of someone working in the obstetrics and gynecological field. These sonographers help monitor the growth of fetuses and detect any abnormalities concerning a woman's reproductive system.
Sonography Support & Resources
Interested in a career in sonography, but want to do more research? There are plenty of online resources with more information for prospective and current students. We've curated the following list to get you started.