Written By


last updated

01/19/2022
Finding the right school to meet your personal and academic needs can be challenging. Despite the accessibility of information online, the sheer number of options for prospective online students can be quite overwhelming. It is important to dedicate time to researching degree programs, however, as choosing a school is a major life decision.
To make this process easier, we have researched and vetted the top accredited online bachelor's degrees in healthcare management in U.S. With these schools, you can earn the valuable credentials you need to advance your career at a price tag you can afford.
Profiling an Online Bachelor's Degree in Healthcare Management
Getting a behind-the-scenes look at a real online program's curriculum and format can be incredibly helpful as you research degree options. We've provided just that in the following school profile of an accredited university with an online bachelor's degree in healthcare management.

Jefferson is a private institution located in Philadelphia, Pennsylvania. The school is regionally accredited by the Middle States Commission on Higher Education and serves approximately 7,800 students.
Remote students at Jefferson can pursue an online bachelor's degree in health services management. The program helps students develop the necessary management and leadership skills to make a positive impact on professional settings in hospitals, government agencies, and clinics.
Healthcare management students need 120 credits for graduation. Learners follow eight-week course schedules and typically complete their degree in two to three years. Required professional education courses include elements of organization, learning with technology, economic decision-making, evaluating statistical data, leadership theory, and ethical practices.
Online students pay the same tuition rates whether they live in-state or out-of-state. Jefferson alums typically move on to careers as health information managers, clinical directors, program coordinators, and healthcare financial managers. Interested students only need to submit official copies of their high school transcripts and an online application for consideration application.
Accreditation and the Online Healthcare Management Bachelor's
While researching schools for your online health management bachelor's degree, be sure that the school holds some type of official accreditation from a recognized accrediting body, such as the Higher Learning Commission. The accrediting bodies are recognized by the U.S. Department of Education and review educational institutions on a regular basis. In most scenarios, when colleges and universities meet certain high academic standards according to the accrediting bodies, they receive regional or national accreditation.
Of the two designations, regional accreditation is widely considered to be the most prestigious. When you attended a school with regional accreditation, you can rest assured that you are receiving a top education and will earn credentials that can help you advance your career. Students with degrees from non-accredited schools may have trouble locating employment after finishing their programs and are subject to substandard or questionable educational quality.
In some cases, depending on the degree or field, individual programs may possess program-specific accreditation, commonly referred to as programmatic accreditation. Healthcare management programs can receive programmatic accreditation from multiple organizations. Some of the more notable accreditations in this field come from the Commission on Accreditation of Healthcare Management Education (CAHME) and the Commission on Accreditation for Health Informatics and Information Management Education (CAHIIM).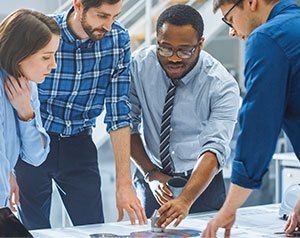 Understanding the Online Bachelor's in Healthcare Management
Every online bachelor's program in healthcare management has something different to offer. It is important that you do your research in advance so you can make an informed decision and choose the school that best supports your needs. Read some of the key questions and answers every prospective student needs to know before you apply.
What will you learn when earning an online healthcare management bachelor's degree?
The curricula for healthcare management bachelor's programs can vary between schools. Colleges and universities will likely possess overlapping, common courses while simultaneously offering unique specialty courses. This list will give you an idea of what to expect while pursuing your bachelor's degree in the field.
Healthcare Systems
This introductory class helps students understand the political aspects of the healthcare system. Students examine modern issues pertaining to healthcare costs, quality of care, and access to treatment. The class covers current healthcare policies and case studies to help students hone their critical thinking skills and further their understanding of the system.
Clinical Issues in Healthcare Management
Students in this class study the relationship between healthcare managers, patients, and healthcare providers. Faculty ensure that students understand contemporary aspects of the healthcare industry and explore the system organization and financing. Most courses in this area spend a significant amount of time exploring medical technology and the future of healthcare in the U.S.
Healthcare Quality and Data
Students in this class learn about the various methods researchers use to understand the quality of care in hospitals and other care facilities. Students learn about the mechanics of hospital quality evaluation, explore the history of healthcare outcomes analyses, and learn to use statistical analysis with data collection systems.
Healthcare Law
This advanced course helps students explore the ethical, regulatory, and legal issues that healthcare professionals deal with on a regular basis. Faculty help students understand the role that law plays in the quality, delivery, and organization of healthcare practices today. Many courses in this area also focus on how to protect human rights for those receiving care through the U.S. system.
Strategic Management Healthcare Organizations
Professionals in healthcare management roles must be prepared to handle the planning, logistics, and management components of working in today's modern system. This course helps learners develop strategic leadership skills and understand current issues in the workplace related to sexual harassment policies, rising benefit costs, and diversity training.
---
The skills you acquire in a healthcare management bachelor's program are widely valued both inside and outside of the healthcare industry. Developing these skills in an academic setting can help you prepare for a career in healthcare management, and/or for advanced study at the master's level. These include:
Written and verbal communication
Critical thinking and analysis
Team and project management
Administrative and leadership
Active listening and decision-making
What concentrations are available in healthcare management programs?
Depending on the program, your college or university may offer concentrations as part of your healthcare management degree. These pre-set tracks allow learners to develop a specialized body of knowledge and specific skill set. Concentrations or specialized tracks of study will vary between schools, but may include:
Healthcare Informatics
Students pursuing a healthcare management degree with a concentration in healthcare informatics engage with a curriculum that combines cognitive science, information science, computer science, and healthcare sciences. Students can develop specialized skills in digital asset management and electronic health records. Additionally, faculty incorporate training in the security and privacy issues commonly encountered by professionals in today's healthcare information systems.
Healthcare Quality and Patient Safety
With this concentration, healthcare management students study strategic planning, patient advocacy, economics, and decision-making as it pertains to the modern healthcare system. Courses in this concentration typically include classes that investigate ethical and legal issues in the field, healthcare quality management, and the role of healthcare administrators in quality control.
Gerontology Management
In addition to learning more about the U.S. healthcare system, students with a gerontology management concentration can focus on regulations and management, operations, and care structures for aging populations. Learners in this area typically possess a special interest in the medical needs of older patients, including the financial and social considerations that come with working with this population.
How long does it take to earn a healthcare management bachelor's degree online?
In most cases, a bachelor's degree in healthcare management takes full-time students approximately four years to complete. Learners who enroll as part-time students can typically expect to add an additional two years of time to finish degree requirements. The duration of your program depends largely on your availability to take classes each semester, if courses are available during the summer semester, your enrollment status, and if you possess any eligible transfer credits before entering a program.
The bachelor's degree in healthcare management is often a four-year degree for students enrolled in a program that follows a traditional, synchronous semester schedule. Degree-seekers in online programs with self-paced, asynchronous courses may be able to complete coursework more quickly compared to those following a traditional schedule. Alternatively, some colleges and universities offer test-out exams. In these scenarios, students take a general exam and receive college credit for the information they already know in the field. By acquiring credits through this exam, or transferring credits from previously earned coursework, bachelor's students in healthcare management may be able to finish their degree more quickly that they originally anticipated.
How much does an online healthcare management bachelor's cost?
The short answer is, it varies. Even if you attend a fully online program, costs depend on where you live, especially if a school charges different tuition rates for in-state and out-of-state students. Furthermore, students who are enrolled in a program for a longer duration may end up paying more tuition money in the long run despite having completed the same number of required credits.
One of the most significant factors in the cost of a college education is financial aid and funding. Students who receive monetary awards, especially scholarships or grants, can greatly reduce their out-of-pocket expenses for their bachelor's degree. To find the cost of a specific online bachelor's in healthcare management, locate a school in the ranking section above and visit its tuition and fees page for more information.
Funding Your Online Healthcare Management Degree
Paying for college may seem tough, but many financial aid options exist for online students today. Prospective college students need to prioritize securing financing for their education, and do so before they begin taking courses. Scholarships and grants are especially advantageous for college students, but there are additional funding options to consider. The section below highlights the most popular ways that bachelor's students in healthcare management get the funding they need.
1
Scholarships
Scholarships are a great way to fund your healthcare management degree. When researching, make sure you look for both internal and external scholarships. With internal scholarships, your college or university may reserve awards for students in your department. With external sources, private organizations or individuals will offer scholarship money to students based on any number of criteria. These awards can be merit- or need-based, reserved for students of particular ethnicities or backgrounds, or dedicated to learners pursuing an education in a particular field. Check out our scholarships page for more information.
2
Financial aid
Regardless of their financial situation, healthcare management students should submit a FAFSA, or free application for federal student aid. By submitting the FAFSA, the government is able to determine your eligibility for need-based financial aid. Aid may come in the form of grants, scholarships, loans, or work-study programs. Many students benefit from these programs and receive monetary awards that do not need to be repaid. Visit our financial aid page for additional guidance.
3
Loans
Unlike scholarships and grants, the financial aid that you receive in the form of loans needs to be repaid with interest. The U.S. Department of Education's Federal Loan program allows undergraduate students to borrow between $5,500 and $12,500 per year. Loans may also come from private sources such as financial institutions, banks, and individuals. More often than not, it's better for a student to take on a loan through the federal government than through a private source.
4
Work-Study Programs
Work-study programs provide students with part-time jobs while they pursue their education. Students must demonstrate financial need and use the funds to offset the cost of their education. Healthcare management students in work-study positions typically find community service-focused positions in their field of study. Both full- and part-time students can obtain these positions. Prospective students should check with their home department or financial aid office to see if their school participates in this program.
5
Grants
Grant money may come from various sources, including the federal or state government, your college or university, and private or nonprofit organizations. These financial awards are intended to offset the cost of your education and do not need to be repaid. Grants are usually based on your level of financial need. A popular need-based grant for undergraduate learners through the federal government is the Pell Grant.
What's Next? After Your Online Bachelor's in Healthcare Management
Maybe you already know (or kind of know) which careers you can pursue with a bachelor's in healthcare management. Or, maybe you haven't hopped online and done the research quite yet. Whichever sounds like you, it's important to thoroughly explore, learn, and understand all your career options well before you have that bachelor's degree in hand. Let's take a closer look at what's after graduation in healthcare management.
Do you need a special license or certification to work or advance?
While rare for healthcare management professionals, depending on where you wish to work, you might need a special license or certification. Requirements vary within the field and across states. For example, some facilities or state may ask you to complete a training program accredited by the Commission on Accreditation of Healthcare Management Education (CAHME) and pass a certification exam. Exams are typically administered by an agency such as the Professional Association of Healthcare Office Management (PAHCOM). There are no universal licenses or blanket certifications for professionals in healthcare management, and it's solely dependent upon your career trajectory.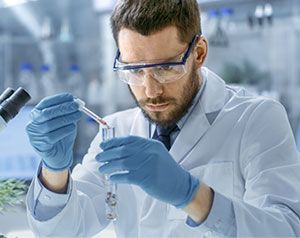 What can you do with a healthcare management bachelor's?
A bachelor's degree in healthcare management can open doors to a number of employment opportunities. New graduates can find employment as quality and improvement managers, health insurance managers, managed care representatives, population health manager, and more. Professionals who are new to the field often start out as administrative assistants or department leaders. After establishing yourself and gaining documented work experience in the field, you may be able to move on to upper-level and managerial roles.
This diverse bachelor's degree can also prepare you for additional education and serves as a stepping stone toward a master's or doctoral program. Graduate degrees allow you specialize, diversify your career options, and increase your earning potential. After earning a master's degree in healthcare management, you can seek out administrative and managerial roles as clinic managers, operations officers, facility managers, and health services managers. Students who pursue a doctorate in the field often prepare for research and teaching positions at colleges and universities.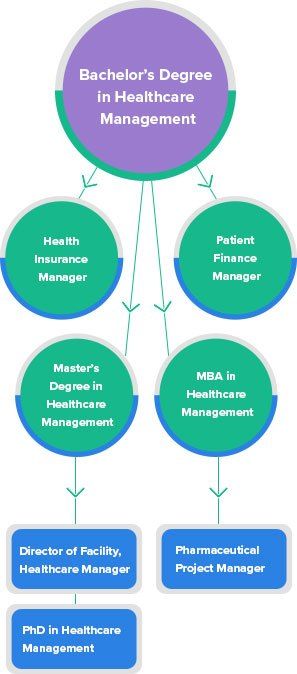 How much can you earn with a bachelor's in healthcare management?
Professionals in healthcare, including those in healthcare management, can earn substantial salaries with a bachelor's degree. Many established healthcare managers find entry-level positions starting at an average of around $60,000, according to the Bureau of Labor Statistics. With the appropriate training and work experience, healthcare management degree-holders can earn salaries in the low six figures. According to Payscale, healthcare program directors at major companies earn between $88,000-125,000 per year. Your location, education, and work experience all affect your earning potential. The following table shows the spectrum of salaries, based on education, experience, and location for medical and health services managers.
Area Name
Employment
Entry-Level
Early Career
Mid-Career
Experienced
Late Career
Load More
Continuing Education & Related Degrees
After your bachelor's degree in healthcare management, you may think about pursuing a master's. Perhaps you want to diversify your employment options or increase your earning potential in healthcare management-related occupations. On the other hand, you may be interested in pivoting into a related career with a second degree program. Take a look at a few of the most popular next steps for students with a bachelor's in healthcare management, or, if you're still not sold on that path, some related degrees that could be up your alley.

Continuing Education
Online MBA in Healthcare Management
This MBA is a two-year degree that prepares students for more advanced and upper-level work in healthcare management. Coursework includes training in business practices, managerial economics, quantitative analysis, and strategic marketing. Depending on where you work, you may handle day-to-day operations, facilities management, and even accounting-related tasks. With this degree, you can find opportunities to work in nursing facilities, hospitals, and ambulatory healthcare service organizations, for example.

Related Degrees
In more traditional scenarios, healthcare administrators work in leadership roles in hospitals, clinics, and other care facilities. They typically deal with staffing and organizational issues and work directly with personnel. These professionals typically need a master's degree or higher to secure administrative or leadership roles. You will likely need a master's in healthcare administration for these upper-level positions. Alternatively, students can prepare for careers in this area with an MBA with a concentration in healthcare.
Healthcare Administration Bachelor's
A bachelor's degree in healthcare administration prepares professionals for many important behind-the-scenes jobs in the healthcare industry. You may be able to pursue entry-level positions as private practice office managers, care facility administrative assistants, medical reimbursement specialists, healthcare consultants, or healthcare human resource manager. With experience and time, professionals with bachelor's degrees in healthcare administration may be able to move on to more senior positions as hospital department managers, government policymakers, facility project managers, insurance contract negotiators, and more.