Written By


last updated

09/15/2022
Choosing where to earn your public health degree online is a big deal. It is important that you do your research before applying to schools to find the ones that best fit your personal and academic needs. At first glance, online public health degree programs may appear similar, but each college or university has something unique to offer. In addition to cost and convenience, you will also need to evaluate each school's course offerings and faculty strengths.
Our Best of 2023 rankings list below can help you get started in your search. Using data from the Integrated Postsecondary Education Data System (IPEDS) and universities themselves, we've created a collection of what we believe are the best public health degrees you can earn online for the cost. With our help, you can find an accredited program that works for you, offers the credentials your future employers want, and has a price you can afford. Learn which online programs stand out in 2023.
or
About the ranking
X
Base Methodology for EduMed's 2023 Online College Rankings
1. Create List of Eligible Schools and Programs
To be eligible for this ranking, schools were required to meet the following criteria based on government data provided by The Integrated Postsecondary Education Data System (IPEDS).
Institutional accreditation from an organization recognized by the U.S. Department of Education.
At least one program in subject area offered partially or fully online.
2. Assign Weightings
After creating the list of eligible schools, EduMed data scientists assigned weights and ranked schools based on a mix of affordability, support services, and online program availability metrics. Online program availability and overall affordability metrics received the heaviest weightings.
Online Program Availability
Number of online programs in subject area reported by school to the U.S. Department of Education.
Affordability
Cost

– Relative cost of attendance compared to peer schools on the list. Based on tuition and fees per academic year.

Students w/ Institutional Aid

– Percentage of students who receive financial aid from the school itself.
Support Services
Academic Counseling

– Existence of this service on campus or online.

Career Placement

– Existence of this service on campus or online.
About Our Data
EduMed's rankings use the latest official data available from The Integrated Postsecondary Education Data System (IPEDS). Most recent data pull: July 2022
#

School Name

Type

Cost

Online Programs

More Details

School Information

Online Students

Academic Counseling

Career Placement

Students w/Institutional Aid

Median Earnings 10yrs After Entry

Accreditation

1

Southern New Hampshire University

Manchester, NH

Private not-for-profit

$$

3

Academic
CounselingYes
Career
PlacementYes
Student/
Faculty Ratio21/1

Accreditation

NECHE

2

Boise State University

Boise, ID

Public

$$

1

Academic
CounselingYes
Career
PlacementYes
Student/
Faculty Ratio18/1

Accreditation

NWCCU

3

University of North Carolina at Greensboro

Greensboro, NC

Public

$

1

Academic
CounselingYes
Career
PlacementYes
Student/
Faculty Ratio16/1

Accreditation

SACSCOC

4

Oregon State University

Corvallis, OR

Public

$$

1

Academic
CounselingYes
Career
PlacementYes
Student/
Faculty Ratio18/1

Accreditation

NWCCU

5

University of Missouri-Columbia

Columbia, MO

Public

$$

1

Academic
CounselingYes
Career
PlacementYes
Student/
Faculty Ratio18/1

Accreditation

HLC

6

Weber State University

Ogden, UT

Public

$$

1

Academic
CounselingYes
Career
PlacementYes
Student/
Faculty Ratio21/1

Accreditation

NWCCU

7

Delaware State University

Dover, DE

Public

$$

1

Academic
CounselingYes
Career
PlacementYes
Student/
Faculty Ratio16/1

Accreditation

MSCHE

8

Central Washington University

Ellensburg, WA

Public

$$

1

Academic
CounselingYes
Career
PlacementYes
Student/
Faculty Ratio20/1

Accreditation

NWCCU

9

University of Southern Mississippi

Hattiesburg, MS

Public

$$

1

Academic
CounselingYes
Career
PlacementYes
Student/
Faculty Ratio18/1

Accreditation

SACSCOC

10

Youngstown State University

Youngstown, OH

Public

$$

1

Academic
CounselingYes
Career
PlacementYes
Student/
Faculty Ratio18/1

Accreditation

HLC

11

Kent State University at Kent

Kent, OH

Public

$$$

1

Academic
CounselingYes
Career
PlacementYes
Student/
Faculty Ratio21/1

Accreditation

HLC
Profiling Online Public Health Degree Programs
School profiles like the ones we've provided below can be incredibly helpful as you research online public health degree programs. They can give you a behind-the-scenes look at what it's like to earn your degree online, how much it will cost, what classes you'll take, and much more. Learn more about online bachelor's degrees in public health at two of the most popular online universities and see if they may be right for you.
Southern New Hampshire University

SNHU is a private Institution located in Manchester and Hooksett, New Hampshire. Established in 1932, the school today serves approximately 88,000 online students and holds regional accreditation from the New England Association of Schools and Colleges.
The school offers a bachelor of science in public health degree entirely online for remote learners. The faculty delivers courses in an asynchronous format, including courses such as fundamentals of public health, social and behavioral health, programming planning in public health, and public health education and communication.
Prospective students do not need to submit SAT or ACT scores for consideration. SNHU also subscribes to a rolling admissions policy and offers six eight-week undergraduate terms per year. Students need to complete 120 credits for this program and can transfer up to 90 credits from previously earn courses at accredited institutions. Graduates of this program move on to careers as public policymakers, scientists and researchers, social workers, epidemiologist, first responders, community planners, health educators, and more.
Walden University

Established in 1970, Walden is an online for-profit institution located in Minneapolis, Minnesota. The school offers a wide variety of undergraduate and graduate degrees, including an online bachelor of science in public health. Public health students choose from concentrations in healthcare management, health promotion and wellness, and health psychology and behavior.
Online students choose from three degree completion options that cater to the learner's schedule. Firstly, Walden offers a course-based option, which allows students to engage in synchronous course meetings with faculty on a predetermined schedule. Secondly, learners can take advantage of a competency-based option wherein they complete assignments with no weekly deadlines and work at their own pace. Lastly, Walden offers an accelerated track for undergraduates who plan on pursuing a master's degree upon graduation. In this scenario, you can earn 20 master's-level credits while completing your undergraduate requirements.
In total, bachelor's degree speakers need at least 181 quarter credits for graduation. Core major courses include principles of epidemiology, public health education and communication, and planning public health programs. Additionally, bachelor students complete a five-credit capstone course.
Online Public Health Degrees & Accreditation
Colleges and universities that offer valuable education typically possess regional accreditation. Accrediting bodies ensure that educational institutions meet particular standards and evaluate them on a regular basis. In sum, schools with regional accreditation provide quality education to their students and are worth your hard-earned tuition dollars.
Some schools will seek out programmatic accreditation, which is usually specific to one degree program or department. For public health departments, the Council on Education for Public Health (CEPH) offers the top programmatic credential. This accreditation improves the school's reputation and visibility among the public health community, helps institutions attract world-class faculty members and top students, and increases the school's access to a diverse network of resources in the public health arena.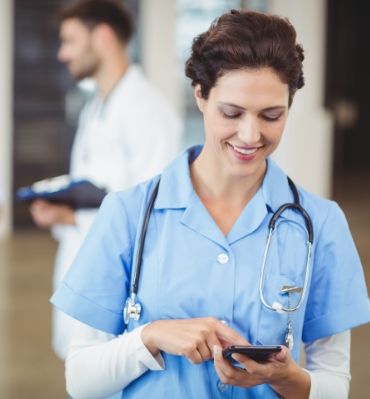 Aside from offering reassurance that you as a student are pursuing a worthwhile education, school-wide and programmatic accreditation shows your prospective employers that, upon graduation, you've completed a rigorous curriculum that's been carefully vetted and approved by credible outside parties. Additionally, in order to receive federal financial aid, the federal government and other types of public funding institutions require you to attend an accredited institution. You must submit your FAFSA before the deadline to be considered for funding.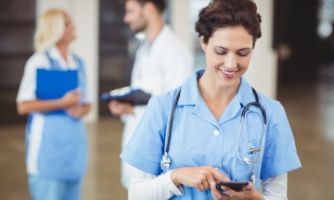 A Look Inside the Online Bachelor's in Public Health
Before you apply to a program, it is important that you spend a significant amount of time researching the cost, curriculum, and potential career prospects you may encounter upon graduating. When it comes to your education, you can never be too informed about the decisions you're making. In the sections below, we offer a list of key questions that you should answer during the early stages of your search for an online public health program.
What do you learn in an online public health program?
Every public health program is different and brings unique strengths to the table. At the same time, these programs also share a core set of introductory and intermediate public health courses. Here's a list of courses and common topics they cover to give you an idea of what you will face as a public health student.
Anatomy and Physiology
Undergraduate students in public health need to understand the basics of molecular and cellular mechanisms and organ systems of the body. These courses typically include laboratory exercises and lectures from faculty members. These classes are common and often required among undergraduate public health programs and usually include the word "introduction" in their titles.
Biology and Public Health
Courses in this category help learners explore causes of human diseases from an ecological perspective. Faculty assist public health students in examining population-based case studies of infectious diseases, genetically determined diseases, and disease transmission. Any type of introductory biological course that is designed for public health students at your school will cover the essential information you will need regarding diseases, risk factors, and transmission.
Research Skills and Public Health Professions
These introductory classes help prepare you for various types of research you may conduct upon graduation. You will develop foundational assessment skills, learn how to use data collection methods, and create executable research designs. While these courses are important for your undergraduate success, these research skills courses also prepare you for graduate-level coursework.
Behavioral Health and Sociology
These courses provide an overview of foundational information in the social and behavioral sciences as it pertains to public health majors. You will explore the essential theories, principles, and research techniques that have historically been used to solve public health issues. Using case studies, students explore a variety of factors related to human behavior, including culture, ethnicity, gender, and poverty.
Practical Skills in Public Health
These courses help undergraduates develop the necessary planning, time management, and leadership skills professionals in public health employ in a variety of contexts. Faculty cover essential theories, planning methods, and concepts that lead to the promotion of successful public health programs and effective public health policies.
As a public health student, you will learn a wide variety of valuable skills that are applicable both inside and outside of the public health field. The training you receive and skills you'll develop prepare you for detail-oriented careers and help you be a more effective communicator, researcher, educator, and leader.
Critical-thinking skills
Teaching and presentation skills
Problem-solving skills
Communication and interpersonal skills
Research and analysis skills
What concentrations or tracks are available in public health?
Although concentrations and specialized tracks tend to be more common at the master's degree level, bachelor's students in public health can sometimes narrow down their interests while progressing through their undergraduate curriculum. In many cases, focusing on a concentration area helps you develop specialized skills that prepare you for more specific careers upon graduation. Additionally, the concentration area will help keep your academic interests and research focused as you advance through a program. This way, you'll be better prepared for graduate studies in public health, should you choose to pursue a master's or doctoral degree.
Epidemiology
Epidemiology is the study of diseases and health among populations of humans. In this concentration area of the field, you focus more on communities and research individuals as parts of a larger collective. It is also the scientific study of health patterns and risk factors among populations, with special attention given to infectious diseases, disaster scenarios, and other epidemic situations.
Health Policy and Management
This concentration best serves learners interested in improving health policies in their communities at the state and national levels. Undergraduates with this concentration learn about the basic skills and methods for impacting public health policies and regulations, utilizing data-based solutions to improve healthcare, and conducting effective health policy research.
Global Health
Students with a concentration in global health focus on both local and worldwide issues in public health. This specialization is good for students interested in working with government organizations, research institutions, and other partners who develop, improve, or analyze public health programs or projects around the globe.
Biostatistics
For public health students interested in a more mathematical approach to public health, a concentration in biostatistics may be an excellent fit. In these specialized tracks, you learn how to apply statistical research methods to analyze healthcare, clinical data, biomedical information, and more. Undergraduate students develop an understanding of statistical probability, random variation, various types of research methods, and ethical principles commonly employed in the field.
Community Health
Undergraduate public health students with a concentration in community health explore psychological, cultural, and social behaviors as it relates to public health and community-based interventions. Learners also study political and social action, local and national health agencies, and the effectiveness of health maintenance organizations in hospitals.
How long does it take to complete an online public health degree program?
Similar to most online bachelor's degrees, the online degree in public health usually takes full-time students four years to complete. Many colleges and universities accept transfer credits or offer you credits for prior learning experience which can shorten your time in a public health program.
There are several factors that can affect the duration of your degree as an online public health bachelor's student. The most significant determinant of time is your enrollment status as a full- or part-time learner. Depending on how many courses you are able to take each semester, part-time status may increase your time in school by one or two years.
How much does it cost to earn a bachelor's in public health online?
The cost of your online public health degree varies between schools. Even though you may be taking entirely online courses, even where you live can affect the cost of your online education. Colleges and universities often charge different tuition rates for in-state and out-of-state learners.
Furthermore, the longer you spend in school, the more you can expect you spend on education-related expenses outside of tuition, such as commuting to campus for hybrid courses, acquiring learning materials, and time away from your job. For the cost of a specific online bachelor's programs in public health, find a school in the ranking above and visit its tuition and fees page.
Paying for Your Online Public Health Degree
A college education cost a significant amount of money and requires careful planning ahead of time. There are many options to help you pay for school, you just need to look for them. Regardless of your financial situation, you should apply for as many funding opportunities as possible, provided you meet the requirements. This list below contains five of the most common ways public health degree-seekers obtain funding for their education.
1
Scholarships
Scholarships may come through your department or college as well as from outside sources. Scholarship awards can come from public and private organizations, government bodies, private individuals, and more. Legitimate scholarships do not require you to submit an application fee to apply. You should apply for as many scholarships as possible, provided that you are competitive candidate based on the stated criteria. Scholarships are essentially free money for your education that do not need to be repaid.

Explore 15 of the best scholarships for public health students.
2
Financial aid
The U.S. Department of Education provides students more than $150 billion in financial aid every school year. In order to be considered for these funds you must fill out and submit a FAFSA. All students should submit this free application form regardless of their financial situation. This need-based aid may come in the form of a loan, grant, or work-study position.
3
Grants
Grants are often need-based awards and come from the federal or state government, your school, or private organizations. A common grant for public health students to receive is the Federal Pell Grant. The amount of the grants change each year and do not need to be repaid, provided you finish your studies as intended each year.
4
Work-Study
These are part-time jobs for students in financial need. The positions are available to part- and full-time students and can significantly offset the cost of your education and living expenses. Be sure to check with your school's department of financial aid to ensure that federal work-study program is available at your school, as this is not a universal program.
5
Loans
After you send in your FAFSA, the federal government considers your candidacy for an education loan. Alternatively, you can apply for a loan through a private financial institution, such as a bank. Most students choose a federal loan over a private loan, as the interest rates are usually better through the government. A loan helps you cover your educational and living expenses but it must be paid back to the loaner plus interest.
What's After Your Online Bachelor's in Public Health
It is important for new students to fully understand the industry that they're preparing to enter upon graduation. As you look into degree programs to pursue your bachelor's in public health, be sure to cast a wide net and learn as much as you can from credible sources. Make sure you examine the career paths that will become available to you with your public health credentials, as well as how much you can expect to earn in those roles.
Do I need certification or licensure with a bachelor's in public health?
In many cases, you do not need to possess a particular type of certification or license to pursue a career in public health with a bachelor's degree. Several elective certifications are available to bachelor's degree-holders, however. Ultimately, a certification shows your prospective employers that you've gone the extra mile to hone your skills and set yourself apart from other candidates in the job market.
The most commonly sought out certification, the Certified in Public Health (CPH) designation, comes from the National Board of Public Health Examiners. Students can also pursue specialty certifications such as one from the Certification Board for Infection Control and Epidemiology, which requires that candidates have a bachelor's degree in public health and at least two years of work experience.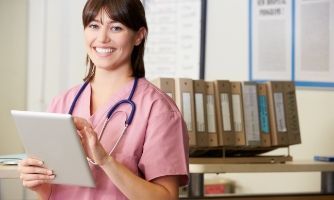 What can you do with a public health bachelor's?
A bachelor's degree in public health positions you for a variety of exciting and rewarding careers. Whether you want to work in the public or private sector, a public health degree can serve as one of the most important steps to a fulfilling career. Depending on your area of interest or concentration area, you may find yourself working as a clinical researcher, healthcare consultant, nutritionist, social worker, and more. A bachelor's degree also prepares you for additional education in a master's in public health program. The chart that follows illustrates only a small taste of what's out there for bachelor's degree-holders in public health.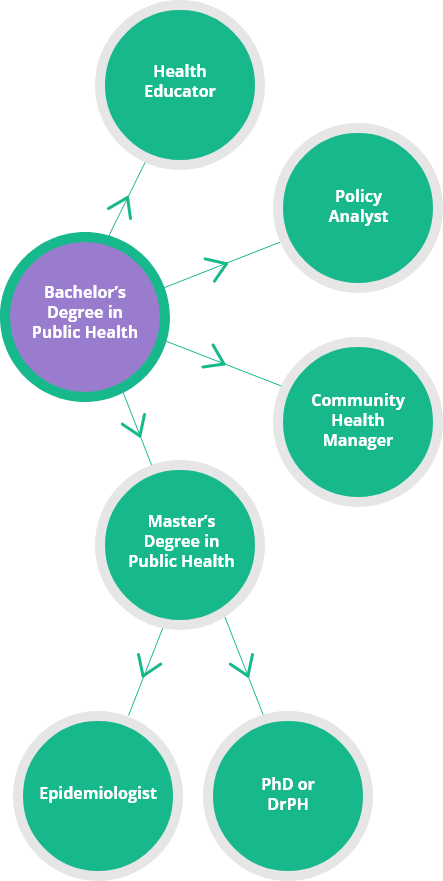 How much can you earn with a public health bachelor's?
While a bachelor's degree in public health can position you for success in a variety of lucrative careers, your education level and amount of experience also greatly affect your earning potential. In the table that follows, we offer a spectrum of salaries based on education levels, experience, and geographic location for several common public health professions.
| Career | # Employed | Entry-Level | Early Career | Mid-Career | Experienced | Late Career |
| --- | --- | --- | --- | --- | --- | --- |
| Medical and Health Services Managers | 372,670 | $58,680 | $76,050 | $99,730 | $130,820 | $182,600 |
| Health Specialties Teachers, Postsecondary | 199,480 | $43,370 | $61,280 | $97,370 | $160,580 | – |
| Occupational Health and Safety Specialists | 88,390 | $42,450 | $56,060 | $73,020 | $91,030 | $108,520 |
| Environmental Scientists and Specialists, Including Health | 80,480 | $42,520 | $53,580 | $71,130 | $94,590 | $124,620 |
| Epidemiologists | 7,060 | $42,240 | $54,930 | $69,660 | $89,950 | $112,600 |
| Health Educators | 58,780 | $32,030 | $39,800 | $54,220 | $74,660 | $98,530 |
| Community Health Workers | 56,130 | $26,070 | $32,280 | $39,540 | $51,650 | $65,890 |
Continuing Education & Related Degrees
Perhaps you are interested in earning a bachelor's in public health to expand your career options or advance up the ladder in your current position. Maybe you want something a little different than you originally planned. In public health, there's plenty of opportunities to advance with additional education, such as a master's in public health, or to pivot into a related career with a second bachelor's degree. Take a look at a few of the degree options that may be a good fit if you're currently studying or working in public health.

Continuing Education
If a DNP doesn't seem like the right fit, students looking to advance their nursing careers or increase their expertise may want to explore other online nursing degrees. Earning an advanced education is a big decision that warrants careful consideration, so exploring alternative degree programs is a smart idea. These may be great options for nursing professionals who want to advance their careers but aren't set on a DNP route.
Master's in Public Health Online
Like most master's degrees, the MPH allows you to further develop your knowledge in the field, particularly in a specialized area. Master's programs are typically 2-3 years in length and can require an extensive final project or traditional master's thesis, depending on your program. The MPH is usually best for students who already possess a bachelor's degree in the field.
Doctor of Public Health Online
The doctor of public health is usually the next step for current master's degree-holders who wish to pursue the top education and research positions in the field. Most colleges and universities, especially top-tier institutions, require their full-time, tenure track professors to possess a doctoral degree. You can also obtain research and education jobs outside of universities and work for private research organizations, the state or federal government, nonprofit institutions, and more.

Related Degrees
Healthcare administration programs best serve individuals interested in the business side of healthcare. Sometimes referred to as health services managers, professionals in healthcare administration have strong leadership skills and an understanding of the complexities of the healthcare system, hospitals, clinics, and the relevant technology. You can find entry-level positions in a variety of roles, including jobs in human resources departments and hospital management.
Health science programs prepare you for a variety of exciting jobs in the field, including occupational therapy assistant, surgical technician, registered health information technician, and more. While pursuing your degree, whether at the undergraduate or graduate level, you will choose a specialization area in health informatics, epidemiology, administration, or another popular area. In any case, a health science program will ensure that you understand the foundational knowledge of the field, including topics in medicine and nutrition, to pursue a variety of career paths upon graduation.