Written By


last updated

01/18/2022
If you're looking to earn a health science degree online, you have plenty of options. More and more schools have added online health science to their program lists at all degree levels. But when reviewing these programs, how do you know which are right for you? Which ones have the best combinations of affordability, quality, and flexibility for today's digitally-savvy students? Using data from the Integrated Postsecondary Education Data System (IPEDS), and from the schools themselves, EduMed.org has researched, analyzed, and ranked the schools with the best online health science degree programs for 2022. Review the colleges and universities that truly stand out.
Profiling Online Degrees in Health Science
It can be difficult to find the school for you, whether you plan to study the health sciences or something else entirely. But if a degree in HS is on your radar, identifying the program that fits your needs is key. To help you understand what an online degree in health science entails, how much it costs, the online courses you'll take, and the curriculum goals, we've profiled one of today's most popular online degree programs in the field.

Walden University is a leader in online learning. This institution has been accredited by the Higher Learning Commission since 1990 and currently boasts a student body of more than 50,000 students. One of Walden University's key advantages is the wide array of programs and courses available. For example, for students interested in a degree in health science and related fields, they have 12 programs to choose from at the certificate, bachelor's, master's and doctoral levels. Two popular programs include the bachelor's in health studies and the bachelor's in healthcare management.
Both of these include three tracks: course-based, competency-based and master's accelerated. The latter is ideal for students who are confident they want to earn a master's degree in a health science or similar field from Walden University. In many cases, students will be able to reduce their master's degree course requirements by as much as 50%. The course-based approach is similar to more traditional coursework and provides students with an instructor-led teaching approach with a set course schedule. Those seeking maximum learning flexibility will prefer the competency-based track, where they can advance their learning at their own pace.
Online School Interview: Director of Health Sciences
To give you an inside look at online health science degrees, we reached out to university program directors and gave them the opportunity to share what makes their online programs special. Here's what one had to say.
University name
location
School type
online programs
Get more info
Program Description
Touro University Worldwide
location: Los Alamitos, CA
School type: Private not-for-profit
online programs: 5
Get more info

Q&A with Lyzette Blanco
Ph.D., MPH

Director of Health Science Program and The Edith Neumann School of Health and Human Services

B.S. and M.S. in Health Sciences

What's your involvement at Touro University Worldwide with online learning?

As the program director, I oversee the development of courses to ensure they integrate and apply public health concepts, encourage professional development and build scholarly aptitude. I also serve as the instructor of various courses of the program.

What makes your online health science programs stand out from others?

Instructors hold the highest degrees in their prospective fields. TUW instructors offer a wealth of knowledge from diverse academic and professional backgrounds providing the opportunity to learn from a collective group of individuals. The program curriculum provides students the opportunity to skills to understand and develop skills to address the latest public health problems.

How do your online programs in health science prepare students for successful careers in the field?

The health science programs prepare students to work with a growing diverse population, addressing today's health concerns. With a diverse and holistic curriculum taught by leaders in the field students gain knowledge in addressing today's problems. Students gain the foundational skills to succeed as health professionals across various environments.

What support services do you offer students enrolled in your online health science programs?

In the health science programs we aim to encourage our students to be the best they can be. To support students, we have an academic advisor available to aid with all admission questions or concerns. Furthermore, as program director, it is my responsibility to ensure students succeed in reaching their academic goals. We believe in providing support and encouragement throughout their academic tenure at TUW.

Any other information you'd like prospective students to know about your health science programs?

The health science programs aid students and health professionals in applying foundational public health knowledge to improve the quality of life for communities. Using innovative approaches, taught by leaders in the field, health science students gain skills to practice in a real-world setting. The curriculum guides students through major health challenges occurring today to hone the skills of tomorrow.
Choosing Your Online Health Science Degree Program
Picking the right program is different for everyone. Where one student's needs more affordable tuition, another may be more focused on flexibility. Despite the personal nature of this decision, there are certain factors that every student should think about before applying to online health science programs. Make sure each program you're vetting does the following:
Fits your budget
There's no point in enrolling in a program you can't afford or will leave you with a debt following graduation that you will be unable to pay back. Don't just focus on tuition, but other things can affect cost of attendance, such as fees and the availability of financial aid.
Has proper accreditation
Accreditation is the process by which an independent body confirms that a school or program meets basic educational quality standards. At a minimum, prospective students should confirm that their chosen school has at least regional or institutional accreditation. Without accreditation, the degree earned may be almost worthless.
Fits your schedule and career timeline
Online programs are known for their flexibility, but some programs make it easier to fit learning into a work or life schedule. Some programs make it easier to graduate at a faster or slower pace. Before enrolling, ensure a particular program's online format will fit your schedule and professional goals.
Matches your interests and desired career outcomes
Health science is a fairly specialized degree, but there are variables within the degree program designed to tailor it to your unique professional or academic interests. For example, one program might offer a specialization that another does not. Or, it might make sense to earn a health science degree at the graduate level as opposed to the undergraduate level.
Qualifies you for professional certification
If you hope to earn a special certification or license, there might be specific education requirements. Be sure the school you're interested in will prepare you to obtain that professional qualification or certification. Otherwise, you may find yourself back in school, delaying you professional advancement or missing out on certain opportunities.
Offers a strong student support system
Distance learning requires a significant amount of self-discipline. However, it's very beneficial to have easy access to academic and professional support. Questions come up and problems arise; when they do, you want to be sure you'll have someone easily accessible to help you figure things out.
Earning Your Health Science Degree Online
When enrolled in an online health science program, experiences can vary. For instance, some programs will be 100% online while others will be mostly or partially online. The exact amount of online classes will depend not only on the particular program, but on area of specialization.
Additionally, there will be varying degrees of flexibility. Some students will have almost complete control in how and when they take their classes, while others will have more structure in completing their academic requirements. Some things will be universal, however: for instance, one common feature among many health science programs can be found at the master's level, with the capstone project. Students can expect to complete this project and demonstrate their understanding of the health science field by applying their knowledge to real-world scenarios.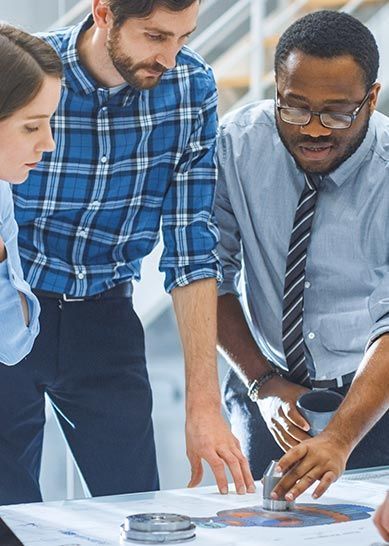 Online Health Science Degrees by Level
Health science is a popular area of study, so it's no wonder there are various degrees available for both graduate and undergraduate students. The three most popular health science degrees can be found at the associate, bachelor's and master's degree levels. Let's take a closer look.

Online Associate Degree in Health Science
An online associate degree in health science is a great opportunity to gain a solid foundation in the field while still exploring more specific educational paths. The curriculum often focuses on providing a foundational level of knowledge that can be applied to a variety of medical and health settings. Many programs also provide opportunities for specialization for support, administrative, or technical roles in a hospital, clinic, or doctor's office. Upon completion, graduates should have the knowledge and skills necessary to contribute to a healthcare team and move on to a more advanced degree later if they so choose.
Best for … anyone looking to gain a basic understanding of the health care field, yet wants to keep the option of earning a bachelor's degree later on.
Program Requirements
Other Common Requirements:
In addition to core or major related courses, students will take general education classes that comprise of roughly half of their total credits needed for graduation.
Time to Complete
Part-Time Program: 2-3 Years
Full-Time Program: 1.5-2 Years
Popular Career Options
Medical Assistant
National Median Salary (2018):
$33,610
National Job Growth (2018 to 2028):
23%
Pharmacy Technician
National Median Salary (2018):
$32,700
National Job Growth (2018 to 2028):
7%

Online Bachelor's Degrees in Health Science
The online bachelor's is one of the most popular health sciences degree tracks. The four-year degree allows graduates to meet the basic education eligibility requirements for many healthcare positions. It also delivers a well-rounded general education to accompany the more specialized coursework. And finally, it sets the stage for further learning later on, such as with a master's degree. The core curriculum provides an extensive amount of healthcare training, with students learning basic knowledge from microbiology to health informatics to public health. When done with their degree, students should be prepared for taking on a number of roles in teaching, administration, management, and healthcare delivery.
Best for … someone who wishes to begin their career at more advanced levels, including teaching and management.
Program Requirements
Other Common Requirements:
Students will encounter an extensive general education curriculum. Some programs may require a final capstone project that applies classroom knowledge to a real-world situation.
Time to Complete
Part-Time Program: 5-6 Years
Full-Time Program: 2-4 Years
(Note that the time to completion depends upon whether the student already has an associate degree)
Popular Career Options
Community Health Worker
National Median Salary (2018):
$39,540
National Job Growth (2018 to 2028):
13%
Health Services Manager
National Median Salary (2018):
$99,730
National Job Growth (2018 to 2028):
18%

Online Master's Degrees in Health Science
Online health science master's programs cover theoretical and strategic topics, such as leadership, policy and ethics. They also help to cultivate advanced skills, such as writing, research, and statistical analysis. Students also have the opportunity to specialize during their master's program, diving deeper into areas such as environmental analysis, biostatistics, and ethics of healthcare.
Best for … established professionals who want to take the next step in their professional development in a health science field.
Program Requirements
Other Common Requirements:
Many programs require students to complete a capstone project that contains a practicum element. This may require students to work under the supervision of a faculty member while working within an organizational environment to address a particular issue for a specific community.
Time to Complete
Part-Time Program: 2-3 Years
Full-Time Program: 1.5-2 Years
Popular Career Options
Social and Community Service Manager
National Median Salary (2018):
$65,320
National Job Growth (2018 to 2028):
13%
Health Educator
National Median Salary (2018):
$54,220
National Job Growth (2018 to 2028):
10%
Financial Aid for Your Online Health Science Degree
Earning a health science degree is a significant investment. In addition to tuition, there can be fees, room and board, parking, books, and more. Fortunately, there are ways to help drive these costs down so you don't need to reach into your savings to pay for them. If you're ready to apply for an online health science degree, explore health science scholarships and research financial aid before you get started.
Health Science Degree & Career Resources
To make the most of your health science degree, it helps to know the right people and have access to helpful resources. Establishing connections in school can provide a valuable head start for professional development.
Professional Health Science Organizations
Connecting with the right professional organization can provide guidance on not just choosing the most appropriate academic path while in school, but can also make it easier to achieve your professional goals. These organizations can introduce you to areas of practice you never considered or open doors to job prospects you wouldn't otherwise have.
Resources for Health Science Students & Professionals
Whether you're looking to succeed in school or in your chosen field of work, having access to information and individuals who know something you don't is priceless. Numerous websites and organizations have a wealth of information to help you ace that next exam, understand course material, learn about a potential career or provide a few ideas on making the most of your upcoming networking event.