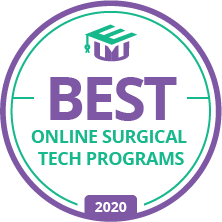 Best Surgical Tech Programs Online: 2020
A surgical tech career can be rewarding, but people who choose this path need to find the right degree program first. In order to help future professionals get the training they need, EduMed.org has created the Best in Class initiative, which spotlights the best surgical tech programs available today. To create this list, we researched more than 7,700 regionally accredited schools from across the country to find the programs that provide the best education at the best value. Review and compare some of 2020's best online surgical tech programs below.
or
About the ranking
X
Methodology for EduMed's 2020 Rankings
To be considered for this ranking, each school must have the following:
Institutional accreditation from an organization recognized by the U.S. Department of Education.
Program(s) offered at least partially online.
School Metrics Explained
EduMed.org data scientists analyzed government higher education data and created a proprietary algorithm to rank each U.S. postsecondary institution and its online programs using 5 primary factors:
Cost: Relative cost of attendance compared to peer schools on the list. Based on tuition and fees per academic year.
Online Program Availability: Number of online programs in subject area reported by school to Department of Education.
Academic Counseling: Existence of this service on campus or online.
Career Placement: Existence of this service on campus or online.
Students w/ Institutional Aid: Percentage of students who receive financial aid from the school itself.
About Our Data
EduMed's rankings use the latest official data available from The Integrated Postsecondary Education Data System (IPEDS).
Most recent data pull: February 2020
#

School Name

Type

Cost

Online Programs

More Details

School Information

Online Students

Academic Counseling

Career Placement

Students w/Institutional Aid

Median Earnings 10yrs After Entry

Accreditation

1

Southeast Community College Area

Lincoln, NE

Public

$

1

Graduates of Southeast Community College's Associate of Applied Science in Surgical Technology possess the knowledge and skills needed to assist surgeons during surgical procedures by holding retractors, cutting sutures, applying dressings, and more. Classes for this four-semester program begin each spring, and can be taken either online or on SCC's Lincoln, Nebraska campus. Online courses are designed for students residing outside the Lincoln area but within the state. Regardless of whether classes are attended on-campus or online, all students are required to complete labs in-person at clinical sites in one of the following areas: Kearney/Grand Island/Hastings, Norfolk/Columbus, or North Platte.

Program Overview:

Surgical Technology

Credits: 45
Length: 2 years
Cost: $8,758
Mode: Partially Online
Accreditation: CAAHEP

Academic
CounselingYes
Career
PlacementYes
Students w/
Institutional Aid43%

Accreditation

Higher Learning Commission

2

Seward County Community College

Liberal, KS

Public

$

2

The curriculum for Seward County Community College's Associate of Applied Science in Surgical Technology program focuses on preparing students to perform specialized tasks prior to, during, and following surgeries. This 64-credit hour program consists of major-specific and general medical education coursework, along with courses in public speaking, English, and English composition. Distance learning students complete their didactic coursework online. However, all students are required to attend labs two days each week (Monday and Wednesday, or Tuesday and Thursday) on the school's Liberal, Kansas Campus. Additionally students must travel to clinical affiliate sites for training during the spring and summer semesters. Qualifying students sit for their Certified Surgical Technologist (CST) certification exam prior to graduation.

Program Overview:

Surgical Technology

Credits: 65
Length: 2 years
Mode: Partially Online
Accreditation: CAAHEP

Academic
CounselingYes
Career
PlacementYes
Students w/
Institutional Aid35%

Accreditation

Higher Learning Commission

3

College of Southern Idaho

Twin Falls, ID

Public

$

1

Although not designated as online, the College of Southern Idaho's 63-credit hour Associate of Applied Science in Surgical Technology degree program includes several general education and major-specific courses that can be completed entirely online. All other classes require attendance on CSI's Twin Falls campus. Students are additionally required to complete in-person clinical practice hours at an approved clinical site in preparation for the AST National Certification Examination. Admission into the degree program is limited to 12 students annually. In addition to the Surgical Tech AAS program, CSI offers an eight-credit hour Basic Technical Assistant Certificate in Surgical/Central Sterile Processing Technology whose courses are all offered online, as well as a Surgical First Assistant AAS (for current CSTs) with some courses that can be completed online.

Program Overview:

Surgical Technology Program

Credits: 63
Length: Varies
Cost: $190/credit
Mode: Partially Online

Academic
CounselingYes
Career
PlacementYes
Students w/
Institutional Aid43%

Accreditation

Northwest Commission on Colleges and Universities

4

Linn-Benton Community College

Albany, OR

Public

$

1

Linn-Benton Community College's Surgical Technologist Certificate program provides students with the knowledge, skills, and practical experience to gain Oregon licensure and land entry-level positions as surgical technologists and technicians throughout the state. The 42-credit hour program is designed to be completed with three terms of full-time study. The curriculum is presented in a hybrid format combining online didactic coursework with in-person labs at the college's Healthcare Occupations Center located in Lebanon, Oregon. In addition, students complete a culminating 360-hour in-person practicum work experience at area hospitals and clinics that, along with other program requirements, prepares students to sit for the national certification exam.

Program Overview:

Surgical Technology Program

Cost: $9,750
Externship Hours: 360
Mode: Partially Online
Accreditation: CAAHEP

Academic
CounselingYes
Career
PlacementYes
Students w/
Institutional Aid7%

Accreditation

Northwest Commission on Colleges and Universities

5

Meridian Institute of Surgical Assisting

Nashville, TN

N/A

N/A

1

The Certificate for Surgical First Assisting available from the Meridian Institute of Surgical Assisting is designed for currently-employed surgical tech or closely-related professionals seeking the advanced training needed to take on the first assistant role during surgical procedures. The unique three-phase program consists of fully-online didactic coursework (Phase I), 60 hours of hands-on labs conducted at MISA's facility in Nashville, Tennessee (Phase II), and a 140-case in-person clinical externship completed with a sponsoring surgeon or qualified Surgical Assistant preceptor. Admission requirements include BLS certification and surgical scrub experience gained in the United States. The program is limited to 12 students each year, with program start times available at the beginning of each month.

Academic
CounselingYes
Career
PlacementNo
Students w/
Institutional Aid0%

Accreditation

Accrediting Bureau of Health Education Schools
Montana Tech – University of Montana

Montana Tech Highlands College, which is partnered with The University of Montana-Missoula College, offers an associate's degree program in surgical technology that combines online classes with clinical experiences completed at a hospital. During the online portion of the program, students build a solid foundation for their career by taking coursework in surgical procedures, medical ethics, and operating room techniques. After completing this part of the program, students work in a hospital to learn about surgical technology and techniques to solidify the concepts they previously studied.
In order to gain admission to this program, prospective students should have:
A minimum high school grade point average of 2.50
A minimum 1120 score on the SAT or a minimum 22 ACT score
Completed college preparatory requirements that include classes in computer science, foreign language, math, and writing
As of March 2019, the tuition is $339.08 per credit hour for state residents who are in the lower division and $898.36 for non-resident students. For those in the upper division, the resident tuition is $360.57 and $978.48 non-residents.
Saint Paul College

Saint Paul College's surgical technology associate's degree trains students to assist medical professionals in hospitals and surgical centers. This hybrid program lays the groundwork for the clinical requirements through classes in pathophysiology, microbiology, and medical terminology. In addition, students learn the skills necessary to earn a certification, such as using surgical instruments, communicating effectively in a surgical team, and applying aseptic practices when providing care to patients.
The prerequisites for enrolling in this program include completion of a CPR course, and providing evidence of being immunized. In addition, students are expected to complete the school's sterile processing certificate with a 2.50 GPA. People earn this certificate by completing a 30-credit program that teaches them how to package, sterilize, decontaminate, and prepare surgical instruments.
Saint Paul College charges students per credit for their degree programs. Surgical technology students can expect to pay between $205.37 and $285.36 per credit.
Taking Surgical Tech Programs Online
Although other health care related programs may allow students to complete their studies entirely online, those who enroll in a surgical technology program must participate in clinical training on campus or in a medical facility. However, these programs do allow students to take some of their coursework online, which is convenient for those who are not able to travel to campus on a regular basis because they are working full-time jobs or handling other responsibilities. The following is information on how these programs work.
How it works online
Surgical technology programs allow students to complete part of the curriculum online, while the rest of the required training is provided at hospitals and on campus. Before they participate in hands-on training, students can take classes like anatomy and physiology, pharmacology, and surgical principles online. In some cases, programs are conducted in a synchronous manner, where students are expected to attend classes at a certain day and time, while asynchronous programs allow them to watch lectures at a time that is convenient for them.
The benefits
Those who enroll in hybrid surgical tech programs get the quality education that students on campus receive, while enjoying the flexibility that comes with distance learning. In addition, depending on the program, students may be able to complete their studies in a relatively short period of time, which allows them to begin their careers quickly. Also, the cost of these programs may be more affordable than other types of degrees because oftentimes students are charged by the credit hour, which can drastically cut down costs. All of these factors make partially online programs a good option for those who want to enter the surgical tech field.
The reality
Although some classes that provide the theoretical framework for surgical tech programs can be taken online, people who are interested in these degrees should keep in mind that a large portion of the work will be done in person. This ensures that students are able to put the concepts they learned into practice, while also preparing for their certification exam and the realities of the job.
Types of Online Surgical Tech Programs
In order to become a surgical technologist, professionals need to earn a certificate, diploma, or associate's degree. In many states, people are not able to enter the field without an associate's degree, but in other cases, prospective surgical techs are able to get a job with a certificate or diploma. The following describes these programs and what students can expect when they enroll.
Certificate/Diploma
Surgical technology certificate and diploma programs can generally be completed in about a year and a half. These fast-paced, intensive programs are designed to train students quickly on the fundamental information they need to know in order to get their professional credentials and land a job. As with associate's degrees, people who enroll in these programs take courses to teach them about the patient care standards that are expected in the field, as well as hands-on training that shows them how these practices work in the real world. This is a good option for those who want to stay in school for a shorter period of time than they would in an associate's degree program, which can ultimately save them money as well as time.
Associate
Like certificates and diplomas, associate's degrees combine surgical tech didactic training with clinical preparation in order to give students the skills they need to work on a surgical team. However, these programs are for people who want to spend more time in school in order to get an in-depth and well-rounded education. In addition to taking coursework in areas such as medical terminology, health care law and ethics, and surgical techniques, these two-year programs require students to complete general education classes that strengthen skills like writing and mathematics.
What to Ask Before You Apply
Every student has different criteria that they look for when considering a surgical technology degree program. However, there are certain things that all students should look for no matter what their educational or career goals are. The following are some important qualities that surgical tech programs should have.
Accreditation
In order for students to ensure that they're getting the highest quality education, they should look for a surgical tech program that has been accredited by the Accrediting Bureau of Health Education Schools (ABHES) or Commission on Accreditation of Allied Health Education Programs (CAAHEP). This ensures that the program has the curriculum that will best prepare them to pass their certification exam, as well as knowledgeable instructors who can teach them the skills they need.
Campus clinic
Since hands-on training is such an important element of a surgical tech program, students should get information about the clinic on campus and what technology the program has to offer. Access to state-of-the-art technology will help ensure that students are prepared for working in a real world hospital.
High pass rates
One way for prospective surgical tech students to determine if a program is going to give them the training they are expected to have is by looking at the certification exam pass rates of former students. This is a clue of how effective the program is, so students should look for that information on the school's website or ask the department for it.
Core Surgical Tech Courses Online
Surgical tech students acquire a myriad of skills throughout their programs, some of which can be acquired through online courses, while others are learned during the hands-on training portion of the program. The following are examples of courses students can taking online and the skills these classes are designed to teach.

Pharmacology: Students in this class learn about the different types of medications they will encounter as a surgical technologist, including diuretics, antibiotics, and anesthesia agents. In addition, the course teaches how medication calculations are made.

Medical Terminology: Medical terminology courses teach students how to recognize, define, and pronounce terms they are likely to encounter during their careers. Students may learn about the word roots, suffixes, and prefixes of medical terms in this class.

Surgical Specialties: This course teaches students about the different categories of surgical procedures they may provide assistance with. Topics may include orthopedic and vascular surgery.
Once students have completed their online classes, they go on to the hands-on training where they can complete the following coursework:

Sterile Processing: Surgical technologists should know how to clean, decontaminate, and sterilize surgical equipment, so students need to actually get practice in order to learn how to work up to the standards hospitals demand. In addition, this class teaches how these tools are classified and distributed.

Surgical Procedures: Students in this class get first-hand experience in surgical procedures. The class may cover how surgical technologists work in different settings, such as ophthalmic, cardiothoracic, and neurosurgery environments.

Operating Room Practice: This course is designed to teach students the practices that are common in an operating room setting. Topics may include how to pass instruments, change contaminated gloves, and communicate with members of the surgical team effectively.
Other courses that students may take in a surgical technology program include medical ethics, pathology, and surgical microbiology.
Funding Your Online Surgical Tech Program
Surgical tech students can find several options to help them pay for their education. In some cases, students may take out loans in order to pay their tuition and fees. In addition, they may be able to win grants and scholarships to help defray the cost of their studies. For example, some professional organizations, like the Foundation for Surgical Technology, offer scholarships in order to support the field and ensure that highly-skilled people enter the workforce. Also, specific schools may offer scholarships to the students in their surgical technology degree programs.
Surgical Tech Scholarships
Scholarships are a great way for students to fund their education without worrying about having to pay the money back after graduation. The following are some scholarships that are provided specifically to surgical tech students.
Accreditation & Certification for Surgical Techs
In order to find a job in the field, professionals are required to earn a Certified Surgical Tech (CST) or Tech in Surgery-Certified (TS-C) credential. For the best opportunity to get the rigorous training needed to pass their licensing examinations, students should enroll in programs that have been accredited by the Commission on Accreditation of Allied Health Education Programs or the Accrediting Bureau of Health Education Schools. This section provides a close look at the credentials surgical technology graduates are able to earn, as well as the organizations that provide accreditation for surgical tech programs.
Accreditations: Program Credentials

Accreditation is important because it ensures that schools are offering the high-quality education students need to provide patient care. During the accreditation process, schools have their curriculum, facilities, and faculty evaluated in order to determine if they are equipped to train students to meet the demands of the job. There are two organizations that provide accreditation to surgical tech programs: the Commission on Accreditation of Allied Health Education Programs (CAAHEP) and the Accrediting Bureau of Health Education Schools (ABHES), which are discussed below.

The Commission on Accreditation of Allied Health Education Programs: The CAAHEP accredits programs in unique areas of the health sciences discipline, such as surgical technology, art therapy, medical illustration, and advanced cardiovascular sonography. When considering schools for accreditation, the organization looks at its faculty, curriculum, facilities, and resources to ensure that the program prepares students to be successful in the field.

The Accrediting Bureau of Health Education Schools: The ABHES has been accrediting health programs, as well as colleges, since 1964. Recognized by the United States Secretary of Education, this organization has an accreditation process that includes reviewing applications from schools, visiting the campus multiple times, and providing required workshops for schools.

Certifications: Certified Surgical Tech vs. Tech in Surgery-Certified

The work that students put into their classroom and hands-on training ultimately culminate in them receiving a certification needed in order to find employment. There are two types of certifications that surgical technologists can receive: Certified Surgical Technologist (CST) and Tech in Surgery-Certified (TS-C). The following are descriptions of each of these certifications.

Certified Surgical Technologist (CST): To earn this credential, surgical tech graduates must pass the CST exam, which is administered by the National Board of Surgical Technology and Surgical Assisting. This is a 75-question test that covers perioperative care topics, including preparation and procedures for the different stages of operations. In addition, the test also covers administrative duties and basic science. In order for professionals to keep their credentials current, they must complete 60 hours of continuing education classes every three years.

Tech in Surgery-Certified (TS-C): The Tech in Surgery-Certified is provided to surgical techs after they have completed their degree programs and passed the exam administered by the National Center for Competency Testing (NCCT). This test contains 175 scored questions, as well as 25 unscored pretest questions, which cover topics related to pre-surgical care and preparation, post-operative care, intraoperative care, and equipment sterilization and maintenance.
Surgical Tech Salary & Career Advancements
For those who are considering a surgical tech career, according to the U.S. Bureau of Labor Statistics, this is a great time to start training. Between 2016 and 2026, the agency reports that there will be a 12 percent increase in jobs for these workers, which is faster than the national average of all professions. The reason for this growth is in part because older generations are more likely to need operations and seek treatment for their medical issues.
Other health care related professions are expected to see similar growth in the coming years. The following are examples of some of these growth rates:
Dental assistants will have 19 percent job growth
Licensed practical and licensed vocational nurses will have 12 percent job growth
Medical and clinical laboratory technologists and technicians will have 13 percent job growth
Medical assistants will have 29 percent job growth
There are a variety of places where surgical technologists can find employment, including hospitals, physicians' offices, dentists' offices, and outpatient care centers. People who are in these professions can expect to stand for long periods of time and have work hours that may be during evenings, weekends, and holidays.
How Much Can You Make as a Surgical Tech?
According to the U.S. Bureau of Labor Statistics, the annual median salary for surgical technologists is $46,310. Those who are the highest earners in the field make $67,000 per year, while the lowest ten percent of earners make $32,470.
What's Next for Surgical Techs?
Those who want to move up in their careers, but continue working in an operating room setting, may choose to pursue similar professions after being a surgical tech for a while. The following are some examples of similar careers that surgical techs may want to consider.
Surgical assistant

Surgical assistants have a similar role in the operating room to surgical technologists, however, they also have more hands-on duties in the surgical team. As a result, they are able to perform more advanced care than surgical techs, such as wound treatment, suctioning, and suturing during a procedure. In order to become a surgical assistant, surgical techs will need to complete a program that generally lasts about one to two years. In addition, surgical assistants are required to also earn a Certified Surgical Assistant (CSA) or Certified First Assistant (CFA) certification.
Nurse anesthetist

Nurse anesthetists are advanced practice registered nurses that are responsible for providing anesthesia to patients during a variety of procedures, including dental, obstetrical, and medical operations. In order to pursue this career path, surgical techs first need to earn a bachelor's degree to become a registered nurse. The next step is to complete a nurse anesthesia program, which generally takes two to four years. Although this is a big investment to make, the extra work does pay off: According to the U.S. Bureau of Labor Statistics, nurse anesthetists make an average of $165,120 annually and the job opportunities are expected to grow by 31 percent between 2016 and 2026.
Surgeon

Those who want to pursue a career as a surgeon will need a great deal of training. In order to learn how to operate on patients, surgeons are expected to earn a four-year bachelor's degrees and then go on to medical school, which can take between three and seven years to complete. These professionals can specialize in a number of areas, such as general, plastic, pediatric, oral, and trauma surgery.