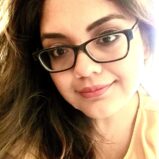 Education
Bachelor's of the Arts in Journalism - University of Arizona
Marcella started her journalism career as an intern for The Arizona Daily Star's weekly Spanish section, La Estrella. She wrote various feature stories in Spanish that focused on the local Latino community in Tucson, Ariz. She later worked for the St. Paul Pioneer as an intern covering various topics, from court cases to community events. She wrote several stories from a feature on a new gorilla exhibit at the local Como Zoo to the legalization of same sex marriage in Minnesota. Eventually, she was hired as the breaking news reporter at the Reno Gazette Journal and worked there for 10 years. She was later promoted to a position that focused solely on underrepresented communities in Northern Nevada, and helped launch the RGJ's first online bilingual news section.
Marcella's Advice for Future Students
Take all courses seriously and maintain a high grade-point average because it could affect your chances of being accepted into the nursing program.
---