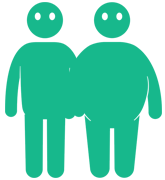 1 in 10 women and 1 in 15 men struggle with an eating disorder at some point in their lifetimes.
Eating disorders are among the most prevalent mental health diagnoses, with an estimated 1 in 10 women and 1 in 15 men struggling at some point in their lifetimes. These disorders have the second highest mortality rate of any mental illness, surpassed only by opioid addiction, and even after seeking or receiving treatment, maintaining progress is difficult. Professionals working in the healthcare field run the same high risk as others when it comes to developing an eating disorder and getting help can be intimidating. Learning how to incorporate coping skills into your personal and professional life can help make recovery more long-lasting and sustainable, especially with the use of these 7 important tips.
If you are having trouble managing your eating disorder or you're considering seeking help for the first time, please reach out to the National Eating Disorder Association for support.
Have Limits
Long shifts, unpredictable hours, and irregular times for breaks can make it difficult to work in the healthcare industry when you're in recovery from an eating disorder. Consider which aspects of a job work well for you and which ones present a potential limitation. Perhaps a position where you move back and forth from working day and night shifts may not be a good fit for you, and while you may struggle with working 12-hour shifts, you may find that 8-hour shifts are more manageable. Professionals in other fields grapple with scheduling concerns too, and it's okay if you need to set clear expectations or boundaries to have a more predictable, consistent work structure.
Identify Your Person
Identify a person in a supervisory role with whom you can discuss your needs and who you trust to maintain your privacy. Perhaps this is the person who creates the staffing schedule, or someone whom you trust to advocate on your behalf to schedule your breaks predictably to help you stick with your scheduled meal times. This doesn't mean that you necessarily have to disclose that you have an eating disorder; there are a host of medical conditions that require regular nutrition and breaks. Maybe the steps you take for stability to maintain your progress will create a cultural shift in your workplace towards regular breaks that will benefit everyone.
Stick with Your Meal Plan
You should work with your dietitian on a meal plan that is realistic for your workplace and schedule. Especially if you are working night shifts or oscillating between working during the day or at night, have a plan with your dietitian on how to time your meals. When you're busy with managing work and life it's easy to stick with "safe" foods and it's important to work with your dietitian to continue to incorporate a variety of foods, including challenge foods, into your diet.
Prioritize Your Mental Health
No matter how erratic your schedule, always make sure to prioritize seeing your therapist. Discussing the stresses of your job, family, and life are important as a part of an ongoing maintenance regimen for managing your eating disorder. If you don't have a therapist with whom you have a good relationship and who is experienced in treating eating disorders and with maintaining recovery, consult National Eating Disorders Association or International Association for Eating Disorder Professionals for more information.
Set Mental Boundaries Between Yourself and Your Patients
less than 13% of adults with eating disorders seek help
Research has shown that less than 13% of adults with eating disorders seek help, making it one of the deadliest mental health problems a person can develop. If you are working in a patient-facing position, it can be difficult to manage your impulse to compare patient's bodies and your own. Maybe this patient looks the way you wish you did, or that patient's weight at a higher end of the weight spectrum makes you feel better about yourself. Learn how to set a boundary between the way a patient looks or what they weigh and you. The voice of your eating disorder, the internal critic is getting in the way. Focus on providing care, not body checking.
Have a Plan for Snacks and Treats
One of the best aspects of working in healthcare is the relationships with patients and their families, and often, patients and families want to provide the unit with treats – donuts, sandwiches, cookies, pizza, all coming from real generosity and gratitude. Have a strategy for managing these unexpected additions to your meal plan. You can always say "no" to a treat or unexpected snack. Talk with your dietitian about how to incorporate these treats without resorting to symptom use afterward.
Know Your Signs
As in any profession, stress can creep up on you and you can realize that you're in a bad place somewhat suddenly, without a paddle. Understand what behaviors tend to signal that you're not doing well with managing your eating disorder and mobilize your treatment team to work with you to get your symptoms in check. There are numerous treatment options at various levels of care and intervening early can help you return to work and life more efficiently.