The Best Online MBAs in Healthcare Management for 2020
Enrolling in an online MBA in healthcare management can be a significant step toward career advancement in the healthcare field. These online degree programs are designed to help students gain essential business knowhow and apply business practices in healthcare settings. However, the content and quality of online master's in healthcare management programs can vary, so it's important to do your research before applying to schools. We've compiled essential information on choosing the right program for your career path, what it takes to earn your MBA, and ways to pay for school. We've also researched and accounted for factors like affordability and accreditation to help prospective students find top online healthcare management MBA programs throughout the U.S. See which schools have the top programs for 2020.
University of Texas at Tyler

The University of Texas at Tyler offers an online MBA in healthcare management that aims to help students attain advanced leadership and management roles in the healthcare industry. The AACSB-accredited program can be completed in as few as 12 months and is fully online. The courses are asynchronous, so students can work through materials on their own schedule. The curriculum includes 27 credit hours of core courses plus nine credit hours of concentration courses tailored specifically to issues in healthcare. Applicants must hold a bachelor's degree from an accredited institution and must meet GMAT score requirements. However, GMAT scores may be waived for students with a 60-hour GPA of 3.25 or higher. UT at Tyler also offers tuition discounts up to $5,000 to those employed by corporate sponsor organizations, making it a great option for qualifying MBA students.
Western Governors University
Accreditation for Online MBAs in Healthcare Management
Accreditation indicates that an institution or program of study has been evaluated by a board and meets certain quality standards. When looking for an online healthcare management MBA program, students should check for regional and programmatic accreditation. Regional accreditation evaluates an institution as a whole and is the most widely recognized form of accreditation. Programmatic accreditation has a narrower scope and assesses the quality of degree and certificate programs within a specific field of study. Many online healthcare management MBA programs may be accredited by the Association to Advance Collegiate Schools of Business (AACSB), which is an international professional organization and accrediting body for business programs. However, prospective students can also look for accreditation from the Commission on Accreditation of Healthcare Management Education (CAHME), which is the only accrediting body that focuses specifically on master's degrees in healthcare management. Over 100 programs are CAHME accredited. Students may also find healthcare management MBA programs that are accredited by the Accreditation Council for Business Schools and Programs (ACBSP), which evaluates collegiate business programs of all levels.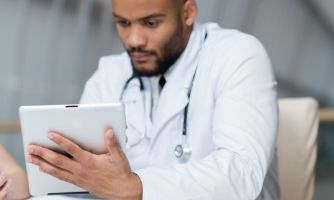 Earning Your MBA in Healthcare Management Online
Each online healthcare management MBA program is different, so it's important that prospective students do ample research before jumping into a degree program. Making an informed decision can help students feel prepared and confident that they are making the best move for their career goals and personal circumstances.
What do you learn in an online MBA in healthcare management?
While program specifics can vary, most healthcare management MBA programs will cover a similar set of core subjects essential to the healthcare management field. Since MBA programs in healthcare management are business programs first and healthcare programs second, curricula typically consist of more finance, marketing, management and accounting courses. However, healthcare management MBAs may examine these skills from a healthcare lens or provide students with opportunities to apply traditional business skills in healthcare scenarios. Check out some common courses you may come across in your healthcare management MBA program.
Marketing
Marketing courses may cover principles of marketing, market research, branding, marketing strategies, consumer behavior and implementation of marketing plans. In the healthcare industry, knowing how to appeal to new and existing patients is essential. Many people have multiple options when choosing healthcare providers, so standing out in a positive way is crucial.
Course titles to look for: Marketing Fundamentals; Marketing Strategy; Healthcare Marketing in Contemporary Society
Organizational Issues and Communication
This is a broad subject, so different programs may focus on different aspects of communication and organizational issues as they pertain to healthcare. Students may learn about management, organizational behavior and communication theories; conflict management and resolution; and challenges within the healthcare industry. Classes may provide an overview of the U.S. healthcare system and regulatory policies and challenge students to assess complex healthcare issues and apply business-focused decision-making skills to find resolutions.
Course titles to look for: Organizational Behavior; Organization of Healthcare Systems and Policy; Organizational Behavior and Communication; Social and Organizational Issues in Healthcare
Leadership
Leadership courses may provide students with general leadership theory and skills or be focused specifically on leadership in healthcare. Students can study ethics in management and business and hone their decision-making skills as they pertain to healthcare management. When working in both healthcare and business, graduates may find themselves making difficult decisions that must balance business with care and management of different people within a healthcare system.
Course titles to look for: Ethical Leadership; Leadership and Management; Healthcare Strategic Leadership
Healthcare Information Systems
These courses focus on information systems and technologies used for patient care and administrative management. The goal of information systems and informatics classes is to give students the chance to survey tools and best practices pertaining to efficient data delivery and communication in healthcare. Students may combine health sciences and business decision-making with computer and information sciences to evaluate healthcare information systems and determine the best way to provide support to staff and patients.
Course titles to look for: Healthcare Information Systems; Healthcare Informatics
Capstone or Practicum:
Many programs include a capstone or practicum, where students have the opportunity to explore a particular aspect of healthcare management more thoroughly and gain practical experience in the field. MBA capstones are often projects completed in small groups in order to simulate running a business, so healthcare students may have to collaborate with peers online. Practicums are typically completed in person and allow students to gain guided, hands-on experience in healthcare management. Both give students the chance to apply their new knowledge and skills in real-world scenarios.
Course titles to look for: Capstone Project; Healthcare Management Practicum; Healthcare Administration Practicum; MBA Capstone Course
---
A combination of general MBA coursework and coursework focused specifically on healthcare management can give students the theoretical knowledge needed to navigate the industry, but MBA students also have the opportunity to gain practical skills that can boost their success. Prospective students can look at course descriptions to see if their program may provide opportunities to gain and hone skills like:
Identifying target audiences for healthcare services and developing effective marketing strategies
Human resources management
Recognizing and addressing healthcare-specific challenges, like the cause and effects of introducing or changing clinical information systems
Financial management for healthcare systems
Using quantitative tools and techniques, like statistics and linear programming, to make decisions
Can you specialize when earning an MBA in healthcare management?
Sometimes students have the option to specialize within their degree program. Degree specializations allow for more focused study in a particular aspect of healthcare management, which can open up different or more advanced career opportunities. Healthcare management is a multifaceted field, and some aspects may be more relevant to some career goals than others, making specialization an appealing option. For many online MBA programs, healthcare management is a specialization in and of itself; however, students can tailor their knowledge by taking elective courses specific to their prospective career path.
Healthcare Operations Management
Studies in healthcare operations management will help students familiarize themselves with and hone their skills in strategic operations management and supply chain management in a healthcare setting. Students looking to pursue careers that focus on the "big picture" operations of a healthcare facility may want to explore courses in this vein.
Insurance and Risk Management
Insurance and risk management delves deeper into proactive and reactive measures healthcare managers may take to prevent or control safety hazards to patients, staff and visitors. This can include incident management, insurance and claims management, clinical research, emergency preparedness and healthcare policy and legislation.
Human Resources Management
Students who focus on human resources management will learn theories and techniques for building and maintaining an effective healthcare workforce. This may include studies in employee relations, impacts of technologies and regulations on employees and effective management of human capital to deliver high quality healthcare services to patients.
How long does it take to earn your MBA in healthcare management online?
One of the benefits of an online MBA program is that students can often log in and work through their classes at their convenience rather than having to push classes off because they don't align with their work or personal schedules. Most programs can be completed in 18 months of full-time study, but some can be completed in as little as a year. Those taking classes part-time can expect their degree to take two to three years to complete, depending on their course load. Some programs may also require a capstone, practicum or research project, which can lengthen the completion time.
How much does an online healthcare management MBA cost?
The cost of earning your MBA in healthcare management online can vary. Many factors, like the individual school, how long it takes you to complete the program and your financial aid, come into play and should be considered when calculating the cost of your MBA. For instance, the University of Texas at Tyler gives a program estimate of $30,219, given that students take two courses per term, or "session". However, since students must pay a fee for each session, those who take only one course at a time will pay more overall. Even if the degree program is fully online, tuition may be different for in-state students and out-of-state students, so it's important that prospective MBA students carefully check program details and speak with an academic advisor for clarification.
Paying for Your Online MBA in Healthcare Management Program
Making sure you are financially prepared to enroll in an online MBA program is vital. Starting your MBA before securing financial aid may put you at risk of not completing your degree, so it's best to plan early. Factoring tuition and fees into your budget can be daunting, but there are many ways to help offset the cost of earning an MBA.
1
Scholarships
Many schools provide students with a list of institutionally-affiliated scholarships related to their area of study, which can be a great place for healthcare management MBA students to start their search. Students can also look for scholarships provided by business, healthcare and other organizations and professional associations. For instance, CAHME offers multiple scholarships to students enrolled in CAHME-accredited healthcare management degree programs. Application deadlines vary by scholarship, but it's a good idea to apply as early as possible to ensure the award applies to the correct academic term.
2
Financial aid
Filling out the Free Application for Federal Student Aid (FAFSA) opens students to a variety of federal financial aid opportunities, including grants, work-study and federal loans. Schools may also use the FAFSA to determine your institutional financial aid package. Some aid opportunities are distributed on a first-come-first-served basis, so students should submit their applications early. The FAFSA opens October 1st for the following academic year.
3
Grants
Like scholarships, grants are an excellent form of financial aid that don't need to be paid back. They may be offered by government organizations, schools or private foundations and can be awarded based on your area of study, financial need or academic merit. Learn more about grants and other financial aid opportunities.
4
Employer sponsorship
Some businesses will help their employees pay for additional training and expertise by providing tuition assistance up to a certain amount. There are usually stipulations, like attending a specific school or agreeing to work for the business for a certain number of years upon program completion, so it's important that you understand the terms of your employer sponsorship before applying to an online healthcare management MBA program.
5
Private Loans
If scholarships, grants and federal loans don't cover tuition and fees, you can apply for a private loan. These are not based on financial need, so loan amounts can vary and are often dependent your credit and cosigners. Private loans often have a higher interest rate than federal loans.
Next Step: After the MBA in Healthcare Management Online
Pursuing an online MBA in healthcare management may seem like a surefire way to advance your career, but before enrolling, it's important to research the industry and the various avenues you can explore. Asking key questions can help prospective students determine whether or not this degree can help them reach their career and income goals.
Do you need a special license or certification to work or advance?
While there aren't any certifications or credentials required to work in healthcare management, MBAs may opt to pursue a Fellow of the American College of Healthcare Executives (FACHE) credential. This credential indicates a high level of healthcare management expertise. It can take a while to earn–base qualifications include three years of ACHE membership and five years of executive-level healthcare management experience–so students interested in pursuing this credential should research it early and factor the certification steps into their education plans.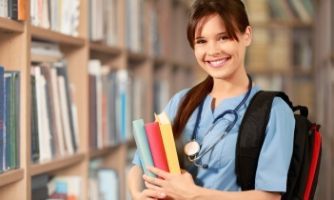 What can you do with an MBA in healthcare management?
An MBA in healthcare management can prepare graduates for a wide variety of advanced positions and leadership roles in the field. Understanding potential career paths before starting their online MBA can help students make the right decisions for their professional goals.
How much can you earn with an MBA in healthcare management?
The healthcare industry is growing rapidly and offers a median annual wage of $66,440, which is significantly higher than the national average for all careers. (BLS, May 2018) For healthcare managers, annual earnings can range from around $40,000 to over $200,000. Education level and experience in the field account for this huge range in salary potential. In general, those with higher degree levels and more relevant work experience see considerably higher earnings. Take a look at the table below to see how education and experience affects salaries for careers relevant to students seeking MBAs in healthcare management.
Area Name
Employment
Entry-Level
Early Career
Mid-Career
Experienced
Late Career
Alabama
3,240
$55,240
$70,500
$90,500
$119,740
$157,040
Alaska
1,100
$64,180
$76,370
$99,040
$130,340
$187,660
Arizona
8,160
$55,720
$73,140
$97,520
$131,090
$201,860
Arkansas
4,900
$49,330
$60,380
$74,920
$96,490
$126,280
California
34,510
$60,240
$82,300
$116,080
$153,740
$200,340
Colorado
5,460
$62,980
$81,650
$108,660
$138,030
$181,790
Connecticut
5,510
$75,350
$90,020
$109,600
$146,560
-
Delaware
1,040
$71,720
$89,800
$114,480
$147,450
-
District of Columbia
1,580
$83,240
$103,360
$127,960
$164,210
-
Florida
-
$54,850
$72,010
$95,740
$126,230
$182,690
Georgia
8,790
$57,620
$74,110
$96,220
$126,510
$184,680
Hawaii
1,640
$65,660
$88,620
$114,490
$146,490
$185,400
Idaho
2,070
$48,380
$63,810
$86,160
$112,730
$141,840
Illinois
14,050
$65,350
$80,870
$103,700
$136,860
$205,890
Indiana
7,350
$54,590
$69,960
$90,410
$117,700
$156,360
Iowa
6,670
$53,270
$63,300
$77,120
$97,590
$126,090
Kansas
3,890
$54,880
$68,680
$85,610
$107,390
$140,990
Kentucky
5,000
$53,360
$66,850
$83,550
$105,400
$135,950
Louisiana
4,540
$59,820
$73,200
$90,840
$111,250
$149,790
Maine
2,000
$60,840
$71,670
$87,010
$104,280
$132,380
Maryland
11,210
$74,210
$91,390
$113,150
$144,880
$198,360
Massachusetts
15,380
$65,590
$84,960
$113,690
$157,710
-
Michigan
11,960
$57,090
$71,980
$94,540
$126,130
$191,890
Minnesota
8,220
$65,870
$78,970
$100,090
$126,460
$163,050
Mississippi
3,010
$47,380
$61,860
$80,950
$106,670
$151,880
Missouri
6,840
$61,160
$77,980
$98,370
$127,540
$177,860
Montana
1,430
$55,950
$69,850
$87,060
$110,040
$141,500
Nebraska
2,790
$59,470
$75,200
$96,490
$122,430
$164,860
Nevada
2,360
$65,040
$88,600
$113,310
$136,120
$179,720
New Hampshire
1,910
$64,140
$77,850
$98,290
$130,210
$174,710
New Jersey
11,260
$82,290
$93,490
$111,260
$129,750
$161,270
New Mexico
1,640
$67,540
$83,090
$102,100
$135,730
-
New York
25,830
$74,030
$94,060
$123,100
$164,210
-
North Carolina
9,230
$70,230
$82,650
$101,020
$129,820
$183,500
North Dakota
920
$63,450
$77,190
$99,770
$126,860
$169,840
Ohio
14,760
$57,270
$71,860
$91,300
$118,700
$154,540
Oklahoma
6,450
$46,750
$59,860
$79,040
$104,050
$139,750
Oregon
4,680
$63,010
$81,870
$105,690
$138,800
$187,220
Pennsylvania
16,410
$53,360
$67,600
$87,790
$114,630
$148,730
Rhode Island
1,660
$71,180
$88,660
$112,490
$147,680
-
South Carolina
5,470
$51,400
$66,960
$86,920
$114,260
$153,900
South Dakota
730
$68,540
$83,720
$101,340
$121,590
$144,740
Tennessee
10,320
$51,960
$67,780
$89,050
$118,140
$161,900
Texas
30,010
$51,430
$71,120
$95,590
$123,070
$163,250
Utah
3,560
$49,620
$67,080
$89,900
$123,090
$167,810
Vermont
1,060
$55,320
$69,120
$86,640
$116,620
$160,760
Virgin Islands
120
$47,860
$60,280
$76,480
$102,220
$177,940
Virginia
7,650
$65,310
$85,180
$104,010
$133,610
$171,800
Washington
6,950
$59,160
$79,600
$107,270
$135,340
$189,310
West Virginia
1,610
$60,070
$76,700
$96,920
$125,010
$169,030
Wisconsin
6,250
$68,270
$82,620
$98,600
$122,790
$154,840
Wyoming
850
$62,210
$73,700
$91,730
$115,470
$144,870
Load More

Related Degrees
If after looking into online MBAs in healthcare management you find that it might not be the route for you, don't worry; the healthcare industry offers myriad paths for those looking to advance their careers or try something new. Similar degrees in the healthcare management field can be excellent means of pivoting into a new career or gaining more expertise in a familiar area.
Online Master's in Healthcare Administration
Like an MBA, this degree pairs healthcare studies with business studies. The biggest difference between the two is that an MHA focuses primarily on integrating business practices in a healthcare environment, while an MBA focuses on gaining general business knowledge that can be applied in healthcare. An MHA may be a good option for students who know they want business knowledge specific to the healthcare industry rather than general business knowledge that can be applied in a variety of settings.
Online PhD in Healthcare Administration
Those who want to conduct original research to advance the field of healthcare administration may opt to pursue a PhD in Healthcare Administration. Graduates may take on positions as researchers or educators, or they may work directly in healthcare management.