Written By


last updated

01/21/2022
If you want to play a key role in the healthcare system and you enjoy working behind the scenes, there are few careers more fitting than medical lab technician. As a medical lab tech, you can use your keen eye for detail to compile, categorize, and calculate medical findings to help physicians and other health professionals diagnose and treat patients. Not only will you be at the forefront of getting to the bottom of what's making a patient sick, you'll also be able to enjoy the stability of a career with a faster-than-average growth rate.
Whether you want to get your foot in the door as quickly as possible, or you're looking to begin your four-year degree, future medical lab techs have several educational options. To find which online MLT programs top our list and to learn about cost, accreditation, and learning outcomes, keep reading.
2022's Top Online MLT Programs
Finding the online medical lab technician program to meet your academic, financial, and scheduling needs is an important first step in your educational process. Recognizing that many prospective students have busy personal and professional lives already, we researched and vetted the top online MLT programs to make your search easier. The schools highlighted below all maintain accreditation and provide affordable price tags to ensure that your journey through school and beyond goes smoothly. Check out three of the top online MLT programs in 2022 below.
Rasmussen College

Rasmussen College maintains campuses throughout the U.S. as well as a thriving distance learning option. The online medical lab technician associate degree takes 21 months to complete and maintains accreditation through the National Accrediting Agency for Clinical Laboratory Sciences.
The curriculum comprises 91 credits and includes studies in medical terminology, clinical microbiology, and clinical chemistry, among others. The program concludes with a clinical practicum and a capstone. After completing all requirements, graduates are prepared to sit for the Medical Laboratory Technician certification.
In an effort to support busy students, Rasmussen provides multiple start dates throughout the year. Learners can also take advantage of the Flex Choice program to find a learning method that works best for their schedules. Admission requirements include a high school diploma or GED, completed application, letters of recommendation, and a statement of purpose.
Weber State University

The Dumke College of Health Professions offers an online medical laboratory scientist program as a bachelor of science. As the first school in the world to provide both associate and bachelor's level online medical lab technician programs, WSU is well-prepared to meet myriad educational needs. After meeting all degree requirements, graduates can sit for the ASCP's medical lab scientist certification exam.
While all coursework can be done online, clinical components in hematology, microbiology, and blood banking must be done in-person at an approved location. Course requirements include advanced clinical microbiology and molecular diagnostics, advanced clinical immunohematology, and clinical lab immunology and virology. The program finishes with two supervised clinical experiences.
Application requirements include a $30 application fee, official transcripts from all schools previously attended, and letters of recommendation. Learners must also provide placement tests in math and English, and evidence of completing prerequisite courses with a minimum 2.5 GPA.
FAQs About Online Medical Lab Technician (MLT) Programs
Before applying to any online MLT program, you need to feel confident that you understand the ins and outs of each. Knowing what to expect from a degree can help you make an educated decision and avoid picking the wrong school. We answer some of your most common questions below.
What are the different types of online MLT programs?
Before launching your medical lab technician career, you need to understand the varied educational programs available to you. Whether you're looking to get into the field quickly with a diploma or take your time by pursuing a bachelor's degree, plenty of options exist. Here's what you need to know.
Degree Types
Certificate/Diploma:
Community colleges and vocational schools provide these qualifications, which typically take 6-12 months to complete. These don't qualify you to work as an MLT, but you can find work as a medical lab assistant after finishing all requirements.
Associate Degree:
Associate degrees usually take two years to complete and qualify you to work as a medical lab technician after graduating. Community colleges frequently offer these programs with both in-person and online learning options.
Bachelor's Degree:
A bachelor's degree takes four years for full-time learners with no previous credits and two years if you already have an associate degree. After graduating, you can find work as a medical lab scientist and earn a higher salary than those with a certificate, diploma, or associate degree.
What do you learn in an online MLT program?
As you look at medical laboratory technician online curricula, you will soon notice that, while each program is different, they all contain similarities in terms of course offerings and learning outcomes. Here are the major learning outcomes you can expect from an online MLT program.
Comprehensive Knowledge:
A full understanding of how principles in hematology, immunology, immunohematology, microbiology, phlebotomy, and coagulation work together in laboratory settings.
Maintaining Standards:
Follow all local, state, and facility-specific protocols and regulations around best practices, handling of specimens, and cleaning of the facility.
Proper Storage:
An understanding of how specimens must be stored, transported, shipped, and maintained when in the laboratory or shipped to a different facility.
Professionalism:
The interpersonal skills needed to work with a variety of individuals in a cohesive manner and to communicate effectively in both written and oral formats.
Tech Awareness:
The ability to use laboratory assessment and testing equipment according to safety standards and a full understanding of how these should be cleaned and maintained.
---
Common Courses
Medical Lab Fundamentals
Taken as an introductory course, this class familiarizes you with the techniques, tools, and procedures commonly used in a medical lab setting. Students learn about best practices, expectations, and the roles they will play in these environments and how to maintain professional standards.
Medical Lab Chemistry
Designed to help you build the skills needed to conduct analytical and biochemical testing, this course instills foundational chemistry skills and helps students develop knowledge around the analysis and processing of collected specimens.
Phlebotomy
Much of the work medical lab technicians do revolves around handling human fluids, including blood. The class reviews the tools and procedures used in safely collecting, storing, transporting, and testing blood, with emphasis on quality control techniques and safe processing at each step of the way.
Clinical Immunology
This course supports students looking to work in medical laboratories focused on infectious diseases. Topics covered include immunology theory, diagnosis and treatment of infectious diseases, serological techniques, and methods of containing infectious specimens.
Urinalysis
Taking this course familiarizes you with how urine is formed and what its physical and chemical makeup entails. Students learn how to identify both normal and abnormal urinalysis results, with emphasis on the tools and techniques available when conducting analyses.
Can you earn a medical lab technician degree completely online?
Many schools allow you to complete all the coursework components of a medical lab technician degree without ever setting foot on campus. Clinical requirements, however, must be done in person. You will work with a practicum placement specialist to find a location near your place of residence.
How long does it take to earn a medical lab technician degree online?
Timelines for completing your medical lab technician training depends on the level of education you undertake. Diplomas, for example, can usually be done in 9-12 months while associate degrees take approximately two years to complete. First-time bachelor's degree seekers often need four years to graduate. It also depends whether you enroll on a full- or part-time basis, though some schools now provide accelerated options for learners looking to graduate as quickly as possible. Speak with program directors of potential schools to learn about available timelines.
How much does an online medical lab technician degree cost?
The cost of medical lab technician schools online varies by institution, but there are ways to save money as a cost-conscious student. Associate degrees, for instance, tend to cost less in tuition than a four-year program. Public schools in your state almost always cost less than private institutions. Before enrolling in any program, make sure you understand how much it will cost. We look at tuition rates for three programs below to give you an idea of what to expect.

B.S. in Medical Lab
Scientist
Total Credits: 120 credits
$278/credit
Seward County
Community College
A.A.S. in Medical Laboratory
Technology
Total Credits: 68 Credits
$171/credit

State University of New
York – Open
A.A.S. in Clinical Laboratory
Technician
Total Credits: 64 credits
$193/credit
How do I get into an online medical lab technician school?
Admission requirements for online medical lab technician programs vary by school but typically hold some similarities between institutions. They also vary based on degree level. Some of the more common requirements include:
Completed application and application fee
Transcripts from any schools previously attended
Evidence of GED or high school diploma
Minimum GPA
Letters of recommendation
Statement of goals/purpose
Particularly competitive programs may require an interview
International students must provide passing TOEFL scores
Paying for Your Online MLT Program
Figuring out how to pay for an online MLT program is on the mind of nearly every prospective student. With some planning and determination, you can take advantage of several options to help lower your final cost. We look at your options below.
Scholarships & Grants
Scholarships and grants offer free many for college so long as you meet the terms of the award. Because of this, they're perennially popular with students. You can find scholarships and grants offered by colleges, government agencies, professional associations, and healthcare organizations.
Student Loans
After exhausting other funding options, student loans can help you pay any remaining balance. Both state and federal governments offer student loans with fixed interest rates. Fill out the Free Application for Federal Student Aid (FAFSA) to learn how much funding you are eligible to receive.
Other Options
In addition to student loans, filling out the FAFSA also lets you know whether you qualify for work-study funds. If so, you can take on a part-time, remote job at your university and receive an hourly wage. These funds can be used to pay for expenses both related and unrelated to school.
Accreditation Standards for Online Medical Lab Technician Programs
Because most employers require medical lab technicians to be certified and some states require them to hold licensure, ensuring you attend a program that qualifies for both of these necessary steps is critical. Failing to attend a properly accredited school can also spell trouble when trying to transfer credits and finding work. The National Accrediting Agency for Clinical Laboratory Sciences accredits medical lab technician programs and is the name to look for in this arena.
You should also ensure any school you attend maintains proper institutional accreditation. When looking at national and regional accredited schools, know that those with the latter type of qualifications are typically seen as more rigorous. When in doubt about the accreditation status of a school or program, you can use the searchable Database of Postsecondary Institutions and Programs.
Getting Your Professional License & Certification After Your Online MLT Program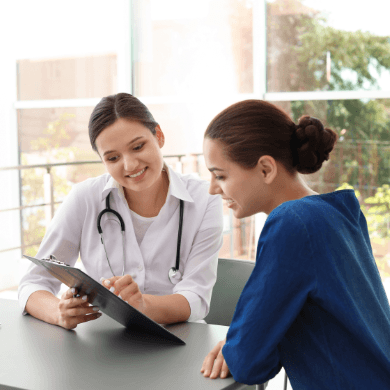 While medical lab technicians are not legally required to hold certification, most employers prefer that they do. American Medical Technologists provides qualifications as both a Certified Medical Laboratory Assistant for diploma/certificate holders and a Medical Laboratory Technician for associate degree graduates. The American Society for Clinical Pathology provides certification as a Medical Laboratory Scientist for those who complete bachelor's degrees.
In addition to certification, some states require medical lab technicians to hold licensure. Requirements are set by individual states, making it important that you check with your state board of licensing. The American Society for Clinical Laboratory Science can also provide state-specific information.
Career & Salary Outlook for Medical Technologists
Before launching yourself into a medical lab technologist career, you should ensure this position offers the average salary and job security you're looking for. To help you make an informed decision, we've pulled together the latest data on projected job growth and salary potential for your review.
Are medical technologist careers in high demand?
If you're looking for a job that's set to grow in the coming years and offers career security, working as a medical lab technologist provides is a smart choice. Data from the Bureau of Labor Statistics (BLS) shows that jobs for clinical laboratory technologists and technicians are projected to grow by 7% between 2019 and 2029, leading to the creation of an additional 24,700 added to the existing 337,800 roles. Much of this growth is due to a larger aging population, more diagnostics, and a greater emphasis on preventative testing.
How much do medical technologists make?
Medical lab technologists earn ample wages, with the BLS finding 2019 median pay for these professionals reached $53,120. Workers in the bottom 10% of earners received salaries of $30,920 while professionals in the top 10% commanded salaries in excess of $81,530 during the same time frame.
Continuing Education & Related Degrees
After completing your online medical lab technician degree, you may decide you want to continue growing your career or you may decide to pursue something related but a little different. Plenty of opportunities exist for you to do both with continuing education programming and advanced degree options. The following sections look at the various educational pathways available after finishing your first degree.
Continuing Education
Continuing education can take different forms. Medical lab technologists who hold certification must complete a certain number of continuing education credits to renew their qualifications. Continuing education can also take the form of advanced degrees. After working as a medical technologist for a time, some professionals may decide to upgrade their associate degree to a bachelor's degree. Others may decide to pursue a master's degree to prepare themselves for leadership positions. We look at a couple options below.
MLT to MLS Designed for professionals who already possess an associate degree but want to advance to the next level, MLT-to-MLS online programs help them take that next step. These bridge programs take approximately two years to complete and allow you to work as a medical lab scientist after graduating.
Master's of Clinical Laboratory Science If your goal is to continue climbing the ranks of laboratory science, a master's degree can help make that attainable. Pursuing one of these two-year degrees will provide the education and skills needed to manage clinical and medical laboratories, oversee other staff, and set research goals.
Related Degrees to Consider
Associate of Applied Science in Surgical Technology
If you have an interest in supporting surgeons and operating room staff during procedures, this degree can be a smart choice. Earning your Associate of Applied Science in Surgical Technology will equip you with the knowledge to deliver patient safety by properly applying sterile techniques and aseptic principles as well as best practices when providing support to surgeons. These degrees can typically be pursed on a full-time or part-time basis.
Associate of Applied Science in Pharmacy Technician
Another degree designed to prepare you for a healthcare support role, the Associate of Applied Science in Pharmacy Technician is a great choice for students interested in pharmacology. This degree will get students ready for the workforce by introducing them to both administrative and clinical components and typically takes two years to complete. Most programs can be completed online but typically require an in-person externship.
Medical Transcriptionist Certification
If you've decided that working in the lab just isn't for you, making the move to the front of the office can be an ideal way to continue making a differnce withouth getting your hands dirty. Earning your medical transcriptionist certification online can position you to work from nearly anywhere with a computer and internet connection and can be a good option if you decide to pursue a more advanced medical degree.
Additional Resources for Medical Lab Technician Students and Professionals
A Day in the Life of a Medical Lab Tech
Cambridge College of Health and Technology shares what you can expect if you go into this line of work.
The American Society for Clinical Laboratory Science
The ASCLS supports medical lab techs by providing continuing education, career support, certifications, advocacy, and online meetings.
American Medical Technologists
In addition to providing several certification paths, AMT supports members by offering continuing education, meetings, and resources for both educators and employers.
American Society for Clinical Pathology
ASCP provides the Board of Certification alongside career support and information, learning opportunities, and chances to get involved.
What's the Difference between a Medical Laboratory Technician and a Medical Laboratory Scientist?
This informative YouTube video walks you through how these two careers are both similar and different.
Is Becoming a Medical Laboratory Technologist for You?
Get answers to common questions from a practicing MLT and learn what to expect in school.
Off the Bench Podcast
This regularly updated podcast provides an insider look at the industry and the larger field of laboratory medicine.
r/medlabprofessionals
This Reddit group brings together medical laboratory science professionals, students, and interested parties alike.