Written By


last updated

06/02/2023
Whether you're a working RN thinking of advancing your career or a newly enrolled nursing student with high hopes for the future, a career as a CRNA can be exactly what you're looking for. Every year, CRNAs administer more than 49 million anesthetics to patients in the U.S., and that number is growing. As an advanced practice registered nurse, CRNAs can expect higher-than-average annual salaries and a wide range of options when it comes to job setting including hospitals, surgery centers, physician's offices, dental clinics, and military health facilities.
If you're ready to start your journey to an advanced nursing career, finding the right degree program should be your first step. Keep reading to see what options you have when it comes to education, accreditation, and cost, and explore the online CRNA programs that can help you meet your career goals.
Top Online CRNA Programs of 2023
Finding the online CRNA program that fits with your academic, professional, and financial needs can take time as you compare and contrast your options. That's where we come in. We've identified some of the top online schools and programs for aspiring certified registered nurse anesthetists. We've also vetted these programs to ensure they provide the accreditation employers expect and the price tag you need. Check out two of the best for 2022 below.
University of Arizona

If you're looking for an online DNP in nursing anesthesia, the University of Arizona may be a great fit for your needs and interests. While most didactic coursework is completed online, you will be required to visit campus several times to take part in learning intensives. Students also complete practicum and clinical placements in person.
Most full-time students complete all requirements within 36 months of enrolling. The degree consists of 86 credits and specifically supports individuals who want to work in ICU settings to provide anesthesia services. The department offers several scholarship options for both campus-based and online students and doesn't require any standardized admission tests. Regardless of where you live, plan to pay $1,296 per credit.
Required coursework includes studies in foundations of nurse anesthesia, theories of leadership and organizational management, and co-existing disease and anesthetic implications. The degree culminates with a senior seminar and final project.
University of Pittsburgh

The University of Pittsburgh provides an online MSN-to-DNP program with a nurse anesthesia concentration. CRNAs who already possess a graduate degree can complete this 36-credit program within approximately 24-30 months. Some of the topics covered include introduction to genetics and molecular therapeutics, directed seminar in nurse anesthesia practice, and regulation and reimbursement in nurse anesthesia practice.
Aside from continuing to build clinical skills, UPitt's program also focuses on giving students the leadership and management skills needed to work in the highest echelons of the field. A class on curriculum and instruction also supports learners considering a transition to teaching at a college or university.
Recognizing that many students continue working while enrolled, the department works with each newly admitted learner to create a plan of study that best fits with their existing schedule. The program culminates with an extensive project that demonstrates the development of knowledge across the program.
FAQs About CRNA Programs Online
As you review the specifics of individual online CRNA programs, it's not unusual to have questions along the way. While some of these relate to individual universities, there are plenty of general questions throughout this process. We answer some of the most common of those questions below.
What are the different types of CRNA programs?
Several different types of CRNA programs exist at varying degree levels. Current RNs may possess an associate or bachelor's degree, while those transferring from non-nursing careers may need to start from the beginning. Below are some of the degree options currently available.
Accelerated RN-BSN-MSN Programs: This unique option supports nurses who possess a bachelor's degree in a non-nursing field. The accelerated nature ensures that students receive all the foundational courses needed before moving on to advanced, graduate-level courses. These programs typically take three years to complete.
MSN-CRNA: MSN-to-CRNA programs typically require two to four years to complete, depending on whether a student enrolls on a part- or full-time basis. Aside from coursework, students also must complete a substantial number of clinical and practicum hours to graduate.
DNP: As the highest degree available, the DNP supports students who want to work in research, leadership, or academic positions. The amount of time required to graduate depends on whether learners hold a bachelor's or master's degree upon enrolling, but usually require between two and four years.
Post-Masters Certificate in CRNA: If you already hold your MSN but want to pursue a CRNA qualification, this can be a great alternative to a full degree. These programs meet the requirements of the Council on Certification of Nurse Anesthetists and can be found on-campus and online. Plan to spend between two and three years meeting all the requirements.
What do you learn in a CRNA program?
As you begin your CRNA search, you will soon notice that many programs have common overlaps in areas of courses and topics, learning outcomes, and career prospects. Some of the courses you may encounter while enrolled include advanced pathophysiology, advanced principles of anesthesia, and anatomical sciences. We've outlined below several other courses and learning outcomes common to most CRNA programs.
Learning Outcome #1
The ability to administer general anesthesia based on patient medical history, physical conditions, and the type of surgery or medical procedure they will undergo.
Learning Outcome #2
An understanding of physiological responses due to the administration of anesthetics and how to appropriately respond to them in safe and ethical ways.
Learning Outcome #3
The professional bedside manner needed to ensure patients feel at ease prior to their procedure and an understanding of how anesthesia will affect their bodies.
Learning Outcome #4
An understanding of the ethical, legal, and regulatory statutes governing the provision of healthcare, specifically as it relates to anesthesiologic services.
Learning Outcome #5
A career-long commitment to staying up to date on scientific literature and research in the field through continuing education and following of best practices.
---
Common Courses
Advanced Principles of Anesthesia
Building on principles covered earlier in the degree, this course looks at approaches to handling the anesthetic needs of patients with complicated pathologies. Students consider how to create anesthetic plans that support diverse populations, comorbidities, and intensive surgical procedures.
Anatomical Sciences
Because nurse anesthesiologists must possess such an extensive understanding of human anatomy, this course uses lectures, laboratories, and independent study to help students understand individual bodily systems independently and as they function with other systems. Students gain a full understanding of how illnesses and injuries affect every major organ and system.
Decision Science and Healthcare Informatics
Improving patient outcomes is the job of every healthcare professional, including nurse anesthesiologists. This course teaches students how to utilize and leverage patient data to make informed clinical decisions. It also introduces them to the technologies and software needed to effectively use patient data.
Multicultural Healthcare
Until recently, much of healthcare research has lacked multicultural context. People of color often have different reactions to anesthesia and other medicines than Caucasians, making it important that nurse anesthesiologists possess an advanced knowledge of these differences and how to account for them when administering anesthetics.
Leading & Managing Healthcare Systems
Designed for CRNAs who aspire to positions of leadership, this course introduces students to several different management theories and frameworks before inviting them to find their own style. Students consider questions around organizational dynamics, staffing issues, managing during times of change, and keeping teams motivated.
Can you earn a CRNA degree completely online?
While much of a CRNA program can be completed online – including all classwork – students must complete their practicum and clinical hours on-site at an approved healthcare facility. Some schools may also require students to participate in several campus-based learning intensives. Check with your program administrators to learn about specifics.
How long does it take to earn a CRNA degree online?
The amount of time required to complete a CRNA degree online depends on factors such as the type of degree you currently hold, whether you can attend on a full- or part-time basis, if you pursue an accelerated program, and how long it takes you to complete clinical requirements.
If you currently work as a registered nurse and have a bachelor's degree, you can move through graduate degree requirements more quickly than someone with a diploma or associate degree. Similarly, pursuing an MSN will take less time than a DNP. If unsure how long you'll likely be in school, be sure to speak with an admissions counselor about your options.
How much does an online CRNA degree cost?
The cost of a CRNA program can vary substantially, making it important that you consider several factors and weigh them against your financial needs. Attending a private school typically costs more than a public institution while studying part-time rather than full-time can result in more semester-based fees. Other factors to consider include how much funding you secure and whether you take advantage of paid fellowships, assistantships, or work-study programs. We look at the costs of three popular programs below.

DNP Nursing –
Nurse Anesthesia
Total Credits: 86 credits
$1,296/credit

MSN-to-DNP
Nurse Anesthesia
Total Credits: 36 credits
$1,190/credit

MS-DNP Nurse
Anesthesia
Total Credits: 36 credits
$42,786 total
How do I get into an online CRNA program?
Every school sets individual admission requirements, making it important that you review each carefully and find programs that match your academic and professional skillsets. As you continue looking at these requirements, you may notice some common components. These often include:
Degree from an accredited college or university
Minimum GPA (typically 3.0 or higher)
Prerequisite coursework
Personal statement or essay
Letters of recommendation
Resume (some programs require a certain amount of related professional experience)
GRE scores
If an international student, TOEFL scores may be required
Paying for Your Online Certified Registered Nurse Anesthetist Degree
It's no secret that college can be pricey. If you're not one of the few people who can pay out of pocket, the good news is that plenty of funding options exist. Bringing together a mix of scholarships, grants, fellowships, and work-study options can make the amount you need to borrow in student loans far lower. Here are some of the options to consider when it comes to funding your online CRNA program.
Scholarships & Grants
Because you don't have to pay them back, scholarships and grants are a great option for lowering the price of your degree. Professional associations, colleges and universities, healthcare organizations, and state/federal governments frequently offer these types of awards.
Student Loans
Student loans provided by the federal government can help bridge the gap between the amount of funding you're able to secure and the remaining balance for your education. If you want to understand the difference between private and governmental loans, check out our student loan guide.
Other Options
At the graduate level, fellowships and assistantships serve as a great way to both gain experience in research and/or teaching while also getting a stipend or tuition remission. Some post-graduate fellowships may also offer paid opportunities. If you qualify under the FAFSA, you may also be able to earn money through the federal work-study program at your university.
Accreditation Standards for Certified Registered Nurse Anesthetist Degree Programs
When it comes to your CRNA education, both institutional and program accreditation are extremely important. After finding a regionally accredited institution, you should look for individual programs accredited by the Council on Accreditation of Nurse Anesthesia Educational Programs (COA). The COA provides a searchable database so you can locate a properly accredited CRNA program.
If you're unsure whether a specific college or program holds accreditation, you can use the U.S. Department of Education's Database of Postsecondary Institutions and Programs. Failing to complete this important step can make it difficult or even impossible to transfer credits, seek certification, or even find work.
Careers & Salary Outlooks for Certified Registered Nurse Anesthetists
The job market for certified registered nurse anesthetists looks incredibly promising for the future. Data from the Bureau of Labor Statistics predicts that jobs for these professionals will grow by an impressive 12% between 2021-2031. An additional 5,300 jobs should be added to the existing 45,200 during that timeframe.
If you're looking for job security and the opportunity to feel confident in your career choice, a career as a certified registered nurse anesthetist could be a perfect fit. Reasons for this growth include both more access to medical procedures and a larger number of existing CRNAs retiring or changing industries.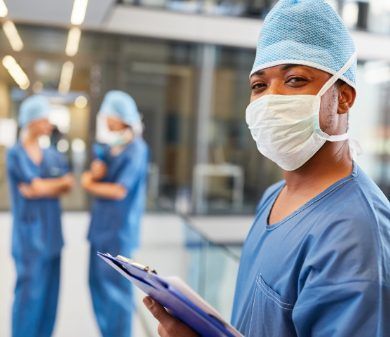 How much do CRNAs make?
Certified registered nurse anesthetists earn salaries far above the national average, with the Bureau of Labor Statistics reporting annual mean wages of $174,790 in 2019. Those in the lowest 10% of earners brought home $127,480 in 2019 while those in the top 10% commanded annual salaries of more than $208,000 during the same time period.
If you want to work in a state with the highest wages for the occupation, consider Wyoming, Montana, Oregon, Wisconsin, or California. In the highest paying state of Wyoming, nurse anesthetists earned an average of $243,310 in 2019.
Continuing Education & Related Careers
Because the field of healthcare generally – and anesthesia specifically – continues to evolve based on new research and findings, staying aware of changes in the field is of utmost importance. Every state sets unique requirements around continuing education, making it important that you stay abreast of these once you begin to practice.
Continuing Education
As mentioned previously, every state board of nursing sets continuing education credit minimums that CRNAs must meet during each renewal cycle of their license. It's the responsibility of each CRNA to ensure they meet these requirements. Fortunately, many organizations and professional associations offer opportunities to participate in continuing education training both online and in person.
The American Association of Nurse Anesthetists keeps a regularly updated list of opportunities and provides more than 40 online courses that members can take advantage of throughout the year. You can also check with your employer to learn about on-site programming.
Related Degrees to Consider
MD in AnesthesiaAnesthesiologists must complete a medical degree followed by a multi-year residency. These programs typically last four to six years and introduce learners to the skills and topics needed to practice anesthesiology outside the supervision of other healthcare providers.
MS in AnesthesiaThese degrees typically require two years of full-time study and prepare graduates for work as anesthesiology assistants. While CRNAs can work on their own, anesthesiology assistants must work under the supervision of an anesthesiologist. They are also not considered nurses.
AS in Anesthesia TechnologyIf you're interested in working in anesthesia but are just starting out, an associate degree in anesthesia technology could help you test the waters. These two-year degrees allow you to work under the supervision of CRNAs and anesthesiologists and provide a firm foundation for continued study if you decide to progress your career over time.
Resources for CRNA Students & Professionals