Written By


Expert Contributor

last updated

01/05/2021
You've passed your last class and completed your final clinical. Now all that's standing between you and your career as a radiologic technologist is one exam. The American Registry of Radiologic Technologist (ARRT) exam evaluates the skills and concepts you learned in your program and puts your knowledge to the test. And while it may be daunting to think that this one final exam is all that separates you from certification, with the right preparation, resources, and advice, you can enter test-day with confidence. To get answers to your key questions and to hear from an expert who has taken the exam himself, read on.
FAQs About the ARRT Exam: What You Need to Know
Before you can get to work as a radiologic technologist, you'll need to take and pass the ARRT exam. As the last hurdle between you and your new career, it makes sense that you'll have a handful of questions going into exam day. Below are just some of the answers to your most commonly asked questions about the test.
What is the ARRT exam?
The American Registry of Radiologic Technologists (ARRT) examination ensures you possess the knowledge and skills needed to perform jobs within the radiographic field successfully. Content specifications cover areas such as nuclear medicine technology, radiation therapy, sonography, and radiography. The exam supports any student who completed an accredited two- or four-year program in radiographic science or a related topic. You can take exams at Pearson VUE testing centers located throughout the United States.
What certification does the ARRT exam prepare you for?
The ARRT exam prepares you to take on radiographic technology jobs in settings such as hospitals, physicians' offices, and imaging centers and hold the title of Licensed Radiologic Technologist. It consists of 220 exam questions, of which you need to correctly answer 131 to receive a passing score. You can take the exam three times but aim to do your best on the first test so you can move on from the process.
Where can I take the ARRT exam?
The ARRT maintains a contract with Pearson VUE testing centers to provide more than 200 locations throughout the United States and other countries. You can use the organization's database to find the closest testing center near you.
How often is the ARRT exam offered?
ARRT exams are offered regularly, but you must schedule it within the 90-day exam window listed on your Candidate Status Report. Before scheduling your exam, you must apply with your state, submit your exam fee, and receive your Candidate Status Report.
How much does the ARRT exam cost?
The standard ARRT examination costs $200 and is payable to the American Registry of Radiologic Technologists. If you need to reinstate your certification and registration by re-examination, it costs an additional $200. If you need to reinstate your certification but can bypass re-examination, you pay $75.
What is the minimum passing score for the ARRT exam?
The ARRT uses a scale range of 1-99, and you must score a 75 or higher to pass the test. Depending on the value of questions in the exam you take, you must answer either 130 or 131 questions correctly to score a 75. If taking the sonography exam as well, you must also receive scores of 7.5 on both the abdomen and OB-GYN sections.
Is the ARRT exam hard?
How hard you find the examination depends on how well you understand the material. The ARRT puts together an annual exam report. In 2019, candidates maintained passing rates of 77%-90% depending on their major. Students with nuclear medicine and radiation therapy degrees earned the highest scores, while those with a sonography background scored the lowest. Plenty of both paid and free exam prep materials exist online, some of which we highlight in the resources section at the bottom of this page.
What happens if you don't pass the ARRT exam?
The ARRT allows you to take the exam three times within three years. If you don't pass after those three attempts, your eligibility ends, and you must reapply. To regain eligibility, you must complete either the same or a different degree or enroll in an advanced placement option. You can also restore eligibility through the post-primary pathway, which requires repeating clinical experiences and structural education requirements.
How is the ARRT exam scored?
ARRT continually updates its exam, adding new questions and removing outmoded ones to ensure students are tested on relevant topics. At any given time, several versions of the exam are offered throughout the year. Exams are scored out of a possible 99%, with learners needing to achieve a 75% or higher to pass. ARRT provides a handbook to help clarify any outstanding questions about scoring.
Breaking Down the ARRT Exam
Understanding what the ARRT exam entails, what it covers, and how it's administered can help alleviate test-day concerns and give you a sense of what to expect. The following sections provide concrete information about each of these important topics.
Exam Eligibility
The American Registry of Radiologic Technologists sets three standards for anyone who wants to take the exam and receive licensure: education, ethics, and examination. You must have completed an accredited radiological tech program online or in-person, or an ARRT-approved program in magnetic resonance imaging, nuclear medicine technology, radiation therapy, sonography, or vascular sonography. You must also demonstrate good moral character. After meeting these requirements, you qualify to take the exam.
You must have completed an accredited radiological tech program online or in-person, or an ARRT-approved.
The Four Content Categories
The ARRT breaks its examination into four content areas to assess you in core competencies. The procedural section comprises the most questions, while the patient care portion includes the least. Here's a closer look.
| Patient Care | Number of Questions | Topics Covered |
| --- | --- | --- |
| | 33 | Patient Interaction and Management |
Safety
Number of Questions
Topics Covered
53

Radiation Physics and Radiobiology

Radiation Protection
Image Production
Number of Questions
Topics Covered
50

Image Acquisition and Technical Evaluation

Equipment Operation and Quality Assurance
Procedures
Number of Questions
Topics Covered
64

Head, Spine, and Pelvis Procedures

Thorax and Abdomen Procedures

Extremity Procedures
Exam Format
The ARRT exam is computer-based and includes several different segments. After reviewing the introduction, tutorial, and non-disclosure agreement, the exam begins. The types of questions asked include:
Select multiple
Sorted List
Items with hot areas or videos
After completing all questions, you can review any questions and change answers with the remaining time. After the time ends, you're asked to complete a short survey consisting of 13 questions.
7 Test-Prep Tips for the ARRT Exam
The best road to success is ensuring you walk into the testing center feeling prepared and confident. By following the tips below, you can help minimize your stress, take advantage of helpful resources, and ultimately ace the exam.
Focus on the content categories
Because the ARRT provides test takers with information about the types of questions on the exam and which sections include the highest number of questions, you can tailor your studying around the content categories. Knowing that nearly twice the number of questions pertain to procedures as they do patient care helps you know where to spend the bulk of your time. Rather than studying random topics, focus your efforts on the four key areas: patient care, safety, image production, and procedures. By staying on the path, you will maximize the amount of time spent reviewing the material.
Develop your test-taking strategy
After taking several timed practice tests, you should have a clear sense of how you will fare on the actual exam day. Do you tend to run over on questions about patient care? Do you find yourself with extra time on the safety portion of the exam? Take all of these factors into account to create a test-taking strategy that fits your learning style. You can also try out some of these strategies on your practice exams before taking the real thing.
Study with real practice questions
Using flashcards, watching YouTube videos of test-takers talking about their experiences, and downloading exam prep apps can all help you study for the ARRT exam. Still, they shouldn't function as substitutes for using real practice questions. Many of the practice exams available as both free and paid options online incorporate questions from previous test iterations. These can help you get a sense of how the ARRT words questions, the type of information they seek to test, and the depth to which they go. Studying with real practice questions also provides the insight you need to create a tailored test-taking strategy.
Consult Reddit
As with pretty much every other topic imaginable, the good people of Reddit have something to say about the ARRT exam. The active and ever-growing r/Radiology subreddit contains tons of answered questions about the test from those who already took and passed it. If you cannot find answers to your specific question, open the floor to users and get their advice. You can also ask other questions about what it looks like to work as a radiologic tech and where to find meaningful jobs.
Don't cram, but plan
As you likely learned in high school and college, cramming for exams rarely results in low stress or an exam score you can be proud of. Resist the urge to wait until the last minute on the ARRT exam, even if the content feels fresh in your mind. How long you're able to study will depend on how far out you book your exam date but giving yourself two or three months to prepare can offer several benefits. In addition to creating a plan that sufficiently covers each subject area, you can also build in time for practice tests, chat about the exam with others, and make sure you feel comfortable with the material before walking into the exam room.
Consider a review class
After studying on your own for a time, you may decide that a more structured approach best serves your needs. While review classes do cost money, many providers collect data showing improved test scores for those who take the course. You can select from both online and in-person options, with many offering various study timelines to fit your exam date. Varsity Tutors, McGraw Hill, and Clover Learning are just a few of the companies providing review classes, so conduct additional research to find the one that fits your timeline and budget.
Watch Videos
If you're more of a visual learner, you may find that using study videos helps you retain knowledge and understand more complicated topics. Test prep companies such as Mometrix and RadTechBootCamp provide channels with a variety of videos that help explain the ARRT exam, offer test-taking tips, and answer common questions. Many individual users also post videos talking about their experience with the test and sharing what they did to get a passing score.
Advice from an ARRT Expert: Making Your Study Time Count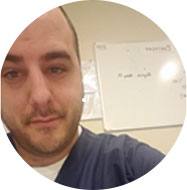 James DeVito works as a radiologic tech in New York. He passed the ARRT exam with an 85% score and more than an hour to spare.
Q: What surprised you most about the ARRT exam when you took it?
I was surprised by how simple and straightforward it was. There was a lack of trickery or conceptual wording. It was nothing remotely close to the comprehensive questions seen on Rad Review. Frankly, they were similar to the DMV placement exam, a middle school student should have no issue reading these. I signed a non-disclosure agreement so I can't discuss specifics, but in all seriousness, I read more exciting financing paperwork.
Q: What components of the test might leave students feeling unprepared?
New theory, including tracer questions. I got the impression these questions were content for instructors that attended CE seminars and they are sampling to see how much of the new concepts in the industry are introduced in the classroom outside of the textbook. Obviously, there's no way to prepare for that.
As for stressing, there's a huge emphasis on response time per question. People dwell on this and it creates stress and anxiety which leads to reading questions too quickly and answering incorrectly. I found it to be more productive to practice response times per question, how to pick up the pace without sacrificing a score and how to do so without having anxiety. For example, let's say you have two hours left and you've only answered 40 questions. Most would panic. Instead, train yourself for the inevitable. When it happens, you will feel a subtle change between taking your time and speeding through. What I'm trying to say is for students not to solely focus on scores on Rad Review but also practice maintaining a good question response pace. It made my comfort go to 10/10.
Q: If you could go back and give yourself preparation advice, what would it be?
Remember more from daily clinical days over class days. It's also okay to acknowledge that being a graduate during COVID-19 presents hardships. There can be a long layover time between your last clinical day and graduation, making the information feel less fresh in your brain. If you fit in this category as well, remind yourself to spend extra time studying those clinical concepts.
Q: Do you have any advice on how students can calm their nerves in the days and morning before the exam?
Believe in yourself and trust your instinct. I can't stress this enough. If you come across a question that you don't know, trust yourself. You don't realize you know the answer but your subconscious does.
Q: Which resources were your favorite when studying for the exam?
My class did a project where we split into groups of eight and condensed Lange review book into a pdf (cited of course) of areas where we struggled or needed attention. I studied from that 90% of the time and referenced my textbook when I needed. I noticed things made more sense as a graduate sitting for the exam than a student. Truth be told, it all comes together weeks before the registry. I've had student accommodations all my life for ADHD and prescribed Adderal. I get separate location and extended time. For the registry, I had to abandon all this for the first time ever. I was facing an enormous handicap. I accomplished this by setting practice exams. First 40 per hour then 80 per hour, etc. It really helped me pick-up the pace without panicking.
Additional Resources