Written By


Expert Contributor

Danielle Zolotnitsky
- Bio
last updated

04/30/2020
Becoming a college student marks an exciting time as you begin the next chapter in your education and embrace new responsibilities and freedoms. One of those new freedoms is making your own decisions about your everyday eating habits. Eating takeout pizza with friends is always good fun, for example, but it's probably not smart to eat this way seven days a week. Finding the balance between a diet full of junk food and falling prey to unrealistic fad diets can be difficult as a student, especially when you're also dealing with a packed schedule, tight budget, and the likely absence of a proper kitchen.
If you're looking for ideas on dorm-room cooking hacks, healthy dining hall options, and how to eat well on a budget and limited time from professional nutritionists and dieticians, you've come to the right place. Read on to learn how to have a healthy diet while enjoying all that college has to offer.
What Does Healthy Eating in College Mean?
Eating healthy in college looks different for every person, making it important for students to find options that work for them. For example, someone with Celiac disease cannot eat gluten, making it an unhealthy choice for them. But individuals without a gluten intolerance can incorporate whole grain foods as part of a healthy diet.
Rather than following a one-size-fits-all approach, students should focus on incorporating healthier foods into their existing diet. If you typically have potato chips with your sandwich at lunch, consider substituting carrots and hummus. Have a salad alongside a smaller portion of spaghetti and meatballs. These simple swaps and adjustments can add up to a healthier diet overall.
The reality is that college students have busy schedules and limited budgets. Those who live in the dorm typically only have access to a refrigerator and microwave. Rather than beating yourself up about late-night pizza or too many chicken tenders, focus instead on eating healthy when you can and enjoying the process of cooking nutritious meals for yourself and your friends. You're much more likely to stick with this approach long-term while also saving yourself the hassle of dealing with food guilt that comes with strict dieting.
When Concern About Healthy Eating Becomes Overwhelming
Many people in college feel pressure to keep a certain image or weight and may jump into fads such as juice cleanses or elimination diets without fully understanding them. These diets often promise amazing results in a short time frame while also assuring adherents that their lifestyles do not need to change. "If it's too good to be true, it probably is," says clinical nutritionist Dominique Hoffman. "Don't fall for diets that promise quick results and miracles."
When evaluating fad diets, it's important to remember that no two people are made the same. "The body's biochemistry is extremely complicated," notes Hoffman. "A one-size-fits-all approach will not make everyone happy." Rather than falling for the latest trend, college students should take time to get to know what works for them.
Fad Dieting in College: What You Need to Know from a Nutritionist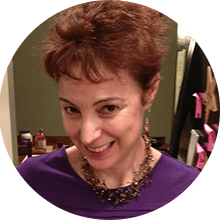 Dominique Hoffman holds a master's degree in Clinical Nutrition from the University of Bridgeport. She studied with leading professors in the field of nutrition and biochemistry, including Richard Lord and Albert Grazia. She also studied at George Mason University. Her solutions often take the form of meal programs that are nutrient-dense, delicious, and personalized to satisfy each client's needs and tastes.
Why are college students particularly susceptible to fad diets and their marketing?
College students find themselves for the first time responsible for their own health, behavior, and food choices. Studies have shown that these freshmen have limited knowledge of what constitutes healthy eating, how nutrients affect the body, and how low-quality food intake can increase weight rapidly and affect their overall health. More importantly, many students struggle to adjust to their environment, make new friends, and deal with the workload. They find themselves under a lot of stress attempting to balance a social and educational life. Body image is critical at an age when young people are trying to build relationships among peers and with the opposite sex. For on-the-go students, it can difficult to find time to shop and prepare healthy meals, even if they had the knowledge. Budgeting can also add to this difficulty.
Thus, when their weight increases, they will look for a quick solution without evaluating the consequences. Many times, the desire to change their diet or lose weight is motivated by the need to fit into a certain group, rather than feeling good and staying healthy. Fat diets are very good at selling hope. They claim to offer a cheap, easy, and fast solution to lose weight, coupled with a strong advertising campaign that plays on people's emotions. College students, inexperienced in dieting, with little knowledge in nutrition, and desperate to look good are an easy target.
How can students avoid the messaging around the "Freshman 15" and instead focus on balancing healthy eating with enjoying this phase of life?
What would you say to college students who feel pressured to try a fad diet because their friends are?
Eating Nutritiously in College: Major Roadblocks and Smart Solutions
Eating healthfully while in college can present some challenges, but plenty of ideas exist for bringing nutritious food into your diet. Don't let issues around tight budgets, lack of appliances, or questionable dining hall food derail your efforts.
You Want to Eat Healthy, But It's Too Expensive
It can be expensive to purchase healthy foods, but it's fairly simple to eat nutritiously on the cheap if you know how. By implementing a few smart tips and swaps, you can enjoy nutritious food without breaking the bank.
Check out our tips for do's and don'ts when trying to stick to a healthy food budget.

Do More of This
Visit the bulk bins.
Many grocery stores supply bulk bins filled with pantry staples such as rice, beans, nuts, grains, and other healthy foods. Buying in bulk tends to be less expensive than items that are pre-bagged or boxed.
Create a challenge.
Whether doing alone or with other friends, consider creating a challenge around the money you spend each week on food. Can you and your roommates each eat for five days on $30 or less? Creating a game around it will make budgeting more fun.
Use student discounts.
Some groceries and other stores that sell food offer student discounts for those with a valid ID. Don't forget to ask about this when you're out, as the savings can really add up.
Cook with others.
Rather than trying to cook an entire healthy meal by yourself, try to arrange a potluck. You'll only need to bring one thing but can take advantage of a full, well-rounded meal.

Do Less of This
Shop for individual meals.
Try to think about how single ingredients have multiple purposes rather than buying items for a single meal. This makes your pantry more versatile.
Buy name brand.
While sometimes necessary, plenty of qualify off-brand or store-brand items exist for less. Many groceries now even offer organic, gluten-free, and other special diet foods under their brand.
Forget to use loyalty cards.
Even if a store doesn't offer student discounts, it may have a loyalty card. This can help you save money on grocery items and, potentially, build points towards fuel discounts.
Eat out.
The average person spent $3,000 per year eating out in 2015. Even if you sliced that number in half, that money could go towards a lot of healthier food from the grocery. Try to save restaurants for special occasions rather than everyday occurrences.
You Want to Eat Healthy, But You're Stuck Eating at School
Eating cheeseburgers five days in a row at the campus dining hall is less than ideal, but dorms lacking a communal kitchen can feel limiting when trying to eat healthy. The good news is that healthy food exists in campus restaurants and nutritious meals can be made in a microwave.
Myths and Misconceptions About Eating Healthy at the Dining Hall and on Campus
Lots of myths and misconceptions exist around what it looks like to eat healthy while in college. Finding healthy (and tasty) food on campus may require you to think outside the box or plan differently, but it can be done. Check out some of the most common myths and myth busters below.
Myth: Dining halls are filled with pizza, tacos, and ice cream.
Fact: While true, they also have healthier options such as fruit, vegetables, salad bars, and lean proteins.
Myth: I can't cook anything healthy in my dorm room.
Fact: Plenty of healthy options can be made with just a microwave and a refrigerator, you just need to get creative.
Myth: I should pick out/buy low-fat food in the dining hall and grocery store if I want to lose weight.
Fact: While it may seem counterintuitive, incorporating healthy fats such as nuts, avocadoes, and fish can actually help you maintain a healthy weight by keeping you satiated for longer.
Myth: The smoothies available at my college's grab-and-go are healthy.
Fact: Many smoothies are packed with unnecessary sugar, fat, and carbs that provide empty calories and do not keep you full for long.
Myth: Eating on-the-go means sacrificing nutrition.
Fact: Even if you need to grab lunch quickly on the way to your next class, healthy options exist on campus. Grab-and-go campus markets usually have some fresh fruit, nuts, individual hummus containers, and other items that fit with a balanced diet.
5 Steps for Mastering Dining Hall Eating
Living on your own for the first time, it can be tempting to chow down on endless French fries or taco Tuesdays. Getting to know how your college's dining hall is set up and functions can help you make healthy choices on an everyday basis. Here are a few steps to get you started:
Get to know the setup.
Most dining halls feature different stations, including those devoted to salad, pizza, sandwiches, vegetarian options, grilled foods, and other types of entrees. The salad and vegetarian sections are sure to offer nutrient-dense foods, while the grill station may feature lean proteins.
Review an online menu.
Some schools publish their daily online menus so students can review nutrition information and find foods suited to their dietary needs. This will help you better understand the foods you eat.
Arrive early.
To have the widest – and freshest – selection of healthy foods, be sure to arrive soon after the dining hall opens.
Review your meal plan.
While some meal plans only allow you to eat one meal per card swipe, others allow you to take leftovers or grab some fruit/vegetables to use in your dorm room.
Learn about special meals.
Lots of dining halls organize themed days/meals, some of which offer lots of healthy alternatives. A Mexican food-themed day, for example, offers the opportunity for delicious taco salads while a Japanese food-themed day may offer lots of veggie and sushi options.
Dorm Room Food Hacks Checklist
Preparing a three-course meal may not be possible in the confines of a dorm room, but a little out-of-the-box thinking could net you some delicious and nutritious options. One of the most important things students can do is make sure they have all of the tools and ingredients needed to make healthy food whenever hunger strikes. A few items to keep on hand include:
Food appliances:
While hot plates are not allowed, a microwave can prove surprisingly helpful in heating up frozen vegetables, grain packets, and other healthy staples. Pair the microwave with a mini-fridge so you can stay stocked up.
Prep tools:
Simple items such as a cutting board, measuring cups, a knife, and utensils ensure you can prepare the food you purchased.
Easy ingredients:
Options include frozen vegetables, healthy ready-to-eat meals, nuts and seeds, fruit and vegetables, milk, oatmeal, nut butters, hummus, deli meats, condiments, low-fat cheese, bread, and crackers.
Serving tools:
Keep it basic but don't forget to stock up on a few plates, forks, knives, and spoons to enjoy your creations. To stay environmentally conscious, try to purchase items that you can wash and reuse throughout the year.
5 Meals You Can Make in Your Dorm Room
Looking for some quick staples that can be made with only a microwave and refrigerator? Check out these ideas.
Scrambled eggs
These can easily be cooked in a microwave. Simply crack the eggs in a bowl, add some salt and pepper, and whisk with a fork for 15 seconds. Microwave for two minutes and serve with some wholegrain bread.
Yogurt parfait
This easy breakfast can be thrown together in less than a minute. Simply add some regular or Greek yogurt to a bowl, then top with healthy granola/cereal and your favorite type of berries.
Veggie bowl
Microwave a bag of brown rice and a bag of frozen mixed vegetables. Mix these with some canned beans, avocado, salsa, or any other toppings on hand. Add some fresh cilantro if you're feeling fancy.
Tuna salad
Mix one can of drained tuna in water with some sliced celery or carrots, mayonnaise, and salt and pepper. Serve with wholegrain crackers, bread, or carrots.
Turkey wraps
Simply add some turkey deli meat, cheese, lettuce, peppers, avocado, or any other veggies of your choosing to a whole grain tortilla. Add your favorite condiments, roll up, and slice in the middle for an on-the-go lunch.
You Want to Eat Healthy, But There's No Time
Finding time to eat nutritiously can be a challenge, especially in college. Rather than waiting until you're starving, think of ways to plan ahead or cut corners without cutting nutrients. If you know you love baked potatoes, for example, consider microwaving a few over the weekend and reheating them once the week gets busy. A few other quick swaps to consider include:
Instead of making ramen:
Microwave spaghetti squash and add jarred marinara. You still get the enjoyment of a noodle texture without all of the carbohydrates.
If you really want ramen, consider adding some frozen peas, carrots, and other vegetables to stretch the dish into two meals rather than one.
Instead of ordering pizza:
Take-out pizza is loaded with excess fat and carbs. Instead, make pizza out of English muffins, marinara, low-fat cheese, and turkey pepperoni.
Get a cauliflower crust pizza from the grocery.
Instead of going out for a fast-food burger:
Make a lean turkey patty or frozen veggie patty. Use whole grain bread, an English muffin, or even lettuce instead of a white bun. Add lots of lettuce, tomato, and other favorite veggies to increase the nutrient density.
Microwave a potato and top with low-fat cheese, sour cream, chives, salsa, or other toppings you enjoy.
Instead of buying a bag of chocolate:
Look for flavors of yogurt you enjoy. While some have excess sugar, there are several options in fun flavors that keep the sugar to a minimum.
Buy dark chocolate, as this is usually more satiating in smaller amounts than milk or white chocolate.
8 Healthy Eating Tips Just for College Students
Rather than thinking about their diet as a whole and getting overwhelmed, students can incorporate healthy changes throughout their day that add up to a better overall diet. Our top 10 tips are highlighted below.
Add fruit or veg to every meal.
Even if that means a handful of carrots or some apple slices, this ensures you're getting nutrients each time you eat. See if you can take these from the dining hall to have on hand in class or while studying.
Eat good foods before an exam.
Eating a breakfast filled with slow-release carbs, healthy fats, and lean proteins can help give your brain a boost and keep you focused during the test. Good examples include oatmeal, wholegrain bread, eggs, and yogurt.
Don't overload on caffeine.
If you need to stay up late to study or finish an assignment, a small amount of caffeine can help but too much proves harmful. Medical professionals found that up to 600mg of caffeine (about four cups of coffee) can increase brain function while higher doses make it harder to concentrate. Avoid energy drinks as these typically have higher levels of caffeine. Try to drink a decaffeinated beverage between each, such as water or herbal tea.
Don't forget the water.
Drinking the daily recommended amount of water helps you avoid empty drink calories and keep from eating when you're thirsty rather than hungry. One study found that students who bring water or other types of beverages with them to an exam score an average of 5% higher than those who don't.
Pack your backpack.
Rather than keeping potato chips, chocolate, and other calorie dense foods with you during the day, swap these out for things like popcorn, rice cakes, and other items that fill you up with less calories.
Mind the alcohol.
Drinking is an inevitable part of college for many students, but alcohol is filled with empty calories. If you're going to drink after turning 21, try to avoid sugar bombs like piña coladas and instead aim for options like gin and tonic or vodka and soda water. Add some citrus to enhance the flavor.
Cook together.
If making a healthy meal each day sounds overwhelming, create a college dinner club and rotate cooking to lighten the burden.
Try new things.
If you're usually a picky eater, consider trying new healthy foods to find more options that taste great and provide good nutrition. There are likely numerous dishes or salad toppings at the dining hall you've never tried, so give them a go.
College Eating Advice from a Dietitian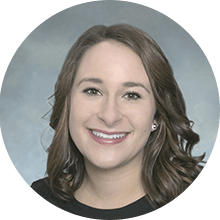 Danielle Zolotnitsky is the transplant and digestive disease dietitian at Einstein Medical Center. She works with patients undergoing liver and kidney transplant surgery and patients who have Gastrointestinal disorders such as IBD, Celiac Disease, IBS, and other conditions. Danielle enjoys walking her dog, cooking, and teaching fitness classes.
How can college students make healthy eating decisions with limited resources?
Keep it simple. Enjoy the foods you love, but make sure you are eating adequate protein, fruits, and veggies. Seek out your university's on-site dietitian if you have any questions or are making major changes to your diet. If you're studying all night, stay hydrated and take snack/meal breaks. In terms of budget, try to eat in your dorm, dining hall, or apartment more than you order out.
What is your go-to quick/cheap meal when you're in a rush?
What should students consider when making a run to the grocery store?
What are the biggest mistakes students usually make with eating healthy food?
Resources and Tools for Healthy Eating in College