Written By


Expert Contributor

last updated

11/30/2021
Of the estimated 52,000 students who applied to medical schools in 2018-2019, only 21,622 were accepted. Getting into med school is notoriously tough and draining. However, you can take steps, even as an undergrad, to improve your chances of getting that coveted acceptance letter. You can also avoid the mad dash to assemble your application materials last minute, a strategy nearly every expert would advise against.
Whether you're in high school, college, or a post-professional student, med school is within reach. With lots of hard work, unwavering determination, and the right resources, anyone can go from general student to med student. Learn how you can crack the med school admissions code starting today.
What Are Med Schools Looking for?
With notoriously high entry standards, med schools want promising candidates with backgrounds that demonstrate dedication and a willingness to go the extra mile. Below are some of the major areas that med school admissions boards focus on when considering applicants.
Good grades (especially in certain courses)
Good grades in any subject point to discipline, attention, and a solid work ethic. This is especially true for math, science, healthcare, and related topics. Med schools look at your average GPA for these types of classes, so make sure your undergraduate grades in general, and in these specific subjects are solid.
A solid MCAT score
According to The Princeton Review, the average MCAT score for admitted med school students fell between 510-511 for 2017-2018. While crushing the MCAT may seem like an insurmountable task, there are countless resources, prep courses, and study groups out there to help you feel confident about test day. Look at the average scores of accepted students at your target schools and aim for a point or two higher than those scores. Of course, the higher the score, the better chances!
An undergrad major that relates to healthcare
While some schools accept applicants from unrelated undergraduate majors, studying a science or math subject for four years puts you in better stead than studying unrelated topics. If you're passionate about becoming a doctor, choosing your pre-med major can be the first step to success. Almost any major can impress an admissions board if it's coupled with good grades, extracurriculars, and volunteer work in a clinical setting.
Clinical experience
Before committing to years of advanced study and clinical work, med schools want to know that your heart and mind are in the work. One way to demonstrate this is by gaining clinical experience before applying. Whether you decide to shadow a physician, seek mentorship from a medical professional working in the field, or undertake an internship, make sure you get these hours in.
Volunteer hours
Volunteerism demonstrates your commitment to the medical field and your desire to help others. While your volunteer hours don't need to be directly related to healthcare, the type of volunteer work you do can help you stand out among applicants. Ideas include volunteering at a nursing home or participating in an alternative spring break medical mission.
Leadership skills
Doctors are responsible for telling nurses, orderlies, and other healthcare staff what needs to be done in terms of patient care. Leading others – especially during tense or stressful times – provides an early key marker of future success as a doctor. Be sure to highlight any previous leadership experience on your application.
The 15 Core Competencies for Entering Med School
On top of the factors described above, there are also specific competencies med schools want in the students they accept. According to the Association of American Medical Colleges (AAMC), fifteen competencies are especially important to med school admissions boards. The more of these competencies you can demonstrate through your application, transcript, letters of recommendation, and other application material, the more likely you are to gain acceptance.
Interpersonal Competencies
Service Orientation

Demonstrates a desire to help others and a sensitivity to the needs and feelings of others.
Social Skills

Demonstrates an awareness of the needs, goals, and feelings of others. Adjusts behaviors appropriately in response to social cues and treats others with respect.
Cultural Competence

Demonstrates knowledge of socio-cultural factors that may affect interactions and behaviors. Shows respect for multiple dimensions of diversity. Engages diverse and competing perspectives as a resource for learning. Recognizes bias in themselves and others. Interactives effectively with people from diverse backgrounds.
Teamwork

Works in collaboration with others to achieve shared goals. Shares information and knowledge with others and provides feedback. Puts the goals of the team ahead of personal goals.
Oral Communication

Effectively conveys information to others with speech and listens actively. Recognizes potential communication barriers and adjusts approach or clarifies information when needed.
Interpersonal Competencies
Ethical Responsibility to Self & Others

Behaves honestly and ethically. Cultivates personal and academic integrity. Adheres to ethical principles and follows rules. Resists peer pressure and develops/demonstrates ethical and moral reasoning.
Reliability & Dependability

Consistently fulfills obligations in a timely and satisfactory manner. Takes responsibility for personal actions.
Resilience & Adaptability

Demonstrates tolerance of changing environments or situations and adapts effectively. Persistent even when situations are difficult and recovers fully from setbacks.
Capacity for Improvement

Sets goals for continuous improvement and for learning new skills and concepts. Engages in reflective practice for improvement. Solicits and responds appropriately to feedback.
Thinking & Reasoning Competencies
Critical Thinking

Uses logic to identify the strengths and weaknesses of alternative solutions, conclusions, or approaches to problems.
Quantitative Thinking

Applies quantitative reasoning and appropriate mathematics to describe or explain phenomena in the natural world.
Scientific Inquiry

Applies knowledge of the scientific process to integrate and synthesize information, solve problems, and formulate research questions and hypotheses. Understands the language of the sciences and uses it to participate in the discourse of science.
Written Communication

Effectively conveys information to others using written words and sentences.
Science Competencies
Living Systems

Applies knowledge and skill in the natural sciences to solve problems related to molecular and macro systems including biomolecules, molecules, cells, and organs.
Human Behavior

Applies knowledge of the self, others, and social systems to solve problems related to the psychological, socio-cultural, and biological factors that influence health and well-being.
The Traditional Med School Prep Timeline
If you want to stand out in the med school admissions process and give yourself a solid shot at getting accepted, it's best to start preparing during your undergraduate degree. By following the med school prep timeline below, you can increase your chances of feeling confident and being prepared come application time.
Freshman Year
If you already know you're deadest on a medical career, the best time to start preparing is your freshman year of college. Here are some of the best ways you can prepare for your M.D. credential before ever setting foot in med school.
Map out your path to med school
Before the hustle and bustle of your freshman year begins, plan out how to get from high school to med school. By mapping out the undergrad courses you'll take and when you will take them, you can be sure to tick off any required prerequisites or recommended courses before you graduate. You can also decide when to take the MCAT, so you can work backward when it's time to create a study schedule that doesn't leave you stressed out.
Meet with your pre-med advisor
If your school has a pre-med advisor, get to know that person as soon as possible. These professionals can help you map out your journey towards med school and ensure you're hitting deadlines and expectations along the way. Pre-med counselors review course requirements with you and help you create an undergraduate game plan. They'll also help you consider what comes after you obtain your bachelor's degree.
Choose your major
While the myth that you must major in biological science to get into med school persists, the reality is that students come from myriad academic backgrounds. Whether you choose a major in the humanities or the sciences, do so early on and stick to it. Choosing your major sooner rather than later ensures you can schedule your classes to take all the necessary prerequisites required for application to med school.
Familiarize yourself with prereqs
With all this talk about the importance of meeting prerequisite requirements, it's obviously important to know what they are early in the process. Some vary based on the med schools you apply to, but common prerequisites include general and organic chemistry, biology, calculus, psychology or sociology, biochemistry, and physics. Your pre-med advisor can help you confirm these requirements.
Sophomore Year
Sophomore year offers the opportunity to start formalizing your plans a bit more and thinking about what you want to get out of med school.
Begin building your pre-med portfolio
Your portfolio helps tell the story of you that cannot be captured in an MCAT score, making it an important component of the application process. Your pre-med portfolio will include examples of your leadership skills at work, opportunities you took to be involved in community projects or volunteer initiatives, and any clinical experiences you gained. Starting your portfolio early means you won't be scrambling to assemble it last minute later on.
Get involved in extracurriculars
Gone are the days where pre-med students need to rack up as many extracurriculars as possible. Instead, admissions panels want genuine involvement in select activities that speak to your interests, skills, and responsibility. Starting your extracurricular involvement early allows you to spend a year or more involved, which further speaks to your commitment.
Start taking MCAT prerequisite courses
Before taking the MCAT for the first time, most advisors and test prep experts counsel students to complete certain courses to be familiar with the subject matter. If you want to take the MCAT as a junior, be sure to take certain classes by the end of your sophomore year. These include general and organic chemistry, physics, cell biology, molecular biology, human anatomy, human physiology, sociology, psychology, and statistics.
Cultivate strong relationships with professors
Letters of recommendation play a critical part in the admissions process. To receive excellent recommendation letters, start cultivating meaningful relationships with your professors early in your college journey. This is particularly true when it comes to professors who can speak to your academic abilities, work ethic, commitment to learning, and potential to succeed in med school. You also want at least a couple of backup letter writers in case those you initially ask are too busy.
Junior Year
Junior year is when the process starts to feel real, and the pace of your med school preparation picks up. Follow these steps to stay on target in your third year of undergraduate studies.
Initiate MCAT preparation
After putting in so much work already, you don't want to feel rushed when studying for the MCAT or unprepared when testing day comes. To start preparing, decide which testing date you will book. From there, work backward to create a study timeline that fits with your existing school schedule and provides the time and space you need to be prepared.
Request letters of recommendation
It's critically important to provide ample time for letters of recommendation. Waiting until the last minute may not give your professors enough time, especially if they already have too many requests from other students. Even if they can take time to write you a recommendation letter, they may not be able to truly reflect on your growth as a student and on the unique qualities you have to offer a med school
Solidify your list of schools
If you haven't already narrowed down your shortlist, now is the time to start thinking about which schools you want to apply to. As you review prospective programs, look at acceptance rates, average GPAs, and MCAT scores of accepted students. Use this information to figure out which schools you have the best chance of receiving an acceptance letter from and focus your efforts on those moving forward.
Take the MCAT
Because the field of med school applicants tends to get more crowded as the admission process goes on, taking your MCAT early can increase your chances of getting accepted. That said, be sure you take enough time to study and know How to Crush the MCAT. Visit AAMC to see the list of published testing days and pick one that works with your schedule. The exam costs $300 to take as of 2021, and there are additional expenses for rescheduling.
Senior Year
After three years of hard work in your undergraduate studies along with the necessary preparation for med school, it's time for one final push your senior year to wrap up the application process.
Take Upper-Level Courses
Make your first two years of med school a little easier on yourself by taking some upper-level or graduate courses that are expected once you get into a program. Examples include human anatomy and physiology and pharmacology. Your pre-med advisor can help you identify which courses will put you ahead and make your life easier later.
Choose Your Schools
After narrowing down your options and seeing how your MCAT scores come out, it's time to finalize your list of schools and start the application process. Students typically apply to an average of 16 schools, but that doesn't mean you need to do the same. You may decide to apply to a dozen or less but place more emphasis on each application.
Write Your Essays
Most medical schools require a personal statement as part of your application. Like letters of recommendation, these personalized components help you stand out from other applicants and show the admissions panel your uniqueness. Start your essay early to allow for the time and space to create an intriguing narrative and to receive revision and editing help.
Research Financial Aid Opportunities
It's no secret that medical school is an investment. Starting the financial aid process early can help maximize the number of scholarships, grants, and other student loans you can receive to help lower costs. You can apply for federal financial aid assistance by filling out the Free Application for Federal Student Aid (FAFSA) as soon as possible since federal funds are awarded on a rolling basis.
What Are the Different Paths to Med School?
Declaring yourself pre-med in your undergraduate years may be the most talked-about path to med school, but it's not the only one. In this section, we look at the traditional route along with some nontraditional paths for getting into med school.
Picking Premed as an Undergrad
Long considered the most traditional path to med school, declaring your intent to pursue a medical degree while an undergrad is a good idea for students who know this is what they want to do. Remember that pre-med isn't a major but a designation. You can major in English and be pre-med as long as you take all the prerequisites outlined for med school admissions.
Opting for a Postbaccalaureate or Special Master's Program
Whether you decided to become a doctor late in your undergraduate career or you didn't get the grades you needed to apply right after your bachelor's degree, other paths exist. Completing a postbaccalaureate or special master's program can get all your prerequisites completed and raise your GPA in just one or two years. These programs also provide access to research opportunities and clinical experiences to help strengthen your application.
Enrolling in a Combined BS/MD Program
Students who feel confident about their career trajectory and want to get their schooling finished as quickly as possible often choose this option. Offered as an accelerated pathway, some programs take as few as six years. Acceptance into the MD program is contingent on getting a good MCAT score and keeping your GPA up. This path is also considered less competitive than the traditional route since you're not competing with students outside the program.
The Med School Application: 3-Part Breakdown
Going through the med school admissions process means taking part in three distinct phases. The schools you apply to can choose to reject you at any point in the process, meaning you may only go through one or two steps. We break down each component below.
PART 1
The Primary Application
The primary application functions most similarly to the type of application you submitted for undergraduate admission. The components typically required include:
Official transcripts
Personal statement
List of extracurricular activities
MCAT scores
Many medical schools now use the American Medical College Application Service (AMCAS), which functions as a type of common application that allows you to submit one application to multiple programs. The application process typically starts in June, and you should try to submit yours as soon as possible.
PART 2
The Secondary Application
If a medical school likes your primary application, it sends you a secondary application. Unlike with AMCAS, this application is unique to each school. It provides admissions panels the opportunity to get answers to very specific questions about you, your education, and your goals. Like the primary application, the turnaround on this part needs to be quick. If possible, aim to return the application in July or early August.
PART 3
The Med School Interview
If you get an interview request, it means the admissions panel liked your secondary application and wants to know even more about you. Try to schedule this soon after you get the interview request, but also make sure you give yourself enough time to research the process and prepare thoughtful answers. After the interview, you should hear whether you've been accepted, rejected, or placed on a waiting list within a month.
Expert Insight on Standing Out as a Med School Applicant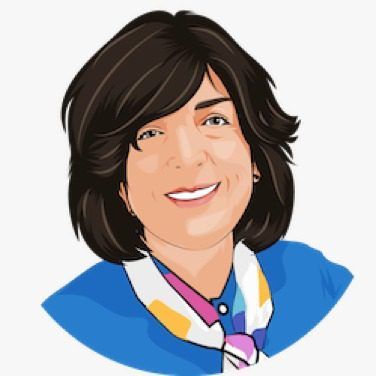 Linda Abraham, founder and CEO of Accepted, a prominent graduate admissions consultancy, has roughly 27 years of experience as a medical school admissions consultant. She hosts Accepted's Admissions Straight Talk, one of the first grad admissions podcasts in the world, and has interviewed dozens of med school admissions directors. In addition to her duties at Accepted, Abraham co-founded the Association of International Graduate Admissions Consultants (AIGAC) and served as its first president and later as its treasurer. Media outlets, including CBS News, The Wall Street Journal, US News, and Bloomberg Businessweek, have all sought her perspective on admissions.
Q: What are the most common mistakes applicants make during the admissions process?
Not taking a holistic view of the process. If they think it's only about grades and test scores, they will lack clinical exposure and community service. If they think it's all about extracurricular activities, their grades may well suffer. Schools want to admit multi-faceted individuals who can handle the demanding workload and have the character to be compassionate caring physicians and the commitment necessary for the very hard work that is demanded of physicians.

Not allowing enough time for MCAT study. Treat it like another class or a job and give yourself the time necessary to do well.

Writing what they think the admissions committee wants to read as opposed to what they want the committee to know about the experiences and motivations that for the primary application convinced them that they want to become a physician and for the secondary application that they want to become a physician at this specific medical school.

Turning their essays, especially the primary application personal statement, into a resume in prose. "First I did this, and then I did that." Most of this information is in the activity section anyways. It's boring and a wasted opportunity to really provide insight.

Divorcing the "what" from lessons learned. Writing only in assertions that reveal conclusions you've reached without your motivations or the experiences that led to these conclusions leads to boring and not credible essays. Writing only about examples, anecdotes, and experiences without providing their significance, may be more engaging, but it doesn't give the reader a clue about how you tick.

In activity descriptions, focusing on your responsibilities and what you did as opposed to what you accomplished.
Q: Where can students turn for help, even while in undergrad, to prepare for med school admissions?
A: Many colleges and universities have Pre-health Advising Offices, and pre-meds should take advantage of the advice provided there. They can also thoroughly go through AAMC's site for pre-meds. Finally, my company, Accepted, offers free resources and general advice and also provides one-on-one advising and editing as paid services.
Q: If you could provide one piece of advice, what would it be?
A: Make sure that you have the clinical exposure both to know that this is the right path for you and to demonstrate to the admissions committees that you have made a serious commitment based on your significant exploration of the field.
Q: What should students do if they receive a rejection letter?
There are 4 basic reasons for rejection:
They weren't qualified for their target programs.
They failed to present their qualifications effectively.
They were a victim of the low acceptance rates and intense competition at the medical schools they applied to.
A combination of the above.
If they receive a rejection from all the schools they applied to and want to reapply, they should assess which of the factors played a role in their rejection. Downplay whatever impact #3 had because that's the one they cannot influence. Do their best to improve on #1 and #2.
Resources for Getting into Med School
This popular Reddit sub-thread answers your questions about admissions and beyond from those with first-hand experience of the process.
This YouTube video highlights some of the common reasons 60% of applicants receive rejection letters and what you can do to better your chances.
10 Things to Do to Prepare for Applying to Medical School.
The Association of American Medical Colleges (AAMC) maintains a student section of its website filled with helpful information on medical school.
10 Tips on Getting into Med School
Given how notoriously selective medical schools are, Michigan Tech University put together this handy list of what you can do to stand out from the crowd and increase your odds of acceptance.
Accepted to TEN Medical Schools:
In this YouTube video, vlogger Maggie talks about how she got 10 med school acceptance letters and goes through her full AMCAS application to provide insight.
Checklist for Creating a Stellar Medical School Application
Windsor University compiled this list of components you'll need when submitting your primary application. You can print this out and check off items as you go.
The American Medical Association provides this free resource that includes information on finding the right medical school and navigating the admissions process.
Resources and Services for Premed Students
The AAMC put together this comprehensive guide to help undergraduates learn what it takes to get into medical school and how they can start preparing for the process.