Written By


Expert Contributor

last updated

08/30/2022
Ten years ago, a team of surgeons had to remove an inflamed gallbladder by hand – now a robot does it. Before COVID-19, nursing students performed their clinicals in-person surrounded by instructors and other students – now some use VR. The future of healthcare is technology, whether you're a seasoned professional or a first-year student.
With the move to online education, technology has also become a bridge between schools, instructors, and students. In addition to virtual lectures and online exams, you have patient simulations, augmented reality, and other training mechanisms that prepare students to enter increasingly tech-heavy careers upon graduation. Although few abilities trump keen observation and quality bedside manner, tech skills and experience are definitely on the rise.
If you have your eye on higher education in healthcare, learn how today's top tech is paving the way for future students just like you.
Virtual & Augmented Reality
Virtual reality (VR) and augmented reality (AR) are quickly emerging as the high-tech solution for improving the delivery of healthcare education. With medical technology undergoing revolutionary upgrades at a faster pace than ever before, it's imperative that all healthcare professionals stay up to date with the most current innovations. As healthcare relies more heavily on technology as each year goes by, students should be introduced to it in the classroom early on in their education. Here's what you need to know about VR and AR in the healthcare classroom today.
Who Uses VR and AR?
When it comes to the use of VR and AR in healthcare and healthcare education, the uses are practically endless. A physical therapist might use Neuro Rehab VR to develop training exercises with machine learning to tailor each exercise to a patients' unique needs. Alternatively, a surgeon could utilize VR, such as Surgical Theater, to explore and interact with a 3D model to plan safe and effective surgeries. Healthcare professionals can even use VR and AR to better understand and empathize with their patients. Embodied Labs uses VR to simulate what it's like to live with certain health conditions, such as macular degeneration or hearing loss, giving providers the chance to put themselves in a patient's shoes.
How Are VR and AR Impacting Health Education?
With this advanced technology and its ability to generate real-life scenarios in the virtual environment, online healthcare students can get a fully immersive training experience before they enter a hands-on patient scenario, such as a surgical residency in med school. In addition to the hands-on skill development, students in the VR and AR environments can also work on developing mental agility and decision-making skills that were previously only learned while on the job, especially in a trauma or emergency room situation. Today, the tech-heavy classroom better prepares you to handle stressful situations and ultimately offer a higher level of patient care than ever before.
Wearable/Portable Technologies & Mobile Health
In most cases, wearable technology is designed to continuously monitor human behavior and physical activity, including biochemical and physiological aspects. The devices might be data-driven, designed to capture patient vital signs like blood pressure and heart rate to blood oxygen saturation and body temperature. Alternatively, wearable technologies might be video- or photo-oriented to help healthcare providers assess patients' movements in physical space, their posture, and more. They can be attached to limbs on the body, objects in a room or vehicle, or even a patient's skin. There have also been developments in the last several years in wearable devices for healthcare learners, including the use of Google Glass in the classroom.
Who Uses Wearable/Portable Technologies?
Wearable technologies are becoming more common for healthcare providers to use while treating patients. There are some wearable technologies that providers send home with patients to help them better monitor their health, assist in at-home activities such as physical therapy, and to make detailed readings and measurements remotely.
Alternatively, healthcare educators are using these technologies in the classroom and clinical training environments. Some schools have been using technologies like Google Glass to broadcast the first-person point of view of one procedure to a classroom full of students on campus or online.
How Are Wearable/Portable Technologies Impacting Health Education?
In an interview with AAMC, Dr. Warren Wiechmann championed wearable technology in educational settings, saying that it "gives students and learners and even patients this unique perspective that they could never really have by having a first-person camera view into the medical world. Whether it's procedure, lecture, or skin lesion, or even just an interview with a patient, it provides a unique opportunity . . . and there's a lot of possibilities that could be very useful."
In educational settings, wearable technologies have been placed on patients to allow instructors to see how medical students respond to and interact with them. Instructors can help learners analyze their speech patterns, word choices, levels of emotion and empathy, and other aspects the patient-doctor bedside manner. This new technology offers a great way for students to learn from their missteps or triumphs in both real and simulated settings unlike ever before.
Digital Health and Telehealth
Digital health and telehealth refer to just about everything in healthcare practices made possible by remote or long-distance technologies. This includes remote clinical healthcare, health administration operations, public health operations, and professional health-related education. All of these components of telehealth are expanding with the improvement of technology and the convenience of being able to serve students who have scheduling challenges or geographic barriers that would normally keep them out of traditional on-campus healthcare programs.
Additionally, today's healthcare workers, especially medical physicians and others who work directly with patients, enjoy easy remote access to medical documents like x-rays, patient medical histories, and even patients themselves through telehealth computer systems and dedicated video technologies.
Who Uses Digital Health & Telehealth Technologies?
Digital health and telehealth technologies are being used by students and professionals to receive training in their area of the field and to treat patients remotely. In this way, healthcare education and the range of services available has greatly increased over the last few years. For example, it used to be quite difficult for rural patients to access healthcare and retain healthcare professionals in the rural areas they live in. Telehealth technologies are working on both fronts, helping more people get the care they need. Furthermore, non-traditional students living off-campus now have much easier access to learning materials typically reserved for on-campus learners.
How Are Digital Health & Telehealth Technologies Impacting Health Education?
For students, whether through synchronous or asynchronous coursework, distance education and telehealth have made it easier and more affordable for more young professionals to receive training across the healthcare field. Digital health and telehealth are such a significant part of the healthcare field today that colleges and universities often require their students to complete telehealth technology-focused coursework as part of the standard curriculum. Especially for learners studying pathology and radiology, the digital transfer and sharing of health documents and x-rays have been extremely useful for both students and working healthcare professionals.
Robotics
Robotics in healthcare refers to certain types of new technologies that exist in areas like surgery, rehabilitation, sterilization and cleaning, voice recognition, and much more to assist healthcare workers with daily tasks and patient care. We can categorize four main types of robotics used in healthcare: surgical robots, exoskeletons, care robots, and hospital robots. From minimally invasive surgeries and recovery efforts to in-home patient assistance and general laboratory tasks, the variety of uses for robotics is growing every year, making healthcare more efficient and precise.
Who Uses Robotics?
Robotics are used widely by practicing healthcare providers, including doctors and nurses in the clinical setting, as well as by educators at colleges and universities. Since the use of robotics can help clinical facilities improve patient care, reduce waste, and often save on overall costs incurred by a facility, healthcare providers today are actively taking advantage of robotics assistance, from the operating table to the administrative offices.
How Is Robotics Impacting Health Education?
Robotic technologies are changing how students and professionals learn to take care of their patients. From learning about the practical side to patient care, healthcare students are about to get a more authentic hands-on experience with robotics without putting a human's well-being at risk.
Additionally, robotics has been useful for training purposes. Schools like Duquesne University are employing robotics in the classroom that serve as "the eyes, ears, and mouthpiece for students and faculty who cannot participate in person." Similarly, Bunker Hill Community College uses a pediatric robot to simulate real-life scenarios commonly encountered by nursing professionals. The robot is controlled by the instructor who can incorporate just about any kind of change or challenge at the press of a button to help better prepare students for the real thing.
Remote Health Monitoring
Similar to the advantages we see from wearable technologies, remote health monitoring (also referred to as remote patient monitoring or RPM) essentially helps healthcare workers to gather information on patients through data outside of the usual healthcare settings like clinics and hospitals.
Companies like Care Innovations offer a variety of remote health monitoring systems that patients can engage with, many of which use technologies that are quite similar to a tablet or iPad. These technologies also include utility adapters, room motion sensors, and bed sensors to monitor patient activity and mobility. Healthcare providers get much more patient data this way and can tailor their treatments to better suit patients' needs as a result.
Who Uses Remote Health Monitoring?
One of the best things about remote health monitoring is that it bridges the gap between traditional healthcare settings and the patient's home. Technological developments in this area ultimately allow healthcare providers to extend the duration and reach of their services since they don't have to be with a patient physically to help them in many scenarios. These technologies have proven extremely useful during the coronavirus pandemic, as well.
How Is Remote Health Monitoring Impacting Health Education?
A particular advantage of remote health monitoring in education is the fact that healthcare students and patients can now learn a great deal from the data collected by advanced monitoring systems. Working healthcare professionals and instructors can provide students with the data they need to gain a better understanding of the effectiveness of treatments regardless of the student's location. Patients also learn about how their habits, lifestyle, and environments affect their health, the effectiveness of their treatment plans, and general mobility. Data collected through these remote health monitoring systems is also easily shared and put into quantified, easy-to-digest materials for both students and patients.
Artificial Intelligence (AI)
AI is becoming increasingly popular and widespread in the healthcare field. Most standard applications for this technology involve patient diagnoses, the development of patient treatment plans, various administrative activities, and patient engagement. Various types of AI uses in healthcare are quickly growing, including machine learning, natural language processing, physical robots, task automation, administrative applications, and more. HealthTech highlights some of the recent medical tools that leverage AI technologies, including robotic-assisted therapy, MelaFind, and virtual assistants.
Who Uses Artificial Intelligence?
Depending on the type of AI we're talking about, it can be used quite expansively across the healthcare field. Neurologists, radiologists, ultrasound technicians, pathologists, nurses in the ICU, immunologists, researchers, and many more have found AI technology useful in their patient-facing or research-driven roles. AI technology often works in tandem with other recent developments in healthcare technology, including wearable devices, analytics, robotics, and telehealth.
How Is Artificial Intelligence Impacting Health Education?
Only within the last few years have medical schools started to address the need for more training in AI before students graduate. Schools including Duke University, the University of Florida, Carle Illinois College of Medicine, the University of Virginia, and the Sharon Lund Medical Intelligence and Innovation Institute have developed strong initiatives, including group projects, lab work, and specialized courses to meet this need. For the most part, more schools today are recognizing the need to further integrate more traditional, memorization-based learning with courses that explore or use new technologies and AI.
A report on AI by Ketan Paranjape and four other medical professionals states that "Some of the time that was originally spent on memorizing medical information will now have to be devoted to other skills. This will have a major impact on the way students and residents will experience their training. The system has to change in such a way that competence will no longer be judged based on factual knowledge but rather on communication skills, emotional intelligence, and knowledge on how to use computers."
Computer-Assisted Learning (CAL)
Broadly defined, CAL is when we use the assistance of computerized technologies to support learning for humans. In healthcare, one of the primary applications of CAL has been simply to help students, professors, and healthcare professionals keep up with the overwhelming amount of health-related information we've acquired through advanced technologies. Additionally, CAL has served as an increasingly popular tool for medical professionals to learn sophisticated skillsets that are continuously more closely tied to advanced technologies.
Who Uses Computer-Assisted Learning?
Healthcare students, professors, and practicing medical professionals all benefit from CAL technologies, even if they have different goals. Students are often learning and practicing various topics for school for the first time while professors and working professionals may be learning new techniques, keeping up with the latest developments in their field, or working to improve CAL technologies in some capacity. Along with CAL comes flexibility, which learners and professionals can take advantage of from just about any location with a wifi signal. Educators also utilize CAL for medical informatics curricula, computerized administrative databases, and computer-assisted instruction.
How Is Computer-Assisted Learning Impacting Health Education?
Colleges and universities can use various types of CAL to help their students develop a more nuanced understanding of healthcare topics, medical procedures, and more. Students and their instructors can receive immediate feedback on the learning process and progress of the task at hand. Since technology in healthcare is progressing so quickly, researchers have found that CAL has helped students learn essential knowledge and skills at a faster rate, especially in asynchronous, self-paced learning scenarios. Studies have also shown that CAL learning technologies that are available to healthcare students outside the classroom also make subsequent in-person and virtual classes more productive.
Analytics
Healthcare analytics focuses on the analysis and use of data collected in four main areas of the field: pharmaceutical research and development, clinical, patient behavior and sentiment, and claims and cost. This technology is also used to update and inform stakeholders, manage incredibly large data sets, evaluate practitioner performance, predict risk, reduce patient and institutional spending, and make medical diagnoses.
Who Uses Analytics?
From college professors and public health professionals to healthcare consultants and hospital administrators, healthcare analytics provides an excellent window into hospital management, facility costs, medical diagnoses, and patient records. Since this information is all in a digital format, healthcare professionals and students in training can take advantage of data visualization tools to make real-time, supportive decisions to improve healthcare and a facility's operations.
How Is Analytics Impacting Health Education?
Since one of the features of analytics technology in healthcare is the convenient ways data can be compiled, displayed, and shared, analytics contributes greatly to the information college professors use in the classroom and clinical settings when training future healthcare professionals, researchers, and administrators. Especially for those learners who will work directly with patients or conduct academic research in the healthcare field, analytics is becoming a large component of the healthcare training format these days. Additionally, many colleges and universities now offer specific degree programs in healthcare analytics or closely related areas to better prepare students for tech-heavy healthcare careers.
Benefits of Technology for Healthcare Education
As discussed by Phyllis A. Guze, M.D. in an article for the American Clinical and Climatological Association, technology has made crucial contributions to healthcare education and professional performance in the past several years. For Dr. Guze, these advantages include the improvement of decision-making and skill coordination, enhanced perceptual variation, and the creation of an engaging educational environment that allows students to practice procedures without any risk to a human patient. But that's just the tip of the iceberg. Here are just some of the major benefits the continued use technology will have on healthcare.
Learning and assessment improvements
With the vast amount of data we can collect, process, and share today, healthcare students have more information at their fingertips than ever. With the recent technologies in healthcare informatics and other analytical specialties, instructors can compile this information into a digestible format for advanced, up-to-date learning opportunities. This is beneficial for several reasons, as it often comes from work with real patients and care facilities.
Controlled environments with zero risk to human patients or participants
Healthcare learners can get valuable hands-on experience with VR and AR simulations and robotics. These life-like virtual realities can better prepare you for the real thing after you've had enough practice.
Realistic visualization
Many steps beyond more traditional methods for learning healthcare topics, such as from a textbook or video instruction, technologies today offer wildly realistic, hands-on opportunities for students to advance their knowledge more quickly.
Learner control of the educational experience
Online healthcare students today can often engage in asynchronous learning formats. These experiences allow learners to move at their own pace and spend more time working on those subjects that challenge them.
Repetition, repeatability, and practice
In most learning scenarios, students can take advantage of the repeatability of these educational technologies. For example, many educational robotics are able to replicate a scenario over and over again, allowing healthcare students to practice treating particular issues by using multiple approaches over time.
Learner behavior documentation and feedback
CAL technologies, remote monitoring, and analytic technologies help healthcare students and their teachers better understand their progress and performance throughout their participation in a course or clinical training. Each student's progress, strengths, and weaknesses can be immediately quantified and presented to instructors for constructive use in the educational process.
Instruction tailored to individual or group needs
Various learning technologies today, including CAL, give teachers the opportunities to supplement their in-person or online teaching materials in a way that serves their classroom. Whether one-on-one or in a group, students can receive more useful and time-efficient instruction than ever before.
Enhance perceptual variation and improve skill coordination
Along with the repeatability of these technologies, healthcare students can engage with learning modules that present a range of variations to one problem or procedure. As a result, learners are more adept at thinking on their feet, changing their approaches to meet a new challenge, and ultimately are better prepared to handle real-life situations.
Standardization of instruction, assessment, and administrative tasks
With these improvements in technology, educators and professors can develop and continually revise a standard approach to teaching their required courses, as well as a reliable system for assessing student progress, outcomes, and their feedback. Additionally, other professionals in healthcare, especially those in leadership or administrative roles, can take advantage of a standardized practice for training employees in the clinical setting, as well as develop tech-based systems that assist workers with daily tasks.
Insight from the Expert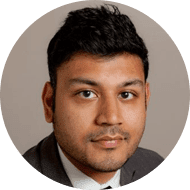 Sanket Shah is an instructor for the University of Illinois at Chicago Department of Biomedical and Health Information Sciences (BHIS) at the College of Applied Health Sciences. Professor Shah has created a course curriculum focusing on healthcare business intelligence, healthcare data, knowledge management, and consumer informatics.
Q: What role does health-focused technology play on the teaching side of things for you for your online teaching? Is it part of everything you do or just to enhance the experience?
A: It plays an enormous role. The healthcare industry is rapidly evolving, and new technologies and approaches are at the forefront of our courses. For instance, the focus on next-generation analytics inclusive of artificial intelligence and machine learning has been a very important foundational layer within the healthcare data science discipline. We leverage environments, datasets, and develop algorithms that are designed to tackle some of the most pressing needs within the healthcare continuum. We discuss all the items above as they are no longer considered "future technology," but rather, these are the technologies that healthcare organizations are leveraging every day.
Q: You have experience designing online curricula for nursing students using modern technology. What types of technologies are you using? Have your methods changed over time because of advancing technologies, tech issues, student suggestions, and other factors?
A: Most certainly. I've been online teaching for nearly a decade and so much has changed over time. Quite frankly, even a decade ago, online learning mainly focused on principles and concepts. What was lacking was an actual "hands-on" component most would be accustomed to through a traditional in-person format. The technology, security, and user experiences were simply not mature enough at the time. However, now I'm able to use advanced learning platforms, video conferencing software, virtual environments — all through a mobile-enabled framework. The experience is quite different than 10 years ago. I always try and keep on top of the latest tech to improve the learning experience for our students.
Q: Are technologies usually quite a bit different in the clinic setting than in the classroom? If so, how does technology help you provide nurses with remote clinical experiences that serve to replace in-person learning in more traditional formats?
A: Certainly, the experience will differ. I do think the gap is closing based on new tech. Although my focus is more on the healthcare IT side of things, I do know others are leveraging virtual reality and augmented reality to train physicians and nurses to perform complex medical procedures with greater accuracy. Such tools are particularly effective for collaborating with clinicians who are located in remote areas without access to a full range of conventional resources for performing surgeries or diagnosing patients. For example, students can use the technology to understand procedures, using step-by-step simulations to demonstrate exactly how they will perform a surgery. Augmented reality technology may be used to create virtual libraries that offer immediate access to detailed information about past medical procedures, allowing doctors and nurses to more precisely evaluate potential outcomes and risk factors when planning treatment options. These are just some of the examples of how we've come a long way with online learning. The tech that is available today and what will be available tomorrow will only further the comprehensive and immersive learning experience.
Q: Which technology has been the biggest game-changer for your students over the last couple of years? Why?
A: From the health analytics perspective, it is without a doubt the cloud environment. I'm able to create multiple virtual environments that can be remotely administered and accessed from anywhere in the world. It enables the inclusion of multiple platforms, databases, learning modules, and visualization software that can be scaled and rapidly deployed. In my opinion, without this technology, the popularity and value gained from online learning would be greatly diminished.
Q: What would you say to a prospective student who's nervous about learning the essential career skills in an online environment rather than in the classroom (aside from the required clinical hours in-person)?
A: Ultimately, that decision depends on the individual. Your situation is unique and you must determine what is the best path. I can tell you that being nervous about the essential skills being lost from an online format is something not to worry about. The online learning format has come a long way and you will gain the necessary skills while building meaningful relationships throughout your journey. I chose the online format because it was ideal for me when I had to juggle personal and professional commitments. Technology has improved the experience considerably and the online learning format is certainly here to stay.