Written By


Expert Contributor

last updated

07/21/2020
Whether you're fresh out of college or an established healthcare professional who's making a career move, getting a job offer is always an exciting experience. All of your training, interview prep, and other hard work are finally paying off. But before you rush to accept, it's smart to take a step back to fully understand what's being offered, how it stacks up, and whether you're getting a fair deal.
Taking time to consider the many elements of a job offer and learning how to evaluate your market worth can help you negotiate a higher starting salary or bonus structure, enjoy a more robust benefits package, and confirm that a position is the right fit. This guide will walk you through the entire job offer evaluation and negotiation process, so you can feel confident in your final decision and get what you truly deserve.
What's Included in a Job Offer
Understanding all the components of a job offer can help you make an informed decision on whether or not to accept the position. It's important to ask questions during this time, so don't be afraid to seek clarification or more information. You should also familiarize yourself with common terminology, some of which we define below.
Glossary of Job Offer Terms
Background Check: Prospective employers use background checks to ensure the information provided on your job application is correct. Background checks can help confirm information such as employment history, education, criminal/court records, and credit history.
Base Salary: Your base salary is the minimum amount of monetary compensation you receive from your job, sans benefits, bonuses, or other employment perks.
Benefits: Benefits refer to the miscellaneous collection of employment perks, including vacation/personal/sick days, insurance coverage, retirement plans, and stock options. Great benefits plans can sometimes make up for a lackluster salary.
Bonus: Bonuses refer to additional monetary compensation you may earn based on performance. Bonuses are commonly given to individuals in sales roles or those driven by metrics.
Compensation: Compensation encompasses all the things you will receive in turn for providing your skills and knowledge to a company. This often includes your salary, bonus opportunities, and benefits.
Contingencies: A contingency allows an employer to withdraw a job offer or contract if information about you comes out before your start date that demonstrates an inability to do the job well.
Expiration Date: The amount of time an individual has to consider a job offer. Once this date passes, the offer may no longer be valid.
FSA or HSA Plan: Known as Flexible Spending Accounts (FSA) and Health Savings Accounts (HSA), some companies use these pre-tax accounts to help employees pay for health costs not covered by their regular insurance, like regular copays. Often the employee contributes a certain monthly amount.
Insurance: Insurance refers to the various types of coverage an employer may offer. While health insurance is the most common, other examples include life insurance, disability insurance, and worker's compensation.
Paid Time Off (PTO): PTO is the amount of time a worker can take off during a year and still receive their income. PTO can be used for vacations, appointments, personal days, and sick days.
Probationary Period: Probationary periods give employers and employees more freedom to terminate their professional relationship if either feels a good fit is lacking. Probationary periods often last from three to six months.
Stipulations: Also referred to as conditions, these allow for the employer to seek additional information or ask the candidate to do certain things in a set amount of time. Examples may include additional reference checks or seeking a specific type of credential.
Stock Grants, Stock Options, and Profit Sharing: Companies that either plan to or have gone public offer these options as benefits to employees in place of higher salaries.
401(k): 401(k)s function as company-sponsored retirement accounts that employees deposit into and employers make contributions. These serve as long-term investments.
Evaluating a Job Offer: Key Factors to Consider
After you receive a job offer, take your time reviewing and scoring the different components, and see how they all fit together. This will allow you to measure the job offer as a whole based on what's most important to you. While you may not encounter all of the items we discuss in the following sections, understanding how each works and what is or should be on offer can help you feel confident as you go through this process.
Before You Start: Set Expectations & Decide What Matters Most
Before even receiving an offer, you should take the time to consider what you want out of a job. Some job seekers prioritize their compensation package above all other components while for others, work-life balance matters. A few questions to ask yourself during this process include:
What's most important to you? How would you rank work-life balance, compensation package, and company ethos and mission in terms of importance?
Is there anything lacking in this offer that you were hoping to see?
Is it something you can ask for or negotiate?
Can you live without it, or should you wait until you get an offer that has what matters to you most?
While you may not get every single thing you want, especially if you're right out of college, it's important to find a balance between expectations and ensuring a company doesn't take advantage of you.
Compensation
Compensation represents one of the most important components of the job offer process, as this figure represents how much you earn in exchange for your time. Taking a job that undervalues your skills and education can result in trouble making ends meet along with a lowball compensation in your next job due to a low current salary.
When assessing the compensation offered in a new role, consider how it stacks up to industry standards. Does it seem low, high, or comparable? You should also consider how the compensation offered relates to the cost of living in your area. For instance, a radiologic technologist living in Manhattan requires a higher salary than one living in a small town.
It's very common to negotiate salaries during this process. To learn more about doing this successfully, check out the information presented later in this guide about how to successfully negotiate and make counteroffers.
Company Culture, Leadership & Reputation
Professional Development Support
Career Advancement Opportunities
How to Negotiate and Counter a Job Offer
What happens if you get an offer for your dream job but the compensation or benefits package doesn't meet your needs and/or expectations? Navigating this process can feel stressful but remember that negotiations are a common part of the hiring process.
FAQs on Negotiating and Making a Counter-Offer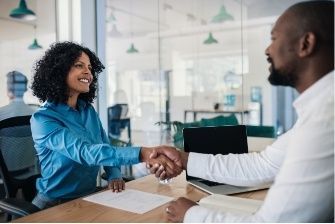 Making a counteroffer can sometimes make you question the validity of such an action or seem ungrateful, but ensuring you only accept an offer that meets your needs helps ensure your buy-in at a new company.
Many job seekers wonder if they should always make a counteroffer, despite a strong first showing from the prospective company. The answer depends on how badly you want the job. If the first offer meets or mostly meets all of your desires, accepting may not be a bad idea. But it's also important to remember that the worst thing they can do is say no. If you feel there is space to negotiate, then do so.
If multiple companies are vying for you, it's also okay to use those offers as leverage. If one company provides a better compensation or benefits package, you can mention this while negotiating. If the company declines to come up, you can always take the higher offer.
In general, it's always best to let the prospective company make the first offer. This will give you a better sense of what's possible than if you disclose your current income first. Even if an application requests this information, you can choose not to disclose it. Rather than providing a specific number, you can state the salary range in which you are focusing your search.
If you do decide to make a counteroffer, ensure that what you ask for is rooted in industry norms. State that you did research on average salaries in the industry and based your figure on those findings.
If the company seems unable or unwilling to budge on compensation, try to negotiate other parts of the job. Examples include relocation expenses, bonuses, work-from-home privileges, training costs, and contractual terms. You can even negotiate your job title, as this can help when you look for your next role.
Tools and Strategies for Knowing Your Worth in Job Negotiations
Understanding how much you should be paid starts with researching trends in your industry. Several tips and tools exist for identifying the level of compensation you should receive based on factors such as education, experience, location, and employer.
Do your research
A variety of services exist to compare salaries in various fields based on important factors. Glassdoor provides the Know Your Worth tool, which offers a free personalized salary estimate. CareerOneStop also allows you to research average salaries of specific titles based on your location.
Talk to others
Reach out to other professionals who hold similar titles and ask them to review your compensation and benefits package offer. They can help you understand whether or not to continue negotiating.
Be upfront
Tell your potential employer that you're conducting salary and job research. This lets them know that you understand your value.
Present your research
After finding data to support your salary requirements, show this to the hiring manager and make a case for why your number should be raised.
Don't be afraid to walk away
Part of understanding your worth is knowing when to walk away. If a company cannot pay a fair market rate, you should probably keep looking.
Accepting and Declining Job Offers
Receiving a job offer is an exciting part of the hiring process, but what do you do if you receive multiple offers? The following sections will help guide you through the process of accepting and declining offers of employment without burning any bridges in the process.
Tips for Accepting and Turning Down Job Offers
After receiving a job offer and deciding how you want to proceed, you must still walk through the process of accepting or declining the role. A few tips to keep in mind during this process include:
Make sure you get it in writing
When you receive a written job offer, this should include your title, salary, benefits, responsibilities, and location. Do not make a decision based on a verbal offer.
Understand the terms
Many companies allow up to two weeks for candidates to accept or decline. If this information is not included in the offer, ask for this information in writing.
Communicate clearly
If you receive one offer while still waiting on others to come through, communicate with all parties. Let the company that already made an offer know that you are planning to make a decision by a certain date. Communicate with those who haven't made an offer to let them know your window of availability for consideration.
Share your decision
Contact the person who made the offer to you –typically your future supervisor or an HR representative – and let them know of your decision. This can be done over the phone, but always follow the conversation with an email to put everything in writing.
Turn down other offers appropriately
When contacting any company, you decide to decline, call your main point of contact and share this information. You do not have to share your reasons for doing so but can provide general feedback if appropriate. This may include saying the other more closely aligned with your long-term career goals or offered a better compensation package. Follow this up with an email.
Checklist: After Accepting the Job
After accepting an offer of employment, you still need to follow through with a few other tasks. A few of these include:
Notify your employer that you accepted an offer at a different company
Share your acceptance with other companies from which you're waiting on an answer
Create a plan for transitioning out of your current role and/or training your replacement
Begin cultivating a LinkedIn network of former colleagues to stay in touch
Ask any outstanding questions about your new employment, such as dress code or training requirements
Finish strong at your current job; you may want to use them as a reference in the future
Write thank-you notes for those who provided references
Healthcare Job Insights from the Expert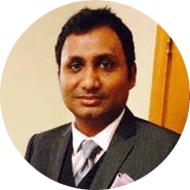 Sai Thumuluru is the founder of DirectShifts, a Y Combinator-backed medical staffing startup. DirectShifts uses AI to match locums and per diem clinicians directly with employers of all kinds who have open shifts. Sai has a PhD and MBA from Georgia Tech, and several years of experience building technology companies.
What makes negotiating a job offer in the healthcare world different from other industries?
Skilled healthcare workers have more bargaining power compared to other industries. However, healthcare employment is complex and highly regulated, so people come to agencies like ours for help. Some health systems don't even consider walk-ins. It's extremely difficult to go through the entire application process on your own, since dealing with licensing is not as easy as just submitting your resume. Plus, with the dollar amounts involved, you want an advocate on your side.
It can be difficult to find the right fit, but once you have your niche, you could stay in a place you like for a long time.
What are your tips for navigating this field during (and after) Covid-19?
How do you think the job market will change in this industry due to all the upheaval of the coronavirus?
What are some things that job candidates often get wrong during this process?
What are some things they get right?
Resources and Tools for Navigating Job Offers
15 Rules for Negotiating a Job Offer
Harvard Business Review looks at some often-overlooked tactics for getting what you want.
Employment Contracts: What to Look For
The Journal of Oncology Practice highlights things to be aware of when reviewing a potential job contract.
Hospital Interview Tips
Looking for ways to stand out from other job seekers? This video can help.
How Nurses Can Evaluate a Job Offer
Monster offers actionable tips for nurses at all career levels.
How to Evaluate, Accept, Reject, or Negotiate a Job Offer
Use these tips to manage this process like a pro.
Negotiate a Raise in Healthcare
This guide helps you understand how to leverage your value in your current healthcare job to get a raise.
Negotiating Salaries
Columbia University's Center for Career Education offers in-depth guidance on maximizing your salary offer.
New Grad Nurse Series: Accepting a Job Offer
This YouTube video provides tips on how to walk through the process with confidence.
Physician Negotiating: Get What You're Worth
KevinMD shares tips specific to doctors for getting the best employment contract available.
Tips to Negotiate Salary When Working in Healthcare
This healthcare professional shares his tips for getting the best compensation package possible.