Written By


last updated

06/06/2023
When it comes to medical careers, many people know exactly what they want. For some, interacting with patients could be the best part. For others, research is what makes their eyes light up. And for every medical professional who loves a quiet night shift, there's another one who thrives in a fast-paced trauma department.
Though it's important to go for a career that makes you happy, it's equally important to look at the practical matters. Will your desired career come along with the salary you need? Will it give you room to grow? Can you start your career immediately, or do you have to go through years of schooling to get there? This guide looks at the practical aspects of today's medical careers to help you turn your passion for healing into professional success.
Quickest Medical Careers to Start
Some medical careers require serious time investment in education: we're looking at you, physicians. Other careers that can keep you in school for 6-10 years include occupational therapy, nurse practitioner, midwife and other advanced practice areas. However, there are numerous healthcare careers that require much less time to earn the education required to start helping patients. These careers – the ones that take anywhere from a few weeks to a couple years to begin – are excellent for those at the start of their professional lives, as well as those considering a career change after years of working elsewhere. Here are some of the fastest routes to the healthcare professions:
| Medical Career | Min Time to Start (mos.) | Max Time to Start (mos.) |
| --- | --- | --- |
| Certified Nursing Assistant | 1 | 4 |
| Home Health Aide | 1 | 4 |
| Medical Biller or Coder | 2 | 16 |
| Pharmacy Technician | 4 | 24 |
| EMT | 6 | 24 |
| Massage Therapist | 6 | 24 |
| Paramedic | 6 | 24 |
| X-Ray Technician | 6 | 24 |
| Dental Assistant | 9 | 24 |
| Medical Assistant | 12 | 24 |
What makes these careers quicker to start than others? Read our full guide on the entry timelines for today's most popular healthcare careers.
Highest-Paying Careers in Four Years (or Less)
Generally, the more education you acquire, the better your salary potential will be. That holds true in the healthcare professions as well, where the highest paying jobs usually require the greatest time commitment to education. However, it is possible to make a good living on a healthcare job that requires only a few years to complete – or even less. The great part about jobs that require an associate or bachelor's degree is that there is plenty of room to go back to school and broaden your professional horizons. Let's look at the typical salaries of those in the medical field who hold bachelor's degrees, associate degrees, or certificates.
| Medical Career | Entry-Level Education | 2017 Median Salary |
| --- | --- | --- |
| Radiation Therapists | Associate's degree | $80,570 |
| Nuclear Medicine Technologists | Associate's degree | $75,660 |
| Dental Hygienists | Associate's degree | $74,070 |
| Registered Nurses | Bachelor's degree | $70,000 |
| Diagnostic Medical Sonographers | Associate's degree | $65,620 |
| Radiologic and MRI Technologists | Associate's degree | $60,070 |
| Respiratory Therapists | Associate's degree | $59,710 |
| Dietitians and Nutritionists | Bachelor's degree | $59,410 |
| Exercise Physiologists | Bachelor's degree | $49,090 |
| Recreational Therapists | Bachelor's degree | $47,680 |
| Athletic Trainers | Bachelor's degree | $46,630 |
| Surgical Technologists | Certificate or diploma | $46,310 |
| Licensed Practical Nurses | Certificate or diploma | $45,030 |
Source: "Healthcare Occupations," U.S. Bureau of Labor Statistics, 2019
Want a more detailed picture of salaries in healthcare? Read our comprehensive guide to salaries and careers in healthcare complete with detailed profiles of occupations and their compensations. For more in-depth salary information about allied health jobs, visit our guide about the top 20 paying professions.
Fastest-Growing Medical Careers
Some jobs in healthcare are in the middle of an incredible employment boom. Many experts predict this demand will continue to rise due to several factors, including an aging baby boomer population and greater access to medical insurance for many individuals through the Affordable Care Act. But just how fast is the field growing compared to other positions in the workforce? According to the Bureau of Labor Statistics, 10 of the 20 fastest-growing careers from 2016 to 2026 are in healthcare. The following chart identifies these 10 careers and their estimated growth rates.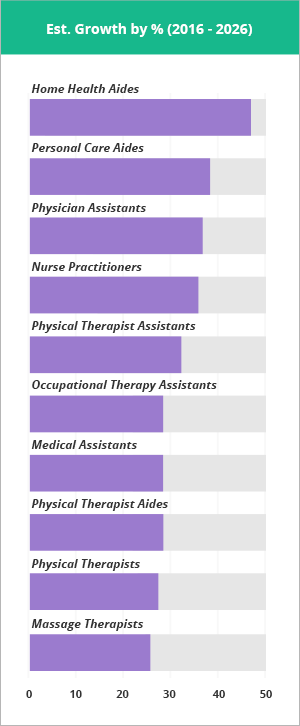 Source: "Fastest Growing Occupations," U.S. Bureau of Labor Statistics, 2019
Medical Career Crossover: Can You Make the Move?
For those who have established careers already, moving into medicine doesn't mean starting from scratch. There are many professions that allow individuals to use their existing training and experience to cross over into the healthcare industry. By utilizing prior work experience and post-secondary training, these people can not only save time on their formal medical education, but can also apply some of their skills from the non-medical field to their new position in healthcare. You can even make the move into medical by offering your skills as a second language speaker in healthcare.
1. Education/Teaching –> Nursing
Teachers and instructors have the challenging task of helping students learn. To keep their attention, many teachers must find new ways to create interest and motivate those students. The nursing profession requires similar skills. Nurses are often the highest trained medical professional a patient will see on a regular and consistent basis while receiving medical care. This provides nurses with an excellent opportunity to educate patients and their families on preventing further medical issues and answering any questions they might have. A certified nursing assistant program would be a great place to start, although accelerated BSN programs give those with bachelor's degrees already a chance to train much faster. If you feel like moving on from a clinical nursing role after a few years, you can even apply your BSN to a non-nursing career with a nursing degree.
2. Information systemsHealthcare informatics
Whether it's an online business or a hospital, the collection and management of customer or patient data is a mission-critical task any organization must perform at a high level. This creates a strong need for professionals who can maintain the software and hardware systems for the vast amounts of data that must be managed, maintained, and kept secure. Additionally, many of the principles in software or hardware development will be the same even though the database holds information on a patient's medical history instead of other information, such as where they like to shop. Learn more with our guide to healthcare informatics degrees.
3. Business managementHospital administration
Business management is all about managing people and projects, and hospital administration is much the same. Even many non-profit hospitals are still run like a for-profit corporation. An executive from the corporate sector will therefore have the management and leadership skills that can translate over to the healthcare setting. Of course, they will need to become educated in the intricacies of the healthcare setting, but the core skills will be largely the same. Campus and online healthcare administration degrees offer a wide range of skills for professionals interested in this path. Learn about other in-demand careers in healthcare leadership.
4. Military medicParamedic/EMT
A military medic provides emergency medical care to soldiers and other individuals in a combat setting. Therefore, a crossover to the job of an EMT or paramedic could be a great opportunity. In fact, some schools have special bridge programs that allow former military medics to gain credit for the training and experience they already have. This can sometimes cut the time it takes to become an EMT or paramedic by about half. Online paramedic programs online can accelerate the process, too.
5. Legal secretary/paralegalMedical transcriptionist
For most legal secretaries and paralegals, a large part of their day is spent listening to dictation from attorneys and drafting memorandums, legal documents, and correspondence. The ability to apply those transcription skills crosses over perfectly with the medical transcriptionist profession. Instead of listening to a recording of an attorney, the recording will be from a doctor. Medical transcriptionists will need to learn a brand new vocabulary to be able to understand some of the vocabulary used by medical professionals.
6. Information clerkMedical records technician
An information clerk is someone who maintains records, collects information to be stored and facilitates the access of that stored information for others. A medical records technician is a special type of information clerk; specifically, they manage health information for patients and doctors. An individual who is skilled in the categorization and organization of data can apply those same skills as a medical records technician.
7. Bill collectorMedical coder
Medical coders and bill collectors are very similar professions in that they both have the job of collecting payments for products or services. They must also both act in accordance within a special legal framework, whether it's the Fair Debt Collection Practices Act or the Affordable Care Act. And they must have excellent negotiating and communications skills. One significant difference is that medical coders have additional training in applying the special codes that medical providers and insurance companies use for billing purposes. Check out campus-based and online medical coding programs to see if this educational path might work for you.
8. Forensic science technicianMedical laboratory technologist
Forensic science technicians collect and analyze evidence from criminal investigations. Medical laboratory technologists have a parallel task, except they collect and analyze fluid and tissue samples from patients instead of crime scenes. Despite this difference, both jobs require a basic understanding of science and the importance of conducting accurate and reliable analyses. In both professions, human live are often on the line and a mistake can be deadly.
Military Veteran to Healthcare Professional
You served in the military for years, and now you want to make a difference as a civilian. While many veterans are more than qualified to enter any number of industries when they transition out of the service, there's one sector that may be a better fit than most: healthcare. If you're a veteran and you want to help people heal, learn what it takes to Get Hired in Healthcare.
Business Management to Healthcare Leadership
You've run a 40-person team at a private company, even one that deals with customers. Now you want to move to an industry where your skills and experience in management can focus more on patient care. To see which positions may be right for you, read our guide on careers in healthcare leadership and learn how you can make a difference in a medical setting.
Medical Careers by Patient: Whom Do You Want to Work With?
Choosing the right healthcare profession for you comes down to many personal factors. Perhaps you want a quick entry into the field, or maybe you want to focus on your education to obtain the highest salary possible. Or perhaps there is a certain population you want to work with, such as children or the elderly. By looking at where you want to be five years down the road and then choosing which type of patient you want to interact with on a daily basis, you can narrow down your options to a "short list" of the most fulfilling jobs for you. Here are some of those options and the educational paths that can take you there.
Working with Kids
Children need preventative care at least once a year, and, of course, sickness needs to be tended to quickly. This makes the demand for healthcare professionals who are great with kids imperative. These three careers in medicine can put you on the front lines of working with children of all ages. And to explore even more kid-focused healthcare jobs, check out our complete guide to healthcare careers working with children.
1. Pediatrician:
A pediatrician is a medical doctor that specializes in young patients, from birth up to the age of 18 or 21. While many internal processes between children and adults are the same, there are still many cognitive and physical differences that require a specialization. For example, a pediatrician will have more expertise in medical issues as they relate to growth and maturation.
2. School nurse:
Many schools have a full-time medical professional on staff at any time the facility is open to children. Because a full-fledged medical doctor usually isn't necessary, a school nurse fills the role of providing first-line medical care to students who get sick at school. The job can include anything from treating bumps and bruises sustained on the playground to finding counseling help for at-risk teenagers.
3. Respiratory therapist:
Respiratory therapists provide care to patients who have difficulty with their breathing. So it makes sense that most people associate respiratory therapists with older patients who might develop lung issues over time, such as emphysema. But they also see many patients with underdeveloped lungs, such as prematurely born infants and children struggling with asthma.
Working with Seniors
Since the body tends to break down as we get older, it makes sense that one of the biggest consumers of healthcare services is usually the senior population. Most in the medical field will work with geriatric patients at some point; however, some medical professionals see a larger share of older patients.
1. Geriatrician:
A geriatrician is a medical doctor who specializes in older adult patients, handling everything from routine preventative care and tests to acute problems and hospitalizations. Their expertise and experience focuses on medical issues unique to this group and the aging process, such as memory issues, chronic pain, osteoporosis and cancer.
2. Optician:
Opticians work with optometrists and ophthalmologists by adjusting and fitting glasses and contact lenses of patients. Most opticians work in private offices, so they'll see a wide range of patients, including young children. But as people age, the need for corrective lenses dramatically increases. Therefore, an optician will have ample opportunity to help senior patients.
3. Nursing assistant:
Nursing assistants provide basic medical and personal care to patients. Much of the work they perform each day are tasks that elderly individuals need help with, such as eating, bathing and getting dressed. This is especially true in elderly individuals who have had a stroke or suffer from some neurological issue. Nursing assistants work primarily in hospitals and long-term care facilities, such as nursing homes. Certified nursing assistant classes are a great first step.
Working with Veterans
Veterans often put their bodies through challenging tests in the service of their country, and sometimes they return home with medical issues that require treatment. There are a host of healthcare positions available to provide this much-needed assistance.
1. Occupational therapist assistant:
Many veterans may have healed enough to be discharged from a hospital. However, due to the severity or permanence of the injuries, they may struggle with daily activities and tasks that used to be simple for them. That's where occupational therapist assistants can help. They work with occupational therapists to teach patients exercises and other activities to learn new skills (or relearn old ones) so they may return to as normal of a life as possible. Learn how occupational therapy assistant programs online are changing how education works in the field.
2. Physical therapist assistant:
Due to advancements in body armor and emergency medical care, many soldiers who would have died in combat are able to survive and return home. But they have injuries make take some time to recover from, and they need rehabilitation. This creates the perfect opportunity for physical therapist assistants, who assist physical therapists to treat patients who are recovering from physical injuries or illness.

Learn about accredited online physical therapy assistant programs that can help you get there.
3. Home health aide:
Many veterans suffer from injuries so severe that, unfortunately, they can't fully recover. This can lead to physical as well as mental disabilities that prevent a veteran from living independently at home. Home health aides usually help patients with daily living activities, including bathing, dressing, eating, planning appointments and other housekeeping duties. But unlike similar professions, such as nursing assistants, home health aides usually work in the patient's home. You can earn home health aide certification online or on campus.
Working with Mothers
Pregnancy can be an exciting and confusing time. Many current or expecting mothers need specialized medical care to have the healthiest pregnancy and childbirth possible. There are numerous medical careers devoted primarily with working with current or future mothers.
1. Diagnostic medical sonographer:
These professionals are sometimes referred to as ultrasound technicians because they use machines that utilize ultrasound waves to create a visual image of organs and other structures within the body. This makes them perfect for monitoring the development of unborn fetuses. Many diagnostic medical sonographers are found in the offices of obstetricians and play a critical role in identifying any abnormalities during a pregnancy. Interested students can take medical sonography and ultrasound tech programs online or in a campus setting.
2. Nurse midwife:
A nurse midwife is a type of advanced practice nurse, or APRN, tasked with primarily working with pregnant women. Nurse midwives can be found giving advice to expecting mothers, helping during the childbirth process and providing primary care to mothers and newborns immediately following birth.
3. Obstetrician:
Obstetricians are medical doctors that specialize in childbirth and pregnancy. However, many obstetricians are also gynecologists, professionals who focus on female productive health. Obstetricians can be found doing everything from completing a caesarian section to giving advice to new mothers to performing an ultrasound examination.
Not quite at college age, but ready to start preparing for a career helping others? Learn how to prepare for a healthcare career in high school with recommended classes and resources to help you prepare.
Medical & Health Careers on the Rise
All too often, people seek medical care after something goes wrong. It could be a feeling, an injury, or anything that could be deemed "after the fact". However, all medical and health professionals continue to promote the value of "before the fact" care. In other words, regular physical checkups, mental checkups, immunization, colonoscopies, mammograms, and other pre-emptive measures to catch things as early as possible. Learn about the value of preventive medicine and the healthcare careers and degrees involved.