2020's Best Schools for Online Health Science Bachelor's Degrees
Finding the right online health science bachelor's degree starts with a clear understanding of your academic and career goals, and then putting in the time to find the program that best meets them. Helping you in that search is what this guide is all about. We've surveyed and vetted online health science bachelor's degree programs currently offered in the U.S. to provide you with our list of the best ones available for 2020. Our choices are based on several important factors, including accreditation, affordability, and career prep. Here are EduMed's stand out programs.
University of South Dakota

The University of South Dakota's online Bachelor of Science in Health Science degree program uniquely allows students to tailor their studies to fit very particular academic interests and professional goals. Students choose from among six academic pathways, each of which prepares them for graduate programs in a specific area of the healthcare field: Pre-Professional Studies (for students interested in graduate programs in public health, chiropractic medicine, optometry, and more); Health Care Studies (for students interested in non-clinical careers in the healthcare industry); Health Care Advancement Studies (for students with a previously-earned associate degree and current employment in the healthcare field); Undergraduate Clinical Informatics (for students interested in healthcare technology and the electric health record); Undergraduate Public Health (for careers in the public health field); and Undergraduate Research (for students interested in careers in biomedical research, clinical or translational research, data methodologies, and more).
All requirements for this degree can be completed entirely online. However, students have the option of taking one or more classes on USD's main campus in Vermillion. Select courses are also available on USD campuses in Rapid City and Sioux Falls.
The Ohio State University Online
Accreditation for Online Health Science Bachelor's Degrees
The purpose of accreditation is to ensure students that institutions of higher education and the programs they offer meet accepted standards of quality. It's also a requirement for eligibility in federal student aid programs. In other words, accreditation is your way of knowing that your degree program is worth all of the time and money you put into it.
There are two basic types of postsecondary accreditation: institutional and programmatic. Institutional accreditation refers to accreditation of the college or university as a whole. Institutional accreditation for U.S. schools is handled by several U.S. Department of Education-recognized regional and national accrediting agencies. Programmatic accreditation refers to accreditation of individual degree programs in a given major or field of study. However, there are currently no agencies in the U.S. that specifically accredit health science bachelor degree programs, online or otherwise. Therefore, it's especially important that you consider only those degree programs offered by properly-accredited colleges and universities, and it's up to you to confirm that accreditation before signing on. In most cases, you'll find current accreditation information on each program's webpage. You can also check accreditation status by going directly to accrediting agency websites or by using the DOE's Database of Accredited Institutions and Programs (DAPIP) search engine.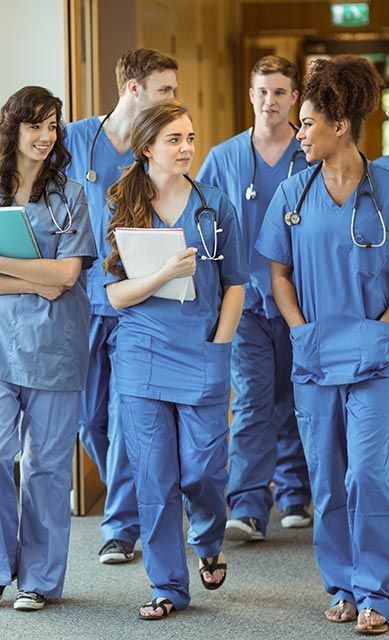 Inside the Online Bachelor's in Health Science
Success as a bachelor in health science student is much easier if you've chosen the right degree program to begin with, and that's going to take a bit of digging into the details of what each individual program has to offer. With that in mind, here are a few important questions and answers to consider during your program search.
What will you learn in an online health science bachelor's degree program?
Every degree program you consider will be different, each with its own take on what health science is and what its students need to learn. So, be sure to take a good look at the specific courses offered. They'll vary somewhat from program to program, but you can expect all programs to offer health science courses similar to the following:
Ethics in Healthcare
This course provides an examination of bioethics issues and decision-making in healthcare with an emphasis on patient care rights and the responsibilities of providers. Specific issues discussed include bioethical theories, ethical reasoning and analytical methods, the ethical application of laws and regulations, health disparities, and ethical issues relating to society and the environment.
Health Sciences Research Methods
Conducting research and the effective application of research findings play an important role in professional health science practice. This course provides students with an introduction to healthcare research theory and methods. Topics covered include: basic qualitative and quantitative research techniques; the use of healthcare data through data querying, mining, and extraction; and the analysis of evidence-based research findings.
Healthcare Leadership
In the course of their careers, health science degree holders can expect to be called upon to take administrative positions and other leadership roles in their organizations. This course provides students with a solid foundational footing in leadership theory and its application in practice. Topics include critical thinking, effective teamwork methods, and leadership in diverse work environments.
Healthcare Systems in the United States
This course provides a survey of the contemporary practice of health care services in the U.S. and common systems employed by healthcare organizations and facilities. Subjects examined include: healthcare issues, policies, and politics; healthcare system structures, financing, and outcomes; and effective outreach to the general public and specific populations within the community.
Epidemiology
Epidemiology is the study of the determinants and distribution of health-related events, such as communicable diseases. This course offers an introduction to the concepts and methods of population-based epidemiology. Specific topics include: behavior of diseases within populations; disease risk factors and outcomes; and epidemiologic study design and the application of biostatistics.
---
In addition to gaining a firm academic foundation in healthcare theories and principals, health science bachelor's degree students develop a range of practical in-demand and job-ready skills that they will be able to apply immediately on their first day of employment and throughout their careers. Specific skills gained include:
Effective evaluation of healthcare systems, trends, policies, and environments.
Effective application of professional and ethical principals as they apply to healthcare practice.
The demonstrated ability to explain key concepts of epidemiology, and identify risk factors associated with the signs, symptoms, and treatment of specific diseases.
The ability to communicate effectively, both orally and in writing, on a range of relevant healthcare topics.
The ability to access information and data systems in the course of job duties to meet organizational goals and improve patient outcomes.
What are the main concentrations in health science bachelor's programs?
Colleges and universities offering health science bachelor's degrees are keenly aware that students are not only interested in earning a degree in the major, but that many are additionally interested in gaining specialized knowledge and skills in a particular area within the health sciences field. In response, some schools allow students to tailor their studies to emphasize a specialized area of practice through their elective course choices. A few programs offer students the option of choosing a specific concentration or curriculum track that reflects their area of interest. Here are three common concentrations that your program may offer:
Health Administration
The health administration concentration is designed to provide students with a foundational understanding of theoretical and philosophical principles of administration and management as they apply to health care services. Included are courses in strategic planning, finance and budgeting, organizational supervision, and human resource management. Students choosing this concentration typically plan to continue their studies to earn a graduate degree in healthcare administration.
Health Education
The health education concentration is for students interested in careers involving the creation, implementation, and evaluation of health services education programs and activities. This concentration is not a teacher certification program, however, and does not prepare students for teacher credentialing, but it does prepare students to sit for the exam to obtain the Certified Health Education Specialist (CHES) certification.
Public Health
Students seeking careers involving public and global health practices and advocacy should consider this concentration. Courses in the concentration take on issues related to healthcare access, disease prevention, sustainability, global health, epidemiology, and the promotion of health services in the community and among underserved and at-risk populations.
How long does it take to complete an online health science bachelor's degree?
Most online students will spend four years of full-time study to complete their health science bachelor's degree. However, schools offering online degree programs understand that many students who pursue their degrees through distance learning do so while maintaining full-time employment and need the study flexibility built into those programs to succeed. Therefore, students should look for a number of online program features that allow for longer (or shorter) degree completion times, including:
Part-time study
Most online programs feature part-time study options that allow an additional two, three, or more years to complete all degree requirements.
Asynchronous formats
Programs often feature courses presented in an asynchronous format, meaning that students can access and complete coursework at any time convenient to their schedules. This format allows students to take more or less time than normal to complete their courses.
Liberal credit transfer policies
Online degree programs often allow students to transfer in a substantial number of previously-earned college credits that can shorten the overall time needed to earn their degrees.
These and other program features mean that some students may be able to complete all degree requirements in as little as two-and-a-half years or less of full-time study, or as much as six years or more of part-time study.
How much will an online bachelor's in health science cost?
The total amount you end up spending to earn your health science bachelor's degree can vary substantially depending on the particular program you choose. For example, the tuition rates and fees charged by private colleges tend to be significantly higher than those charged by public colleges. Also, some schools charge higher tuition rates to students residing outside the school's home state. Other factors that can impact your costs include how long you take to complete your degree program, how many previously-earned credits you can transfer in, and how much, if any, of your costs will be covered by scholarships or grants.
Below are the current (as of fall 2020) tuition costs for three online health science bachelor's programs. Keep in mind, though, that your total costs will be higher due to additional fees and the cost of books and supplies.

University of
Missouri
Bachelor of Science in Health Science
---
Total Credits: 120
$299.00/credit (Missouri residents); $387.40/credit (non-residents)

Southern New
Hampshire University
Bachelor of Science in Health Science

---
Total Credits: 120
$320.00/credit

Bellevue
University
Bachelor of Science in Health Science
---
Total Credits: 127
$425/credit
Paying for Your Health Science Bachelor's
As you can see from the figures above, pursuing a postsecondary degree these days is an expensive proposition. Fortunately, there are a number of options available to help ease the financial burden, including scholarships, loans, and more. Most students today will employ a combination of the following financial aid options to pay for their academic studies:
1
Student Loans
The most common form of student financial aid is the student loan. Student loans are not free money and must be paid back with interest according to a payback schedule that is a part of the loan agreement. In most cases, students must begin paying back their loans immediately upon graduation. The bulk of student loans are made through the Federal Student Aid program. To apply for a federal student loan, you must fill out and submit the FAFSA application. State governments and private lenders are also common student loan sources.
2
Grants
Grants are money awards to students that, in most cases, are not paid back. A big source of grant money is the federal government, with most federal grants awarded based on the student's financial need. As with federal student loans, you apply for federal grants by submitting the FAFSA application. Other major grant sources are state governments, private and nonprofit organizations, and colleges and universities themselves.
3
Scholarships
Like student grants, scholarships awards are not paid back. The main difference between grants and scholarships is that most scholarships are awarded based on merit or by meeting other qualifications, such as athletic or artistic talent, participation in voluntary activities, or belonging to a certain minority group. Financial need is also considered in some cases. Common scholarship sources are the same as those for grants.
4
Work-Study
Work-study refers to part-time jobs available to students with demonstrated financial need. Work-study jobs are most often on a college campus, and therefore are typically filled by students enrolled in on-campus degree programs. Not all work-study jobs are on-campus, however, and online students may be eligible for jobs through private or non-profit employers. The only way to be sure if work-study is an option for you is to contact the financial aid office at each of the schools you're considering.
5
Other Options
Some employers sponsor tuition reimbursement or other employer education contribution programs for their employees. Be sure to check if such a program is available where your work. Also, the GI Bill provides financial support programs for eligible veterans with an honorable discharge.
To learn more about your financial aid options, check out our Pay Less for Education guide. You can also get help locating scholarship opportunities with our guide to the 50 Top Scholarships for Medical & Health Students.
Post-Graduation: After the Health Science Bachelor's Online
You don't have to know exactly where your career will go before starting a heath science bachelor's degree program, but it's important to gain a foundational understanding of the healthcare industry and a good feel for the possible paths your career might take within it. Here are the answers to several important questions to ask before signing on to your degree program:
Do you need specific certification or licensure to work in health science?
Generally speaking, most non-clinical health science related jobs will not require obtaining a state license or professional certification. However, a state may require licensing or certification as a precondition for employment in a particular health science occupation within the state. For example, some positions may require a registered nurse or social worker license. Also, employers may require or prefer employees to hold certain professional certifications. Examples of possible certifications include Certified Professional in Health Informatics (CPHI), Certified Pharmacy Technician (CPhT), Physician Assistant – Certified (PA-C), and Certified Health Education Specialist (CHES).
In most cases, bachelor of health science degree programs do not prepare students to obtain such licensure or certification, at least not without choosing a relevant concentration offered as part of that program. Students may also have to complete a post-undergrad certificate or full graduate degree program to be eligible for licensure or certification.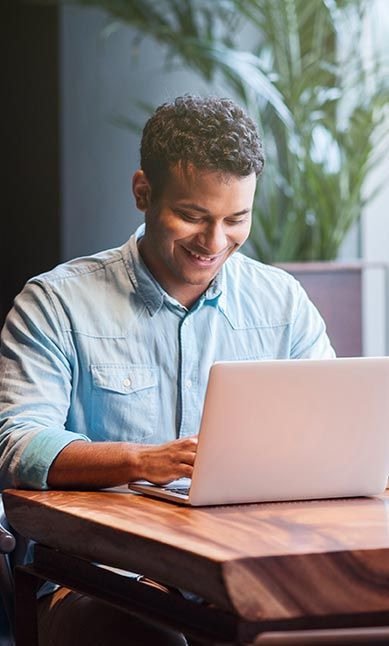 What can you do with a bachelor's in health science?
A bachelor's degree in health science prepares graduates for direct entry into a range of well-paying non-clinical positions. Here are just a few examples:
Health Educator
Health educators work with individual clients and groups to promote healthier life choices and behaviors. Some positions require employees to hold the CHES certification.
Medical or Health Service Manager
Medical and health service managers carry out executive and administrative duties at hospitals, clinics, medical practices, and physicians groups.
Healthcare Social Worker
Healthcare social workers counsel patients about their illnesses and injuries, and help them to make changes to their lifestyles and behaviors to improve their health and get better.
Health Claims Reviewer
Health claims reviewers work for medical and health insurance carriers reviewing and assessing the legitimacy and reasonableness of claims, authorizing payments, denying claims, and refereeing questionable claims for further investigation.
A health science bachelor's degree is also an excellent choice for individuals intending to continue their studies into graduate programs to prepare for professional careers in occupations such as physical therapists, occupational therapists, speech-language pathologists, physician assistants, audiologists, postsecondary teachers, and more. It may also be the first postsecondary educational stepping-stone leading to medical or dental school.
The chart below offers an example of some of the more common education and career paths you might follow as a health science bachelor's degree graduate. Bear in mind, though, that the chart is not exclusive, and there are many other potential paths you can take with your health science bachelor's degree.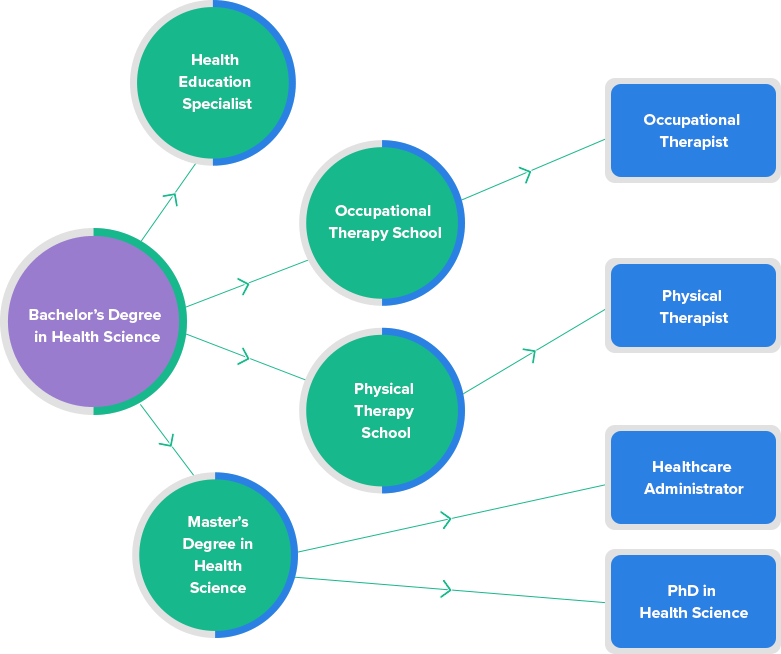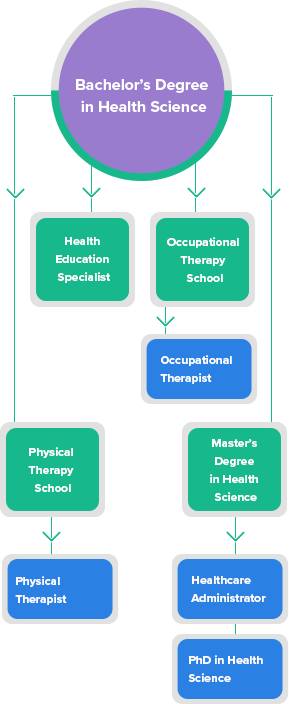 How much can you earn with a health science bachelor's?
One big question everyone has about a career in health science is, "How much does it pay?" The quick answer is that salaries in the healthcare field, including those for health science graduates, tend to run substantially higher than those for occupations in the economy as a whole. Of course, actual earnings depend on the particular job, which in turn depends most heavily on two specific components: education level and work experience. The table below lists a few job titles that represent the spectrum of salaries available to health science bachelor's degree holders:
| Career | Employment | Entry-Level | Early Career | Mid-Career | Experienced | Late Career |
| --- | --- | --- | --- | --- | --- | --- |
| Medical and Health Services Managers | 372,670 | $58,680 | $76,050 | $99,730 | $130,820 | $182,600 |
| Health Teachers, Postsecondary | 255,190 | $42,580 | $59,690 | $89,440 | $143,460 | – |
| Healthcare Social Workers | 168,190 | $34,210 | $43,530 | $56,200 | $70,280 | $84,870 |
| Health Educators | 58,780 | $32,030 | $39,800 | $54,220 | $74,660 | $98,530 |
| Community Health Workers | 56,130 | $26,070 | $32,280 | $39,540 | $51,650 | $65,890 |
Related Degrees & Continuing Education in Health Science
You've determined that your career interests lie in the health science field, but you're not quite sure whether a health science bachelor's degree will provide the proper academic footing to get you to exactly where you want to be. Or maybe a health science bachelor's program seems like the right choice for your immediate career goals, but you're not sure if you'll need to extend your academic pursuits in order to reach your ultimate goals. That's why it's important now – at the beginning of your degree search – that you consider both alternate majors and future graduate degree options. Here are a few suggestions:

Related Degrees
A degree in healthcare management prepares graduates for supervisorial positions with duties and responsibilities both within and outside the organization itself, including staffing, financing, public relations and community outreach. If your goal is to establish a career in general organizational leadership in healthcare services, then you'll want to consider the healthcare management major.
Another possible alternative to the health science degree path is healthcare administration. The differences between healthcare management and healthcare administration are subtle and their duties often interchangeable. However, if you're interests lie in taking on front office administrative-specific duties and responsibilities – like human resources and staff supervision, and interdepartmental structure and budgeting – then the healthcare administration degree path is likely your best choice.

Continuing Education
Online Master's in Health Science
Career advancement and job mobility are the main purposes to earning a health science master's degree. Master's graduates are prepared to move immediately into mid-level management positions with healthcare organizations and facilities. Possible degree concentration options include Health Leadership, Health Education, and Public Health. And, of course, many master's graduates continue on in their academic studies to earn a healthcare-related doctorate.