Written By


last updated

09/06/2023
If you're interested in reproductive, obstetric, or gynecological health and have a passion for preventive care, a career as a women's health nurse practitioner could be the perfect fit. WHNPs practice directly or in collaboration with other healthcare professionals to provide continued care in a number of complex issues including pregnancy, childbirth, postnatal care, family planning, and much more. Because of their advanced skillset and education, WHNPs can also expect high salaries, with a median salary of well above $100,000 in 2019.
With such a diverse range of career possibilities and the potential for high earning, becoming a women's health nurse practitioner can be a smart, rewarding, and lucrative career move for both current nurses and those new to healthcare. If this sounds like the career for you, keep reading to learn how to get started and find the best online WHNP programs that can help you make your healthcare dreams into reality.
Top Online Women's Health Nurse Practitioner Programs of 2024
With more and more online women's health nurse practitioner programs popping up, finding the one that speaks to your academic interests and career goals can take some time. Rather than slogging through dozens of potential programs, we've vetted the top WHNP programs across the U.S. with the accreditation employers demand and the affordable price tag you need. As you review these, consider how the components of each work with your desires for a degree.
or
About the ranking
X
Base Methodology for EduMed's Most Affordable Online College Rankings for the '23-'24 school year.
One: Create list of Eligible Schools and Programs
To be eligible, schools were required to meet the following criteria based on data pulled from The Integrated Postsecondary Education Data System (IPEDS), which was self-reported by the schools themselves.
Institutional accreditation from an organization recognized by the U.S. Department of Education.
At least 1 online component in a program within the ranking-subject area.
Two: Assign Weighting
After creating the list of eligible schools, EduMed data scientists assigned weights and ranked schools based on a mix of metrics, which were all self-reported by the schools themselves to the U.S. Department of Education and IPEDS.
The metrics are listed below in order of most- to least-heavily weighted.
Tuition – The average in-state tuition for undergraduate students studying full-time, as self-reported by the school.
Following metrics were all equally weighted.
Online Programs – Number of online programs in the relevant subject area.
Online Student % – Number of total students who are enrolled in at least 1 distance-learning course in the relevant subject area.
Academic Counseling – Existence of this service on campus or online.
Career Placement Services – Existence of this service on campus or online.
Student/Faculty Ratio
About Our Data: EduMed's rankings use the latest official data available from The Integrated Postsecondary Education Data System (IPEDS). Most recent data pull: July 2023
#

School Name

Type

Tuition

Online Programs

More Details

School Information

Online Students

Academic Counseling

Career Placement

Students w/Institutional Aid

Median Earnings 10yrs After Entry

Accreditation

1

University of Cincinnati-Main Campus

Cincinnati, OH

Public

$$

1

The University of Cincinnati offers a quality nurse practitioner degree with the option to specialize in women's health. To prepare students to become a women's health NP, students take courses in subjects like primary care for women, non-surgical gynecological care, and menopause. By the end, nurse practitioners are prepared to work in OB/GYN or primary care offices. While facilitated through the university's main campus, the program is offered online and clinical practicums are completed in-person at off-campus healthcare facilities.

Program Highlights:

Master of Science in Nursing, Women's Health Nurse Practitioner

Credits: 44-49
Length: 2-3 years
Cost: $752/credit
Mode: Hybrid
Accreditation: Higher Learning Commission

Academic
CounselingYes
Career
PlacementYes
Student/
Faculty Ratio19/1
Online
Student %65%

2

Kent State University at Kent

Kent, OH

Public

$$

1

Licensed nurses who want to become women's health nurse practitioners should consider the program from Kent State University. While housed at the Kent, Ohio campus, all lecture-style courses are offered online and clinical practicums take place at an offsite healthcare facility. Since most students are licensed nurses, and work full-time while getting their degree, the program is designed to work around working nurses' schedules. Successful candidates should already have their BSN and unencumbered licenses.

Program Highlights:

Master of Science in Nursing, Women's Health Nurse Practitioner

Credits: 35-46 minimum
Length: 2-3 years
Cost: $536/credit
Mode: Hybrid
Accreditation: CCNE

Academic
CounselingYes
Career
PlacementYes
Student/
Faculty Ratio19/1
Online
Student %89%

3

Keiser University-Ft Lauderdale

Fort Lauderdale, FL

Private not-for-profit

$$$$

1

Keiser University offers a hybrid nurse practitioner degree in women's health. In this program, students take many of their lecture courses online and complete labs and clinical practicum components in-person. While the degree is designed for licensed nurses and has a fair amount of flexibility, students do need to commute to campus and off-site health facilities on a regular basis. Successful applicants should be licensed nurses who already have their BSN.

Program Highlights:

Master of Science in Nursing, Women's Health Nurse Practitioner

Credits: 51
Length: 20-30 months
Cost: $692.73/credit
Mode: Hybrid
Accreditation: CCNE

Academic
CounselingYes
Career
PlacementYes
Student/
Faculty Ratio16/1
Online
Student %50%
Georgetown University

The School of Nursing & Health Studies at Georgetown offers an online women's health nurse practitioner program that combines asynchronous, synchronous, and short-term campus intensives to provide a well-rounded educational path.
In addition to a core set of courses focused on women's health, you can also choose from focused courses in areas of primary care, prenatal and postpartum care, lifespan care through menopause, general wellness and preventative care, and reproductive healthcare. Upon graduation, you can sit for the National Certification Corporation's board certification. The program received a 100% certification rate in 2019.
Georgetown's program maintains CCNE accreditation and offers classes on a part-time basis to help working nurses pursue their educations while continuing in their careers. Students can plan to complete 44 credits over the span of 23 months. You will also undertake 784 clinical hours and take part in two required on-campus intensives.
FAQs About Online Women's Health Nurse Practitioner Programs
All online women's health nurse practitioner programs are not created equally, making it important for you to ask the right questions about degree options and find the program that best matches your academic, financial, and career needs. The following sections take a look at some of the most frequently asked questions, along with the answers you need to succeed.
What are the different types of WHNP programs?
As you begin your WHNP research, you will soon notice that several different program structures and degree levels exist. Understanding the differences among each of these will help you make an informed decision about which one best supports your intended next steps.
MSN Programs:
An MSN best supports registered nurses who already possess a BSN and want to earn graduate-level credentials. These degrees can be found both online and in-person and typically require two years of study. Many also make it easy for working nurses to fit in schoolwork without sacrificing income.
RN to MSN:
Students who pursue RN-to-MSN bridge programs usually have either a diploma or associate degree in nursing. Because they lack a bachelor's degree, these programs take longer than an MSN and students usually spend 30-36 months enrolled from start to finish. Programs can also be found online and on campus.
DNP Programs:
Designed for advanced practice registered nurses who already possess an MSN, these degrees take between one to two years to complete. They prepare graduates for clinical, leadership, and academic roles at the highest levels of the profession and can be done traditionally or through distance learning.
RN to DNP Programs:
RN-to-DNP programs support both associate and bachelor's degree holders, but completion time varies among the two types. Those with an associate degree usually need four or five years to graduate while BSN holders usually can shave a year off this timeline.
What do you learn in a WHNP program?
In terms of course content and learning outcomes, remember that every WHNP program will look a little different. That being said, many should have overlapping courses and topics that are common across the board. Examples may include advanced women's health practicum, advanced physiology and pathophysiology, and advanced reproductive dynamics. Below we look at some of the learning outcomes you should expect when enrolling in these programs.
Learning Outcome #1:
An advanced understanding of how your work fits within the field of obstetrics, gynecology, and the larger world of women's health.
Learning Outcome #2:
The ability to conduct physical examinations and medical interviews of female-identifying individuals and an awareness of the ethical, regulatory, and diversity requirements needed in this field.
Learning Outcome #3:
A comprehensive education in the various diseases, ailments, and illnesses specific to women's health and an understanding of how to treat them with professionalism and sensitivity.
Learning Outcome #4:
The ability to support women and their health throughout the lifespan and a commitment to staying attuned to new studies and best practices.
Learning Outcome #5:
An understanding of how issues of child abuse and domestic violence can affect female patients, how to identify warning signs, and what the role of a women's health professional is in these situations.
---
Common Courses
Pharmacology for Advanced Practice Nurses
Typically taken in the first year, this course introduces students to the roles that drugs and medicine play in the treatment of women. Students develop an understanding of pharmacodynamic principles alongside an awareness of legal, ethical, and regulatory considerations when prescribing medications.
Episodic Illness in Women
Typically paired with a practicum component, this course examines different types of health pattern variations and episodic illnesses affecting women across the lifespan. Students learn how to provide sensitive care for gynecological issues and the specialized knowledge needed to treat them.
Advanced Women's Health Practicum
This required class introduces students to the professional and leadership skills needed to lead clinical areas of women's health from antepartum to postpartum areas of care. Students consider the importance of health interventions, care for at-risk clients, and how to best assess individual needs of patients.
Advanced Reproductive Dynamics
Designed for nurse practitioners who plan to work in obstetrics, this course helps them develop an understanding of the female reproductive system from puberty through menopause, with emphasis on supporting women in making educated and informed decisions about their reproductive health.
Advanced Women's Physiology and Pathophysiology
Building on earlier studies in human anatomy and physiology, this course looks at how diseases affect women throughout their lives and how to effectively treat them. Students learn how common illnesses can manifest differently in women versus men and how to determine the appropriate therapy or treatment based on individual pathologies.
Can you earn a WHNP degree completely online?
While the class requirements of a WHNP program can be done via distance learning, your clinical hours must be done in person. Some departments of nursing may also require students to participate in several campus-based residencies or learning intensives, so be sure to ask about specifics when speaking to an admissions counselor or program administrator.
How long does it take to complete a WHNP degree online?
Answering this question requires you to consider several different factors. If you already have a bachelor's of science in nursing, for instance, you will likely graduate more quickly than if you have an associate degree or diploma. It also matters whether you enroll in a master's or doctoral level program, as the latter requires more credits and clinical hours.
Whether you enroll on a full-time or part-time basis also affects your timelines, with part-time study potentially adding an extra 6-18 months to your time of enrollment. That being said, some departments of nursing offer accelerated WHNP programs that allow motivated learners to graduate more quickly.
How much does an online WHNP degree cost?
The costs associated with a WHNP degree vary based on components such as whether you attend a public or private school, if you pay resident or non-resident fees, how much funding you can secure, and whether you study on a full-time or part-time basis. You must also consider whether to pursue an MSN or DNP. Check out three popular WHNP programs highlighted below to get a better sense of curricular requirements and average per-credit costs.

MSN Women's Health
Nurse Practitioner
Total Credits: 49 credits
$746/credit

MSN Women's Health/Gender
Related Nurse Practitioner
Total Credits: 55 quarter credits
$1,140/credit

DNP Women's Health
Nurse Practitioner
Total Credits: 76 credits
$537/credit
How do I get into an online WHNP program?
Specific admission requirements vary by individual degree, but you will typically see some common themes as you review more and more program options. Some of these include:
Diploma, associate, bachelor's or master's degree from an accredited school/program
Minimum GPA
Prerequisite coursework (e.g., statistics, anatomy, and physiology, etc.)
An active and unencumbered RN license in your current state of practice
Resume (some programs may also mandate a certain amount of work experience)
Personal statement/essay
GRE scores
Paying for Your Online Women's Health Nurse Practitioner Degree
It's no secret that degrees financially weigh on you for years, making it important to exhaust all financial aid options before starting school but also while enrolled. Whether you find an amazing state-level grant, a generous professional organization scholarship, or secure a federal student aid loan, know that several options exist. Here's what you need to know about your different funding options.
Other Options
Aside from the options listed above, several other paths exist for securing financial support – especially at the graduate level. Fellowships and assistantships allow students to act as a teaching fellow or research assistant in exchange for funding and/or tuition remission. Internships can help you earn funding and experience, while work-study funding exists for students who qualify through the Free Application for Federal Student Aid (FAFSA).
Accreditation Standards for Women's Health Nurse Practitioner Degree Programs
Attending both an accredited university and an accredited WHNP program is one of the most important things you can do. Aside from making it possible for you to easily transfer credits and hold licensure, this step also ensures you can find work after graduating.
When considering nursing-specific accreditation, there are two names you need to know. Both the Commission on Collegiate Nursing Education (CCNE) and the Accreditation Commission for Education in Nursing (ACEN) are considered reputable in the field and are names to look for. The CCNE currently accredits bachelor's and master's programs while the ACEN accredits nursing degrees at every academic level.
If you can't easily find accreditation information on a school's website, the U.S. Department of Education provides the searchable Database of Postsecondary Institutions and Programs.
Getting Your Professional License & Certification After Your Online WHNP Program
As you continue learning about women's health nurse practitioner programs online, you will likely have questions about licensure and certification requirements. While an additional license isn't required for those who already possess an active and unencumbered RN license, nurse practitioners must meet certain requirements (including continuing education programming) to renew their state-issued licenses.
While not mandated across the board, some employers may require job candidates to seek certification from the National Certification Corporation (NCC). This nonprofit provides WHNP-specific certification and requires completion of at least a master's level qualification and an active RN license.
Careers & Salary Outlook for Women's Health Nurse Practitioners
If you're wondering about job stability or salary outlook before pursuing an online WHNP program, you need not worry. The Bureau of Labor Statistics projects that roles for nurse practitioners will grow by an astounding 45% between 2019-2029 – leading to the creation of more than 117,000 jobs over that period.
This growth is due to both increased access and demand for advanced healthcare services, with many NPs now performing a lot of the same services as doctors. It also accounts for the retirement of existing NPs alongside a larger than usual baby-boomer population.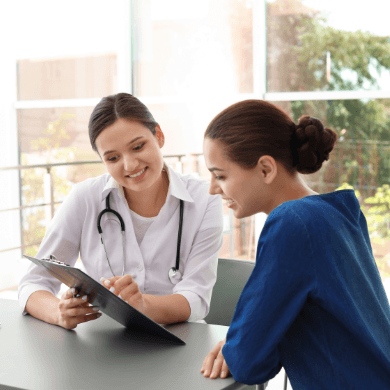 How much do WHNP make?
After beginning work as a WHNP, you can also expect to earn a substantial salary. The Bureau of Labor Statistics currently reports that these professionals bring home average salaries of $115,800 as of 2019. Individuals in the lowest 10% of earners brought home salaries of $82,460 in 2019 while those in the top 10% commanded salaries in excess of $184,180 during the same timeframe.
Continuing Education & Related Degrees
Even after you finish your WHNP degree, remember that continuing education is a big part of keeping and renewing your license. This is also true of other related nursing degrees and the healthcare profession in general. We look at a few below.
Continuing Education
Because the healthcare industry generally – and nursing specifically – continue to evolve based on new studies and findings, staying up to date on groundbreaking treatment options and best practices is a critical component of being a top tier nurse practitioner in women's health. While individual states set continuing education requirements for licensure renewal, all 50 require NPs to meet certain standards. If you're unsure of how many hours you must complete each renewal cycle, reach out to your state board of nursing.
Related Degrees to Consider
MSN/DNP in Nurse-Midwifery If you enjoy working with women but want to focus specifically on childbearing, pre- and postnatal care, and infant care, pursuing an MSN or DNP in nurse-midwifery may best support your interests. These programs take between 2-5 years depending on existing education and experience.
MPH in Women's & Reproductive Health If women's health – specifically as it relates to reproductive functions – interests you but you want to work more on the research and/or education side rather than the clinical side, a master's in public health could support your interests. These programs usually take two years to complete and allow you to research reproductive health issues and educate the public.
MS in Medical Sciences with a specialization in Women's Health More of these programs have emerged in recent years for individuals interested in gender-specific health outcomes. Frequently pursued by nurses, doctors, and other health professionals, students may choose to focus their efforts on research, social-health outcomes, or education.
Resources for WHNP Students & Professionals
American Association of Nurse Practitioners
The AANP provides a special section on its website devoted to women's health, including information on continuing education courses.
American College of Nurse-Midwives
This professional member association offers student services awards, advocacy and political action, and state resources to its members.
American Sexual Health Association
This group brings together leaders in the field to provide educational materials, tools, and resources to help practitioners better support and educate their patients on sexual health.
Day in the Life: Women's Health Nurse Practitioner
Want to know more about what your typical day may include as a WHNP? This article helps shed light.
Family Planning National Training Center
The FPNTC serves as an excellent resource for women's health practitioners looking for information and training on reproductive health, fertility services, and contraception options.
Nurse Practitioners in Women's Health
The NWPH was established 40 years ago to support nursing professionals working specifically in women's health. The group provides an annual conference and online programming among other offerings.
Reproductive Health Access Project
Clinicians looking to make reproductive healthcare accessible to everyone (including contraception, abortions, and miscarriage support) can access resources from the RHAP.
WHNP FAQs
This YouTube video by an NP takes a look at common job responsibilities and education requirements for working as a WHNP.