Written By


last updated

09/06/2023
Your time working as an RN has been more rewarding than you ever could have imagined. Between providing first-rate patient care and learning from your fellow health professionals, you couldn't have dreamt of a more satisfying career, but you still want more. Deciding to become a clinical nurse specialist (CNS) could be exactly the career move you need. Not only will you be able to provide more specialized and advanced care to your patients, you'll increase both your professional autonomy and your paycheck. As an advanced practice nurse, you can expect a median salary of nearly $100,000 depending on where you work.
If this advanced nursing career sounds right for you, your first step should be to find an online CNS program that suits your needs. Keep reading to see which online CNS programs top our list, find information on accreditation and tuition, and get the answers to your most important questions.
2024's Best Clinical Nurse Specialist (CNS) Programs
The proliferation of online clinical nurse specialist programs continues, with more and more options popping up from colleges and universities across the country. With so many schools now offering this degree, it's important that you do your research to find one that matches your academic, financial, and professional goals.
Because so many students work while completing a CNS degree, finding time to conduct extensive research can be a challenge. EduMed is here to provide data-driven, thoughtful guidance on the best programs for 2024. Each school highlighted below comes with the accreditation employers expect and the affordability you need. Get started by perusing our lists of exceptional and featured programs for the 2023-2024 school year.
or
About the ranking
X
Base Methodology for EduMed's Best Online College Rankings for the '23-'24 school year.
One: Create list of Eligible Schools and Programs
To be eligible, schools were required to meet the following criteria based on data pulled from The Integrated Postsecondary Education Data System (IPEDS), which was self-reported by the schools themselves.
Institutional accreditation from an organization recognized by the U.S. Department of Education.
At least 1 online component in a program within the ranking-subject area.
Two: Assign Weighting
After creating the list of eligible schools, EduMed data scientists assigned weights and ranked schools based on a mix of metrics, which were all self-reported by the schools themselves to the U.S. Department of Education and IPEDS.
The metrics are listed below in order of most- to least-heavily weighted.
Online Programs – Number of online programs in the relevant subject area.
Online Student % – Number of total students who are enrolled in at least 1 distance-learning course in the relevant subject area.
Tuition – The average in-state tuition for undergraduate students studying full-time, as self-reported by the school.
Institutional Aid – Percent of full-time undergraduate students who are awarded institutional grant aid, as self-reported by the school.
Academic Counseling – Existence of this service on campus or online.
Career Placement Services – Existence of this service on campus or online.
Student/Faculty Ratio
About Our Data: EduMed's rankings use the latest official data available from The Integrated Postsecondary Education Data System (IPEDS). Most recent data pull: July 2023
#

School Name

Type

Tuition

Online Programs

More Details

School Information

Online Students

Academic Counseling

Career Placement

Students w/Institutional Aid

Median Earnings 10yrs After Entry

Accreditation

1

University of Detroit Mercy

Detroit, MI

Private not-for-profit

$$$$

1

The University of Detroit Mercy offers a fully online DNP program. Unlike many DNP programs, applicants don't need their MSN to apply; they only need their BSN and nurse license. The program specializes in adult-gerontology, preparing students to be nurse practitioners with expertise in this field. Courses are based in many disciplines, including healthcare administration, gerontology nursing, and public health. Students also complete a doctoral project in the final semester of this three year program.

Program Highlights:

DNP, Adult-Gerontology Clinical Nurse Specialist

Credits: 66
Length: 3 years
Cost: $940/credit
Mode: Online
Accreditation: Higher Learning Commission

Academic
CounselingYes
Career
PlacementYes
Student/
Faculty Ratio11/1
Online
Student %100%

2

University of Oklahoma-Health Sciences Center

Oklahoma City, OK

Public

$

1

The health sciences center at the University of Oklahoma offers a robust MSN in clinical nursing with a specialization in adult gerontology. Before starting their nursing coursework, students complete two prerequisites in statistics and nursing research. In their first year, students take advanced coursework in nursing. The second year curriculum consists of adult gerontology nursing classes. Along with the 40 credit hours for the degree, students must complete 672 clinical hours. Clinical hours and some courses are only available in-person.

Program Highlights:

Master of Science in Nursing, Adult-Gerontology Clinical Nurse Specialist

Credits: 40
Length: About 2 years
Cost: $743.94/credit
Mode: Hybrid
Accreditation: Higher Learning Commission

Academic
CounselingYes
Career
PlacementYes
Student/
Faculty Ratio8/1
Online
Student %45%

3

Jacksonville University

Jacksonville, FL

Private not-for-profit

$$

1

The MSN in nurse education from Jacksonville University is an ideal program for BSNs looking to advance their career. The curriculum consists of advanced nursing courses and specialized classes in nurse education. Nurse education courses cover both academic and clinical settings. The seven week courses are offered in a flexible, hybrid format so students can continue working while they get their degree. Jacksonville University also offers a quicker post-graduate certificate in nursing education for those who already have their MSN.

Program Highlights:

Master of Science in Nursing, Clinical Nurse Educator

Credits: 30-40
Length: About 3 years
Cost: $700/credit
Mode: Hybrid
Accreditation: Commission on Colleges of the Southern Association of Colleges and Schools

Academic
CounselingYes
Career
PlacementYes
Student/
Faculty Ratio13/1
Online
Student %52%

4

DeSales University

Center Valley, PA

Private not-for-profit

$$$$

1

DeSales University offers a quality Adult-Gerontology Acute Care Clinical Nurse Specialist degree. Students in the program complete core nursing cores, specialized classes in adult-gerontology, and clinical experience hours. To graduate, they must also complete a capstone portfolio. For added flexibility, students can complete this degree on a part-time or full-time basis either completely online or in a hybrid format. Successful applicants should already have their BSN and RN license, as well at least one year of nursing experience.

Program Highlights:

Adult-Gerontology Acute Care Clinical Nurse Specialist

Credits: 45
Length: About 3 years
Cost: $945/credit
Mode: Online or hybrid
Accreditation: Middle States Commission on Higher Education

Academic
CounselingYes
Career
PlacementYes
Student/
Faculty Ratio13/1
Online
Student %59%
Michigan State University

The online clinical nurse specialist offering at MSU's College of Nursing can be undertaken as a certificate, MSN, or DNP. Offering a concentration in adult-gerontology, the program qualifies students to sit for the American Nurses Credentialing Center's AGCNS-BC or the American Association of Critical Care Nurses' AACNS-AG exams. The program maintained a 100% rate on the first exam during 2019.
Admission requirements include a bachelor's degree in nursing, an unrestricted RN license, 3.0 or higher GPA, goals essay, three letters of recommendation, and evidence of completing a statistics course. Students must also participate in an admissions interview.
All coursework can be done online and the program administrator will work with you to find a suitable clinical practicum location in your area. Some of the topics explored include leadership in complex health systems, wellness promotion for diverse populations, and clinical nurse specialist advanced practice role development I, II, and III. The BSN-to-DNP takes approximately five years to complete while the MSN-to-DNP can be done in three years.
Johns Hopkins University

JHU's School of Nursing provides an online clinical nurse specialist DNP with tracks available in adult-gerontological health, adult-gerontological critical care, and pediatric critical care. The vast majority of coursework exists online, but you will be required to participate in three mandatory, campus-based immersions and can choose to attend two optional immersions.
Admission requirements include a bachelor's or master's degree in nursing, a 3.0 or higher GPA, current nursing license, at least one year of full-time RN experience, three letters of recommendation, a resume, and a goal statement. GRE scores are not required at this time.
Once accepted, prepare to complete between 75-76 credits, 784 clinical nurse specialist hours, and 224 DNP practicum hours. Courses taught include clinical pharmacology, organization and systems leadership, and advanced nursing health policy. Most students finish the program in approximately four years. The degree ends with a comprehensive project and the DNP practicum.
FAQs About Online Clinical Nurse Specialist (CNS) Programs
You likely have lots of questions about potential programs that you need answers to before spending your evenings and weekends applying. Knowing that the best decision is an informed decision, this section breaks down some of the most common questions and provides researched answers to help guide your search.
What are the different types of CNS programs?
Online CNS programs come in various degree types to suit the needs of a range of academic levels. Whether you're interested in an MSN or a DNP, plenty of options exist to help you meet your goals. The following section looks at the three most common paths for becoming a clinical nurse specialist.
Degree Types
MSN Programs: These programs exist as both RN-to-MSN and BSN-to-MSN options; they typically take between two and three years to complete and provide the training needed to work as a clinical nurse specialist. Many schools now offer these degrees fully online so you can go to school and balance personal and professional responsibilities more easily. Learn more about online MSN programs.
DNP Programs: Both BSN-to-DNP and MSN-to-DNP programs exist to help learners reach the highest echelons of the discipline. Pursuing a CNS doctorate gives you the credentials needed to work in high-level research, administrative, and academic positions. They take between three and five years to complete depending on previous education. Find the right online DNP program for you.
Post-Master's Certificates: Post-master's CNS certificates are designed to help nurses with an advanced degree gain the specialized skills needed to work as a clinical nurse. They especially cater to students who didn't' take any CNS courses in their MSN program. Most take between 12-18 months to complete and can be found online or on campus.
Specializations
Pediatric CNS: The pediatric specialization gives clinical nurse specialists the advanced skills needed to care for young patients ranging in age from birth to young adulthood. Courses commonly required include nursing of children theory, advanced principles of pediatric acute care, and providing for children with special healthcare needs.
Adult-Gerontology CNS: Pursuing this specialization gives you the training and knowledge needed to support patients from young adulthood into their sunset years. The curriculum includes studies in areas such as diagnosis and management of adults across the lifespan, family-focused care of the middle-aged and older adult, and principles of adult gerontology acute care. Learn more about online adult-gerontology nurse practitioner programs.
Neonatal CNS: Unlike pediatric nurses, those focused on neonatal populations work with patients from birth through age two. Some classes you may take include high-risk neonate theory, systems thinking in neonatal safety, and advanced practice concepts for the childbearing family.
What do you learn in a CNS degree program?
Every online clinical nurse specialist program will look different depending on the goals and outcomes set by individual departments and colleges. That being said, many should offer courses and topics that overlap with other programs. When looking at curricula and learning outcomes, identify that those most closely match your career goals and discipline interests. The following section takes a look at what you can expect to learn and highlights a few common topics.
Learning Outcome #1
Possess the skills and training needed to facilitate care to individuals across the lifespan, with special emphasis on populations their specialty training focuses on.
Learning Outcome #2
An appreciation for and active participation in research that helps move the discipline forward, including staying abreast of emerging research and findings.
Learning Outcome #3
Development of the leadership skills needed to act as a change agent and leader in their healthcare facilities, including supporting diversity measures and best practices.
Learning Outcome #4
A full and comprehensive understanding of the legal, ethical, and regulatory measures in place that govern how they do their job and provide patient care.
Learning Outcome #5
The ability to contribute knowledge and skills as part of a multidisciplinary team focused on overall wellness, disease and illness management, and compassionate end-of-life care.
---
Common Courses
Disease Prevention and Health Promotion for Diverse Populations
Typically taken in the first year, this course helps students build their understanding of how illnesses and diseases behave across diverse populations, how to recognize symptoms, and how to provide culturally sensitive care while patients are in your charge.
Clinical Leadership in Nursing
Usually taken while students complete their clinical practicum hours, this course focuses on the development of leadership skills and introduces students to various managerial theories and frameworks within nursing. Students learn how these skills can be used to promote patient outcomes and decrease risk.
Pharmacology in Nursing
Because some CNS professionals receive certification to prescribe medications, this course looks into the legal and ethical requirements of safe administration, how to expertly monitor patients for reactions, and how to knowledgeably prescribe drugs across the lifespan.
Community-Focused Nursing
CNS students interested in using their skills to work in community social services and/or advocacy positions can take this course to learn about how to provide health services at the neighborhood level and how to encourage access to community health initiatives.
Gerontological Management in Clinical Nursing
Designed as a specialty course for CNS students who plan to care for aging populations, this class introduces them to the skills and knowledge needed to provide research-based and patient-centered care.
Can you earn a CNS degree completely online?
With today's advanced technology, many colleges of nursing now provide CNS programs that allow for all coursework to be done fully online. Students must still complete clinical practicum requirements, but these can usually be done near their homes. Some programs require students to participate in campus-based intensives, so ask administrators about this before enrolling.
How long does it take to earn a CNS degree online?
The amount of time you spend completing an online CNS program depends on several different factors. Students who previously completed a BSN will graduate more quickly than those who currently possess an ADN. Similarly, those who have the time and funding to study on a full-time or accelerated basis can finish requirements faster than someone studying part-time.
When trying to ascertain how long you should plan on being in school, it's best to discuss your options with program administrators. They can help you identify which degree best matches with your interests and find a timeline that works with your existing schedule.
How much does an online CNS degree cost?
Costs for online CNS programs can vary substantially, making it important for you to carefully research tuition costs if working with a budget. Generally speaking, public schools cost less than private schools. Full-time students end up paying less in semester-based fees, making their degree cheaper. As the three highlighted programs demonstrate below, the price you pay can be dramatically different based on the school you attend.

Adult-Gerontological Clinical Nurse Specialist MSN
Total Credits: 38 credits
$482/credit

Clinical Nurse Specialist MSN
Total Credits: 38-39 credits
$1,130/credit

California State University, Dominguez Hills
Clinical Nurse Specialist MSN
Total Credits: 43 credits
$448/credit
How do I get into an online CNS program?
As with other components, the admissions requirements for online CNS programs differ by individual schools but often contain some similarities. In general, you should expect to provide the following documentation:
An ADN, BSN, or MSN from an accredited nursing program
Evidence of minimum GPA (typically 3.0)
An active and unencumbered RN license
Experience working as a nurse
Letters of recommendation
A personal statement/goals statement
Resume
Some programs may also require you to participate in an interview
International students must provide passing TOEFL scores
Paying for Your Online CNS Degree
Higher education frequently has a high price tag, making it important for you to consider your funding sources before entering a program. Many general and nursing-specific financial aid options exist if you know where to look and how to take advantage of each. Learn about some of the most popular options below.
Scholarships & Grants
Because you don't need to repay scholarships and grants (as long as you meet the terms of the funding), these options are a perennially popular option for students at every academic level. You can find them via colleges, professional associations, healthcare organizations, and government agencies, among others.
Student Loans
Student loans are an important part of higher education funding as they help you cover any costs remaining after exhausting other financial aid options. The U.S. Department of Education provides several different options based on your degree level and whether you're dependent or independent of parents/guardians.
Other Options
At the graduate level, you may be able to take advantage of teaching and/or research assistantships, fellowships, or paid internships. These usually provide either a stipend and/or tuition remission. If you qualify through the FAFSA, you may also take advantage of digital work-study options through your school.
Accreditation Standards for CNS Degree Programs
Attending an accredited online CNS program is one of the most important steps you can take as a student. Failing to do so can result in issues transferring credits to other institutions, seeking certification, and/or competing for jobs after graduating. Within the world of nursing, two programmatic accreditation agencies exist: The Commission on Collegiate Nursing Education and the Accreditation Commission for Education in Nursing.
In addition to programmatic accreditation, you should also choose a school that maintains proper institutional accreditation. When in doubt, use the U.S. Department of Education's Database of Postsecondary Institutions and Programs to research colleges and universities.
Getting Your Professional License and Certification After Your Online CNS Program
To work as a clinical nurse specialist, you must complete a graduate-level program and receive certification from a national credentialing agency. Two main agencies provide these certifications:
American Association of Critical-Care Nurses (AACN): The AACN provides three different certifications for CNS professionals depending on the type of specialty they practice. These options include:
ACCNS-AG (Adult-Gerontology)
ACCNS-P (Pediatric)
ACCNS-N (Neonatal)
American Nurses Credentialing Center (ANCC): The ANCC offers one certification, the Adult-Gerontology Clinical Nurse Specialist Certification (AGCNS-BC). It can be undertaken by both members and non-members of the ANCC.
Career & Salary Outlook for Clinical Nurse Specialists
Before jumping headlong into your career as a clinical nurse specialist, it's important that you have realistic expectations of what to expect out of your career and how much you'll earn each year. Learn about demand for CNS professionals and where to find the highest paying jobs below.
Are CNS careers in high demand?
Data from O*NET Online projects that roles for clinical nurse specialists should grow much faster than the average for all occupations at 11% or more. This growth is expected to lead to the creation of more than 210,000 new CNS positions between 2018-2028.
Reasons for this growth include the ability of APRNs to perform some tasks previously done by doctors, a greater emphasis on preventative healthcare, and the retirement of existing CNS professionals.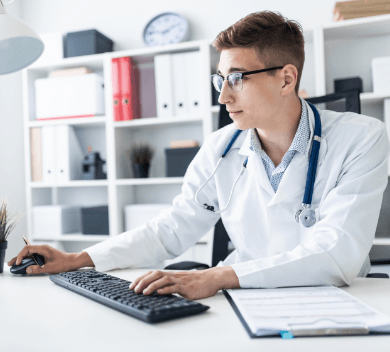 How much do CNS professionals make?
CNS professionals earn substantial salaries based on their expertise, experience, location, and level of degree earned. Data from PayScale shows the average salary in 2020 is $91,000. Those in the bottom 10% of earners brought home approximately $69,000 while the top 10% commanded salaries in excess of $120,000.
Continuing Education & Related Careers
Whether you're looking to grow your career or move down a different path, continuing education and related educational programs can help you decide how to move forward. After completing your online CNS degree, plenty of continuing education opportunities exist to help you keep growing your knowledge and stay up to date on the latest findings. Here's what you need to know.
Continuing Education
Given the important medical role CNS professionals play, it's not surprising that they must maintain national certification, their RN license, and an APRN-CNS license to practice. Many states require you to participate in continuing education to qualify for renewal, while those who write prescriptions may also need to participate in pharmacology continuing education.
Related Degrees to Consider
PhD in Nursing While DNP programs typically focus on building clinical and leadership skills, pursuing a Ph.D. signals your interest in research and/or academic roles. Rather than requiring a practicum, students research and write a dissertation. Most Ph.D. in nursing programs take 4-6 years to complete and can be found both online and on campus.
Doctor of Nursing Practice The DNP program best suits students who want to continue using their clinical nurse specialist skills in clinical settings or take on high-level managerial positions. Plan to complete coursework and clinical hours before graduating in 3-5 years. Like the Ph.D., these programs can be done through distance learning or in person.
Master's in Nursing, Nurse Practitioner Nurse practitioner roles in many ways relate to the work of CNS professionals, but key differences do exist. Most NPs work more closely with patients and frequently prescribe medications. These programs, which usually take 2-3 years, help qualify students as nurse practitioners and can be done online or on campus. Learn more about online nurse practitioner programs.
Additional Resources for CNS Students and Professionals