Written By
Edumed Staff
last updated

Last Updated:

02/18/2021


——
The Best Online AGNP Programs in 2021
When it comes to choosing an online adult gerontology nurse practitioner program, it's worth investing the time to thoroughly research the programs currently available. We're here to help you effectively use your research time by providing you with our picks for the best online AGNP programs offered in 2021. We've ranked programs based on important elements such as accreditation, affordability, and curriculum flexibility. Start your search with these spotlights of three of the best online AGNP programs for 2021.
University of Iowa

The University of Iowa offers a stunning number of online academic pathways to becoming a board-certified AGNP, starting with three Adult/Geriatric Acute Care Nurse Practitioner (AG-ACNP) options leading to a DNP: a post BSN to DNP (three-year and four-year curriculum options); a post MSN to DNP (two-year curriculum) for APRNs who possess an AG-ACNP certification; and a post MSN to DNP that includes preparation for AG-ACNP certification (two-year and three-year study options). Similar programs are available for those interested in becoming an Adult/Geriatric Primary Care Nurse Practitioner (AG-PCNP). In addition, UI offers AG-ACNP and AG-PCNP post-graduate certificates, each of which can be earned with four semesters of study.
All of the AGNP programs are presented in a hybrid format. Most coursework can be completed online, but some courses require attendance on UI's Iowa City campus. Additionally, all four programs require completion of substantial in-person clinical hours. Currently, clinicals must be completed within Iowa, with placement typically made at facilities near the student's place of residence.
Georgetown University

Georgetown University offers three online acute care AGNP programs for RNs that provide graduates the eligibility to sit for national certification exams offered by the American Nurses Credentialing Center (AGACNP-BC) and American Association of Critical Care Nurses (ACNPC-AG). The MSN with AGACNP curriculum is a 40-credit, six-term program that can be completed with two years of study. The program consists of online courses combined with three required on-campus intensives and 600 to 700 in-person clinical hours, and is designed for current RNs with a minimum of one year of relevant full-time work experience. The BSN to DNP with AG-ACNP specialization is a 69-credit program that combines online coursework with three on-campus intensives and 1000 clinical hours. Students have the option of full-time (eight 15-week terms) or part-time study (11 15-week terms). GU additionally offers a part-time AG-ACNP Post-Master's Certificate program requiring a minimum of 15 credits and 600-700 clinical hours. All of GU's AGNP programs are presented in a cohort-model format with starting dates each year in both the spring and fall.
Duke University

Duke University offers AGNP-Acute Care and AGNP-Primary Care MSN programs that combine online didactic coursework with on-campus intensives and in-person clinical hours leading to eligibility for board certification as an adult gerontology acute care nurse practitioner. Courses are taught by faculty members with experience in a range of acute care practice environments, and feature instructional support through the use of multimedia presentations and high-fidelity simulation equipment. AGNP-Acute Care students are required to complete 48-credits of coursework and 840 in-person clinical hours, while AGNP-Primary Care students must complete 42-credits of coursework and 560 clinical hours.
Duke additionally offers post-graduate certificate programs open to RNs who already possess their MSN degrees and are interested in qualifying for national certification in acute care or primary care AGNP practice. Admission requirements into either certificate program include, among others, current RN licensure or eligibility for licensure, and either a MSN degree from a properly-accredited program or master's degree in another discipline deemed acceptable to the AGNP faculty.
Key Information About Online Adult Gerontology Nurse Practitioner Programs
As you begin researching online AGNP programs, it's natural to have some questions. Below are the answers to the most common questions about adult gerontology nursing, what types of AGNP degree programs are available, what you can expect to learn in your degree program, and more.
What is adult gerontology nursing?
Gerontology is the study of old age and the aging process. So, it's no surprise that the first thought many people have when they hear "adult gerontology nursing" is the care and treatment of the elderly. That's not the case, however. The key term here is "aging process," and if you think about it, the aging process begins the moment we are born. The practice of an AGNP nurse actually encompasses all aspects of the adult aging process, including issues of both illness and wellness, from adolescence to adulthood and on through to old age. That's where the value of AGNP's specialized practice lies: in the ability to address the broad range of care and treatment issues related to aging throughout the entire adult life cycle.
What are the different types of AGNP online programs?
There are several online academic pathways to becoming an AGNP, more than with most nursing specialties, in fact. There are three graduate degree levels to consider, for example. There are also two distinct specializations within the larger AGNP field, each with its own distinct curriculums and academic requirements. Here's a detailed look at the available options.
Degree Levels
Master of Science in Nursing (MSN)
MSN programs are designed for RNs seeking to advance and specialize their practice by obtaining their AGNP certification. Some programs require applicants to possess a BSN degree, while others accept currently-licensed RNs with a non-BSN undergrad credential. Most programs also require a minimum of one year of nursing work experience. All programs require students to complete didactic coursework (often available 100% online,) and completion of a substantial number of in-person clinical hours.
Doctor of Nursing Practice (DNP)
DNP programs are for current RNs with extensive work experience interested in advanced practice and leadership positions in the AGNP field. Both traditional MSN entry and BSN-to-DNP programs are available online that prepare graduates to obtain board certification as an AGNP. Some DNP programs also offer courses of study for currently board-certified AGNPs who wish to obtain the doctorate credential. DNP programs take about a year longer than an MSN to complete for students entering with a BSN.
Post-Graduate Certificate
Post-graduate AGNP certificate programs are for current APRNs with either an MSN or DNP who wish to obtain AGNP board certification and expand their practices into adult gerontology settings. Programs are typically presented in a part-time format, and all include didactic coursework (usually completed entirely online) and clinical hour requirements. These programs may or may not require on-campus visits.
Specializations
Adult Gerontology Acute Care (AGACNP)
The AGACNP specialization prepares graduates to provide comprehensive advanced care to adult patients experiencing urgent and sometimes severe health issues resulting from the worsening of chronic illness, episodic illness, terminal illness, etc. They work in a range of nursing practice settings, including surgery, cardiology, internal medicine, oncology, trauma, and many others.
Adult Gerontology Primary Care (AGPCNP)
Nurses with the AGPCNP specialization provide a full range of long-term healthcare services to adult gerontology patients in settings that include hospitals, physician's offices, long-term care facilities, community and specialty clinics, rehabilitation centers, and many others. AGPCNP practitioners additionally work with patients' families to keep them properly informed and involved in the continuing support needs of their loved ones.
What will I learn in an online AGNP program?
The goal of any quality online AGNP program is to ensure that its students graduate with advanced knowledge and skills that can be immediately applied on their first day of advanced nursing practice. This knowledge will come from all elements of the academic program, including didactic coursework, clinicals, internships, capstone projects, etc. Your exact learning outcomes will depend partially on your specialization (acute care or primary care) as well as the particular school and program you choose. Regardless, all AGNP graduates should expect to attain the following common learning outcomes:
Manage the healthcare needs of patients based upon physical examinations and assessments, health histories, and behavioral and developmental assessments, particularly in how they relate to the aging process.
Provide effective advanced nursing care to patients employing pathophysiological, pharmacotherapeutic, and cultural principles.
Communicate and collaborate with interprofessional team members to improve the health outcomes of individual patients and across diverse populations and settings.
Effectively employ knowledge of systems and organizational leadership theories and practices.
Demonstrate an ongoing commitment to the advancement of AGNP practice and the broader nursing profession.
Example AGNP Courses
Advanced Health Assessment and Diagnostic Reasoning
This class provides an introduction to the theoretical principles and practical application of advanced health assessment techniques and diagnostic reasoning. Components covered include history taking, identification of normal and abnormal conditions, and assessment of psychological changes and psychosocial variations.
Advanced Pharmacology and Pharmacotherapeutics
In this class, students gain a working knowledge of the advanced principles of clinical pharmacology and therapeutics as they apply to the care of individuals across the entire adult life span. Appropriate pharmacology and therapeutics of a number of conditions and diseases commonly found in both the primary and acute care settings are covered.
Advanced Physiology and Pathophysiology
Beginning with a foundation of normal physiology, this course presents an examination of advanced physiology and pathophysiology across the human life span, and the resulting clinical implications for advanced nursing practice. Emphasis is placed on the correlation of appearances of illness and pathophysiological processes needed to formulate proper diagnoses and realistic healthcare goals.
Ethical Decision Making in Advanced Nursing Practice
This course presents a look at the concepts and theories of ethical medical and healthcare practices and their application to the decision-making process. Included is a survey of evidence-based and interprofessional literature as it relates to the difficult moral challenges that inevitably arise in dealing with adult gerontology patients, especially those facing terminal illnesses.
Scientific Inquiry and Research Methods
AGPNs are required to possess a strong understanding of the research process, analytical techniques, and methods of scientific inquiry. The course provides a foundational examination of the systematic approaches taken by scientists in developing and conducting research. Topics covered include research concepts and methods, literature searches, the design of scientific studies, data collection, and analysis and interpretation techniques.
Can I complete an AGNP program 100% online?
You will not be able to complete your AGNP program entirely online if you take into account the in-person clinical hour requirements that are part of every program. In terms of other requirements, most programs offer the bulk of their didactic coursework online (all of it, in some cases), but additionally require some on-campus participation in the form of short two- or three-day "intensives." A few programs, like Maryville University's AGNP programs, can be completed with no required on-campus attendance.
How long does it take to complete an online nurse practitioner gerontology program?
The time it takes to earn an AGNP degree varies from program to program depending on a range of factors including full-time vs. part-time study, transfer credits and practicum hours allowed, and the degree level you're pursuing. You should have a good understanding of the time limits and allowances in place for any program you are considering before your enroll.
With that in mind, here's a baseline estimate of how long each type of AGNP program usually takes to complete.
MSN: One-and-a-half (accelerated plans) to two years full-time; Three years or more part-time.
BSN to DNP: Three to four years. Programs often allow substantially more time to complete the capstone project.
MSN to DNP: Two to three years. Programs often allow substantially more time to complete the capstone project.
Post-Graduate Certificate: One-and-a-half to two years.
How much do online AGNP programs cost?
The cost associated with earning an online AGNP degree or certificate will vary based on the many of the same factors as those that affect program length we've listed above. Another major cost factor is whether the program you choose is offered by a public or private institution. Here are a few sample tuition costs (as of fall 2019) for three online AGNP programs. Remember, however, that your total cost will likely be higher because of additional fees, the cost of books and supplies, and more.

MSN in Adult-Gerontology Primary Care Nurse Practitioner
---
Total Credits: 52
$997/credit

DNP Adult-Gerontological Primary Care Nurse Practitioner
---
Total Credits: 78
$1,772/credit (Full-time)

Adult Gerontology Primary Care Nurse Practitioner Certificate
---
Total Credits: 60
$420/credit
Where to Find Help Paying for Your Online AGNP Program
College can be expensive, and paying for any degree or certificate program can be difficult even under the best of circumstances. That's why it's important to understand all of your funding options and have your financial resources lined up before entering your AGNP program. Fortunately, there are a number of real, manageable sources available. Here's a look at the most common. And check out our ultimate guide to financial aid for even more information on how to get help paying for your AGNP program.
Scholarships
Scholarships are competitive and are typically awarded on the basis of specific criteria such as a student's scholastic achievements, specific talent (athletic, artistic, etc.) or extracurricular activities like volunteer work. Other factors, such belonging to a minority group or having extreme financial need, may also be considered. Scholarships are most attractive because they do not need to be paid back.
Grants
Grants are money awards for college that, like scholarships, do not need to be paid back. Unlike scholarships, grants are almost always awarded primarily on the basis of financial need. Some federal grants are available for grad students, although most federal grant moneys are designated for undergraduates. Grants from state governments, non-profits, private organizations, and graduate programs themselves may also be available, however, so be sure to speak with school financial aid offices to find out.
Loans
Student loans are exactly what they sound like – loans that are made for the specific purpose of paying for college. And like any other type of loan, they must be paid back with interest, usually starting immediately after graduation. The biggest advantage to the student loan is that it will likely be the easiest form of financial aid for you to obtain. The largest source of loans for AGNP students is the federal government. Federal Direct PLUS Loans, also known as Grad PLUS Loans, are available to students enrolled at least half-time in an eligible graduate program. To apply for federal student loans, or any other form of federal student aid, fill out and submit the FAFSA application. Both state and private student loan programs may also be available, so be sure to check with your school's financial aid department for availability.
Graduate Assistantships and Fellowships
Graduate assistantships are paid positions where students carry out teaching or research work, typically for a professor in the student's academic department. Fellowships are a form of scholarship program awarded to students who intend to pursue specific research or work on advanced project while in school. Graduate assistantships and fellowships are most often limited to doctoral students, but may in some cases be available to master's students as well.
Other Potential Sources
Your current employer may offer college funding in the form of a tuition reimbursement program. Check with HR person at your job about availability. Also, if you are a military veteran or currently serving, the GI Bill is a great source of college funding.
Understanding Accreditation for Online Adult Gerontology Nurse Practitioner Programs
Accreditation is an essential consideration for any degree or certificate program choice you make because proper accreditation is how you are assured that the education you receive meets certain minimum standards of quality. There are two basic types of accreditation: institutional and programmatic. Institutional accreditation addresses the college or university itself. It is administered in the United States by a number of Department of Education-approved independent regional and national agencies.
Programmatic accreditation focuses on the specific degree or certificate program. Programmatic accreditation of MSN, DNP, and postgraduate nursing certificate programs in the U.S. is administered by both the Commission on Collegiate Nursing Education (CCNE) and the Accreditation Commission for Education in Nursing (ACEN). The AGNP program you choose should be accredited by at least one of these organizations.
Confirming a school or program's accreditation status is easy. Current accreditation information can almost always be found on the individual program's website and/or institution's accreditation webpage. You can also search for accreditation status by visiting the CCNE and ACEN websites, as well as this DOE database.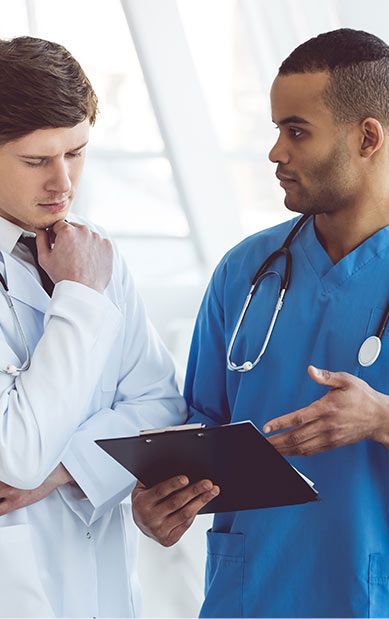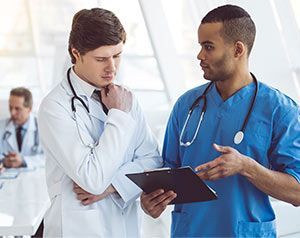 Getting Your Professional License and Certification After Your Online AGNP Program
All AGNPs in the United States must be licensed as RNs in the state or states in which they practice. Additionally, some states require nurse practitioners to hold a specific NP license to practice within that state. If you are looking for an AGNP degree or certificate program, you are likely already a RN or possibly even an APRN. Regardless of your RN or APRN status, if you want to learn more about a particular state's licensure requirements, contact the state's regulatory agency directly. You can find contact information using this NCSBN interactive map. You can also find licensure information for each state by visiting the American Association of Nurse Practitioners website.
Additionally, following completion of an AGNP degree or certificate program, prospective AGNPs should obtain national board certification, which in the U.S. is available through the American Association of Critical-Care Nurses (AACN), the American Nurses Credentialing Center (ANCC) and the American Academy of Nurse Practitioners Certification Board (AANPCB). Most states require national board certification as part of their licensure process.
To find out more about the specific certifications offered, visit the following sites:
American Association of Critical-Care Nurses (AACN)
American Nurses Credentialing Center (ANCC)
American Academy of Nurse Practitioners Certification Board (AANPCB)
Career and Salary Outlook for Adult Gerontology Nurse Practitioners
Money and job security are among the most important considerations when deciding on a future career. Fortunately for prospective AGNPs, the outlook is bright. How bright? Here's a look.
Are adult gerontological nurse practitioners in high demand?
When it comes to job prospects, the future looks bright for certified AGNPs for some time to come. According to the U.S. Bureau of Labor Statistics (BLS), the job growth rate for nurse practitioners, of which AGNPs are a subgroup, is projected to increase 26% between 2018 and 2028, adding over 50,000 new jobs. And given the nation's rapidly-growing elderly population, you can expect that figure to be solid moving forward. There's also an expanding public interest in preventative care and wellness, which is included in the AGNP's professional practice.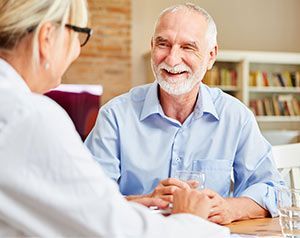 How much do adult gerontological nurse practitioners make?
Earnings for AGNPs vary depending on factors such as job location (specific state, city vs. rural, etc.), type of organization or facility (hospital, long-term residence, private physician's practice, etc.), and amount of work experience as an AGNP. Nevertheless, AGNP salaries are impressive on average. For example, as of May 2018, the BLS reports that the median salary for nurse practitioners is $107, 030, as compared to $71,730 for RNs. Additionally, PayScale puts the median salary for AGNPs at $89,169 as of September 2019. Other salary estimates for AGNPs range from the low 70s to the low-to-mid 100s, depending on the particular source.
Helpful Resources for AGNP Students and Professionals
Below is a list of additional online resources to help you gain a better understanding of the AGNP profession and how you can join it:
Gerontological Advanced Practice Nurses Association (GAPNA)
GAPNA's website offers a wealth of information on the AGNP practice including student resources such as its career center, online library, and access to GAPNA Foundation scholarships and grants.
About Nursing Licensure (NCSBN)
This page offers a great overall look at nursing licensure and includes links to more detailed information on the nursing licensing process and state boards of licensing in the U.S.
American Nurses Association (ANA)
The preeminent organization of professional nurses in the U.S. This website offers information about the profession generally and its various specializations, certification, and scholarship and grant opportunities.
Excellent webpage that acts as a clearinghouse for literature, graphics, videos, and more on everything you want to know about student financial aid and federal student aid programs.
Major organization for both nurses and nursing students with chapters on over 700 college and university campuses worldwide. Both undergraduate and graduate student memberships are available.