With more and more schools offering online master's in nursing education, the search for the best program for your needs can be difficult. It's important to spend time researching programs before you start filling out applications. You need to consider the cost and curriculum at each school, as well as the potential careers those credentials may offer you when you graduate. The schools below have been researched and vetted to help you begin your search. Additionally, this guide examines several important factors to consider as you weigh your graduate school options, from accreditation and funding opportunities to career options and salaries.
Duke University

Students enjoy access to a variety of online programs through the university, including an online master's in nursing education. This rigorous curriculum helps students explore a variety of advanced clinically focused topics, including pharmacology, patient assessment, and pathophysiology.
Nursing students need 36 credits for graduation and complete required courses such as student learning and teaching innovation, curriculum development in nursing education, educational program evaluation and accreditation, and assessment and evaluation strategies in nursing education.
This curriculum also includes several clinically focused courses which provide them with a strong foundation for education-focused careers. As a result, many Duke nursing master's students pursue faculty positions, jobs as clinical instructors in schools, or staff development roles in healthcare institutions.
Accreditation and the Online Nursing Education Master's
Colleges and universities that offer a credible education typically possess regional or national accreditation. Accrediting bodies evaluate educational institutions and determine whether or not the quality of instruction and services they provide to students meets particular academic standards. Regional accreditation is considered the gold standard and is offered to two-year and four-year institutions, both traditional and online, based on their location.
Accreditation is one of the factors that affects your ability as a student to claim financial aid funds through the federal government. Each type of federal student aid requires your educational institution to possess regional or national accreditation. When your school requires you to fill out a FAFSA, that is the application that helps the government determine what level of federal financial aid is available to you.
Schools may also possess a programmatic accreditation. For nursing programs, the U.S. Department of Education recognizes two primary accrediting bodies: The Accreditation Commission for Education in Nursing (ACEN) and the Commission on Collegiate Nursing Education (CCNE). Programmatic accreditation in any field can sometimes be viewed as an icing-on-the-cake or "extra" credential, especially if the school itself already possesses regional accreditation. While researching nursing programs, however, a school that possesses a programmatic accreditation in nursing may be worth a second look, as it shows they've gone above and beyond to certify and stand behind the quality of the education that provide.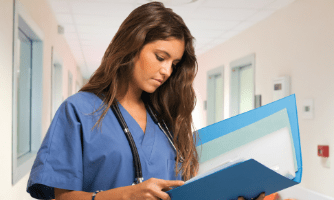 Inside the Online Master's in Nursing Education
How do you know which online master's in nursing education program is the best one for you? The long and short of it is that the best decision is an informed decision. You need to research and read about what programs offer in terms of clinical training scenarios and practicums as well as the core courses in the required curriculum. The courses offered in the nursing education core can give you a good idea of what the department considers to be important and often highlights its faculty's strengths. Here are a few key questions to get you started:
What do you learn in an online master's in nursing education?
Every master's in nursing education program is different and brings certain strengths to the table. While you will probably be able to identify some overlapping courses, each department usually offers unique courses as well. In this way, with your personal interests and academic goals in mind, you will be better served by some schools than others. In the list that follows, we offer some of the commonly overlapping courses between programs to give you a general idea of what to expect. Be sure to examine all of your prospective schools' available courses, however, to get a more detailed picture of what it can offer you.
Introduction to Advanced Nursing
This introductory course is common among nursing education programs. It can be listed under several different titles but is likely to have "introduction" in the name. In most cases, this class will help you explore nursing ethics, leadership and responsibility evidence-based practices, and current research in the field. Discourses are typically part of the nursing program core and may not necessarily correlate directly with nursing education majors.
Nursing Research and Writing
This course is part academic research skills and part training in academic writing. As a graduate student, you will need at least strong basic research and writing skills to succeed in your program and handle work responsibilities upon graduating. This course will help you examine the process of scientific inquiry, practice using the basic elements of argument, and critically examine scientific findings in areas such as genetics, epidemiology, biostatistics, genomics, and education.
Scientific Inquiry and Research Methodologies
While this is also a course that seems outside of a predictable nursing education curriculum, scientific inquiry and research methodology courses are typically part of first-year master's and doctoral programs. These courses allow students to utilize evidence-based practices and develop research projects that examine an area of interest in nursing. These courses typically require students to design and carry out a research project that relates to nursing education and examine evidence-based practices in the field.
Presentation and Instruction
As a master's student in nursing education, you will take a series of courses focused on presentation and instruction skills. These classes typically help students understand the roles and demands of instructors in clinical, academic, and professional settings. These classes allow you to develop teaching methods that serve diverse populations of students, too. Additionally, courses focused on instructional presentations allow learners to utilize the latest instructional technologies and interactive educational software.
Nurse Educators and Health Assessments
You will take a version of this course toward the end of your master's tenure, as it builds on a significant amount of previous health assessment knowledge. The class diversifies your knowledge of health assessments and further develops your understanding of patient examinations in areas including physical, spiritual, and psychosocial health. Additionally, this class includes instruction on communication, teaching, and counseling, since nurse educators deal directly with patients, coworkers, and students on a daily basis.
As a master's student in nursing education, you develop certain key skills to ensure that you succeed upon graduation. With this degree, you may find yourself working in a classroom, in a hospital setting, and beyond. While careers in each of these roles will demand certain skills from you, there are some overlapping attributes that all MSN students acquire in school.
Leadership Skills
Organizational Skills
Presentation and Instructional Skills
Engaging with Research and Researchers
Health/Educational Program Assessment Skills
How long does it take to earn a master's degree in nursing education online?
Similar to other master's programs, you can expect to spend approximately two years pursuing your master's degree in nursing education if you are a full-time student. The length of time it will take you, however, depends upon several factors, including your enrollment status, general availability to complete course work each semester, and previous education. Students who already possess a bachelor's degree in nursing may be able to progress through the MSN program a little more quickly than a student who does not. Additionally, students who enroll part-time can expect to spend up to three or four to complete the MSN in nursing education.
How much does it cost to earn an online master's in nursing education?
Cost varies between MSN programs in nursing education, and it's important to do your research upfront. Factors in the cost of your education include the type of school you attend, how long it takes you to complete the requirements, and how much funding you've secured to put toward your education. Additionally, despite the fact that you may be enrolling in a fully online or mostly online nursing education MSN program, your geographic location can figure significantly into the overall cost. Some online programs offer the same tuition rates for both in-state and out-of-state learners while others charge substantially more for non-residents. For the cost of a specific program you're interested in, find a school in the ranking above and visit its tuition and fees page to get a better idea of your potential total cost.
Do online masters in nursing education have a residency requirement?
Many online MSN programs in nursing education require that you attend an in-person, on-campus residency. Residencies give you the opportunity to meet faculty members and other students as well as take advantage of any on-campus training facilities. For example, Drexel University requires a three-day, on-campus visit for all MSN students that incorporates training in its modern simulation lab. Drexel also gives learners a chance to work in hands-on sessions with human patients in a simulated clinical environment.
Carson-Newman also features an entirely online curriculum with one required three-day residency. During this visit, you get the chance to obtain hands-on practice and complete an assessment exam. At the University of Missouri-Kansas City, MSN students attend a two-day campus residency to meet faculty, fellow students, and complete a required training course in health assessment skills.
Funding Your Master's in Nursing Education
There's no doubt about it; funding a college education is no small feat. Regardless of your financial situation, you should fill out and submit a FAFSA. The FAFSA ensures that the federal government considers you for financial aid whether you think you need it or not. As a graduate student, you may be eligible to receive a government grant. Additionally, you should apply to any external or internal scholarships for which you qualify. Both scholarships and grants do not need to be repaid and are essentially free money for your education.
1
Scholarships
Scholarships are usually need- or merit-based. These awards come through external sources, such as private individuals, companies, and nonprofit organizations, or internal scholarships. Internal scholarships come through your department or school. Some scholarships are reserved for students with particular backgrounds, hobbies, or fields of study. Legitimate scholarships do not require applicants to pay a fee to apply. You should apply for as many scholarships as you can, provided you meet the preferred credentials for the award. Visit our scholarship page for more information.
2
Financial aid
When you submit your FAFSA, the government considers you for need-based financial aid. You may be eligible for aid in the form of grants, scholarships, work-study programs, or loans. In most cases, you do not need to repay these financial awards unless you receive a loan.
3
Grants
Comparable to scholarships, you do not need to repay grants. Grants are typically need-based and supplied by the federal or state government, your college or university, or private organizations. As an MSN nursing education student, you may be eligible for grants reserved for teachers, such as the Teacher Education Assistance for College and Higher Education grant, provided your school does not already offer a bachelor's program in education.
4
Private Loans
When you submit your FAFSA, you may be offered loans through the federal government. Loans must be repaid with interest. They can also come from private sources such as financial institutions, banks, and other types of organizations. You will likely get a better interest rate from the federal government than through a private source.
5
Work-Study Programs
Students in financial need can receive part-time jobs to help cover the cost of educational and living expenses. Offered through the federal government, these work-study positions may be available for both part- and full-time students. Be sure to check with your department about this option, because not all schools participate in the federal work-study program.
Next Step: After Earning Your Nursing Education Master's
It can be helpful for you to understand the types of jobs that nursing education MSN degree-holders pursue after graduating and what it takes to obtain them. Additionally, it is useful for new graduates entering the competitive job market to know what to expect in terms of entry level salaries. At the same time, professionals in nursing roles may wish to pursue a field where they know there is plenty of room for growth and will afford them the opportunity to earn a higher salary overtime.
Do you need a special license or certification to work or advance?
There are no required licenses that you will need to pursue a career with your nursing education MSN. There are, however, two popular optional certifications that can help bolster your credentials. Provided by the National League for Nursing (NLN) nurse educators can pursue licensure as a Certified Nurse Educator (CNE) and Certified Academic Nurse Educator (CANE). These may be elective certifications but they'll help you put on display your level of professionalism and dedication to advancing the field. The certification also highlights that an additional, credible source endorses your skills and has documented your ability to meet or exceed the standards of excellence required by that institution.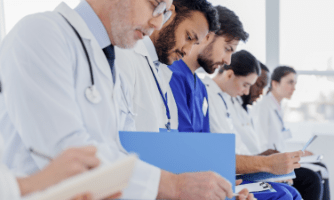 What can you do with a master's in nursing education online?
With an MSN in nursing education, you can prepare yourself for a variety of rewarding careers in the healthcare field, both inside and outside of traditional care facilities. You may find yourself in positions where you'll help educational institutions further develop and evaluate current and upcoming curricula, oversee nursing students' progress and clinical work, or evaluate faculty member performance. Alternatively, you may find employment in colleges or universities working in supervisory or leadership roles, including roles as a department chair or in a campus health facility.
Online master's programs in nursing education offer you the opportunity to develop a highly marketable skill set that is widely applicable in many types of professional settings. The degree can also serve as a stepping stone toward fast-growing and high-paying careers. As illustrated below, graduates who hold a master's in nursing education obtain higher-level careers as nursing educators, facility development directors, nursing administrators, or community health services managers.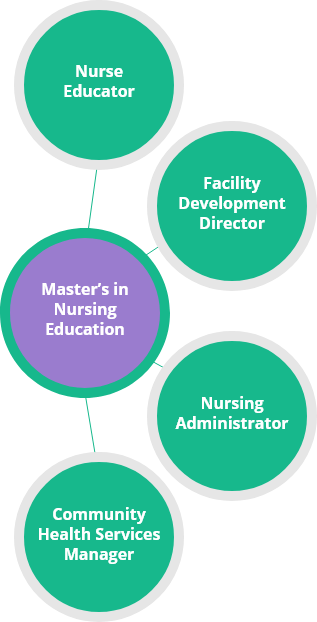 How much can you make with a master's in nursing education?
The two main factors that affect your earning potential are your education level and amount of work experience. Nurses with master's degrees in nursing education may qualify for higher paying positions. Based on statistics from some of the more popular careers that MSN degree-holders obtain, you can expect to earn anywhere from $31,050 to $183,890 per year, depending on the position and your level of experience in that area. The following table shows the spectrum of salaries for nurses in careers related to nursing education.
| Career | # Employed | Entry-Level | Early Career | Mid-Career | Experienced | Late Career |
| --- | --- | --- | --- | --- | --- | --- |
| Education Administrators | 45,730 | $31,050 | $37,750 | $48,130 | $62,620 | $85,610 |
| Medical and Health Services Managers | 295,550 | $57,260 | $73,990 | $96,880 | $127,230 | $174,160 |
| Social and Community Service Managers | 94,520 | $38,910 | $48,500 | $61,410 | $79,110 | $100,770 |
| Health Teachers, Postsecondary | 16,100 | $59,760 | $83,400 | $126,360 | $183,890 | – |
| Health Specialties Teachers, Postsecondary | 11,900 | $60,140 | $89,920 | $140,070 | $192,260 | – |
| Nursing Instructors and Teachers, Postsecondary | 4,200 | $58,870 | $74,330 | $97,950 | $135,430 | – |

Related Degrees
Let's say that you've explored your options as a future nurse educator. Maybe you want to grow your career and position yourself to make more money. On the other hand, maybe you want a career path that is a little different than you originally imagined and need to shift gears. In nursing, there's plenty of opportunity to advance by continuing your education, such as earning a doctoral degree, or to pivot into a related career with a second degree program. Take a look at a few of the degree options that may be a good fit if you're looking to advance in nursing.
Similar to nursing education, nursing leadership and management is a popular area of specialization for master's degree seekers in nursing. Leadership and management degrees for nurses prepare them with strong communication and organizational skills in addition tofoundational business knowledge. Upon completion of this degree, you would be able to obtain management or administration positions in hospitals, community service agencies, government agencies and facilities, healthcare corporations, and long-term care facilities.
The DNP is traditionally for students who already hold a master's degree in nursing and wish to seek out leadership positions at the highest level in clinical and educational settings. They also can work in roles in which they influence healthcare policies at the state and national levels. DNP's can find themselves working in specialty leadership areas as nurse midwives, clinicians who provide direct patient care as nurse practitioners, or nurse anesthetists.