Written By


Expert Contributor

last updated

06/12/2023
If you're constantly dreaming about advancing your career in healthcare but can't find time to complete a degree, keep reading. Many online programs now cater to the busy lives of adult students, ensuring they can balance work and home while excelling in the virtual classroom. Still, all online degree programs aren't created equally. Some offer great flexibility and the courses you need to succeed, but they may be out of reach financially. Others are affordable and have the courses you need, but their online learning module just doesn't work with your schedule. So when it comes to online programs, which are the best for busy adults?
1Online Programs with Asynchronous Coursework
Asynchronous programs offer the flexibility to complete assignments, view prerecorded lectures, and collaborate on group projects at times that suit your schedule without the need to log in at specific hours. This lets you maintain your day or night job while fitting in coursework whenever possible. Moreover, some asynchronous programs feature highly flexible deadlines, allowing you to finish a project or pass a course based on your submission timeline (more details below). While others may have stricter deadlines, you can still engage with the material at your own pace. Such programs could be a perfect fit if the following conditions apply to you. You work an on-call job. If you're doing coursework on your own schedule, you don't need to worry about getting called in during a live class session.
You work an 8-to-5 job. With online classes, you don't have to worry if you're at work during standard daytime class times.
You enjoy regular family time or have other engagements you can't (or don't want to) miss, like baseball games, dance recitals, or parent-teacher conferences.
There may be times where you're rolling out of bed to do classwork. Your appearance doesn't matter when you're not on camera or on campus.
Some asynchronous online programs have occasional real-time elements, but they're usually few and far between. Make sure you speak to a program representative, so you understand all the potential or likely requirements before you apply.
2Online Programs with Flexible Meeting Times
Students who need more interaction with peers and professors – while still maintaining a schedule that fits their needs – often find that online degrees with flexible meeting times work best. In these programs, many of the requirements can still be checked off through asynchronous learning, but there are a few synchronous elements. Before diving into a program like this, plan to work with program administrators and teachers before and during the program to identify times that meet scheduling requirements. If you're looking to meet one-on-one with a professor, send them your available times to find options that work for you both.
3Work-at-Your-Own-Pace Online Programs
Rather than following a traditional semester-based schedule or existing as part of cohort (this model requires you to complete classes at the same speed as your fellow learners), programs offering a work-at-your-own-pace model allow you to decide when and how quickly work gets done. Students seeking to graduate in the fastest time possible often opt to work at their own pace to work ahead and efficiently tackle course requirements. This is also good for students with fluctuating schedules who appreciate the flexibility to progress through the material at their convenience.
Since there are no specific deadlines for submitting assignments (apart from the end-of-semester deadline), learners can establish their timelines that accommodate their individual needs and commitments. Some students might anticipate a hectic first half of the semester followed by a more relaxed second half. Others may expedite their coursework by completing it in a shorter period. Evaluate whether this model aligns with your schedule and discuss the format with others who have experienced similar classes.
4Online Programs with Easy Lab & Clinical Options
Some healthcare programs such as medical billing and coding or hospital administration many not require lab and clinical rotations, but plenty of other degrees do. Learners interested in working as a nurse, psychologist, or other medical professional frequently need to complete in-person, supervised clinical experiences to both graduate and receive state licensure.
Because many online adult students continue working while enrolled, completing these hours can be a challenge if attending an inflexible program. Departments that consider how to make this experience better for busy students often allow them to complete hands-on requirements at their place of work. For instance, a currently licensed nurse completing an RN to MSN program could potentially complete clinicals at their current job rather than taking on another responsibility at a different location.
How to Look Before You Leap: Deciding to Learn Online
Completing a degree online is a big decision, making it important to fully research their options and understand which path will serve them best. The following section provides a step-by-step list of actions to take when reviewing what's available.
STEP 1
Talk to an Online Learning Advisor
Before enrolling at a particular school, speak to someone from the program you're considering as well as other advisors that could shed light on the process. Some of the topics you should ask about include technical requirements, online delivery style (asynchronous vs. synchronous), support services available to online students, and options for completing any clinical requirements, if applicable. Be sure you speak to a learning advisor or program administrator rather than an admissions representative, as these professionals are tasked with getting you to enroll rather than providing a realistic idea of what online learning entails.
Q: Will this program help me achieve my career goals?
A: The advisor should highlight specific outcomes related to your intended career and demonstrate concrete ways in which the school's program helps you achieve your goals.
Q: What support systems exist specifically for online adult students?
A: Look for answers that include systems such as flexible learning options, mid-career support systems, and working with learners who need to complete clinicals.
Q: What should I expect in terms of technical requirements?
A: The advisor should be able to point you to a page on the school website that details technical requirements around software and hardware, internet speed, and any other tools needed in the learning process.
Q: What if I feel nervous about the process of online learning?
A: The advisor should provide concrete information on how the school helps adult students transition to this process, whether it offers training prior to the semester beginning, and what support services exist while enrolled.
Q: How can this school help me with financial aid?
A: The advisor should highlight any degree- or department-specific funding available as well as school-wide scholarships. Colleges used to working with adult learners should also counsel them on options for employer funding or tuition reimbursement opportunities.
STEP 2
Try Out an Online Course
If you're on the fence about pursuing an online degree, it's normal. Adult students often feel pressed for time and many wonder if they can adjust to learning behind a screen. If you feel anxious about paying a deposit for online education before getting a true sense of what to expect, the good news is that you don't have to. Many reputable and highly regarded schools with online programs offer the chance for interested students to sample a course before they commit.
Test Driving a Real Course
As competition between online programs gets tougher, some schools are looking for ways to help prospective students experience their digital classroom before committing. Drexel University, for example, allows you to test drive courses for four days before committing to the school. During this timeframe, you can try your hand at signing into the learning management system, submitting an assignment, joining students in class discussions, and getting a better sense of the required technology. Be sure to ask any school you're considering whether they offer a similar service.
Massive Open Online Courses (MOOCs)
MOOCS, or Massive Open Online Courses, exist as free classes that anyone can enroll in without being affiliated with a school. While MOOCs don't count toward college credit, they can help you build confidence around distance learning and familiarize yourself with some of the components of this format. MOOCs vary in length but should allow you to get used to navigating the learning management system and help you learn about common technologies used in this format. If you have concerns about how pursuing an education fits with your existing schedule, a MOOC can also help you see whether you can juggle this extra responsibility.
STEP 3
Learn What Other Students Have to Say
We're all familiar with consulting online reviews before we purchase a product because they provide insight into others' experiences and recommendations. If you're willing to spend 30 minutes reading reviews for everyday items, it's worthwhile to invest time in gathering opinions from past and present students, as well as those who opted not to attend after their research. While reading available reviews is beneficial, don't hesitate to contact people and ask questions tailored to your requirements.
References from the school.
Ask the school if they can provide references from either students in your program of interest or alumni and current adult learners completing an online degree. If they seem hesitant to provide contacts, this could be a warning sign.
People in your circle.
Whether it be a coworker, family member ,or friend, reach out to your network to see if anyone you know attended the school in question or potentially knows someone who did.
Social media.
Reddit and Twitter both serve as great platforms for finding people who went to the school you're researching. Tag the school and use appropriate hashtags on Twitter or find the correct subreddit on Reddit to post your enquiry.
LinkedIn.
You can use the search feature on LinkedIn to find fellow members who post educational information on their pages. It's perfectly reasonable to reach out to some of these individuals to ask about their experience while enrolled.
Contact employers.
If the school you're considering is located nearby, it may be possible to contact employers and ask about their impressions of graduates from the school/program. You can also ask whether they would recommend the institution for your chosen degree.
Getting Ready for Online School Checklist
Before the semester starts, make sure you have everything you need for the first day. The next section provides a roadmap for helping ensure you feel confident, prepared, and at ease when your first assignment comes due.
Nab the Right Hardware
Having the right hardware can make or break the online learning experience. An old laptop that freezes every time you open a new document and an internet connection that drops mid-lecture can make even the most dedicated student feel defeated. Taking an online learning test drive or participating in a MOOC can help you identify any tech areas needing additional hardware or training, but it's also a great idea to speak with your new school about what you need. Many colleges provide a list of requirements – as demonstrated by Grand Valley State University – and easily accessible tech support to get you up and running. Some of the items you'll likely need throughout your degree include:
Laptop or Desktop with a fast processor that can run at least Windows 10/OS 10.14
High speed broadband internet
Headset and microphone
External or internal webcam
Email capability
Updated versions of browsers (type dependent on learning management system)
Any equipment specific to your program
While not always necessary, it may be helpful to have an extra monitor, external speakers, and a printer for occasional use.
Get to Know Your Learning Environment
Just because your first day of school isn't for a few more weeks doesn't mean you should wait to start getting set up and familiarizing yourself with your new learning environment. Here are just a few steps all students can take to feel prepared when the semester rolls around.
Step 1
Log into All Accounts
You may think this will take only a few minutes but stop to consider how many different accounts you'll need to log into and manage throughout the semester. In addition to your existing computer security screen and email accounts, you also need to get passwords and set up logins for your new, school-specific programs. After receiving your account information and resetting your password, create a secure document where you can access this information if need be.
Step 2
Become Familiar with Your School's Website
Many schools not only have learning platform accounts, but there's also a student information system where you can see financial aid information, what you owe, how many credits you're taking, how close you are to graduating, and your GPA. This portal is usually where you pay for classes as well as access your school email account.
Step 3
Visit Your Online Learning Platform
Your learning platform is different from the school website, though you usually access it through the former. The learning platform is where all of your classes are held and where you will engage with your professors and fellow students. You can also find syllabi for your classes each semester, access reading materials, and review upcoming assignments and deadlines. Take a virtual tour to locate everything and get comfortable with the various tools you'll use.
Step 4
Set Up Any Software You'll Need
After getting comfortable with school-supported technology, you'll need to spend some time familiarizing yourself with other tools required to complete coursework. Meeting applications such as Zoom offer tutorials on its various functions, so take time to work through the steps before your first face-to-face with teachers and fellow students.
Create Your Home Learning Space
If you plan to study at home, you need to be distraction-free. You need a place where you can log on, listen, watch, read, write, and just work on your schoolwork. Chances are, if you're a working adult, that's not the kitchen table or the couch in the den. Make sure you have a place where you can break away from the action and focus. Here's a key list of Do's and Don'ts for setting up your learn-at-home environment.
The Do's and Don'ts of Learning at Home

DO
Establish a routine early on just as if you were going to a physical location for school.
Create set break times and fully step away from your schoolwork during that time.
Set up an established workspace that exists only for school. Remember not to scatter your desk with unrelated materials as this can make you feel overwhelmed.
Make sure you're near a power outlet so you don't have cords running across the room. Also make sure your internet is strong in that area of your home.
Minimize your distractions and clearly communicate your needs with others living in your house.
Place a visual reminder of why you're working so hard within your office area. This could be a vision board for your future job, a picture of your family, or a photo of something you want to purchase when you start earning a higher salary.

DON'T
Let yourself fall into the habit of working in your pajamas on the couch with the TV on in the background.
Forget to create boundaries around your personal, professional, and academic time. Be clear on which task is getting your time and don't blur the lines.
Neglect considering how features such as natural light, a comfy chair, and a desk of the right height can greatly affect your experience.
Let other members of your family in your learning space, if possible. It's important to know that the area will be just as you left it whenever you return.
Get distracted by social media and other time wasters. Try setting your smartphone in a different part of the room, if possible.
Allow your learning space to remain stark and empty. Personalizing the area will make you feel more at ease when putting in long hours of studying.
Strategies & Tips for New Online Learners
No matter how much time you spend preparing, challenges will inevitably arise from time to time. While you cannot necessarily stop these from happening, you can prepare for them in advance to mitigate the effects. We take a look at some of the most common challenges below and offer solutions for each.
Challenge
I'm worried my family won't understand how important this is. If they see me at home, they will assume I am accessible to them when I should be studying.
Solution
By treating your education like a job, you can set boundaries around your time. If you worked at home, it would be understood that you could not be bothered during this time since your supervisor would find this unacceptable. Try explaining this to your family to help them understand how important it is for you to focus.
Challenge
Finding money to pay for college can seem difficult, especially with other financial obligations.
Challenge
Imposter syndrome can make you question why you're back in school and if it's worth it.
Challenge
Feeling unconfident when it comes to navigating all the technical aspects of an online degree.
Insight from an Online Learning Expert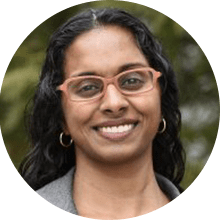 Seema Thomas is an adjunct professor of urban sustainability at the University of the District of Columbia and urban development consultant. Seema Thomas has been working on urban challenges domestically and internationally for the past two decades with a focus on community engagement. She has a master's in urban planning from Harvard University, a master's in public affairs from Princeton University, and a bachelor's in engineering from the University of Pennsylvania.
Q: What tips would you give that are specific to adult online learners?
For the adult learners in my class, the first tip I would offer is to be open. The educational model has changed in significant ways from when they were enrolled and continues to evolve. There is greater attention to hands-on problem solving, collaboration (the dreaded group project!), and technology. Also, attention spans are different now, where many professors find themselves in competition with technology and social media.
As an illustration, one adult learner in my three-hour lecture/week wanted to know why I didn't lecture the entire three hours. Instead the course tends to reflect professional environments with a workshop style approach, rather than a passive approach of learning. Encourage adult learners to be open to the experience and expect to be frustrated initially.
The second tip is to find a tech savvy friend, colleague, even professor to help you navigate the new technologies. For my course, there's asynchronous lectures to accommodate work schedules, online midterms, online submissions, etc. There's an initial hurdle, but over time, the process is seamless and convenient. If it still continues to be a challenge (i.e. before you can withdraw from the course without penalty), reach out a professor or school administrator. It shouldn't be that taxing.
Another tip is to be incremental. Consider taking only one course. In subsequent semesters, consider taking a full load. The first course will have the steepest learning curve during the adult learner's transition.
Q: What specific challenges might adult online learners face when going back to school?
Getting back into the rhythm of school is challenging – notetaking, copious reading, papers, study habits, etc. In fact, it can feel overwhelming. Another related challenge is school/work/life balance as well as prioritization, especially if they have families to care for.
Finally, another understated challenge is connection. The adult learner has considerable experience but connecting with peers can be hard. Some adult learners in my course were old enough to be the parents of fellow students. Some might feel ashamed or judged and, as a result, find it hard to connect with other students. On the contrary, I find many fellow students respect and admire adult learners for their drive and pursuit of their goals.
Q: How can they avoid/overcome those challenges?
– Go into the adult online learning world with focus, motivation and a clear understanding of your goals. This will help you as you face hurdles in the process. You can serve as an amazing example for those around you.
– Connect with your professor. They can be an important ally in connecting with others in the online classroom and making professional connections.
– Cultivate support outside your learning world. Meals, hugs, and encouragement help considerably when writing a term paper late at night.
Q: How can adult learners prep their families for potentially not being around as much?
This is hard, because planning is only so effective until the student starts the semester. Sometimes studying takes longer, sometimes writing the paper (and re-writing it) takes even longer. Adult learners should keep their families apprised of deadlines and commitments. Sometimes it helps to involve family members in the process, whether it's a partner reviewing a term paper or presenting in front of children to practice. It becomes a family affair. Adult learners can also use their vacation time to ramp up their help to offset the burden of others.
Q: What support can adult online learners get from their employer?
This depends on the employer. Some employers offer laptops, which can be utilized at home to work on assignments. Some employers offer spaces at work to take courses. Overall, employees can consider a conversation with their management, sharing their goals and how this will benefit the firm in the long run. Their manager may be able to build in additional flexibility or minimize competing deadlines.