Written By


Meet the Expert

last updated

03/02/2023
You've likely heard repeatedly from well-meaning parents, teachers, and other trusted people in your life how going to college is a crucial step along the path to a successful future. But you've also probably taken in a lot of messages about college from movies and TV. How easy is it to picture students spread out on the quad, books in their arms, before returning to a packed dorm room?
However common this image of campus life is, it doesn't necessarily reflect the reality of college today, or of all students for that matter. Online programs have opened up a completely new model for college education; enrollment obviously spiked during the pandemic's onset, but it has remained high ever since, with current estimates showing 59% of postsecondary students taking advantage of distance education. They've also extended opportunities for a wider range of students, from working professionals to students who can't afford tuition at traditional colleges.
Turns out, earning your degree online can offers many advantages. But to make the best decision for you about how to pursue your degree, you deserve complete and accurate information. This guide will introduce you to several reasons to consider pursuing an online degree to help you decide if going fully remote is best for you. Read on to distinguish myth from fact about online education, learn about benefits you may not have even considered and gain insight from someone who chose to earn his degree totally online.
Barriers to Earning Your Degree and How Online College Can Help
You probably know that many medical fields are booming. With the high needs of hospitals and communities around the country, many students are choosing education paths that will lead them to an exciting, and often lucrative, medical career. But, if you're like many prospective students with external responsibilities, you might be questioning your ability to go to college.
Between outside obligations and the financial burden of tuition, college can seem out of reach.
However, online learning actually solves many of these problems you might face when it comes to going to college. By selecting the right online program, you can remove many of the roadblocks that are keeping you from achieving your goal of earning a diploma.
We address some of the most common problems below that people face when it comes to getting their degree — and explain why online college may be a potential solution to the problem.
Problem #1 – I Don't Have Time to Go to College
Perhaps you're considering college, but you worry that you can't commit to the time needed to attend classes, study, write papers, etc. Or maybe you are worried you can't find classes that fit within your current schedule. Online college programs often offer flexible schedules that allow you to study when it fits into your schedule and part-time options that allow you to earn your degree at a slower pace so you can juggle more life outside of school. Whether you have family duties, a job you need to keep working, or any other responsibilities that keep you busy, online college can help you balance your education with your other commitments.
Problem #2 – I Don't Want to Move to Attend College
Don't let location hold you back! If you have commitments close to home, you might not be able to leave and attend university. That's ok, attending college online takes the need to move completely out of the equation allowing you to earn your degree from anywhere. The flexibility of the online college landscape makes it even easier for anyone to go to college, regardless of location. Even if you need in-person experience to complete your degree, your school can partner with a local organization for any required internship components.
Problem #3 – Schools Near Me Don't Offer the Degree I Want
Maybe you know what degree you want to earn, but your local college doesn't offer that particular coursework or degree option. Online colleges typically have a wide variety of classes/programs to choose from, letting students tailor their education to best suit their goals. With the ability to choose from among a variety of colleges regardless of your location, you're sure to be able to find a program that meets your needs. A little online research goes a long way here, and in no time you can find a program that will work for you. Use our Medical Careers Guide as a jumping off point to determine what degree you should pursue online.
Problem #4 – College is Too Expensive
College tuition is notoriously expensive, with many students accumulating significant debt to complete their education. Many potential students balk at the idea of college once they see the price tag. There are many ways online colleges can be more cost effective. For one, most have lower tuition rates, with some sources suggesting an online degree can save as much as $50,000 over a traditional, on-campus program, especially if you live out of state. Beyond that, students are often able to cut additional expenses like housing and transportation, and the flexibility allows them to continue to work to support themselves through school.
Problem #5 – I Don't Want to Leave My Job
While a college education is one way to advance your career, gaining work experience can be another path to advancement and success. Many students don't want to end the progress they're making on a job to start something new like school. Taking classes online, students can pursue a college education without having to take a break from working — not only earning money, but also continuing to advance their practical, real-world professional positions.
Still Not Convinced? The Hidden Benefits of Online Learning
While going to school online may solve some of the worries you have about college, there are a variety of hidden benefits that you may not have considered. In fact, these advantages can make college an attainable goal for people in a wide variety of unique circumstances. If you're still worried that something in your life might prevent you from going to college, consider the following less well-known benefits of an online degree program.
Learn From Where You Live: Rural, Urban, or Suburban
Whether it's for reasons tied to family, work, or personal preference, maybe you don't have the luxury of moving elsewhere to attend college. Online degree programs allow you to access the best education to achieve your goals while staying close to wherever you call home. It saves money for students who can't afford the expensive process of moving. Beyond that, for those whose personal relationships require them to stay close to home, online college can allow them to take care of things at home while accessing the school that's most suited to their needs.
A Welcoming Environment for Nontraditional Students
For students coming to school later in life, or from other non-traditional backgrounds, it can be intimidating and uncomfortable to attend school in-person with nothing but students coming straight out of high school. Online programs tend to be a more welcoming, accommodating environment for working adults, parents, veterans, and other non-traditional students. With an oftentimes more diverse student population, it can be easier to both meet students from similar backgrounds as you, as well as to find faculty who are understanding of your circumstances.
Increased Access to Accommodations, Support Services, and Adaptive Technologies
Many campuses advertise the accommodations, support, and resources that they offer students. While these are appealing, prospective students should realize that online college offers the same resources, and sometimes even more.
Accommodations
Online schools offer a wide variety of accommodations for students who need them. This can include recorded lectures, audio descriptions, captioning and transcripts for lectures, extended time on exams, and more. While a number of these accommodations can be offered across schools, the fact that you're taking your courses online means that you have unique accommodations. For example, recorded lectures allow you the ability to start and stop lectures as needed, the ability to replay material if you missed it, slow down a lecture to a speed you can follow, and tie your notes to specific time points within a lecture.
Support Services
Many online colleges offer the same degree of support services to students in their programs as traditional schools. For students struggling with classes, they provide tutoring. In fact, it can oftentimes be easier to connect students with tutors as they would be meeting remotely, giving more flexibility for scheduling. For students trying to best tailor their education to suit their goals, academic advising services are widely available. These include advice on what courses to pick, what majors or minors to pursue, extracurricular activities to engage in, and how to seek financial aid. Lastly, for students with personal or unique struggles, counseling can offer advice, solutions, and support. Counseling can often be more comfortable for students from the privacy of their own home.
Adaptive Technologies
Adaptive technologies enable students with disabilities to engage with their coursework more easily. Examples of adaptive technology include screen readers for students with visual disabilities, keyboard navigation for students who have difficulty using a mouse, and text-to-speech software for students with visual processing issues. These technologies can make school accessible for students who wouldn't otherwise be able to attend — and in fact, for all students. For example, text-to-speech can make digital textbooks easier to understand for students who favor auditory learning.
Advantages of Online College for Healthcare Students
If you're interested in a career in healthcare, online education can be a great fit. There are unique demands for healthcare education, such as clinical experience, that might make you worry that an online health degree isn't possible. However, the high demand for online health courses means that schools have worked diligently to identify ways to ensure these program requirements are met. Below are just a few of the distinct benefits online programs offer for healthcare students.
Simulation-Based Learning
While practical clinical experience can be an important component of health education, not every student studies in a location with access to a real-world clinical environment. Additionally, the liabilities inherent to these authentic clinical settings can create potential risks for students who are learning.

Online college allows all students the opportunity to learn in a controlled environment using simulations. Students can even reinforce skills by repeating simulations, practicing what they learned on their own time. It also allows students to access a wider range of clinical scenarios than they might see in a standard clinic.
Technology-Enhanced Education
Technology in the medical field is constantly evolving, incorporating different modes of tracking patients, collecting data, measuring outcomes, and managing care. Almost all health professions require some level of comfort navigating hardware and software.
Online learning gives healthcare students an opportunity to get comfortable with technology and equipment while in school. Many schools will integrate real-world platforms into their curriculum, such as Epic and other electronic medical record systems. Taking your classes online means you'll be engaging with this software and picking up these technical skills that you'll use daily in the healthcare industry.
Access to a Wide Range of Programs
Healthcare offers a wide range of specialties within each area of interest. Some students want to focus on specific conditions and patient populations, while others are interested in specialized areas like population health and healthcare management.
Most colleges offer a wide range of degrees, but there's no guarantee that a campus close to you will offer the specialty that you're most interested in. Going to school online means that you have your pick of programs regardless of location, allowing you to choose a more specialized path. Not only will you be able to focus on your area of interest, you also could gain a competitive edge when you enter the workforce.
Explore Popular Online Healthcare Degrees
Maybe you've found yourself nodding in agreement at the many benefits of online degree programs outlined in this guide. If so, be sure to look into some examples of popular online programs. A number of healthcare degrees are available online, suiting a wide range of student interests.
First-Hand Account: A Graduate's Perspective on Online College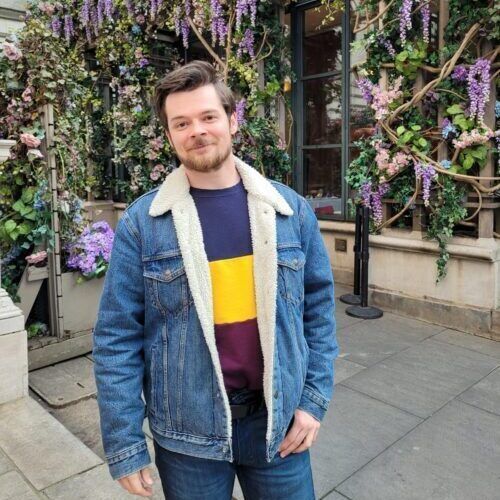 To gain real-world insight from someone who attended college online, we talked to Rob Wayne, a public relations manager and photographer. He attended Western Governors University and earned his Bachelor of Science in business administration marketing.

What was the primary reason you chose to attend college online as opposed to in person?
I chose to attend a college online because I value flexibility. My schedule is very dynamic; demands can shift wildly from one week to the next from work or other obligations. Many online colleges have self-paced courses, and that's perfect for my needs.
What resources and support did your college offer you?
My college offers many different resources to me, including mental health services, a writing lab that offers feedback on papers, a professional development center, and many others. My personal favorite is the mentorship program. I know that most colleges have advisors or similar roles, but my mentor Stephen is extremely helpful. We speak to each other at least once a week, and he is super helpful. He knows a great deal of information about my program. When I'm looking at what classes to take, he offers suggestions on how to balance course loads.
How did you meet and interact with classmates online?
My courses have sections for students to discuss classes and share study tips. Additionally, there are online groups on Facebook and Reddit, managed by the school, that are very helpful for learning about different concepts or sharing advice.
With a lot of online programs available, how did you go about selecting yours?
The primary reason I chose my school is that they cater to adult learners who are already in the mid-stages of their career. The self-paced nature of the program allows students the option to test out of classes that they have background experience in. If you're already in the human resources field, for example, it's not necessary to slog through "Introduction to Human Resource Management" when you already understand the topics. An experienced student would be able to test out of that class by passing the final by taking the monitored, proctored remote exam.
How did you go about financing your college online? Did you run into any challenges?
My university offers a flat-rate tuition of about $4,000 per semester with a payment plan. That breaks down to under $700 per month, which was easily manageable. Additionally, due to the flat-rate nature, they allow students to accelerate their degree pace. Once you complete your minimum semester of four courses, you can add on as many classes as you like, with the understanding that they must be completed before the end of the semester.
For anyone who is struggling to pay for college, I recommend being very serious about how you search for scholarships. If you're worried about the financial impact of college, apply for at least one scholarship a week. If you do this consistently, you'll apply to over 200 scholarships during your degree. It's a numbers game, and you're bound to get some of them. Continuous effort begets results.
What advice would you give someone currently pursuing an online degree?
For students considering earning their degree online, I highly recommend it. The versatility and the lower impact on your schedule are incredibly helpful in meeting educational goals. Not having to commute or physically be present in a lecture hall for class removes some of the stress of learning. Self-discipline is key. Set aside time for yourself to work through your assignments.
Do your research. Sometimes schools seem good on paper, but when you look online to see what people are saying, things are not always what they seem.