Written By


last updated

01/18/2022
If you've dreamt of becoming a professional physical therapist, earning your Doctor of Physical Therapy (DPT) degree is no longer a question, but a must. In 2000, the American Physical Therapy Association announced that by the year 2020, only PT professionals with doctoral degrees in the field can provide physical therapy to patients. As a result, more colleges now offer DPT programs to help both current and future PTs reach this professional requirement. Earning your DPT gives you the doctoral-level education you need to provide one-on-one treatment to patients with varying conditions and injuries.
Online DPT programs combine both distance learning and on-site experiences to offer hopeful physical therapists an attainable and comprehensive pathway into the profession. Although, with a career like physical therapy, a fully online program may not be possible, there are many partially online and hybrid programs available for students who want the convenience of an online degree. So, if you're ready to join the ranks of the highly skilled physical therapists practicing today, keep reading to see what online DPT programs stand out in 2022.
Top Online DPT Programs in 2022
It's important to do your research before applying to schools in any discipline, including physical therapy. To help, we've vetted some of the top online DPT programs in the country taking into account factors like accreditation, affordability, and career preparation. The programs we spotlight excel in those areas, while also offering a student-centered approach that combines accommodating online instruction with the hands-on components necessary to meet field-specific demands. See which online DPT programs stand out in 2022.
University of Southern California

USC's top-ranked DPT program comes in a hybrid format that includes convenient online delivery of didactic courses complimented by immersive, on-campus experiences designed to instill clinical skill. Most full-time students complete the fully accredited program in three years and graduate well-prepared to take the national exam ahead of licensure.
Administered by USC's Division of Biokinesiology and Physical Therapy, the 115-credit course of study focuses on evidence-based practice and clinical reasoning through an array of interactive classes with a low student-to-faculty ratio. Potential course topics include lifespan motor control, differential diagnosis, and clinical management. Once coursework is complete, all DPT candidates participate in hands-on clinical experiences conducted on USC's main campus in Los Angeles.
The program welcomes new students in June each year. Prospective candidates need an accredited bachelor's degree that satisfies course prerequisites in science, math, and psychology. They must also have at least 150 hours of relevant clinical experience in a physical therapy setting.
Tufts University

Tufts University extends a hybrid DPT program that includes 67 weeks of virtual classroom instruction and 31 weeks of full-time clinical training at approved locations across the country. Housed within Tufts' School of Medicine, the program involves 127 credits allocated across six consecutive terms designed for completion in just 2 years. The program combines innovative technical training with integrative hands-on experiences, offering students a robust and extensive course of study that prepares them for a broad range of specializations.
The program enjoys full accreditation and administers an evidence-based curriculum led by expert faculty and experienced clinicians from around the world. Classes cover the fundamentals of the field along with concentrated subjects like musculoskeletal practice, orthotics and prosthetics, therapeutic intervention, and advanced diagnostics. Coursework concludes with a capstone component where students apply gained skills and knowledge in clinical internship experiences that anticipate full-time employment following graduation. The clinical education component entails two 8-week generalist experiences and one 15-week experience where students explore a specialty of their choice.
FAQs About Online Physical Therapy Programs
When it comes to potential schools, the best decision is an informed one. It's important to get to know prospective online DPT programs before applying. This will help you select a course of study that fits your profile and meets your professional goals. Below are answers to some key questions to help you get started.
What are the different types of online DPT programs?
Online DPT programs come in a few different forms to service the varying needs of aspiring professionals. Each form achieves the same learning objectives in the long run, but they go about it differently to accommodate a range of educational backgrounds. Here's what you need to know.
Standard DPT Programs:
Similar to doctorates in other fields, these degree require some familiarity with the discipline and some formal academic training that meets prerequisites (a bachelor's or master's degree depending on the program). Some schools may also call for relevant work experience or active licensure. This is a good option for working professionals and those already placed in clinical settings.
B.S./DPT Programs:
Early-stage students and those with little or no background in physical therapy will find this option more accommodating. These programs take longer (6 years on average) but allow candidates to earn both a relevant bachelor's degree and a doctor of physical therapy concurrently. They work to build clinical skills and technical knowledge from the ground up, offering a comprehensive experience designed to develop specialized expertise leading to full licensure.
---
Common Specializations
Pediatrics:
Students with this specialization focus on physical therapy procedures tailored for infants, children, and youth. It looks at common conditions or disorders that inhibit normal growth and development. Candidates learn to identify and address issues like autism, cystic fibrosis, and cerebral palsy through family-centered care practices.
Sports Performance:
This specialization develops the technical skills needed to diagnose and treat injuries commonly associated athletic activities. These include concussions, ligament tears, and joint injuries. It also builds additional expertise in muscle strength, speed conditioning, agility, and other areas designed to improve overall performance.
Geriatrics:
Physical therapists with this expertise help elders achieve and maintain a healthy, independent lifestyle. They treat chronic conditions such as arthritis and osteoporosis specific to aging populations. They also help patients recover from procedures like joint replacement through coordinated rehabilitation efforts.
Orthopedics:
One of the more prominent areas of specialization, orthopedics treats injuries and conditions related to the musculoskeletal system. Because it focuses on ligaments, muscles, and bones, it sometimes overlaps with geriatrics or sports performance. Professionals with this expertise help patients recover from surgery and develop individualized treatment plans that support rehabilitation.
Cardiovascular & Pulmonary:
This concentration develops expertise in physical therapy efforts that help people manage long-term heart and lung issues. It looks at rehabilitation exercises necessary following open-heart surgery or cardiac arrest. Physical therapists in this area work to build patient endurance, mitigate stress, and manage chronic conditions.
What do you learn in an online DPT program?
Every school uses its own unique approach to train physical therapists and online DPT candidates. Each program will add its own flair, but at the end of the day most share common requirements with similar objectives, course topics, and core competencies. These include technical knowledge of human anatomy and physiology, and hard skills in range of motion activities, exercise techniques, and evidence-based practice. Along the way, students will also satisfy the following learning outcomes:
Patient-centered care:
As in other healthcare professions, DPT graduates will learn to improve therapeutic outcomes by providing quality care and developing treatment plans in conversation with patients and their families.
Clinical reasoning:
Aspiring physical therapists will learn to exercise clear-sighted clinical reasoning in collecting data, communicating with patients, testing hypotheses, determining diagnoses, and evaluating treatment plans.
Scientific inquiry:
Students will learn to rely upon proven scientific principles and healthcare foundations throughout their work. This includes evidence-based practice and competency in the research methodologies specific to medicine and therapeutic care.
Compliance & professionalism:
DPT candidates will also learn to conduct themselves with the highest degree of professional skill. They will adhere to a clear code of professional ethics and will be compliant with all legal rules and regulations specific to the field.
Preparation for licensure:
Finally, all DPT graduates stand fully prepared to successfully pass the National Physical Therapy Examination. This exam must be completed before aspiring professionals can obtain licensure and certification.
---
Common Courses
Physical Therapy Foundations
This course introduces students to the fundamentals of physical therapy and patient-centered care. It covers practices like vital sign assessment, assistive device placement, and psychomotor skill evaluation. A prerequisite for most other courses, the class also builds basic skills in range of motion exercises, evidence-based practice, and patient interviewing techniques.
Human Anatomy and Physiology
Students in this class develop working knowledge of gross anatomy and pathophysiology. It includes focused lab components designed to familiarize aspiring physical therapists with the main software and digital imaging tools used in professional practice. Potential topics include joint structure, embryology, and the cellular system. The course also looks at physiological principles that affect human movement throughout the lifespan.
Evidence-Based Practice
This class offers an overview of the main principles, research methodologies, and outcome assessments used in healthcare and physical therapy. Students learn how scientific inquiry translates into clinical contexts and how to gather pertinent peer-reviewed research sources. The course also looks at how to assess both research sources and evidence gathered during practice or evaluation.
Advanced Therapeutic Intervention
Aspiring professionals in this course build on previous foundations to develop proven strategies and techniques for physical therapy practice. Students model these elements in lab settings and work to hone their diagnostic skills through hands-on simulations. Topics include exercise therapy and manual therapy, mobilization, motor control, and vestibular treatments.
Physical Therapy Capstone
This culminating component gives candidates the opportunity to integrate knowledge acquired in didactic courses with the practical skills obtained through clinicals or fieldwork. It offers a comprehensive assessment of progress and gained knowledge, and prepares students for the national licensure exam. In many cases it includes written and oral elements designed to measure learning outcomes.
What do you learn in an online DPT program?
Every school uses its own unique approach to train physical therapists and online DPT candidates. Each program will add its own flair, but at the end of the day most share common requirements with similar objectives, course topics, and core competencies. These include technical knowledge of human anatomy and physiology, and hard skills in range of motion activities, exercise techniques, and evidence-based practice. Along the way, students will also satisfy the following learning outcomes:
Can you earn an DPT degree completely online?
You can complete most DPT components entirely online. However, because physical therapy is so practice-based, most programs require hands-on elements that must be completed in person. These include fieldwork, clinicals, and lab components. Depending on the program you may be able to find placements in your current job or location.
How long does it take to earn a DPT degree online?
Timeframes for completion fluctuate quite a bit depending on program specifics and individual circumstances. Most online DPT programs are designed for completion in 3 years or less, but allow some leeway for working professionals and part-time students. If you already work in a physical therapy setting, you may be able to integrate that experience into your clinical internship, potentially expediting your path to completion in some cases. If you don't, many programs offer accelerated options, especially for coursework. This can also reduce your time in school but maybe a bit more expensive depending on tuition rates and additional fees.
How much does an online DPT program cost?
Tuition rates vary depending on the type of school, available funding, and program length. Public schools tend to be less expensive than private institutions, especially if you attend a program within your state of residence. This rule holds true for both online and in-person programs.
Longer programs are generally more expensive and while scholarships can help offset the costs, they aren't always guaranteed. Below are three examples of online DPT programs to give you a sense of current rates.

Physical Therapy
(Transitional DPT)
Total Credits: 24
$739/credit (in-state);
$1,105 (out-of-state)

Transitional Doctor of
Physical Therapy (DPT)
Total Credits: 24
$755/credit
How do I get into an online DPT program?
Most online DPT programs follow a similar admissions process. Specific requirements may differ depending on academic background and professional experience. In general, applicants should be prepared to provide the following items:
Official transcripts for all previous academic work indicating a competitive GPA
A current professional resume or CV
Recent GRE scores and TOEFL results (if applicable)
At least two recommendation letters from individuals like former employers or teachers who can assess your readiness for study
A written personal statement that discusses your academic background and future career goals (some schools may also require responses to essay questions)
Relevant work experience (optional in some cases)
Course prerequisites in science or math (also optional in some cases)
Paying for Your Doctor of Physical Therapy Degree
It's important to secure solid funding before beginning a program at this level. Financing your online DPT program may seem daunting, but financial aid options do exist if you know where to look and how to take full advantage of them. Here are three options to help you begin your search.
Scholarships & Grants
These are generally the best and most effective form of financial aid. Scholarships and grants are need or merit-based awards that don't need to be repaid after graduation. Many businesses and nonprofit organizations offer them, as do professional associations. Check out our scholarship guide for more information.
Student Loans
Student loans are also a viable option, but unlike scholarships they accrue interest over time and must be repaid eventually. Most students receive various type of federal loans, but private alternatives also exist. Our student loan handbook looks at the application process and how to take full advantage of these opportunities.
Other Options
Most schools with online DPT programs will extend additional financial aid options to entering students. These include fellowships and assistantships, internships, and work study opportunities. Fellowships are the most prominent form and generally involve some sort of service or research component in exchange for reduced tuition (work study placements work similarly). Most programs widely publicize these opportunities but if they don't, contact the school's financial aid office to learn more.
Accreditation Standards for Online Doctor of Physical Therapy Degree Programs
Accreditation ensures that schools and programs meet acceptable standards of excellence. It acts as a quality assurance measure and generally comes in three different forms.
The first two forms are institutional in nature and apply to the school at large. Private, nonprofit universities and public colleges typically receive regional accreditation, the most popular and prestigious form. This credential is granted by independent bodies recognized by the U.S. Department of Education or the Council for Higher Education Accreditation. National accreditation works similarly and is normally reserved for technical, vocational, or for-profit institutions.
Programmatic accreditation is the final form. It offers additional backing specific to certain disciplines. Programmatic accreditation supplements but does not replace institutional accreditation. Most online DPT programs are accredited by the Commission on Accreditation in Physical Therapy Education.
Getting Your Professional License & Certification After Your Online DPT Program
Independent boards oversee the licensure process for physical therapists and requirements depend on your state of residence. The Federation of State Boards of Physical Therapy (FSBPT) maintains a useful directory of these boards. At minimum, every state requires that you complete the National Physical Therapy Exam before you can begin practice. The exam is administered by the FSBPT, which also provides handy study guides and practice tests. Ready to start prepping? Learn how to ace the NPTE with study strategies and expert advice.
There are a ton of additional certifications out there above and beyond the national exam. These credentials aren't required, but they do demonstrate additional skill. Obtaining one or two qualifies you as a specialist with broader job responsibilities and potential for increased earning power. The American Board of Physical Therapy Specialties keeps a database of available certifications.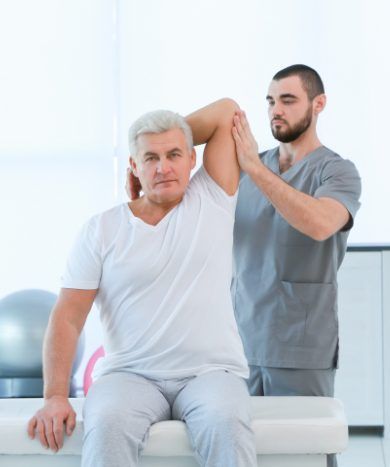 Careers & Salary Outlook for DPTs
The overall job outlook for professionals with a DPT remains very strong. The U.S. Bureau of Labor Statistics (BLS) reports that work for physical therapists will increase at least 18% by 2029. That's higher than similar healthcare practitioner roles and nearly 15% higher than all occupations nationwide. On average, approximately 15,200 new physical therapy positions open up each year.
The BLS attributes this trend to increased demand for skilled physical therapists due to aging populations. As large swathes of Baby Boomers continue to age they will need qualified professionals with a DPT to help them treat ailments and manage chronic conditions.
How much can you make with a DPT?
Salary prospects strongly correlate with the encouraging job growth trends. Current BLS data indicates that licensed physical therapists earn a median annual wage of $89,440 with room for an increase of up to $124,740 for those in the top percentiles (the lowest percentiles take home $62,120). Median earnings in this field outpace similar roles and are more than double the median annual wage for all occupations.
Continuing Education & Related Degrees
This section looks at continuing education opportunities and related degrees that some DPT-holders might want to pursue. Continuing education is an important component for all healthcare practitioners, including physical therapists. Likewise, related courses of study can help current DPTs hone their skills and expand their job prospects in new areas.
Continuing Education
All physical therapists must complete some form of regular continuing education in order renew their license. Specific requirements vary by state and licensing board, but essentially this means that your education does not end with graduation or initial licensure.
You will still need to update your skills and technical knowledge by completing new competency exams, attending conferences and events, or participating in workshops. The same board that administered your initial licensure will stipulate a streamlined process for maintaining an active license. The FSBPT also offers its own modules to help keep you up to date.
Related Degrees to Consider
Doctor of Occupational TherapyThis degree builds upon the DPT knowledge base by preparing professionals for practice as occupational therapists. This role is similar to physical therapy but instead focuses on helping impaired people develop and maintain everyday activities associated with personal hygiene, food intake, and functional mobility.
PhD in Rehabilitation ScienceThis credential can expand your career prospects beyond clinical practice. It provides an academic-oriented course of study that prepares candidates for postsecondary teaching and research. Degree-holders train aspiring healthcare professionals like physical therapists and often produce new scholarly work that expands the boundaries of the field.
Doctor of Podiatric MedicineThis degree uses some of the same principles as a DPT and focuses on issues and ailments of the lower extremities, mainly the feet and ankles. Professionals with this credential help people overcome challenges using physical therapy-related techniques. They also offer surgical intervention when necessary.
Resources for DPT Students & Professionals
Online networks and communities are not the only virtual sources of information for medical assistant students and professionals. There are plenty of other online media resources – books, magazines, podcasts, etc. – providing the most current information and advice for medical assistants. And the majority of these resources can be accessed free-of-charge. Here are six examples: