Written By


Expert Contributor

last updated

06/12/2023
If you're interested in a career in healthcare but not sure what to major in, you're not alone. Whether you are interested in dentistry, physical therapy, occupational therapy, pharmacy, nursing, veterinary science, or any health-related profession that requires graduation from a separate specialty program or school, it can be tricky to select a program.
To help students create their path to a specialty healthcare school and career, more colleges are adding pre-health tracks to their advising services. Pre-health tracks aren't standalone majors, but rather specialty program roadmaps with lists of courses and steps you should take if you want to go into certain professional health careers.
Whether you choose an online, hybrid, or on-campus pre-health program, a carefully selected program and school will offer you valuable experience and guidance as you make your path towards your career. In this guide you'll find expert advice, answers to frequently asked questions, details on popular pre-health offerings, and tips on how to choose the right pre-health program.
FAQs: Why Pre-Health?
The questions you have about pre-health programs are the same questions other students are asking. These frequently asked questions and the answers to them will help shed some light on some of the most crucial aspects of pre-health.
Q: What does it mean to be pre-health?
A: When you're a pre-health major, you get the chance to explore a wide variety of specialty areas in life sciences, human development, and public health. While some schools may require pre-health students to declare a major, the pre-health program is not a dedicated major like biology or anthropology. Rather, it is a collection of classes and diversity of programs offered by schools to prepare their students for a health professional school.
Q: Why is pre-health worth pursuing?
A: A pre-health curriculum equips you with the essential tools and knowledge for success in health professional schools. It includes courses relevant to your chosen field, alongside introductory and advanced classes in related areas like psychology, anatomy, nutrition, kinesiology, and social work, broadening your scope of interest.
Beyond the courses you take, you'll get chances to shadow medical professionals and gain hands-on clinical experience in your desired area. You'll have first-hand knowledge regarding seminars, workshops, and events in the pre-health area.
Q: What do you learn in a pre-health program?
A: The classes you'll take in a variety of areas should cover the basic concepts and required knowledge for entry into a graduate healthcare program. Some of these courses may feel basic because they are the required entry-level classes for a specific major. There are often a few class options for you to explore various health fields. Which classes are available to you typically depends on your high school experience, whether you possess A.P. credits, and how you performed on any entrance or placement exams.
Q: What is the difference between pre-health and pre-med?
A: Schools usually do not make a distinction between pre-health and pre-med. In fact, you'll probably find that some of the programs you're interested in offer a singular pre-health/pre-med curriculum. Whether you envision yourself studying dentistry, pharmaceutical science, or medicine, for example, you'll be a part of the same exploratory program with an eye on different classes.
Q: Is it possible to study pre-health online?
A: Yes, you can absolutely study pre-health as a remote student. Online pre-health studies programs continue to gain popularity today because of their affordability and convenience factor. Online pre-health programs these days offer the opportunity to gain hands-on learning and networking opportunities with other students and faculty.
Steps to Getting on the Pre-Health Track
The exploratory approach of pre-health programs may seem appealing but determining where to begin can be challenging. With numerous on-campus and online pre-health programs available, students have various options. Here's a step-by-step guide to ensure you're on the right path.
Choose a School That Makes Sense
If you're leaning towards a career in healthcare and interested in the type of exploratory opportunity that a pre-health program offers, it makes sense to choose a school that offers a fully developed pre-health program. You should be excited to be a part of the program and school you choose.
Look for a school that not only offers pre-health classes, but one that also offers guidance and support to pre-health students. Do they offer enough hands-on experience for what you're considering? Will you have an opportunity to network with others in your cohort? Does the school maintain any useful connections or partnerships with local clinics, hospitals, research facilities, and other institutions that might serve you well? If you're not sure, ask questions and find out.
Select Your Learning Mode
Both on-campus and online learning are prevalent modes among pre-health students. On-campus classes suit those who value regular interactions with professors and peers, while online courses offer flexibility and convenience for those with complex schedules. Hybrid programs combining both formats are also available. Before registering, consider your learning preferences and extracurricular commitments. Review the latest class schedule to ensure the required courses align with your desired learning mode.
Meet with an Advisor
Advisors are some of the best resources you'll have as a pre-health student. Whether you take classes on-campus or online, advisors are available to you for in-person and remote meetings. Ideally, the pre-health program you choose will have a dedicated advisor who will work with you and in conjunction with your major advisor to ensure you're meeting all your graduation requirements along with requirements to attend a graduate healthcare program.
As a future healthcare provider, you'll be engaged in rigorous coursework from the get-go, starting with your pre-health classes all the way through your required major coursework. With so much on your plate, it's best if you meet regularly with an academic advisor so you can make sure you're meeting all the requirements for the major while preparing for your future, which includes graduate school applications, graduate exams, professional exams, residencies, and more.
Get on an Official Track
When you locate the health-focused track that you think will work the best for you, consult your advisor for the best way to get rolling in that program of study. The advisor will know the best route to getting on the appropriate official track, whether it's pre-occupational therapy, pre-veterinary, or another area. The advisor will be able to provide you with a checklist of classes, a schedule you'll need to follow, and troubleshooting if conflicts arise. Advisors are also a valuable source of support as you navigate through the graduate school application process.
Even with an advisor, it's up to you to keep up with all the events and requirements on your track. Consult often with your official track advisor and make sure you're known by name. When learning opportunities come up, your advisor can match you with the ones that are the best fit for you. You don't want to miss any deadlines or extracurricular training opportunities. By putting yourself on the official track, you'll receive notifications of these events.
Track Progress
As you progress through your pre-health and required classes for your major, you'll need to pay close attention to your program's requirements and which semesters required courses are available, and plan accordingly. Your school may have a way for you to track this online, or you may receive a checklist you can use to keep on top of what you've accomplished and what you still need to do. Again, it makes the most sense to track your progress with the help of an advisor.
Types of Pre-Health Track Programs
By being immersed in your healthcare career area of interest from day one of your college career, you'll be ahead of the game when you apply to your graduate healthcare program or go straight into a healthcare career. If you're not sure which area you'd like to pursue, look into some of the more common pre-health program specialties on your own and with the help of an advisor.
Pre-Med
If you're planning on applying to medical school after graduation, consider looking at colleges that offer a dedicated pre-med program. While it's usually not a stand-alone major, these types of programs are designed to ensure you take the right classes to be best prepared for med school. One of the most important components of your med school application will be a demonstrated history of success in the right classes during your undergrad studies. In these tracks, you're likely to find classes in areas like organic chemistry, physics with laboratory work, biology, biochemistry, English, and mathematics.
Pre-Dentistry
A pre-dentistry program helps you prepare for dental school with a selection of necessary courses related to the field. While it's not a major by itself, pre-dentistry aims you in the right direction. Students often major in a related area during their undergrad, like biology, but it's not required. The pre-dental track, along with your advisor, will make sure you complete essential coursework for your future dental school endeavors, including physics, biological sciences, and chemistry. You can probably expect to take additional classes in related scientific areas, including microbiology, immunology, human anatomy, physiology, and comparative chordate morphology.
Pre-Dentistry Resources
The American Student Dental Association (ASDA) provides many useful resources for pre-dentistry students. On their site, you can find mentorship resources, tips for international dental students, advice on taking a national board dental exams, and information on scholarships and financial aid. You can also find a guide with tips on how to get into dental school.
The American Dental Association (ADA) offers useful pointers to new learners pursuing an education in dentistry. The site features information on dental student finances, boards and licensure, maintaining a healthy school-work-life balance, and more.
LauraSmiles and Josie Dental are just two of the many YouTube channels students today can take advantage of to get some excellent advice from experienced healthcare professionals. Pre-dentistry students should check out these sites for advice on which classes to take, how to prepare for dental school, and financial aid suggestions.
Pre-Physical Therapy
Pre-physical therapy programs, a recent addition for pre-health students, prepare you for graduate-level education to become a physical therapist. PTs typically work individually with clients to prevent mobility loss, recover from injuries, and promote healthier lifestyles. With your advisor's guidance, you'll study foundational topics like dietetics, genetics, and physiology. Although science-based majors are popular among PT students, no specific major is required. You can pursue any major while meeting most PT school requirements by following the appropriate path.
Pre-Physical Therapy Resources
The American Physical Therapy Association (APTA) offers a site with various articles for prospective physical therapy students. Topics covered here include long-term financial planning and management, scholarships and awards for physical therapy students, and ways for you to get involved with the association.
The University of Cincinnati offers several pre-physical therapy resources for new students. The website lets you explore potential physical therapy careers and connects you with a variety of professional associations that benefit students and professionals alike. While you may not attend the pre-physical therapy program at UC, the site also includes a helpful internship information to help you conceptualize what it would look like to be in a physical therapy program.
Tim Fraticelli's PTProgress, lifeforchange, and Yusra at The DPT Diaries are some of the excellent channels on YouTube dedicated to helping students get the most out of their pre-physical therapy programs and eventual graduate experience.
Pre-Nursing
Pre-nursing programs are typically one to two years in length and are designed to help you get ready to enter a four-year bachelor's nursing program. Students may then enter their bachelor's program as juniors, depending on their previous education and knowledge. Learners who obtain a bachelor's degree in nursing may move on to pursue a master's or doctoral degree in nursing or a related area. In most cases, you can expect to take classes in a pre-nursing program that include topics in physiology, chemistry, organic chemistry, anatomy, psychology, and statistics.
Pre-Nursing Resources
ATI Testing provides pre-nursing students and prospective learners with preparatory resources, including a guide to classroom and test-taking success. Learners can also purchase an online coaching program that includes extensive training in test-taking, studying and classroom skills, tips for ESL students, and ways to prepare for nursing clinical experiences.
Learning Nurse Resources Network features online articles, instructional videos, and interactive games in several main academic areas for nursing students. You can learn or brush up on foundational materials in topics such as human development, the history of nursing, biology, chemistry, anatomy, and medical terminology.
As a pre-nursing student or prospective learner, you can find practical advice and insider tips from dozens of curated YouTube channels. For helpful tips and occasional comic relief, check out The Nurse Nook, Nurse Blake, and YourFavNurseB.
Pre-Pharmacy
Similar to the other concentrations here, you'll likely find no dedicated major in pre-pharmacy at your prospective or current school. When you follow a pre-pharmacy track while completing requirements for another major, you'll have learning and networking opportunities such as pharmacy school fairs and tailored information sessions. Many pre-pharmacy students choose to major in biology or chemistry but, when coupled with your school's pre-pharmacy courses, just about any related major will afford you valuable experiences to prepare for your future career.
Pre-Pharmacy Resources
The American Association of Colleges of Pharmacy (AACP) provides an extensive list of things to consider when planning on or thinking about applying to pharmacy school. This site will help you think through your post-bachelor's options, dual degree programs, residency training, and more.
Clinical Odyssey, Lexicomp, and Pocket Pharmacist are enlightening and enjoyable apps for pre-pharmacy students. These apps will help you learn about diseases, drug interactions, drug side effects, medication dosage, and pill identification.
Armando Hasdungan runs an in-depth YouTube channel that's endorsed by the Pharmacy Times. Consider checking out Armando's extensive list of videos on pharmacology and other online resources recommended by the Pharmacy Times.
Pre-Veterinary
Many students aspire to care for animals, making veterinary school admission highly competitive – some argue more so than medical school. Consulting with your advisor on effective preparation is a must. Pre-vet backgrounds also open doors to careers in local, federal, and state government agencies, such as wildlife and fish departments, the forest service, and the Bureau of Land Management.
While you don't have to major in biology or zoology, most vet schools expect you have a successful history of course work in those areas, as well as statistics, general physics with lab components, genetics, college algebra, and inorganic chemistry. You may also want to consider volunteering at local animal clinics before applying to vet school. A pre-veterinary program can help with securing volunteer and learning experiences.
Pre-Veterinary Resources
The Association of American Veterinary Medical Colleges (AAVMC) offers excellent advice on how to prepare for a pre-vet program while still in high school. It also provides a cost comparison tool to help you make the best financial decisions as you move toward your career.
Vet.com's student-centered page gives you quick access to studying and coursework advice, links for professional vet associations and societies, test prep materials, and a vet school search engine.
Merck Veterinary Manual and VetPDA are apps pre-veterinary students can use to get the latest information on treating hundreds of animals. The VTNE Pocket Prep app can help you prepare for research papers and exams. It also provides good training and sample quizzes to supplement what you're getting in your pre-vet classes.
Pre-Occupational Therapy
Occupational therapists (OTs) provide a valuable service for people experiencing mental, physical, and emotional disabilities. The biggest difference between occupational therapy and the pre-physical therapy track is that OTs treat the whole body, from cognitive and developmental disabilities to motor skills, behaviors, and emotions — the things that impact the quality of everyday life. As a learner in pre-occupational therapy classes, you can expect to take courses in a variety of essential areas, including physiology, anatomy, psychology, and ethics. After completing occupational therapy school, many OTs move on to work in hospitals, specialized or private treatment facilities, the home healthcare industry, and nursing homes.
Pre-Occupational Therapy Resources
The American Occupational Therapy Association (AOTA) offers an excellent list of ways to get more experience in the field and become a stronger candidate for OT careers when you're ready.
The Student Doctor Network offers a guide to putting your best foot forward during the OT school application process. You'll get a detailed look at the best ways to spend your time leading up to the application, the GRE exam, OT school interviews, and more.
How to Find a Pre-Health Education Online Program
Online learning can help save time and money while you develop the pre-health skills you need for the real world. But how do you know if an online pre-health program will work for you and if it's the right one? The following list contains five components of stand-out pre-health programs that may help your learning experience be more diverse and valuable. When checking out prospective programs, look for and ask about these learning features.
Insight from a Pre-Health Program Expert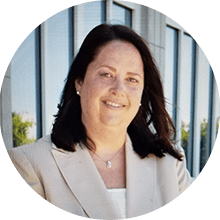 A marine ecologist and animal behaviorist, Lauren Bergey, Ph.D., is a professor of biology and dean of special academic programs at Centenary University in Hackettstown, New Jersey. She also advises pre-med and pre-veterinary students. Her current research examines the ecological impact of an invasive species of shrimp from Japan on native species of shrimp in New Jersey waters. She is also investigating canine cognition of human social interactions.
1) There are many options for pre-health students in terms of specialty tracks, including pre-med, pre-dentistry, pre-nursing, and pre-physical therapy. How and when can a student figure out which track might work best for them?
I am a strong believer in shadowing or internship experiences. Many high schools are now requiring those types of experiences, which will greatly influence a student's decision. As a college advisor at Centenary University, when a freshman comes in not knowing what track they want we immediately start asking them questions on what they like or don't like about the health sciences: Do they want to work in a lab all day? Do they prefer to interact with people (patients)? How much do they enjoy school and how many years can they go to school? These questions allow us to steer them in a direction that might be a good fit. It also allows us to determine if the student is truly passionate about the area of study or if they picked it because of influence from friends and family.
That's not to say that a student could not be successful going into a field that they are not truly passionate about, but it makes the long hours of studying much easier if they are. The next step is to get them into the field through an internship. Sometimes the only way to know that you are a good fit for a career is to go experience it firsthand.
At Centenary University, we have had students wanting to go the pre-med route complete an internship with an orthopedic surgical center. They get to observe diagnostic equipment and consultations with patients, as well as sit in on live surgeries. I have had many students come back from observing the live surgery saying they cannot do med school and have had many students coming back telling me they just witnessed the coolest thing ever.
We have also had Centenary pre-vet students participate in a necropsy, in which an ailing or sick horse must be euthanized and then dissected for an anatomy class. It is an amazing experience. Some students have switched majors after the experience because of the euthanasia piece or because of the blood and dissection. For other students, it solidifies that veterinary medicine is the perfect choice for them.
2) What advice would you give to a prospective pre-health student who's trying to decide between taking classes online, fully online, or in a hybrid format?
While some basic core curriculum courses can be completed online, in the pre-health categories it is essential to learn technique, such as holding a scalpel correctly and cutting into tissue or manipulating someone's leg or arm during physical therapy. A lot of the pre-health professions also utilizes diagnostic equipment. You can watch someone perform the diagnostic task online, but it is another thing to do it yourself. If students do take online labs, they should speak with post-graduate programs to make sure online labs will be accepted for admission into the next program they want to get into.
3) What role do advisors and professors play in the guidance of pre-health students? What does that professional relationship look like?
Typically, you find pre-health advisors very much engaged with students. These programs tend to be "lock and step," meaning if you change your schedule or drop a class it could mean an extra semester or year because of prerequisites. There are also some programs that require research or clinical hours. If students do not complete them or wait until the last minute, it will cost them more time. As an advisor for over 20 years, I have also seen that students who limit their interactions with their advisors often see an impact on acceptance into graduate programs, veterinary, and medical schools. In my experience, the students who participate more in their departments, become active in research projects, and complete internships have been accepted into graduate programs at a much higher rate — usually the programs of their choice.
4) What did you wish you knew as a young student/freshman when entering your pre-health program?
I wish I would have known how much internships help with solidifying your career choice, obtaining a job, or acceptance into graduate school. I also wish I would have known how much getting involved in an active research lab would reinforce everything else I learned as an undergrad. It would have made me understand quicker that I could be successful in graduate school. That's a big reason why I encourage students at Centenary University to become involved in undergraduate research and multiple internships.
5) What resources can students today take advantage of to help them locate the best pre-health program for them? What types of soul-searching need to be done in advance?
The internet search is the best way to get the most amount of information in the shortest amount of time. However, I highly encourage students to go meet with potential faculty and talk to the students who currently go there. Ask about graduation rates in the program, certifications, job placement, and admittance into graduate programs. Check out the campus and the surrounding town to make sure you can live there comfortably. I would also encourage students to do their homework on what their salaries will be in the career they have chosen and weigh that against the debt they will incur from student loans.
We have had several students who have gained admittance into vet school on the first try. However, after long consideration of the amount of debt (average vet student has $300,00 in loans) they changed their mind, and we were able to steer them into other health-related graduate programs or careers.
6) Any additional thoughts or things you wish to tell prospective learners in pre-health?
The best advice I received in graduate school is: If your advisor cannot be a mentor to you, go find someone who can be. Your advisor can help you choose the right courses, internships, and more. Sometimes your advisor ends up being a mentor, but if they are not, find a mentor — someone who shares their own experiences, what they did right and what they did wrong in undergraduate studies, graduate school, career, research, etc. A mentor is someone who provides emotional support, motivation, and guidance beyond what courses to take. These mentors are sometimes what get you through a program when you don't think you can do it. In both of my graduate programs, I sought out mentors beyond my advisors who truly got me to where I am today.