Written By


Expert Contributor

last updated

04/28/2023
Higher education is a serious investment. Whether you're coming straight from high school or you're a working nurse looking to advance your career, you know that money plays a big role in getting started. While scholarships can help ease the burden, if you're like most, creating a budget is a must. With careful budgeting, you can achieve your goals without going into unnecessary debt. You may even be able to start a savings fund.
Everyone student's budget will look different. From a working mother of two to a first-time college student with a weekend job, your budget will be unique to you. And while no two budgets are alike, there are some universal tips and resources that can help any prospective nursing student plan for their future. Keep reading to learn how budgeting can make your nursing school aspirations a reality and take away the strategies and expert advice you need to get started.
Questions to Ask Before You Build Your Budget
Before creating a budget, you need to consider where money is coming from, where money needs to go, and how you can save it. We help you answer these and other common budget questions below.
Who is contributing to your nursing school fund?
Are you eligible for financial aid?
Are you considering student loans or credit cards?
Have you been awarded any nursing school scholarships?
Will you be working part-time, full-time, not at all?
Beginning Your Budgeting: 6 Steps to Get Started
Understanding your budget can help you live within your means while in school. When creating a budget, you can take specific steps to ensure your calculations are correct and don't leave you lacking funds while attending college and shortly thereafter. By following the steps outlined below, you can feel confident in your nursing school budget.
Step 1
Estimate (or overestimate) your expenses
Figuring out how much money you need to live on is incredibly important when creating a realistic budget. Make a list of all your expenses and estimate how much each cost. Be sure to estimate these costs consistently by month, semester, or year. Overestimating these items can pay off in the long run because you run less risk of an empty bank account. In addition to considering factors such as housing, food, utilities, and transportation, think about nursing-specific costs as well. Will you need to buy scrubs and nursing tools for your clinical rotations? Does your school charge additional fees for certain nursing classes? How much will textbooks cost? Be sure to consider each of these.
Step 2
Estimate (or underestimate) your earnings
After figuring out how much you plan to spend, it's important to understand how much money you'll be receiving from all sources of financial assistance, whether that is by working, loans, scholarships, grants, or gifts. By underestimating what you think you will make, any funds earned above that amount can act as a buffer or small savings account for unforeseen expenses that will undoubtedly pop up.
Step 3
Determine how much aid you'll receive
Determine how much financial aid and income you'll receive through all sources combined: financial aid, scholarships, grants, and other assistance such as gifted funds by your family or employer. Will all of these types of aid be enough to cover the cost of your education, or do you need to take out loans? If so, what amount in loans? Do you need to take out loans for living costs associated with getting a degree, or can you cover those costs yourself? By understanding how much money you'll receive from these sources, you can create a more accurate budget.
Step 4
Evaluate your needs versus your wants
Understanding and properly categorizing needs versus wants is an integral part of the budget-making process. It can become confusing, however, when an item seemingly fits in both. For instance, you need to eat to live. While food may be a need, food prepared by a restaurant is a want. Similarly, a place to live is a need, while a stylish apartment in the coolest new high-rise is a want. By critically thinking through each of your main spending categories and figuring out what you need versus what you want, you can shave hundreds of dollars off your budget each month.
Step 5
Track your expenses
It might seem annoying given that you're already super busy but keeping up with your actual expenses can help you stay on track and avoid costly mistakes. We recommend sitting down with your online banking program or budgeting app to review actual costs on a weekly or bi-weekly basis. This can help you avoid overspending, locate areas where your budget may need reallocating, and keep on top of how much money is in your account.
Step 6
Set goals for yourself
Even though money might be tight, you can still set financial goals while in nursing school. If you have credit card debt, try to pay this down on time and as fast as possible since it charges the highest interest rate. Decide to set aside between 10-20% of your money to save for future expenses, including advanced education. If possible, find ways of reducing your living expenses even further and use the extra money to start paying towards your student loans even while still in school. Lastly, remember that living on such a tight budget is temporary; if you set reasonable goals now, you will benefit from them later on.
Tips for Managing & Updating Your Nursing School Budget
No budget remains static the whole time you're in school. You may receive more scholarships but less financial aid. Your living situation may change. With these factors in mind, you must keep your budget up to date to reflect changes. Here's are some tips to help you stay current and organized.
Tip: Reevaluate your budget quarterly
Reevaluating your budget quarterly or at the end of each semester can help you stay on top of what needs to change within your budget. Perhaps you budgeted too much for your utilities but not enough for groceries. Maybe there's space to add a little more to your monthly savings goals. By regularly revisiting your budget, you can readjust as needed. Create reminders in your calendar and, if possible, ask a roommate, family member, or significant other to hold you accountable.
Tip: Automate when possible
Trying to keep up with your budget while also taking classes, participating in clinical rotations, maintaining a job, and keeping up with your personal life can be quite the challenge. Rather than spending hours each month making sure you pay bills on time and avoid late fees, consider automating them. This can be especially helpful for payments that you know will be about the same amount each month, including rent, utilities, car payments, health insurance, and other static expenses. If you automate credit card payments, remember that if that if those payments fall below the requirements, you will acquire heavy fines.
Tip: Aim to lower necessary expenses
You can use several different methods to lower the necessary costs. For instance, rather than buying new textbooks at the campus bookstore, see if they have used ones. Also, check with your teachers about the proper edition and see if you can find used books online. Rather than ordering takeout multiple times a week, buy groceries and create your favorite meals. When possible, use public transportation to save money on gas and parking fees. Look into whether parking off of campus is less expensive than buying an on-campus parking pass.
Tip: Build your credit wisely
Building credit while in college may seem counterintuitive, but there are several steps you can take to begin building your credit and ensure you have a score that helps you avoid exorbitant interest rates. When possible, get a credit card with a low spending limit and practice paying it off monthly and on time. Lastly, don't open several different credit accounts at once because this can impact your score negatively.
Tip: Keep records and stay organized
To reevaluate your budget, track your expenses, and lower your costs, you need to understand the state of your finances. The best way of doing this is to keep detailed records and make sure all your account information stays organized. Logging in regularly to your online banking and credit card accounts is a good start It is also very helpful to use apps such as QuickBooks, Mint, Wave Accounting, and You Need a Budget, to integrate all of your accounts into one place for easy organization and review.
Expert Advice on Budgeting for Nursing School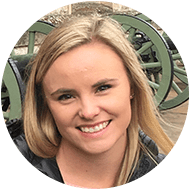 Alaina Ross is a full-time RN with 10 years of experience as a post-anesthesia care unit nurse in some of the largest hospitals on the west coast. On the side, she also acts as a TEAS and NCLEX tutor and an expert contributor for Test Prep Insight, a test-prep company that helps nursing students prepare for exams like the TEAS and NCLEX.
Q: What tips do you have for nursing students looking to budget effectively while in school?
A: I love this question because I was a huge budgeter while in nursing school! I paid for school myself (with the help of student loans), so saving money where I could was really important to me. My best tips to effectively budget while in nursing school include creating a spreadsheet of your expenses, down to the penny. You have no idea just how much money you spend until you see it on paper. Track your monthly expenses down to the last cent. This will help give you a big picture idea of your budget. Then from there, cut out luxuries like Starbucks and eating out.
I couldn't believe how much I spent on takeout. I quickly learned to cook almost all my meals at home. And perhaps my biggest tip is to hold yourself accountable to your budget. Do whatever you have to in order to commit. For me, this was weekly check-ins with my dad to ensure I was staying on track. For others, it might just be tracking their expenses in an app, or even just periodically updating their spreadsheet. Do what you need to in order to stay accountable to your bottom line.
Q: What surprised you most about this process?
A: After never really caring about a budget, I was shocked at how well it worked when I kept myself accountable. I was so surprised by how little I really needed to be happy and get by. At my leanest, I was able to live on just $200/month outside of rent and utilities (granted this was 10 years ago around the time of the recession, and I was living in Nevada). But you'll be shocked how little you really need to get by.
Q: Did you seek any outside advice on creating your budget? Where might students find help with the budgeting process?
A: I was very lucky that my father was a financial planner, so he helped me create my budget. And my boyfriend was an excel wizard, so he created my spreadsheet for me. If you have a family member or significant other that is good with money or spreadsheets, leverage your network to help you. Don't be afraid to ask for help, especially when you're in school. Also, I read a ton of nursing blogs about budgeting. There's a ton of great info out there on how to budget while in school.
Q: What are some questions nursing students should ask themselves when developing a budget?
A: You should ask yourself, what do I really need to be happy? The answer may surprise you once you've adjusted to your new student life. You should also ask, what are the non-negotiables? You have to leave some expenses; you can't cut everything. And lastly, ask yourself, how often do I really need to go out? Hitting the bars costs so much, so reassess how much you go out. Though this decision may be made for you by the rigors of nursing school.
Resources for Creating Your Nursing School Budget