Written By


Meet the Expert

last updated
06/07/2023
Do you feel like you love most animals more than some people? Just think: With the right degree, your passion for animals can translate into a rewarding career. Notably, the Bureau of Labor Statistics reports that demand for roles like veterinary technologists and technicians will increase by an impressive 20% by 2031, far outpacing the average job growth rate. Whether you dream of working in a veterinary medical practice, wildlife conservation, or animal research, earning an animal-related degree can help you launch a profitable career – and this guide will help you explore some of the best options. Keep scrolling to evaluate if working for animals is the right fit for you, explore academic pathways leading to animal-focused careers, and identify scholarships specifically tailored to animal lovers.
8 Questions to Decide if Working with Animals is Right for You
As you contemplate a career in an animal-centric profession, it's important to carefully assess your interests and capabilities. The following eight questions are designed to help discern your place within the diverse world of animal-related careers. Bear in mind, there are no right or wrong answers, so don't feel discouraged if your answers surprise you. Self-reflection and honest responses can help you narrow down the options to find a degree that perfectly aligns with your priorities, strengths, and unique personality.
Am I comfortable with the less glamorous aspects of animal care?
Your affection for animals may stem from pet ownership, observing wildlife, or visiting parks and zoos. However, there are many less-than-glamorous aspects of animal care that you may encounter. For instance, you may have to clean up after animals, administer vaccinations, or manage unruly creatures. Many animal professions can also be quite physically demanding, requiring long hours, substantial travel, and extensive time spent on your feet. If you're comfortable with these realities, you'd likely be well-suited to hands-on animal care professions. Working as a veterinary technician, technologist, or in animal care at zoos and aquariums would allow you to work directly with animals. Conversely, if these tasks seem daunting, consider roles that support animals indirectly, such as an animal law attorney, wildlife photographer, or non-profit animal care advocate.
Am I interested in the science and medical side of animals?
Animal-related majors typically require significant coursework in math and science. Having a solid understanding of sciences such as anatomy, physiology, and biology is crucial to understanding and evaluating animals and their environments. You can choose specific specializations that don't heavily focus on the scientific and medical aspects of animal welfare and care, but keep in mind that virtually all programs will include at least a foundational biology component. In contrast, veterinary programs particularly emphasize science and medical training. If you're a science lover, a career in veterinary medicine, animal nutrition, or research could be profoundly rewarding, as these disciplines are all heavily rooted in science and have rigorous academic requirements. On the other hand, if you're not intrigued by medical and scientific studies, consider learning pathways that focus on animal observation, behavior, or policy.
Am I prepared for the emotional challenges?
Animal-related majors typically require significant coursework in math and science. Having a solid understanding of sciences such as anatomy, physiology, and biology is crucial to understanding and evaluating animals and their environments. You can choose specific specializations that don't heavily focus on the scientific and medical aspects of animal welfare and care, but keep in mind that virtually all programs will include at least a foundational biology component. In contrast, veterinary programs particularly emphasize science and medical training. If you're a science lover, a career in veterinary medicine, animal nutrition, or research could be profoundly rewarding, as these disciplines are all heavily rooted in science and have rigorous academic requirements. On the other hand, if you're not intrigued by medical and scientific studies, consider learning pathways that focus on animal observation, behavior, or policy.
Am I prepared for the financial implications?
Dedicating your life and career to animals can be incredibly emotionally rewarding, but it's important to acknowledge the potential financial implications of earning your degree in a related field. Most professions in this sector necessitate at least a bachelor's degree, with roles in veterinary medicine demanding a further investment of time and money for higher education. Even after committing to earning a degree, you may find that animal-related careers don't offer the same financial compensation as some other fields. If you're prepared to prioritize your passion over potential earnings, then go forth wholeheartedly. However, if financial stability is a significant concern and a priority for you, explore roles in animal health or large-scale animal-related industries, such as pet food or pharmaceutical companies. These areas often provide a better balance between your love of animals and the need for financial security.
What is my motivation for working with animals?
Your aspiration to work with animals likely springs from a deep love for all living creatures. However, your underlying motivations and the impact you'd like to leave in the animal world can undoubtedly shape your career trajectory. Animal-related degrees can open the doors to conserving wildlife habitats, enhancing the nutritional quality in farming settings, or providing daily care for pets. Therefore, dig deep and identify the particular animals and environments that spark your interest. Evaluate the legacy you'd like to establish and consider what kind of a mark you'd like to leave in the field. Consider how closely you want to work with animals and exactly how you want to help them. If you're driven to protect animal rights, consider degrees that lead to working in animal law or policy. A veterinary technology degree could be an excellent match if you're motivated by a desire to heal animals and provide for their primary care needs.
What is my tolerance for risk and unpredictability?
While it's easy to gravitate toward the more heartwarming aspects of animal care, it's vital to remember the unpredictable nature of working with animals. Unexpected emergencies, urgent medical needs, and erratic animal behavior are often part of the job, and you'll need to be able to stay composed under pressure. If you're able to remain calm and cool in the face of these challenges and are willing to accept the potential risk of being bitten, scratched, or kicked by an animal, then you're a good candidate for roles as an animal medical care provider, wildlife rehabilitator, or animal behaviorist. On the other hand, if the stress and unpredictability give you pause, consider supporting careers that don't necessarily involve direct animal care. Animal policy and advocacy could allow you to help animals from an office setting, while roles in animal nutrition and research blend animal contact with more controlled work environments.
What type of animals am I most interested in working with?
While all animals are fascinating and wonderful in their unique ways, individuals often have affinities for certain types. Your personal favorites can significantly guide your academic and professional choices, so it's essential to consider which animals you're most inclined to work with before choosing a degree to pursue. If you're drawn to domesticated animals, careers in animal training or traditional veterinary practice might be your calling. Conversely, if you're passionate about wildlife, you may want to focus on observing these creatures and studying their interaction with their environment and humans. Marine biology or aquaculture could present a compelling study path for marine life enthusiasts. You may even choose to specialize within a discipline, concentrating on one particular category or type of animal. Your love for specific animals can serve as a compass that leads you toward an enriching and rewarding career path that suits your unique interests.
What type of work environment suits me best?
The scope of animal-related professions is vast, and you'll also find they can span diverse settings. You'll find animal lovers working everywhere, from farms to zoos, laboratories to the great outdoors. Certain professions, like animal research, adhere to traditional working hours, while others, such as emergency medical care, demand more flexibility. Your preference in working environments, conditions, and availability could influence your potential career choices. If a structured setting with predictable hours aligns with your lifestyle, consider roles in clinics, research facilities, or animal-related corporations. Field-based professions like wildlife observation and marine biology could be more appealing if you're called to the outdoors and can adapt to varying weather conditions and environments. Having a firm grasp on your preferred environment allows you to tailor your career to fit your lifestyle needs and personal comfort preferences, in turn enhancing your job satisfaction and performance.
Best Degrees for Aspiring Animal Professionals
Embarking on a career with animals all begins with choosing the best degree for your aspirations and needs. Future animal professionals have a wealth of study paths to choose from that cater to diverse interests and talents, from direct animal care to research and conservation. This section will guide you through a list of the top degree choices in the field, along with a short description of each. Keep reading to explore which options are the best fit for you.
Animal Behavior and Ethology
This degree delves into the hows and whys of animal behavior, from fundamental biology to behavioral patterns. Ideal for those interested in the scientific study of animals, these programs explore the connections between biology, cognition, and how factors like physiology and the environment can influence animal behavior. With a bachelor's degree in animal behavior and ethology, career opportunities abound in fields like animal training, research, or wildlife conservation.
Animal Nutrition
This major focuses on the dietary needs of various animals, from pets to livestock to wildlife. You'll learn about the nutritional components of varied foods, optimal dietary practices for animals, and the profound impact of diet on animal health and performance. This degree is especially popular for those interested in animal health and working in pet food industries or livestock management. If you're a hands-on learner with strong communication skills and looking to apply knowledge directly to the field, this degree may be a perfect match.
Animal Science
When you pursue an animal science degree, you'll study animal biology, breeding, and management. You'll delve into various subjects, including physiology, genetics, and welfare, and be presented with the option to specialize in an area of interest. This major is particularly well-suited for analytical thinkers and can pave the way to farming or livestock management roles. Moreover, it's an excellent stepping stone toward veterinary school. Because admission to veterinary programs can be very competitive, an animal science degree can help strengthen your future application.
Conservation Biology
If you are captivated by biodiversity and the safeguarding of wildlife, a degree in conservation biology is the perfect choice. This interdisciplinary major merges principles of ecology, biology, and environmental science to help you understand and protect natural ecosystems. You'll learn about imminent threats to animals, plants, and their habitats while evaluating the human impact on biodiversity. If you're passionate about addressing environmental and ecological challenges or want to move on to higher education in environmental science or law, consider pursuing this area of study.
Marine Biology
This major immerses you in the fascinating scientific study of marine organisms and their ecosystems. Your coursework will span marine ecology, oceanography, and marine conservation. Many marine biology students opt to specialize in a specific marine species or habitat, preparing for careers at academic institutions, research facilities, aquariums, or conservation agencies. This field is an excellent choice for those eager to work with oceanic animals, drive marine conservation efforts, or develop sustainable aquaculture practices.
Veterinary Medicine
This rigorous professional degree program will prepare you to diagnose and treat animal health issues with a comprehensive array of science courses, including anatomy, physiology, and pharmacology. Designed for those aspiring to become veterinarians, the Doctor of Veterinary Medicine (DVM) degree requires four years of postgraduate study to build advanced skills and knowledge in the field. If you love animals and animal health and are up for the challenge of a long educational process, this could be the ideal degree for you.
Veterinary Technology
Earning a degree in veterinary technology equips you to become a vital and valuable member of a veterinary medical team. Your studies will encompass comprehensive animal care, standard medical procedures, and laboratory work, preparing you to assist veterinarians with their work. On the job, you might assist with surgeries, take X-rays, or perform routine laboratory tests on animals. This degree is a strong choice for those who want to provide hands-on animal care in veterinary practices without becoming a full veterinarian.
Wildlife Biology
A major in wildlife biology focuses on the study of wild animals, emphasizing their conservation and management. This program encompasses diverse subjects, including wildlife management, animal preservation, and animal behavior. You'll also learn how outlying factors such as disease and environmental change impact animal populations. If you're excited by the prospect of field-based learning, intensive research, and venturing to new locations to observe animals, this major aligns well with your ambitions.
Zoology
As a zoology student, you'll study various animals, learning more about their behavior, habitats, and evolution. This degree embraces the study of all animal types, from insects to mammals, across diverse environments. Though the field of study begins with a broad focus, you may specialize in a particular animal group, such as mammals or birds. A zoology degree can help you launch various animal-related careers in universities, research institutions, and zoos.
Ultimate Tip: Explore Indirect Degrees
While the degrees we've listed above certainly provide a pathway to working hands-on with animals, many animal-related careers benefit from other degrees. A business degree can help you establish a successful pet-friendly business or manage a veterinary practice. With a communications degree, you could become a wildlife documentary filmmaker or manage public relations for an animal charity. Those with law degrees can work toward better environmental policies and regulations that protect animals and their habitats.
Scholarships for Animal Lovers
Pursuing your passion for animals through education doesn't have to be financially overwhelming. For students dedicated to the study and care of animals, a variety of funding opportunities are available through scholarships. This section highlights a list of scholarships specifically designed for animal lovers. These financial aid resources can help alleviate the cost of higher education and pave the way toward achieving your academic and professional dreams.
The Animal Welfare Institute invests in future leaders who will work to improve animal welfare. High school seniors in the United States may apply.
The Animal Welfare Institute and the Humane Education Network team up to offer scholarship funds to students with the best essays promoting the humane treatment of animals.
The Dairy Shrine offers several scholarships and student awards for U.S.-based dairy and agricultural majors attending colleges and universities in the United States.
This scholarship is awarded by the National Oceanic and Atmospheric Administration (NOAA) to students of master's and doctoral degree programs in oceanography, marine biology, or maritime archaeology.
The National Oceanic and Atmospheric Administration recognizes outstanding undergraduate students in NOAA mission fields with academic scholarships and paid summer internship opportunities.
This scholarship for female doctoral fisheries students is presented each year by the American Fisheries Society (AFS). Applicants must be a female PhD student conducting aquatic research in line with AFS objectives.
Merck and the American Veterinary Medical Foundation partner to offer a scholarship to second- and third-year veterinary students at accredited veterinary schools in the United States, Canada, and the Caribbean.
This scholarship is open to students who are interested in working with companion animals and want to work in the field of animal health and nutrition.
This scholarship is open to graduating high school seniors and college freshmen, sophomores, or juniors who write an essay of 400-500 words on how growing up with a pet impacted their life.
This scholarship is awarded to a Black high school senior or college student with an interest in veterinary medicine or technology.
Hear From a Biologist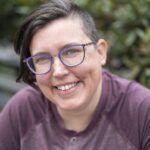 Cassidy Cobbs (they/them) is a molecular and evolutionary biologist by training and trade, with a BA from the University of North Carolina, a BS from North Carolina State University, and an MS from Vanderbilt University. During their career, they have performed extensive field and laboratory work in animal research. They currently work as a senior project manager and scientific liaison for the Integrated Genomics Operation at Memorial Sloan Kettering Cancer Center. A native of northwest North Carolina, they lived mostly in the woods until moving to Manhattan eight years ago. As they are now a biologist heavy on the "molecular," their animal handling is now limited to a 4-year-old pit bull named Mando.

What motivated you to pursue a career working with animals?
I grew up semi-feral in the southern Appalachians, so I spent a lot of time handling critters before I was even thinking about work. We especially liked catching salamanders (there is amazing salamander biodiversity in that region, not that I knew that as a kid) and playing with woolly worms (larval Pyrrharctia isabella, the Isabella tiger moth). We also did a lot of birdwatching and saw evidence of our mammalian neighbors (deer, black bears, bobcats, foxes) regularly. So it was sort of natural to continue on in that realm as I started narrowing my studies.
Which majors/degrees did you pursue in college, and why? How do they apply to your current work?
I have a BS in Biological Sciences and an MS in Evolutionary Biology. While there are many paths to acquiring the knowledge you need (pure experience is totally reasonable!), I like having a solid basic science background to build on. Right now I do more molecular biology work, so there's no direct animal handling, but even then, having experience working with the whole animal can be useful in contextualizing your findings (and troubleshooting, sometimes).
Are there any specific skills or qualifications you believe are essential for someone who wants to work with animals in a professional capacity?
For fieldwork, it's definitely helpful to have experience hiking or camping or generally existing in nature. When I was trapping rodents in the field, I encountered all kinds of things — rattlesnakes, fire ants, black widow spiders, ticks — that it's good to already know how to deal with. If you're stressed about non-target critters, you can't give your full attention to your study animal. And in general, whether you're working with insects or mice or charismatic megafauna, I think it's important to be patient and compassionate with all animals.
What are some of the challenges you've faced in your career? How did your education prepare you to handle these situations?
Fieldwork involves a lot of noncooperation. I had a whole season where the cotton rats we were trying to trap were just…absent. In that case, it was collaboration that saved the day, as another lab was willing to share from their collection the previous year. In another case, I was having a very hard time extracting RNA from midge larvae we were studying. General science education teaches you how to think about a problem, and having an educational history broader than just the insect I was working with was helpful too — commensal fungi were inhibiting my reaction, so I had to change my protocol to get rid of fungal cells.
How do you continuously learn and grow in your career, especially considering advancements in animal science and care?
Keeping up with the literature is a full-time job. But going to conferences and maintaining relationships with other professionals in your field to share info are what I'd consider the best ways to be sure you're hearing about and incorporating advances.
What advice would you give to someone just starting college who wants to work with animals?
Get your hands dirty! It's really hard to rely only on class and class-based labs for experience. Using fruit flies for a genetics lab isn't nearly the same thing as working in a research lab that maintains breeding colonies, for example. But also, there are a lot of educational resources out there beyond standard classwork — when I started grad school, I went to a two-week short course on insect behavior to learn more about finding and handling bugs that was amazingly helpful!
What are some of the most rewarding aspects of your career?
Any time I get to contribute to new knowledge in the world, I consider it a good day!
Are there any misconceptions about careers working with animals that you'd like to address?
The biggest one that I encounter regularly is that nobody cares about lab animals. Every lab I've worked in, without exception, has treated their study animals with care and compassion. My first PI (principal investigator) even chastised a grad student during a lab meeting because he didn't think the student's language was respectful enough when talking about the pigs we worked with. One of the labs in my group fed their mosquitos from their own arms. Another rehomed their Madagascar hissing cockroaches when their study ended instead of euthanizing them (and insects are not even subject to regulatory requirements like vertebrates).