Best Online Health Information Management Programs for 2020
Achieving your education and career goals in health information management starts by finding the right degree program for you. This can take some real time and effort, but we're here to help in your search. EduMed has surveyed online health information management (HIM) degrees currently being offered in the U.S., vetting each program based on a number of important factors, including accreditation, affordability, study format and flexibility, and curriculum comprehensiveness. The result is our list of the top online HIM programs for 2020. Here's who made the cut, starting with three of the very best.
Weber State University

Western Governors University
How to Choose a Quality Online Health Information Management Program
Once you've decided that pursuing a career in health information management is what you want to do, it's time to find the right degree program to get you there. Before diving into the details of online HIM degree programs themselves, it's important to know what qualities to be on the lookout for in those programs. Here are the essential program features the online HIM degree program you ultimately choose should have:
Is accredited by Commission on Accreditation for Health Informatics and Information Management Education (CAHIIM). See our dedicated accreditation section below for detailed information on the importance of proper institutional and programmatic accreditation.
Fits your busy work and life schedules. Coursework for most online HIM programs is presented in an asynchronous format, allowing you to access and complete your studies at times most convenient to you. However, some programs may also include classes or other activities that require your attendance at specific dates and times. Be sure you understand all such requirements and confirm your ability to meet them.
Prepares you for RHIA, RHIT, or other professional certifications. See our dedicated professional certification section below for more details about the value of professional certifications available to HIM professionals.
Provides strong online student support. Not all online programs offer the same range and quality of student support services. Be sure to confirm the availability of important support services, like instructor access, tutoring, and academic, financial, and career counseling.
Comes in under budget. Earning a college degree or certificate is an expensive proposition. Be sure you have a complete grasp of the total cost of any program you consider and that you can afford your chosen program before you enroll.
Types of Online HIM Degrees You Can Earn Online
The bachelor's degree is the most popular option for those seeking careers in health information management, but it's not the only one. Take a look below at all of the HIM degree and certificate types currently available online.

Online Health Information Management Associate Degrees
The associate degree in health information management, typically titled AS or AAS in Health Information Technology, offers an affordable alternative to the HIM bachelor's degree for students seeking entry-level positions in the field. Students complete both general education and foundational major-related courses that prepare them for employment as health information clerks and technicians, insurance claims clerks, and medical billers and coders. Online HIM associate degree programs are plentiful and available primarily from public community and state colleges throughout the U.S. as well as private online institutions. Graduates typically qualify to sit for the RHIT certification examination.
Best for … students interested in entry-level job positions or who want to earn general education and foundational HIM course credits at a low cost before transferring on to a HIM bachelor's program.
Program Requirements
Part-Time Program: 3 years or more
Full-Time Program: 2 years

Online Bachelor's Degrees in Health Information Management
The bachelor's degree in health information management is designed for individuals intent on careers in HIM management and administration at hospitals, physicians' offices, government agencies, insurance carriers, pharmaceutical companies, and medical manufacturers. Curriculums consist of general education coursework along with major-specific classes. Most programs require four years of full-time study. However, some schools feature flexible credit transfer and competency-based credit policies that substantially reduce program lengths. Additionally, some programs for current RHIT certified professionals can be completed in as little as one year. Online HIM bachelor degree programs are plentiful and available from public and private colleges and universities throughout the nation. Most programs qualify graduates to sit for the RHIA certification exam.
Best for … students seeking to start professional careers in health information management and administration beyond entry-level technician and coding positions.
Program Requirements
Part-Time Program: 5 years or more
Full-Time Program: 4 years

Online Master's Degrees in Health Information Management
The HIM master's degree is designed primarily for professionals currently employed in the HIM field who are interested in advancing their careers into top-tier positions in administration and management. Coursework focuses on the development of advanced practice and leadership skills that can be applied within healthcare organizations and in representing those organizations in their communities, with government agencies, and throughout the healthcare industry. Curriculums typically consist of 30 to 48 credit hours of coursework and culminate with the completion of either a thesis or capstone project. While not as plentiful as undergraduate HIM programs, students will find several fully accredited online master's programs to choose from, offered by public and private colleges and universities alike.
Best for … HIM professionals seeking to move their careers into higher paying senior administrative and management positions.
Program Requirements
Part-Time Program: 3 years or more
Full-Time Program: 2 years

Online Certificates in Health Information Management
Two distinct types of HIM-related certificates are available. The healthcare coding certificate is for individuals seeking entry-level medical billing and coding jobs. Credit hour requirements and program lengths vary by program, but most programs can be completed in six months to one year with full-time study or two years with part-time study. Admission requirements also vary, but in most cases, a high school diploma or equivalent is the only major requirement.
The post-baccalaureate HIM certificate is primarily for individuals who have earned a bachelor's degree in a non-HIM major and wish to gain the knowledge, skills, and credentials needed to launch careers in the healthcare information management field. Coursework is similar to the major-specific courses required for earning a HIM bachelor's degree. Programs typically require completion of 30 to 50 or more credit hours.
Online healthcare coding and post-bachelor's certificate programs are plentiful and are offered by quality public and private colleges and universities throughout the U.S.
Best for … students who are interested in HIM careers but do not need to complete or are not interested in completing a full undergraduate degree program.
Program Requirements
Part-Time Program: 1 to 2 years for healthcare coding or 3 years or more for post-baccalaureate HIM
Full-Time Program: 6 months to 1 year for healthcare coding or 2 years for post-baccalaureate HIM
Inside Look at the Online Bachelor's in Health Information Management
It's important to have a clear understanding of all of the elements involved in online HIM academics so you know what to expect going in. Get a closer look at HIM bachelor's degree program curriculums, learning outcomes, and admissions requirements.
What do you learn in an online health information program at the bachelor's degree level?
Every health information management bachelor's program is different due primarily to the individual school's education style and philosophy as well as the specific program's unique learning outcomes and goals. Nevertheless, you can expect to encounter common HIM subjects similar to those covered in the following courses:
Medical Terminology
A strong functional knowledge of the meanings and usages of medical and healthcare terms is fundamental to the practice of all HIM professionals. Students in this course learn proper terminology employed in the discussion of various body structures, diseases, infections, immunity, and mental health, as well as proper spelling and punctuation, prefixes, suffixes, and word origins.
Health Information Systems
Legal and Ethical Issues in Health Information Management
---
The ultimate goal in earning your health information management bachelor's degree is to obtain practical knowledge and skills you can apply immediately on the first day of your first HIM job and throughout your professional career. Here's a look at several important skills you can expect to acquire during your HIM bachelor's degree program:
Competently manage patient healthcare records in a manner that maintains organization compliance with applicable laws, regulations, and license and certification standards.
Effectively evaluate and manage organizational resources applicable to the quality practice and improvement of health information services within your organization and the broader health information services field.
Competently evaluate and apply healthcare-related information and data, research findings, and the most recent management and performance improvement strategies to your organization's health information practices.
Effectively apply reasoning and problem-solving techniques to relevant HIM practice issues.
Demonstrate competency in leadership, communication, and collaboration with team members and others involved in the carrying out of your duties and responsibilities as an HIM professional.
What are typical admissions requirements for a health information management bachelor's degree?
Admission requirements for HIM bachelor's degree programs vary somewhat depending on the specific program, so be sure to carefully review all requirements for any and all programs you are considering. Nevertheless, the program you choose will likely come with admission requirements similar to the following:
High school diploma or equivalent (such as a GED).
Many degree completion programs require an HIM-related associate degree and/or RHIT certification.
Non-native English speakers are typically required to submit a TOEFL score or similar test score to demonstrate English language proficiency.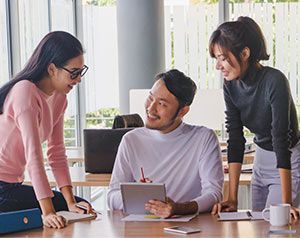 FAQs About Online Health Information Management Degree Programs
Are online health information management degree programs accredited?
The answer to this question is yes, and that goes for all degree levels and certificate programs. In fact, you should only consider programs with proper accreditation because it is through the accreditation process that you (and employers) can be sure that your HIM program has met important minimum standards for academic quality. There are two forms of accreditation to look for: institutional and programmatic. Institutional accreditation refers to accreditation of the entire college or university. Institutional accreditation in the U.S. is handled through several independent regional and national agencies approved by the Department of Education.
Programmatic accreditation validates individual degree and certificate programs. Programmatic accreditation of HIM programs in the U.S. is administered by the Commission on Accreditation for Health Informatics and Information Management Education (CAHIIM). You can confirm a program's current accreditation status by visiting the school's program or accreditation webpage or by using these CAHIIM and Department of Education search engines.
Can you earn an online health information management degree completely online?
The answer depends on the degree level (associate, bachelor's, master's) and specific degree program. In most cases, standard coursework is completed entirely online regardless of degree level. Some online HIM associate degree programs can be completed 100% online. Others, however, include practicums and/or capstone projects the require in-person participation at an approved healthcare services site. Virtually all online HIM bachelor's and master's programs include in-person internships, practicums, and/or capstone projects.
How much does an online health information program cost?
The total cost of your HIM degree or certificate program will depend on a number of factors, including degree level, type of school (public or private), the school's geographic location, and whether or not the student is a resident of the school's home state. Below are the current (as of fall 2019) tuition rates for three online HIM degree programs to give you a bit of an idea what your degree might cost. Remember, though, that your total program price tag will also include the cost of additional fees, books, and supplies. To find out about costs for a specific program you're interested in, go to the school's ranking listed above and visit the school's tuition and fees webpage.

AAS in Health Information Technology
Total Credits: 69
$86/credit (in-state); $172/credit (out-of-state)

Purdue University (Purdue Global)
BS in Health Information Management
Total Credits: 180
$371/credit

Southern New Hampshire University
MS in Health Information Management
Total Credits: 36
$627/credit; $470/credit (U.S. service members and the spouses of active duty service members)
What can you do with a degree in health information management?
You can do many things with a health information management degree. Careers for HIM degree holders are available in a range of practice areas, such as coding and billing, revenue cycle management, medical records administration, compliance and risk management, data analytics, IT and systems infrastructure, and education. And HIM graduates find employment in a variety of professional settings, including hospitals, community health clinics, physicians' offices, public health agencies, nursing homes, long-term care and hospice facilities, integrated healthcare systems, and insurance carriers. Other HIM professionals go out on their own as consultants. Degree level also plays a key role in career success. While good entry-level jobs can be acquired with an HIM associate degree or undergraduate certificate, most professionals will find career advancement requires obtaining a HIM bachelor's degree. And employers are increasingly looking for job candidates with a master's degree to fill top administrative and management positions.
Here's a look at a few of the most popular job titles for HIM graduates:
Health Information Management Clerk
Health information management clerks perform a range of clerical functions required for collecting, filing, storing, retaining, and retrieving medical records (both digital and physical) for organizations and facilities across the entire healthcare services industry. HIM clerks also assist IT professionals in updating and maintaining medical records systems and software.
Typical Education Required: Associate Degree or Undergraduate Certificate
Career Level: Entry-level
Health Information Management Coder
Another popular entry-level position in HIM, the health information management coder is responsible for translating physician reports and patient medical records from other healthcare team members and converting them into medical codes used by healthcare services facilities and their billing departments as well as healthcare-related organizations and companies, such as insurance providers.
Typical Education Required: Associate Degree or Undergraduate Certificate
Career Level: Entry-level
Health Information Management Supervisor
Working in coordination with the HIM director, health information management supervisors help to oversee the daily operations of HIM departments primarily at hospitals, health clinics, long-term care centers, and other healthcare services facilities. Specific responsibilities include medical records processing, the release of patient information, as well as the scanning, coding, and abstracting of records.
Typical Education Required: Bachelor's Degree
Career Level: Entry to Mid-Level
Health Information Manager
Health information managers plan and coordinate all services provided by an organization's or facility's HIM department. Specific duties include maintaining large and complex patient information and treatment databases and ensuring that the information contained in those databases is accurate and secure. HIM managers also compile and analyze patient information and data for use by physicians, nurses, and other health services providers.
Typical Education Required: Bachelor's Degree
Career Level: Mid-Level
Health Information Management Director
Health information directors oversee entire HIM departments and their information systems, typically at large, complex healthcare facilities and with major health services organizations, like hospitals, long-term care centers, private physician groups, and health insurance providers. HIM directors manage health information department teams, develop organizational goals, and ensure compliance with all applicable privacy and security laws and regulations.
Typical Education Required: Master's Degree (preferred)
Career Level: Senior-Level
Additional Career Options for HIM Graduates
Other common job titles related to the HIM profession include:
Benefits Coordinator
CDI Manager
Clinical Documentation Specialist
Clinical Medical Data Coordinator
Compliance Auditor
Data Integrity Analyst
Meaningful Use Specialist
Patient Registrar
Revenue Cycle Manager
Systems Analyst
How much can you make with a degree in health information management?
The job market for HIM professionals is strong and predicted to remain so for many years to come. The same goes for HIM salaries. According to figures from the AHIMA, over half of all HIM bachelor's degree graduates start their careers in jobs with annual salaries between $30,000 and $50,000, and those with five years experience see average salaries in the $50,000 to $75,000 range. Associate degree graduates can expect starting annual salaries from $20,000 to $30,000.
The U.S. Department of Labor's Bureau of Labor Statistics (BLS) offers these salary figures (as of May 2018) for two HIM-related career categories:
Below are average salaries for a number of other popular job titles in the HIM field provided by PayScale.com*:
| Career | Average Salary |
| --- | --- |
| Health Information Management Clerk | $35,732 |
| Health Information Management Coder | $44,782 |
| Health Information Management Supervisor | $51,260 |
| Health Information Manager | $56,323 |
| Health Information Management Director | $70,988 |
* Latest published figures as of Jan. 2020
Are health information management professionals in high demand?
Yes. As with salaries, job growth in health information management and the broader healthcare field is very strong and will continue to be that way moving forward. For example, according to BLS figures, employment positions for medical records and health information technicians is expected to grow 11%, a net gain of over 23,000 jobs, between 2018 and 2028. And the total number of medical and health services management jobs is expected to increase by 71,600, a rate of 18%, during that same period. In comparison, the BLS estimates job growth of only 5% for all occupations from 2018 to 2028. This predicted robust job growth in the HIM field is due to several factors, most prominently the ever-growing healthcare needs of the large and aging baby boomer generation. Other important factors include the growing use of new technologies and continuing move toward fully computer-based medical and healthcare records.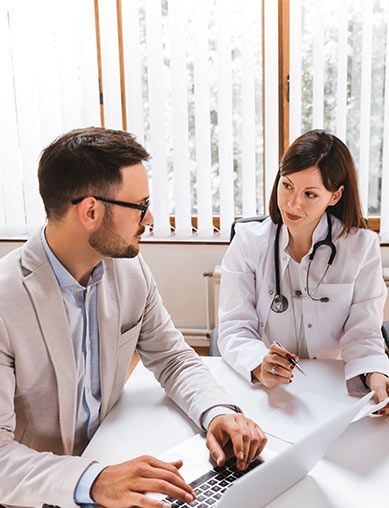 Next Steps: Earning Your RHIT/RHIA Certification
Obtaining a certification is an important way for health information management professionals to demonstrate competence in a specialized area of HIM practice, setting themselves apart from their peers and increasing their attractiveness to employers. The most popular HIM certification is the Registered Health Information Administrator (RHIA) certification awarded by the American Health Information Management Association (AHIMA). RHIA-certified professionals possess expertise in the management of patient medical records and health information, administration of computer information systems, and collection and analysis of patient data. Earning the RHIA credential requires graduation from a CAHIIM-accredited bachelor's or master's program and passing a 180-question examination.
Another popular AHIMA-sponsored credential is the Registered Health Information Technician (RHIT) certification. RHIT-certified professionals specialize in coding diagnoses and procedures in patient records and in ensuring medical record quality through verification of accuracy and completeness. Earning the RHIT requires a HIM associate degree from a CAHIIM-accredited program and passing the 150-question RHIT exam.
Other HIM-related certifications available from the AHIMA include:
Similar Degree Programs to Consider
Do you have a general interest in the collection and analysis of information and data as well as the healthcare services industry, but you're not sure that a career specifically in health information management is for you? Below are three alternative career paths you may want to consider along with the degree programs to get you started.
Health Informatics
Health informatics focuses on information systems and database design and programming for enterprise-wide healthcare systems. Health informatics degrees are available in all degree levels and offered online and on campus. Job titles for health informatics professionals include health informatics director, health informatics specialist, health informatics consultant, chief medical information officer, and healthcare IT project manager.
Medical billing concerns the submission and processing of healthcare services claims with insurance providers. Medical coding refers to converting medical services, healthcare diagnoses and procedures, and related activities into alphanumeric codes for patient records. Careers in both medical billing and medical coding require earning an associate degree, postsecondary diploma, or certificate. Online programs for all three of these credentials are available, primarily from public community and private nonprofit and for-profit colleges.
The field of nursing informatics focuses on the use of digital information systems and data technologies to improve nursing practice and patient care. The most common path to a career in nursing informatics is to first obtain an RN license followed by a BSN degree with a nursing informatics specialization or, alternatively, a BSN followed by either a post-baccalaureate certificate or MSN degree in nursing informatics. Partially online programs are available for nursing degrees but typically include on-campus coursework as well, and all degree programs will require completion of substantial in-person clinical hours.