Written By


last updated

01/20/2022
Success as an MSN informatics nursing student begins with finding the right online degree program, and that means putting in some time and effort in researching your options. We're here to help get your search off to the right start with our list of the best online MSN nursing informatics programs for 2022. We've researched online programs from schools across the U.S. and ranked them based on factors like proper accreditation, curriculum quality, and affordability. As you look over these schools, remember that the right program for you will be the one that best suits your unique professional interests, study format preferences, and work and life schedules.
or
About the ranking
X
Methodology for EduMed's 2022 Best Online Programs
1. Create List of Eligible Schools and Programs
To be eligible for this ranking, schools were required to meet the following criteria based on government data provided by The Integrated Postsecondary Education Data System (IPEDS).
Institutional accreditation from an organization recognized by the U.S. Department of Education.
At least one program in subject area offered partially or fully online.
2. Assign Weightings
After creating the list of eligible schools, EduMed data scientists assigned weights and ranked schools based on a mix of affordability, support services, and online program availability metrics. Online program availability and overall affordability metrics received the heaviest weightings.
Online Program Availability
Number of online programs in subject area reported by school to the U.S. Department of Education.
Affordability
Cost

– Relative cost of attendance compared to peer schools on the list. Based on tuition and fees per academic year.

Students w/ Institutional Aid

– Percentage of students who receive financial aid from the school itself.
Support Services
Academic Counseling

– Existence of this service on campus or online.

Career Placement

– Existence of this service on campus or online.
About Our Data
EduMed's rankings use the latest official data available from The Integrated Postsecondary Education Data System (IPEDS). Most recent data pull: July 2021
#

School Name

Type

Cost

Online Programs

More Details

School Information

Online Students

Academic Counseling

Career Placement

Students w/Institutional Aid

Median Earnings 10yrs After Entry

Accreditation

1

University of Utah

Salt Lake City, UT

Public

$$

1

Graduates of the MS in Nursing Informatics at the University of Utah enter a variety of healthcare technology positions, including nurse informaticist, clinical system analyst, chief clinical informatics officer, and management roles that take advantage of informatics experience and education. This is one of the first nursing informatics programs in the United States, and it draws stellar faculty. The program is online, though on-campus and part-time options are available. Courses include those in clinical decision support, systems analysis and interpretation, biomedical informatics, project management, and quality improvement.

Program Highlights:

MSN - Nurse Informatics

Credits: 40.5 to 42.5
Length: 5 semesters
Cost: $6,731.94/10 credits (in-state); $16,268.72/10 credits (out-of-state)
Mode: Partially online
Accreditation: NWCCU (school); CCNE (program)

Academic
CounselingYes
Career
PlacementYes
Students w/
Institutional Aid71%

Accreditation

Northwest Commission on Colleges and Universities

2

Rutgers University-New Brunswick

New Brunswick, NJ

Public

$$$$

1

The Rutgers School of Nursing offers an MSN in Nursing Informatics that requires 37 credits and 225 clinical hours. Students can complete the program in as little as two years, though part-time programs are available. Though the courses are asynchronous, there are mandatory virtual meetings where students interact with peers and professors in real-time. The 225 in-person clinical hours are completed with school partners in New Jersey. Applicants must have current RN licenses in the state of New Jersey, GPAs of 3.2 or higher, and bachelor's degrees in nursing. They must have letters of reference, as well as present scholarly papers and possibly submit to interviews.

Program Highlights:

MSN - Nursing Informatics

Credits: 37
Length: 2 years
Cost: $943.00/credit (in-state); $1,367.00/credit (out-of-state)
Mode: Partially online
Accreditation: MSCHE (school); CCNE (program)

Academic
CounselingYes
Career
PlacementYes
Students w/
Institutional Aid46%

Accreditation

Middle States Commission on Higher Education

3

University of South Carolina-Columbia

Columbia, SC

Public

$$$

1

The College of Nursing at the University of South Carolina provides students with the opportunity to join the ranks of nursing informatics through the MSN in Nursing Informatics program. Students learn to manage health care data to better inform healthcare professionals and help manage better healthcare outcomes. The program is offered online, and the practicum can be completed at a convenient pace, thus allowing students to work while they earn their degrees. The 33 credit hours can be completed in two years with the full-time option or seven semesters with the part-time option. Courses are offered in seven-week terms for even greater flexibility.

Program Highlights:

MSN - Nursing Informatics

Credits: 33
Length: 2 years (full-time); 7 semesters (part-time)
Cost: $770.25/credit (in-state); $1,438.00/credit (out-of-state)
Mode: Partially online
Accreditation: SACSCOC (school); CCNE (program)

Academic
CounselingYes
Career
PlacementYes
Students w/
Institutional Aid62%

Accreditation

Southern Association of Colleges and Schools, Commission on Colleges

4

University of Kansas

Lawrence, KS

Public

$$

1

The University of Kansas is home to the KU Medical Center School of Nursing, which offers a master's in Health Informatics. This program absorbed the Nursing Informatics program in 2019 and offers a broader depth of study for aspiring nurse informatics professionals. Graduates are prepared for positions in public health organizations, hospitals and clinics, and electronic health records vendors. Students develop skills in project management, organizational change, and impact evaluation. The 40 credits hours can be taken entirely online in the clinical or project management tracks, while those in the health policy and management or public health tracks can take courses online as well as required courses on campus in Kansas City, Kansas.

Program Highlights:

MSN - Health Informatics

Credits: 40
Length: 2 to 3 years
Cost: $421.15/credit (in-state); $989.60/credit (out-of-state)
Mode: Partially online
Accreditation: HLC (school); CCNE (program)

Academic
CounselingYes
Career
PlacementYes
Students w/
Institutional Aid67%

Accreditation

Higher Learning Commission

5

University of South Alabama

Mobile, AL

Public

$$

1

The University of South Alabama offers numerous MSN programs including that of Nurse Informatics. This program is entirely online with clinicals arranged in an approved location close to the student's home. Students take 12 credits in core courses then 25 credits in major specialty courses. Courses include Health Data Security and Computers, Resource Management Field Study, Seminar in Nursing Informatics, and Nursing Administration Finance. Students must complete all portions of the program within five years to graduate. Applicants must have valid registered nursing licenses and meet all other requirements of a general application including bachelor's degrees in good standing from an accredited school.

Program Highlights:

MSN - Nursing Informatics

Credits: 37
Length: 5-year limit
Cost: $594.00/credit
Mode: Partially online
Accreditation: SACSCOC (school); CCNE (program)

Academic
CounselingYes
Career
PlacementYes
Students w/
Institutional Aid61%

Accreditation

Southern Association of Colleges and Schools, Commission on Colleges
Nursing School Spotlights for the Online Master's in Nursing Informatics
Want to explore even more school options for your online master's in nursing informatics? Check out the three accredited programs we've spotlighted below and see if their tuition costs, online learning format, and other features match what you're looking for.
Duke University

Duke University's online MSN in Health Informatics program centers on nursing and biomedical informatics with an emphasis on real-world application. This 38-credit hour program combines synchronous and asynchronous, fully-online coursework with two, single-day on-campus sessions (one in each of the two semesters). Studies culminate in an intensive in-person practicum (minimum 224 hours) with an approved health care organization typically located in the student's local community. During the practicum, students complete an informatics-related project under the mentorship of an experienced clinician.
Admission requirements include a BSN degree from a properly-accredited college or university, or a bachelor's degree in any major combined with an associate degree in nursing. Preference is given to applicants with an undergraduate GPA of 3.0 or higher. A GRE score is not required, but may be submitted as an option. A minimum of one year of nursing experience is recommended but not required.
University of Utah

The MSN Nursing Informatics degree offered by the University of Utah provides students with the knowledge and skills needed to improve patient care and organizational processes through effective use of communication and information technologies. Students choose either a full-time, five-semester or part-time, eight-semester curriculum. Students progress through their MSN program with the same group of students. Additionally, the course of study must be started at the beginning of the fall semester. Coursework is presented in a hybrid format with most work completed online. Students are required to attend periodic in-person sessions on the university's School of Nursing campus in Salt Lake City. Students must also complete an in-person practicum.
Admission into the program requires a bachelor's degree in nursing earned with a minimum 3.0 cumulative GPA. However, acceptance into the program is limited and selective, so meeting the minimum admissions requirements does not guaranty entry.
Vanderbilt University

Vanderbilt University's MSN in Nursing Informatics program prepares graduates to collect, process, and manage data in nursing practice, research, education and administration fields, and to contribute to the expansion of nursing knowledge. Coursework for this 36-credit hour program is presented primarily in an online format. However, students are required to attend four, multi-day on-campus immersion experiences, one each at the beginning of the first two fall and spring semesters. Additionally, students complete an in-person practicum through a clinical placement in their home area. All program requirements can be completed without moving to the Nashville area.
To qualify for admission, applicants must have a BSN, ASN, or ADN degree, or nursing diploma. Applicants without a BSN must complete a two-year, part-time sequence of bachelor's-level courses before continuing on to complete the degree's informatics specialty courses. Additionally, an applicant must be licensed as an RN and eligible to practice in the state where he or she will be completing the required clinical practicum.
FAQs About Online Nursing Informatics Master's Programs
The best decisions are always informed ones. Below are answers to a few of the most commonly asked questions by prospective informatics MSN students.
What exactly is nursing informatics?
According to the American Nurses Association, nursing informatics "integrates nursing science with multiple information and analytical sciences to identify, define, manage and communicate data, information, knowledge and wisdom in nursing practice." Put simply, nursing informatics involves using information and data technologies to improve nursing practice and patient care. With practically all patient data and medical practice information kept electronically today, the importance of informatics to modern healthcare can't be overstated. This is a rapidly-growing area of nursing practice with great career potential.
What do you learn while earning a master's in nursing informatics online?
As you research potential nursing programs, you'll find that each one takes its own approach to informatics education, with varying areas of emphasis in academic presentation and practical application. Nevertheless, you can expect all programs to include common requirements, such as clinical experiences and capstone projects, as well as coursework in topics like mobile technologies, virtual reality, project management, evidence-based practice and decision-making, and current and emerging digital technologies and analysis tools.
Here are some courses similar to those you'll likely find in your online MSN Informatics program's curriculum:
Foundations of Nursing Informatics
Introductory course covering the basic theories and concepts taken from both computer science and nursing science that intersect to form the foundation of nursing/health informatics practice. Topics covered include healthcare computing, systems design and analysis, knowledge generation, nursing vocabularies, and the ethical and social issues related to health information gathering and security.
Healthcare Leadership
This course provides a comprehensive examination of the theories and concepts of leadership, and their application in the day-to-day practice of nursing. Emphasis is placed on the development of leadership skills based on basic competencies such as professionalism, business principles, communication, relationship management, and knowledge of healthcare systems and the health services environment.
Project Management
As healthcare leaders, MSN nursing informatics professionals are often called upon to take charge of specific projects within their organizations. This course surveys the range of skills and methods employed in the design, planning, and management of scalable projects. Specific topics covered include time and cost management, quality control, human resource management, risk assessment, and effective communications.
Statistics and Data Management in Healthcare Systems
This course provides an introduction to statistical analysis, data management, and measurement theory as it applies to nursing and the broader healthcare field. Specific areas discussed include hypothesis testing, multivariable model building, probability, data preparation and display, and statistical testing. Students additionally gain hands-on experience in the use of statistical software.
Nursing Informatics Practicum/Capstone Project
Virtually all informatics MSN degree programs culminate in the completion of a practicum experience and capstone project. The purpose of the practicum/capstone project is to allow students to demonstrate the knowledge and skills they have gained throughout the course of their degree studies by applying them in a real-world practice setting.
---
Upon completion of your MSN in Informatics studies, you will have obtained a solid base of professional knowledge and practical skills that you'll be able to apply effectively starting with your first day on the job and lasting throughout your career. Among the many important skills and knowledge you'll attain are:
A clear understanding of how information technology and data management can be used to resolve problems related to healthcare services delivery and improve patient health.
The ability to integrate the best practices of nursing science with related fields like physiology, psychology, business and finance, politics, and public relations to better serve your organization and its patients.
The tools to work collaboratively across disciplines and communicate with other team members to resolve healthcare-related problems through the use of cutting-edge information technologies.
A strong working knowledge of the laws, regulations, and key ethical issues applicable to the professional practice of nursing informatics.
The ability to effectively lead others in your organization and contribute to the progression of the nursing informatics profession as a whole.
Can you earn an MSN informatics degree completely online?
The simple answer is no, although some programs feature coursework that is completed 100% online. Most programs, however, include some form of on-campus participation, often in the form of brief (one- to three-day) orientation sessions at the beginning of each term or semester that allow students to participate in seminars and meet with faculty, career counselors, and fellow students. Additionally, all programs include a practicum experience that incorporates substantial in-person clinical hours at a program-approved healthcare facility, typically in the student's home area.
How long does it take to earn a nursing informatics master's degree online?
Degree completion times vary substantially from program to program based on a number of factors, including full-time vs. part-time study and the number of previously-earned college credits that can be transferred in. For example, Liberty University's accelerated program can be completed in as little as 12 months. Most programs, however, will require one-and-a-half to two years of full-time study or two-and-a-half to three years of part-time study. Keep in mind that schools are keenly aware that most of their students will pursue their degrees while maintaining their current employment, and therefore allow for some flexibility when it comes to completion times.
How much does an online MSN in informatics cost?
The costs associated with earning an online MSN in Informatics degree depend greatly on factors such as total program length and whether your program is offered by a public or private institution. To give you an idea of how much you might spend earning your degree, here are the current (as of fall 2019) tuition costs for three online informatics MSN programs. To find out the cost of more programs, check out the rankings list at the top of the page and visit the program's tuitions and fees webpage.

---
MSN: Nursing Informatics
Total Credits: 36
$565/credit (Full-time); $615/credit (Part-time)

---
MSN: Nursing Informatics
Total Credits: 40
$824/credit (In-state); $1,461/credit (Out-of-state)

---
MSN: Nursing Informatics
Total Credits: 36
$1,642/credit
Do you need a BSN to get into an online MSN informatics program?
In most cases you will need a BSN degree earned from a properly-accredited college. However, some online informatics MSN programs will accept applicants with a bachelor's degree in a non-nursing major or with a nursing associate degree or diploma. Be sure to consult with the admissions office at each of the schools you are considering before submitting your admissions application.
Paying for Your Online Master's in Nursing Informatics
Earning an informatics MSN degree can require a substantial financial commitment. And finding the cash to fund your degree may seem like a daunting task. Fortunately, there are several ways to help ease the burden. Here are a few of the most common:
Scholarships
Scholarships are probably the most attractive option for financing your degree since they are, in essence, free money. However, scholarships can be incredibly competitive and are awarded on the basis of the student's scholastic achievements, a specific talent (athletic, artistic, etc.), or involvement in charitable or other voluntary activities. Additional factors sometimes considered include a demonstrated financial need or belonging to a particular demographic group. For more information on scholarships and award opportunities, visit EduMed's scholarships for medical and healthcare students page.
Grants
Similar to scholarships in that they are not paid back, grants are another highly sought-after source of college funding. The biggest difference between scholarships and grants is that most grants are awarded primarily on the recipient's financial need. The single largest source of grant funds is the federal government, but most federal grant money is reserved for students pursuing undergraduate degrees. Other grant sources for MSN students include state governments, private and nonprofit organizations, and graduate programs and schools themselves.
Federal Loans
Student loans are the most common form of financial aid and one of the easiest to obtain. Student loans differ from scholarships and grants in that the funds received must be paid back with interest, according to the payment schedule included in the loan agreement. Not surprisingly, a major source of loans for MSN students is the federal government with Direct PLUS Loans being the most common. Applying for a federal student loan or any other form of federal student financial aid requires submission of the FAFSA application.
Additional Funding Sources
Another popular source for funding your MSN in Informatics degree is employer-sponsored tuition reimbursement. Be sure to ask your employer about availability. And for current military and veterans, check out the education benefits offered through the GI Bill.
To learn more about degree funding options, contact the financial aid offices at each of the schools you are considering. And be sure to visit EduMed's Pay Less for Education guide.
Accreditation Standards for Online Nursing Informatics Programs
Accreditation is the process through which colleges and universities, and the degree programs they offer, are vetted to ensure that they meet specifically-stated standards of quality. There are two basic types of accreditation to look for. The first is institutional accreditation, which refers to accreditation of the college or university as a whole. Institutional accreditation is handled by several national and regional agencies approved by the Department of Education (DOE). The second type, programmatic accreditation, concerns the accreditation of specific degree programs offered by colleges and universities. Accreditation of MSN programs in the U.S. is administered by two agencies: the Commission on Collegiate Nursing Education (CCNE) and the Accreditation Commission for Education in Nursing (ACEN).
Proper accreditation is extremely important, and you should only consider those online programs that have it. Confirming an informatics MSN program's accreditation status is easy. You can normally find current accreditation information on each individual program's website. If not there, check out both of these program locator tools provided by the CCNE and the ACEN. You can also find both institutional and programmatic accreditation information through this DOE database.
Looking Ahead: What's Next After Earning Your Informatics MSN Online
It's critical to learn as much as possible about all of your online informatics MSN program options. It's just as important, however, to have a solid understanding of the nursing informatics profession as a whole, as well as the career landscape for informatics MSN graduates before signing on to any degree program. Here's more on what you need to know:
Do you need a special certification to work or advance in nursing informatics?
In the United States, professional certification in nursing informatics is offered by the American Nurses Credentialing Center (ANCC). Obtaining the ANCC's Informatics Nursing Certification is not a requirement for practice in the field, however, and there is no specific state licensure of nurse informaticists (although practitioners must, of course, be licensed as an RN in their state). Nevertheless, possessing the Informatics Nursing Certification will likely increase the holder's attractiveness to employers and enhance their chances for career advancement.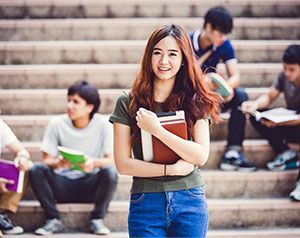 What can you do with a nursing informatics MSN?
Nursing informatics is a rapidly-growing field both in the U.S. and around the world. The use of digital technology in medical record-keeping and healthcare services management is here to stay, suggesting that the demand for highly-skilled nursing informatics professionals will remain strong moving well into the future. Career opportunities for MSN Nursing Informatics graduates exist in all sectors of healthcare services in positions with job titles such as:
Informatics Nurse Specialist (INS)
Clinical Informatics Nurse
Clinical Informatics Analyst
Health IT Security and Privacy Specialist
Leadership positions with titles such as Health Information Manager, Health IT Project Manager, Informatics Administrator, and Informatics Executive are also available.
In addition to immediate employment with healthcare service providers, MSN informatics graduates are also prepared to fill positions as both nursing informatics researchers and educators. Graduates may also opt to continue on with their formal educations to earn such credentials as the PhD in Health Informatics or DNP in Nursing Informatics. The chart below offers a look at some of the most popular career paths open to informatics MSN graduates: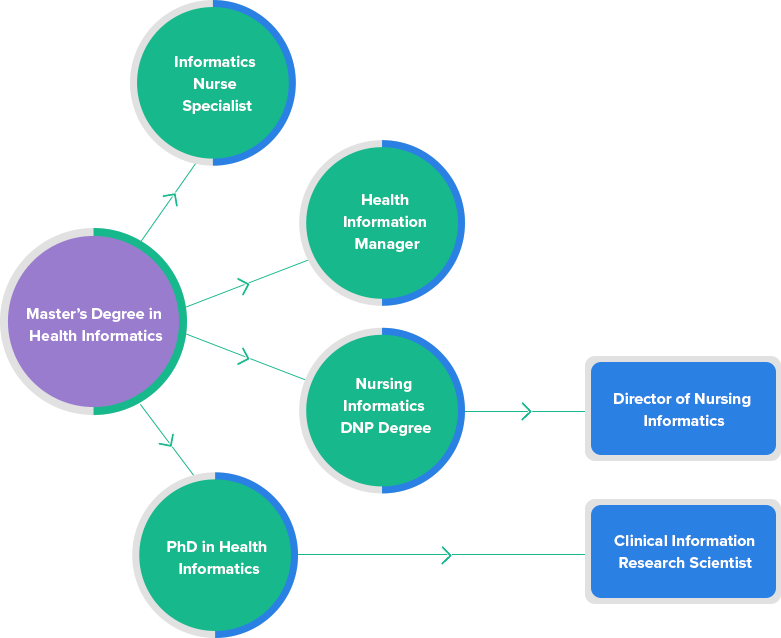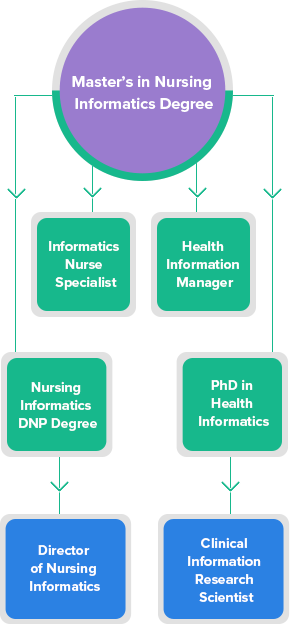 How much can you earn with a nursing informatics master's degree?
Salaries for entry-level MSN in Informatics degree holders are robust, far surpassing entry-level salaries for most other occupations. Earnings potential for many nursing informatics job titles is also quite positive, with amounts sometimes reaching past the six-figure mark. The chart below provides a look at current salary figures for two of the most popular nursing informatics job titles. Figures are taken from the U.S. Bureau of Labor Statistics.
Continuing Education & Related Degrees
Individuals interested in healthcare services technology and data management are not limited to the MSN in Informatics degree for establishing a career in the informatics field. And informatics MSN graduates interested in moving into top-tier positions can pursue an informatics-related doctoral-level degree. Here is a brief look at some of those alternative and advanced degree options:

Related Degrees
Online Health Information Management Degrees
Students interested in careers in the healthcare informatics field may want to consider a degree in health information management (HIM). HIM degree programs are most commonly offered on the bachelor's and master's levels. HIM programs differ from nursing informatics programs in that they do not require applicants to hold a previously-earned degree or diploma in nursing, or possess an RN license. Most HIM master's programs, however, do require a bachelor's degree or college-level coursework in a health, technology, or business-related field. Common job titles for HIM degree graduates include, among others, Medical Coder, Healthcare Data Analyst, Medical Research Analyst, Clinical Data Manager, and Health Information Manager.
Online Master's Degree in Health Informatics
Sometimes the differences between specific majors can be vague and confusing. Generally speaking, health informatics is a broad term that encompasses a wide range of subjects related to data management and information technology, while nursing informatics focuses more on how those subjects directly relate to patient care. A health informatics master's degree may be good alternative to the informatics MSN for nursing professionals not interested in the stricter requirements of an MSN program. Admission into a health informatics master's program is also typically open to non-nursing healthcare professionals seeking to advance their careers into informatics, as well as IT professionals interested in a transition into the healthcare industry.

Continuing Education Options
Doctor of Nurse Practice (DNP) in Nursing Informatics
The DNP in Nursing Informatics degree is geared toward advanced nursing practitioners intent on pursuing administrative positions at the very top of their profession. Nursing informatics DNP holders are often employed as clinical health advisors to senior executives in large and complex healthcare services organizations or as independent consultants. Common job titles include, among others, Chief Information Officer, Information Systems Administrator, Clinical Systems Analyst, and Director of Nursing Informatics.
PhD in Health Informatics
The PhD in Health Informatics is a research- and academia-focused credential. A previously-earned nursing degree is not required for admission into this PhD program, although most programs require applicants to possess either a master's degree or bachelor's degree (with substantial professional work experience) in a medical- or healthcare-related field. Individuals who earn this degree typically establish careers in postsecondary education, as well as in senior-level research positions at universities, government agencies, medical institutions, non-profit organizations, and in private industry.