With so many schools vying for your attention and so many top-notch programs out there, choosing the best health informatics degree online is a marathon of research – not a sprint. It takes time to comb through the many worthy schools to find those that meet your personal and educational goals. To make the job a bit easier, we've researched and vetted the top online degrees in health informatics from schools across the U.S. Take a look at who stands out in 2020.

The health informatics bachelor's degree through Oregon Tech Online prepares students to move into positions in the information technology industry to enhance quality and operations throughout the healthcare industry. Designed for working adults, the flexible program focuses on information systems, business management, health care, and computing science. To that end, courses include those in Healthcare IT, Digital Security, Data Analytics, EHR Implementation, Database Design, and Medical Terminology.
Oregon Tech Online does not charge online students any extra tuition over that of in-state residents; however, each course does have a $65 distance delivery fee. Numerous scholarships are available to help students complete their bachelor's program without too heavy of a financial burden.
The program provides an in-depth distance learning experience through the use of case studies, practice assignments, lectures, discussions, group work, presentations, and hands-on exercises, all delivered entirely online through the Blackboard learning system. Though the nature of online leaning, students gain the skills necessary to be successful in health informatics, including good communication, critical thinking, the ability to present ideas effectively, teamwork, writing, and more. Students will complete 181 credits in pursuit of this goal; 18 are in communication, nine in humanities, 40 in math, science and social science, and 114 in information technology.
Inside Top Online Health Informatics Programs
Is a health informatics degree online the right choice for you? To answer that question, let's delve into the answers to a few others asked by students thinking about applying. This section aims to help you understand what the program actually provides and what to expect from the online aspect.
What do you learn in an online health informatics program?
Health informatics focuses on healthcare, but it is a job within the information technology field. Therefore, graduates will learn a wealth of information on technology basics, such as:
database management
cloud computing
project management
cybersecurity
They will also learn about parts of the medical world that will hold them in good stead as they work in the field, including:
medical terminology
medical coding
electronic health records
Students will also learn numerous skills that can help them in the course of their career, such as the ability to work on projects independently, excellent communication skills through a variety of means, a deep understanding of databases and how to use them, and a firm grasp of health information issues and how to overcome those or solve problems as they arise.
How much of the program is delivered online?
Health informatics deals with subject matter that easily translates to online learning. Given that, it's not unusual to find a health informatics online program that delivers 100% of coursework through virtual means. However, some schools do require students to make brief campus visits, often at the start of the program, to orient themselves to the subject matter while meeting with professors and peers.
Programs often provide the flexibility of allowing students to attend full-time or part-time. Some make it easy to complete the program by offering only one course at a time, thus ensuring a student can focus fully on the subject matter while still dealing with a variety of family or work obligations.
The delivery method can be entirely flexible, asynchronous learning – that means students can study when and where they want, as long as they meet certain deadlines. Some courses might be synchronous, which requires students to "meet" through video chat or message boards at a set time every day, every week, or on some other schedule.
It's important to look at every aspect of the online program to determine whether what the school and program demands fits in with your busy schedule and career goals.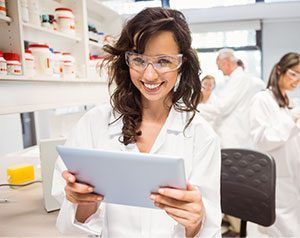 Online Health Informatics Degree Options
Health informatics is a broad field with room for many professionals of varying backgrounds. An associate degree is a good start, but there is space for those who have the bachelor's, master's, certificate, or even a PhD in the field. Let's take a look at the options.

Online Associate in Health Informatics
The associate degree in health informatics will focus on either the general education requirements, serving as a stepping stone to the bachelor's degree, or will focus on more detailed, practical education in the healthcare and health informatics field, with the goal of moving students into the workforce upon graduation. Found at most community colleges, this associate degree can be found across the nation, and is often available fully online. Graduates of the applied science associate degree can graduate with a firm working knowledge of health informatics, including everything from handling insurance claims to working with dictated patient records.
Best for … those who know they want to work in health informatics or a related field and want to get the prerequisites out of the way; or those who want to move into entry-level work as quickly as possible.
PROGRAM REQUIREMENTS
Total Credits: 64 (approximately)
Other Common Requirements:
high school diploma
TIME TO COMPLETE
Part-Time Program: 3-4 Years
Full-Time Program: 2 Years

Online Bachelor's in Health Informatics
This program is available both as a full-fledged bachelor's degree and as a completion degree for those who have already earned credits in a related field. The strong focus on the information technology field prepares students to work in the IT departments of hospitals, healthcare systems and the like. The program has a focus on technology but graduates are also well-versed in important points of healthcare, such as medical terminology, electronic health records, and more. Many IT departments look to hire those who have a minimum of a bachelor's degree.
Best for … those who want to move into a job with a healthcare system, hospital, or other area where in-depth information technology prowess is necessary.
PROGRAM REQUIREMENTS
Total Credits: 120 (approximately)
Other Common Requirements:
Some general prerequisite courses in math and science
TIME TO COMPLETE
Part-Time Program: 6 Years
Full-Time Program: 4 Years

Online Graduate Certificates in Health Informatics
This common certificate is designed for those who have already earned either a bachelor's or master's degree in information technology and need further education in the healthcare aspect, or those who have worked in the healthcare field but need more experience on the IT side. Either way, this program usually consists of six to eight courses, all taken over the span of a year or two, with a focus on electronic health records, health data management, data analysis, and healthcare informatics.
Best for … Those who already have some experience in the nursing or medical field, or those who have a firm grasp of IT and want to work in a healthcare setting.
PROGRAM REQUIREMENTS
Other Common Requirements:
Bachelor's or Master's degree
TIME TO COMPLETE
Part-Time Program: 2 Years
Full-Time Program: 1 Years

Online Master's in Health Informatics
This graduate degree prepares students to move into higher levels of responsibility in the IT world, specifically with more in-depth knowledge of health informatics. In addition to more technical information learned concerning health records and health data, students take courses that focus on the managerial aspect, education, research, and other points that allow them to move into a variety of jobs that focus on IT and health. Created for working professionals, this degree is almost always entirely online.
Best for … those who already have their bachelor's degree and want to open doors to advanced responsibilities and potentially higher pay.
PROGRAM REQUIREMENTS
Other Common Requirements:
Bachelor's degree
TIME TO COMPLETE
Part-Time Program: 2 to 3 Years
Full-Time Program: 1 to 2 years

Online PhD in Health Informatics
Those who seek out this terminal degree often do so with the hope of moving into research or academia. To that end, the program will have a heavy focus on research methodologies, data analysis, problem-solving, and new ways of approaching established routines and topics. Upon graduation, students should be prepared to move into advanced research roles in hospital systems, colleges and universities, think tanks, and more. They can also be prepared to move into academia and serve as a professor in a college or university.
Best for … those who want to advance their career with a focus on academia or in-depth research positions.
PROGRAM REQUIREMENTS
Total Credits: 60-72 credits
Other Common Requirements:
a minimum of several years of experience in the field
TIME TO COMPLETE
Part-Time Program: 4-9 Years
Full-Time Program: 3-7 Years
Degree Focus: Online Bachelor's Programs in Health Informatics
Before you leap into the application process, take some time to look over the information provided by the school on the health informatics program. Understand the curriculum and what it entails. Look at the courses you can expect to take, and read through the descriptions to ensure you know what you're getting into. Look at the online aspect as well; are all of your courses 100% online? Are there any campus visits expected? Remember, the best decision you can possibly make is a well-informed one, so take your time getting to know your potential school and program. Here are a few places to begin.
What do you study in an online health informatics bachelor's program?
Though every school will approach their online health informatics program differently, there will be some elements that remain the same. One of those elements is the core courses a student will take to prepare them for moving into the professional field or serve as a foundation for graduate study. Here are some of the courses you can expect from the bachelor's program.
Project Management
Students learn to create, convey, and follow a project management plan, specifically with health IT components. The processes of creating the plan will be discussed, as well as the communication necessary to get a team on board with the direction of the project.
Electronic Health Records
Sometimes known as EHR Programming or EHR Maintenance, this course focuses on the use of electronic health records in a health organization, including how to configure them, use them, and keep them secure. Students will learn about the different types of EHRs, the background of how they were created, and the tools to make their own changes and updates.
Topics in Health Informatics
Also known as Current Events in Health Informatics, this course focuses on the issues in the field today, how to solve them, new ideas for changing the field and making it better, and the ethical and legal dilemmas individuals in the field might face in the coming years.
Intro to Health Organizations
Known under a variety of names, such as Health Organization Policy or Introduction to Healthcare Policies, this is the foundation course for those in health informatics. Packed with information on how health organization work and how the technology world fits into that, this course provides students with a strong overview of what to expect from their role in the health informatics field.
---
These courses also teach key skills, all of which hold you in good stead in a future career. Here are a few of the skills honed during the rigors of the health informatics online program.
Communication
Teamwork
Critical thinking
Data analysis
Technical prowess
What are common admissions requirements for health informatics bachelor's degrees?
Though each school has their own admissions policy and will require a variety of different parts to the application, there are some general standards that exist among all schools offering the health informatics bachelor's degree. These often include transcripts from all other schools attended, an essay or personal statement, a minimum GPA requirement for all previous coursework, letters of recommendation, a completed application, and the application fee. It might be possible to get more attention from the admissions committee with proof of work experience in the field (or a related field), volunteer work that showcases an interest in healthcare, or extracurricular activities in high school and other colleges that make it clear your interest in health informatics is not a passing fad.
What will an online bachelor's in health informatics cost?
When deciding on a health informatics online degree program in health informatics, it's important to look at not just the tuition, but total cost of attendance. The total cost of attendance will factor in fees, financial aid, course load and state of residency. Remember, residency can be important even for online programs, as the cost per credit hour can vary depending on whether you're an in-state or out-of-state student.
However, no matter the final cost, it all starts with tuition as the bottom line. To give you an idea of what you can expect to pay for your online health informatics education, we collected the following tuition rates.

University of Central Florida
Online Health Informatics and Information Management, BS
---
Total Credits: 120
$179.19/credit (in-state) and $715.80 (out-of-state)

Eastern Carolina University
BS in Health Information Management
---
Total Credits: 120
$150.40/credit (in-state) and $700.30 (out-of-state)

University of Wisconsin
Bachelor of Science in Health Information Management and Technology
(degree completion program)
---
Total Credits: 61
$440/credit
Accreditation & Online Health Informatics Degrees
For most post-secondary schools, there are two types of accreditation. There's institutional accreditation (sometimes known as regional) that confirms the school as a whole meets certain quality standards. There is also programmatic accreditation, which focuses on a particular program. For health informatics online degree programs, the accrediting body is the Commission on Accreditation for Health Informatics and Information Management Education (CAHIIM).
Not all online bachelor's degree programs will have accreditation from CAHIIM, but they may still be a viable option for enrollment. If a program is not accredited, make sure that the school itself has at least institutional or regional accreditation, which will help ensure your program meets certain quality standards.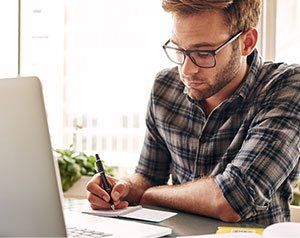 How to Pay for Your Degree in Health Informatics Online
Before leaping into enrollment, make sure you can pay for your education in an online health informatics program. There's no point in starting a degree if you won't be able to finish it due to financial reasons. While reviewing a school's tuition might produce sticker shock, keep in mind there are a number of sources designed to make that bottom line a bit easier to bear.
1 Scholarships
Scholarships are a preferred option because they don't need to be paid back. You can find them online at scholarship databases, health informatics associations, or other health care professional organizations. Some scholarships are school-specific and can be found at the school's financial aid pages. Each scholarship will have its own deadline, so apply accordingly. To learn more about scholarships, check out our scholarship page.
3 Employer tuition reimbursement
If you're already working in the field, your employer might offer perks if you go back to school to improve your knowledge and skillset. In tuition reimbursement programs, employers will pay for some or all of your tuition. However, the catch is that you will often have to promise to continue working for the employer for a minimum number of years after graduation.
4 Grants
Grants are similar to scholarships in that they don't need to be paid back. They're usually given primarily based on financial need rather than personal achievement or academic merit. Grants can often be found at the same places you can find scholarships. To be sure you qualify for everything you're entitled to in federal and state loans, always fill out the FAFSA as early in the year as possible.
What You Can Do with a Health Informatics Degree
Health informatics is a popular field, but finding information on the salary and job growth of it can be rather difficult. That's because though the job is in healthcare, it has a strong IT background. For instance, a computer systems analyst does exactly what a nurse informaticist does. When looking at job growth in those fields, we find that they exceed the average growth of all jobs across the nation, in some cases by quite a bit. Graduates often find themselves working a variety of jobs that might not be called "health informatics." Let's take a look at a few of them.
Health Informatics Degree & Career Resources
To make the most of your health informatics degree, work to establish professional connections. These networks can pay off in the future when trying to advance your career or make a move into a similar field.
Professional Health Informatics Organizations
Professional health informatics organizations can help you stay current on advancements in the industry, create connections with like-minded professionals, or help up-and-coming individuals learn more about what health informatics is all about. The following is a list of some of the more prominent organizations in the field.
Resources for Health Informatics Students & Professionals
If you're still in school or have just graduated from an online health informatics program, you must be excited to make use of your degree. But you still have a lot to learn. Luckily, there are plenty of resources available to help you do just that.