Written By


last updated

01/18/2022
The Best Online Health Science Associate Degree Programs
Associate degrees in health science pave the way to entry-level careers, or to more advanced degrees in a variety of health-related fields. And while colleges and universities across the country offer them online, not all have the same curriculum, cost structure, and resources. What does this mean? You need to do your research. You need to vet schools and programs carefully to see which ones meet your personal and professional needs. If you don't, you could find yourself applying to programs that won't get you started on the right foot.
Below, we've researched and analyzed the top online associate degrees in health science from accredited schools across the U.S. See who stands out for 2022.
Purdue University Global

Established in 2018, Purdue University's online school, Purdue Global, is a public institution with regional accreditation from the Higher Learning Commission. Students can pursue the associate degree in health science online with no on-campus obligations. This program at Purdue Global best serves learners who wish to continue their studies in a bachelor's degree program or pursue a career immediately upon graduating.
Remote students complete 90 credits for graduation, including required courses such as fundamentals of microbiology, the technological revolution, cultural studies, and a health science capstone project. Purdue Global associate degree-seekers in health science can choose an optional pre-professional concentration consisting of 22 credits. The concentration does not add to the duration of the program and helps undergraduates prepare for the job market with practical skills.
Incoming students can obtain transfer credit toward their degree for prior work experience and military training. Enrollment in this health science program is limited to members of the Reserve, National Guard, veterans, and active-duty service members of the U.S. military.
Franklin University

Established in 1902 in Columbus, Ohio, Franklin is a private nonprofit university with nearly 25 satellite campuses and extensive online degree options. The school's online associate degree in health science helps students develop a broad understanding of necessary areas in the field, including public health initiatives, health and wellness, and disease prevention. Additionally, Franklin prides itself on offering a special emphasis in human connection and interaction for online health sciences majors.
Associate degree-seekers can complete this program entirely online without setting foot on campus. In order to complete the program, students finish 60 semester hours of coursework. In addition to 34 semester hours of fundamental general education core classes, required major courses include medical terminology, introduction to sociology, business and professional writing, and grant writing for nonprofits.
Associate degree students located in the U.S. pay the same tuition rate regardless of their location. Current service members also receive a tuition discount.
American Public University

APU is a private nonprofit online university established in 1991. Located in Charles Town, West Virginia, the school boasts 47,000 students and holds regional accreditation from the Higher Learning Commission. Distance students take advantage of its online associate of applied science in health science program. This degree is designed for learners currently working in the healthcare industry, especially those with military training in the field.
Degree-seekers need to complete 60 credits for the associate degree. In addition to 15 semester hours of general education requirements, health science students complete required major courses including general biology labs, anatomy and physiology labs, elements of physics, microbiology, and genetics.
Incoming students may transfer up to 45 credits toward the associate degree. In most cases, full-time students complete the program in two years. APU health sciences alums often move on to careers across the healthcare field, including medical assistants, dental assistants, lab technicians, and nursing.
Accreditation and the Online Associate Degree in Health Science
Accreditation ensures that colleges and universities meet specific academic standards approved by the U.S. Department of Education. Between national and regional accreditation, regional accreditation is considered to be the gold standard and guarantees a quality education. Students who earn certificates or degrees from non-accredited institutions may have more trouble finding employment and could receive a lower value education.
Some fields have a dedicated accrediting agency that highlights and certifies a program's strengths. This credential is commonly referred to as programmatic accreditation. There is no programmatic accreditation in health science. While conducting research on prospective health science programs, however, it may be helpful to look for programs with programmatic accreditation from health-focused accrediting bodies, such as the Commission on Accreditation of Allied Health Education Programs (CAAHEP), the Accrediting Bureau of Health Education Schools (ABHES), or the American Dietetic Association (ADA). Regional accreditation alone, however, is usually indicative of a first-rate program.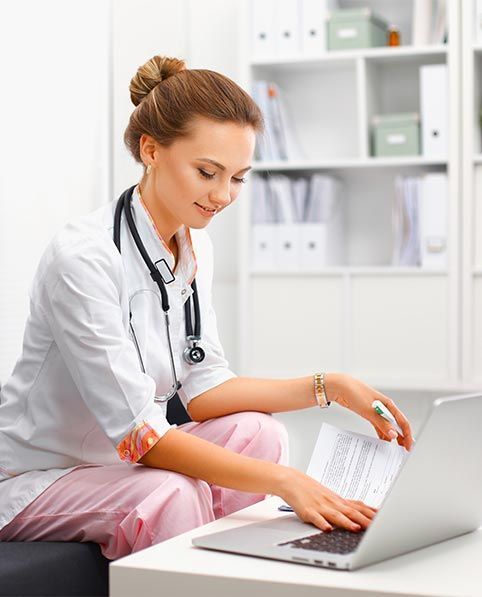 Inside the Online Health Science Associate Degree
Because an associate in health science can lead to a wide range of careers (and bachelor's degrees), it's important to understand what goes into a program. What will you learn, how much will it cost, and how long will it take? Read through some of the basic questions and answers you should know before applying to programs.

What can you learn in an online health science associate degree program?
Every online program in health science has unique characteristics, but will likely have several core subjects in common. In the list that follows, we detail a variety of classes that health science associate degree-seekers encounter in these programs. These classes may not be found in every associate degree curriculum, but they'll give you an idea of the areas that many departments cover in their undergraduate programs.
Biology Lab
Lab work is often an essential area of knowledge for health sciences professionals. These courses often come in multiple parts and help students develop a strong foundation of biology-related subjects, including the biology of cells, genetics, molecular biology, and evolution. These courses may be labeled as an introduction to health studies or introduction to biology.
Genetics
These courses typically serve as an introduction to basic principles of human genetics. Students study modern molecular genetics, traditional mendelian genetics, gene expressions, cancer, modified foods, gene therapy and more. Upon completion of this course, associate degree learners can apply the basic principles of genetics and genetic technology in the field.
Medical Terminology
Many learners in associate health science programs are new to the field. As such, programs often require learners to complete a medical terminology course. This ensures that students can progress more quickly through course materials while enrolled and understand essential terms after obtaining a job in the field. Colleges and universities may incorporate the content covered in a medical terminology course in a variety of other introductory classes for the major with different titles.
Sociology
For professionals in a health science field, it can be helpful to understand group behaviors, social movements, bureaucracies, associations, family dynamics, and more. Introduction to sociology classes help students apply the scientific method when studying basic institutions, social problems, and more. Courses in sociology give health professionals multiple perspectives for understanding human life and those they will work with upon graduating.
Professional Writing
Sometimes referred to as business and professional writing, many schools incorporate a professional writing course into their required major curriculum. In these classes, students learn standard professional writing conventions and what is expected of them inside businesses and healthcare environments. Associate degree students in health science typically need to complete a final project that highlights their understanding of business correspondence. Writing skills may be incorporated into other introductory health science courses or classes such as composition or English.
---
An associate degree in health science helps you develop a number of valuable and transferable skills. While many college graduates pursue careers in healthcare, a degree in health science can prepare students for bachelor's or graduate programs, or even for careers outside of the healthcare field. Some of these skills include:
Health data analysis
Interpersonal communication
Technology skills
Organization
Written communication

Are there concentrations in a health science associate program?
Depending on the program, students may be able to obtain a specialization while completing their health science associate degree. For example, available concentrations may include tracks in healthcare administration, medical lab technician training, and medical records and information studies. Here's a closer look at each:
Healthcare Administration
A two-year health science program with a concentration in healthcare administration can help students develop the essential skills for assisting managers, head nurses or doctors, and administrators in hospitals, clinics, and other care facilities. A concentration in healthcare administration helps learners understand the ins-and-outs of these facilities and how they relate to the healthcare system and the community.
Medical Lab Technician
Health facilities, pharmacies, and care centers of all types need professionals who have experience running medical labs, working directly with patients, obtaining and storing specimens, and performing basic daily procedures. While some programs offer an independent medical lab technician associate's degree, a concentration in this area of the field helps students develop a specialized skill set that is widely applicable in the field today.
Medical Records and Information
A concentration in medical records and information allows students to prepare for full-time careers as health information technicians or additional education. Students learn how to organize and manage health information data, particularly the digitization of medical records and proper storage and security of this information. The concentration allows students to develop the necessary technical skills and experience with software and electronic health records systems that are widely used in healthcare facilities today.

How long does an online associate in health science take to complete?
Full-time students pursuing an online associate degree in health science can expect to complete their programs in as few as two years. Degree-seekers who enroll as part-time students, by default, extend the duration of the degree by several months or more. In general, the duration of one's degree program hinges upon their enrollment status, general availability to complete coursework each semester, and their number of eligible transfer credits. Additionally, some programs may offer accelerated or self-paced course formats. In these cases, it may be possible for students to progress more quickly toward graduation than traditional on-campus students or online learners who follow a traditional semester schedule.

How much will an online associate in health science cost?
The cost a health science associate will vary by school. Some colleges offer online students the same tuition rates regardless of their location. In other cases, schools offer tuition discounts for in-state students or learners with military experience. Additionally, students who enroll in fewer credits per semester, or less than full-time status, may end up paying more tuition and the long run. Associate degree-seekers may be able to secure internal or external scholarship money to help offset the cost of educational expenses. As you research schools, be sure to find a school in the ranked list above and visit its tuition and fees webpage for more information.
Funding an Online Health Science Associate
Online students benefit from exploring all funding options before entering a program. This includes researching all potential scholarship opportunities and investigating applicable grants and work-study. The following list runs down the most common forms of financial aid for students pursuing an associate degree in health science.
1
Scholarships
Scholarships may come from both the college you attend or an external source. These financial awards can be merit- or need-based. Alternatively, some schools and external funding sources reserve scholarships for students with particular backgrounds, ethnicities, hobbies, specializations, or volunteer track records. Scholarships do not need to be repaid. Visit our scholarship page for more information.
2
Federal Financial Aid
Each year, the federal government awards over $120 billion in financial aid to help students pay for school. Regardless of your financial situation, you should submit a FAFSA, or free application for federal student aid. This document helps determine your eligibility for need-based financial aid through the federal government and includes grants, scholarships, work-study programs, and loans. In most cases, this money does not need to be repaid unless it is in the form of a loan.
3
Grants
Similar to scholarships, grants do not need to be repaid and are essentially free money. Grants are typically based on a student's financial need and come from the federal or state government, private or nonprofit organizations, or your college or university. A popular grant for undergraduate students is the Federal Pell Grant. This financial gift is for students who display exceptional financial need and is open to associate degree-seekers.
4
Work-Study Programs
These federal programs provide part-time jobs for students with financial need. The money they earn helps offset the cost of education expenses. Learners may obtain positions focused on community service work or jobs that pertain to their course of study. Work-study positions are available for both full- and part-time learners. Students should check with their school's financial aid office to determine whether or not it participates in the federal work-study program.
5
Loans
Students who apply for financial aid may be offered federal loans as part of their offer from the government. A loan is money for school that you borrow and need to pay back plus interest. Loans may also come from private sources, including banks, financial institutions, and other types of organizations. It is usually more advantageous for students to receive loans through the federal government student loan program than through private sources or banks.
What's After Your Health Science Associate Degree Online
By the time you start exploring associate degrees in health science, you may already have a good idea of the industry and career landscape you'll encounter upon graduation. Perhaps you have yet to research or think about a career in the field. In either case, it is important to know what your options may be after you finish a health science program. Ultimately, students can never know too much about the field they are studying and the current state of the job market for professionals in that area. Consult trusted online resources, including the Bureau of Labor Statistics and Projections Central, or professionals at your school's career development center to obtain a clearer idea of your employment options as soon as possible.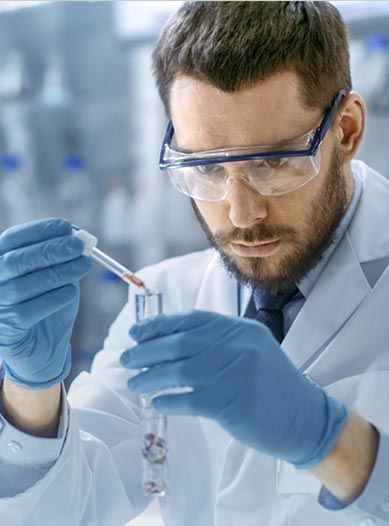 What can you do with an online associate in health science?
By earning an online associate degree in health science, you open doors to many employment opportunities in the healthcare field and beyond. Many associate degree holders pursue exciting careers at doctors' offices, hospitals, and care facilities as medical assistants and health information technologists.
Additionally, an associate degree in health science can prepare you for additional education at the bachelor's degree level. Depending on your interests, many students choose to pursue a graduate degree upon completing a bachelor's program. Advanced degrees allow students to develop expertise in a specialized area and increase their earning potential.
The bottom line is that associate degree holders in health science have valuable options upon completing their programs. The chart that follows illustrates several popular educational paths for health science students, all of which begins with a strong associate degree education. The chart only shows a few examples, but bear in mind that the degree can be applied widely across various fields and industries.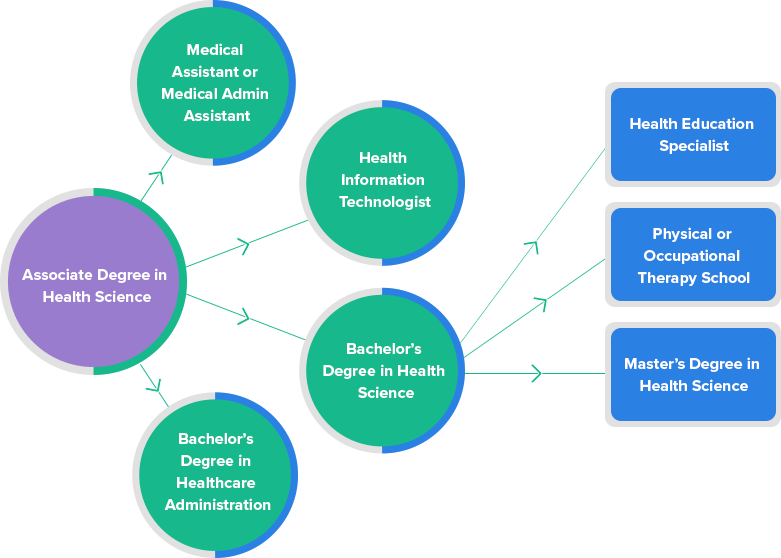 How much can you make with an associate degree in health science?
Professionals who work in the healthcare industry, depending on their level of experience and education, can earn strong salaries. Depending on the position, healthcare professionals can earn into the low- to mid-six figures per year. The following table shows the spectrum of salaries for a number of occupations and career paths open to those who hold an associate in health science.
| Career | Employment | Entry-Level | Early Career | Mid-Career | Experienced | Late Career |
| --- | --- | --- | --- | --- | --- | --- |
| Occupational Therapy Assistants | 42,660 | $39,620 | $50,510 | $60,220 | $71,820 | $80,980 |
| Physical Therapist Assistants | 94,250 | $33,780 | $46,800 | $58,040 | $68,700 | $79,810 |
| Medical Records and Health Information Technicians | 208,650 | $26,550 | $32,070 | $40,350 | $52,730 | $66,260 |
| Medical Transcriptionists | 53,730 | $21,840 | $26,410 | $34,770 | $43,490 | $51,780 |
| Medical Assistants | 673,660 | $24,790 | $28,400 | $33,610 | $39,190 | $47,250 |
| Occupational Therapy Aides | 7,700 | $18,260 | $21,590 | $28,160 | $37,290 | $58,660 |
| Pharmacy Aides | 36,970 | $19,370 | $22,510 | $26,450 | $33,280 | $44,450 |
| Physical Therapist Aides | 47,260 | $20,040 | $22,690 | $26,240 | $31,570 | $39,230 |
Furthering Your Education & Related Degrees in Health Science
After getting a taste of the healthcare industry with your associate degree in health science, you may wish to increase your employment options with more education. Alternatively, perhaps you are looking for a job in healthcare but with a slightly different angle. In this field, there are plenty of opportunities to grow by continuing your education in health science or to pivot into a related career with a second degree program. Take a look at a few of the degree options that may be a good fit if you are studying or working in health science.

Furthering Your Education
Online Bachelor's in Health Science
Health science is a multidisciplinary field that allows for extensive study at both the associate and bachelor's degree levels. A bachelor's degree, however, allows learners to take more coursework related to the field and focus more specifically on a subdivision of health science. Popular concentrations for bachelor's level programs include pharmacology, exercise science, psychology, healthcare management, and diet and nutrition. A bachelor's degree in health science increases yours earning potential and job opportunities.
Online Master's in Health Science
Master's degrees in health science are typically two-year programs that allow advanced learners to develop a specialized area or expertise in the field. This master's best serves professionals interested in pursuing non-medical healthcare professions. For example, common concentration areas for master's students include health informatics, public health, and health and human performance. Master's degrees also help learners obtain more advanced mid- and senior-level jobs.

Related Degrees
Healthcare administrators, depending on their level of training and place of employment, can wear several hats at a time. Healthcare administrators typically work in leadership roles and focus primarily on organizational and staffing related issues in hospitals, clinics, and healthcare facilities. While students may pursue an associate degree in healthcare administration, professionals who work as healthcare administrators typically need a master's degree or higher. Their degree is often a master's in healthcare administration or an MBA with a concentration in healthcare.
Professional training in healthcare management are typically concerned with accounting, facilities management, and healthcare policy. Students in these programs can develop specializations to further refine their skillset or take a more general approach. Overall, healthcare managers handle day-to-day operations of a facility and leave staffing concerns and administrative duties to healthcare administrators. Professionals with an associate degree in healthcare management often sit for industry certifications such as the Certification Coding Associate, Certified Coding Specialist, or Certified Professional Coder exams.