2020's Best Online Healthcare Administration Associate Degrees
Earning a healthcare administration associates degree online is a great way to jumpstart a career in the rapidly growing healthcare field. But how can you be sure that the online program you're considering is a quality one? To help get you started on your college search, we've put together a list of some of the most affordable and comprehensive fully-accredited online healthcare administration associate degree programs available today. Learn more about the top schools of 2020 in our "best-in-class" spotlights below.
Point University

Point University, a private, Christian institution, offers a fully-online, 60-credit hour Associate of Arts in Healthcare Administration degree to students interested in seeking entry-level positions in healthcare management and leadership, as well as those intending to continue on to complete their bachelor's degree at Point or another four-year college or university. The degree curriculum consists of a combination of liberal arts-based general education classes and foundational coursework in healthcare administration and leadership. The program is presented 100% online in an asynchronous format, meaning that students can access classes and complete their coursework at anytime. The asynchronous format additionally offers students flexibility in total program length, although most students complete all degree requirements with two years of full-time study. Students enrolled in PU's online AA in Healthcare Administration program enjoy tuition costs nearly 40% less than students in the school's regular on-campus program. Out-of-state online students pay the same tuition rates as Georgia residents.
Oklahoma State University
Inside Look at Earning Your Healthcare Administration Associate Degree Online
Flexibility and convenience are the hallmarks of any good distance learning program, and online healthcare administration associate degree programs are no exception. Program curriculums and formats vary somewhat from school to school, but the academic study of healthcare administration lends itself particularly well to online study. Most programs feature asynchronous coursework that can be completed entirely online at anytime and from any location with high-speed internet access. Flexibility extends to degree completion times as well, with both full-time and part-time study options common.
Here are the answers to a few of the most frequently asked questions prospective students have about pursuing an online associate degree in healthcare administration:

What Do You Learn in an Online Healthcare Administration Associate Degree Program?
The curriculum of your online associate degree in healthcare administration program will focus on the development of practical knowledge and skills in management and leadership as they apply to specific healthcare administrative roles and responsibilities. Core concepts and specific topics you'll cover include:
Supervision, management, and leadership theories and practices.
Organizational structures of managed healthcare systems and facilities.
Critical thinking and decision-making skills.
Interpersonal and organizational communications skills.
Human resource management and practices.
Analysis and application of healthcare information, statistics, and data.
Medical records management and coding, including electronic records systems.
Accounting principles and their practical applications.
Medical terminology.
Applicable medical laws, regulations, and ethics.
Overview and analysis of current practices and trends in healthcare management and the broader healthcare industry.
Core Class Examples
Accounting Principles
Healthcare administration practice intimately involves budget management. Accounting principles courses provide students with foundational knowledge in the use of accounting information systems, analysis of transactions, the journalizing and posting of transactions, the creation and reading of financial statements, performance evaluation, and more. Students are also introduced to the use of accounting software programs.
Human Resource Management
Principles of Healthcare Management

How Long Does It Take to Earn a Healthcare Administration Associates Degree Online?
Most healthcare administration associate degree programs consist of approximately 60-66 credit hours of coursework which normally requires one-and-a-half to two years of full-time study to complete. Online programs, however – particularly those whose coursework is presented asynchronously – typically offer both full-time and part-time options that allow students to tailor their studies to fit their busy lives. This means students may be able to take up to three or four years, sometimes longer, to finish all degree requirements. Flexibility in class choices, degree completion times, and other study options depends on the particular program you choose, though. Be sure to carefully review the specific curriculum requirements for all programs under consideration before enrolling.

How Much Do Online Healthcare Admin Programs Cost?
Costs of online healthcare administration associate degree programs vary, often substantially, from program to program. Common factors impacting costs include type of school (two-year community vs. four-year, public vs. private) and student's place of residency (within or outside the program's home state). Below are the current tuition rates for three online programs to give you an idea of how much you may be paying for yours. Keep in mind, however, that total program costs will likely also include application and other fees, as well as the cost of books and supplies.


Iowa Central Community College
Associate in Professional Studies in Health Care Administration
Total Credits: 66
$240/credit (in-state residents);
$322.50/credit (out-of state residents)

Will My Online Healthcare Associate Degree Credits Transfer to a Bachelor's Program?
In most cases, yes. The majority of healthcare administration associate degree programs feature curriculums and individual courses that meet specific requirements for healthcare administration or management bachelor's degree programs at their schools and other four-year colleges and universities. Not all programs do this, however, so prospective students are advised to confirm credit transferability prior to choosing their associate degree program – whether they intend to eventually earn a bachelor's degree or not.

What Can You Do with an Online Associate Degree in Healthcare Administration?
There are two primary career paths one can take after earning a healthcare administration associate degree. The first is to continue on to a four-year college or university bachelor's degree program in healthcare administration, management, or closely-related major. The second is to head directly for the job market. For those intending to immediately start their careers upon graduation, there's good news. Many entry-level positions in the field offer solid wages and enjoy robust job growth expectations over the next decade. Below is a small sampling of popular positions available to healthcare administration associate degree holders. Job growth and growth rate figures are taken from the Department of Labor's BLS Occupational Outlook Handbook and O*NET OnLine websites.
Administrative Medical Assistant
Projected Job Openings (2018-2028):
154,900
Project Job Growth Rate (2018-2028):
23%
Healthcare administration is about leadership, even for entry-level employees. In this class, students are taught to be effective and efficient leaders through an examination of leadership issues and behaviors. Specific topics covered include the scope of management, organization, decision-making, direction of staff and employee motivation, strategic planning, styles and processes of leadership, and more.
Medical Records/Health Information Technician

How Much Can I Make with a Healthcare Administration Associate Degree?
Lots of elements factor into the salary you can expect to earn in an entry-level healthcare management job, including the specific job duties and responsibilities, type and size of the employer (hospital, clinic, doctor's office, etc.), and geographic location (region of the country, urban vs. rural setting, etc.). Below is a look at national median salary figures from the BLS Occupational Outlook Handbook and O*NET OnLine for the above-described jobs:
| Career | National Median Salary (2018) |
| --- | --- |
| Administrative Medical Assistant | $33,610 |
| Medical Records/Health Information Technician | $40,350 |
| Medical Secretary | $37,760 |
| Patient Representative | $33,750 |
Education and Career Advancement Options After Earning Your Associate Degree in Healthcare Administration
Earning an associate degree in healthcare administration is an excellent way to get your foot in the door of a career in the healthcare management field. An entry-level administrative position at a hospital, outpatient clinic, doctor's office, long-term care facility, or similar setting a will provide you with the work experience necessary to move up the career ladder. But experience is not all you'll need. Real career advancement will require continuing on with your formal education to earn a bachelor's degree in healthcare administration, healthcare management, or closely-related major. And obtaining a top-tier supervisory position will likely mean completing a master's degree program as well.
This chart will give you an idea of some of the career and education advancement paths you can follow once you've obtained your healthcare administration associate degree: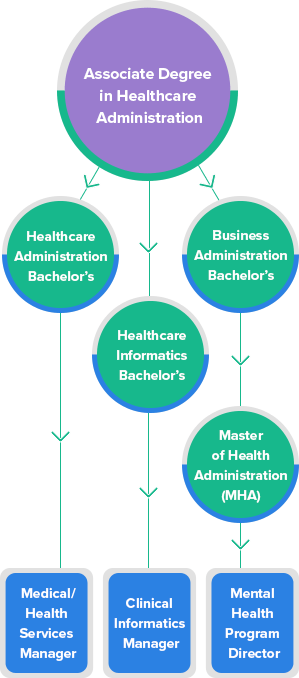 Understanding Accreditation for Online Healthcare Administration Associate Degree Programs
Proper accreditation of any degree program you choose is of primary importance, including online programs. There are two forms of accreditation of college degree programs in the U.S. — institutional and programmatic. Currently, there are no agencies that specifically accredit healthcare administration associate degree programs, whether they're offered online or on-campus. The colleges and universities that offer these programs, however, are accredited by a national or regional agency recognized by the Department of Education (DOE). Accreditation information can almost always be found on college or university websites or by searching the DOE's Database of Accredited Postsecondary Institutions and Programs. If you're having trouble locating accreditation status information online, however, be sure to contact the school directly.