Written By


last updated
01/18/2022
Top Online Associate Degrees in Psychology for 2022
When seeking out the best online associate degrees in psychology, you might be surprised to learn just how many there are. And that poses a problem: How do you narrow down such a wide variety of great options? We took a look at the psychology associate degrees to determine the top ones in regard to flexibility, affordability, and the accreditation you need to succeed. Let's take a look at three schools that stand out for 2022.
Florida Tech Online

The Associate of Arts in Applied Psychology from Florida Tech Online is 100% online, and focuses on teaching students various subsets of psychology and sociology. Students will look at empirical research, critical thinking, personal development, and more. Accredited at the regional level by the Southern Association of Colleges and Schools Commission on Colleges, this program is designed to either allow students to move into the workforce or step up into the Bachelor's in Psychology program.
All courses are asynchronous, often with weekly due dates, allowing the utmost in flexibility. Courses are presented in eight-week terms, and the program can be completed within two years of study.
There is no fee to apply to the program. Earning the associate degree in applied psychology takes between 61 and 64 credit hours, at a cost of $510 per credit hours. However, keep in mind that most students will be available for financial aid, as well as other funding to cover any shortfall in affordability. Those in currently law enforcement, military, and public safety pay only $250 per credit, while military veterans receive a 10% tuition discount.
California Coast University

The 60-credit Psychology Associate of Science (AS) Online Degree Program at California Coast University comes with top-notch flexibility, which makes it perfect for those who are working and volunteering in a field related to their eventual psychology-related career. All courses are self-paced with regular deadlines to keep students on track, and they are all delivered fully online, without any expectation of a student ever visiting a campus. The "start anytime" model helps ensure even more flexibility.
In addition to the ten general education courses and the six core courses in this program, students also choose four electives. Opting for electives that focus on psychology, social work, and related fields can hold graduates in good stead when looking at the variety of jobs available after the degree program is done.
This program offers the unique options of paying tuition in full, or paying $125 or $100 per month, to help ensure easier access for those who have trouble affording a larger bill for tuition all at once. And with a potential discount for military members and other special interest groups, tuition could go as low as $135 per unit.
University of the Cumberlands

At University of the Cumberlands, the Online Associate Degree in Psychology prepares students to choose their future career path by exposing them to introductions and concepts in sociology, psychology, counseling, the psychology of personality and various personality and mental health disorders. The program requires 31 semester hours of general education, which serve as a stepping stone to the bachelor's degree; it also requires 18 semester hours of core requirements in psychology, and another 12 hours for elective courses. Students can tailor their electives to take them even deeper into the world of psychology and related fields. Courses are provided in eight week terms; two in spring, two in summer, and two in winter semesters.
The cost of credits at University of the Cumberlands is among the most affordable for this program at $199 per credit hour; with 61 credit hours required, that makes the cost of the program a total of $12,139, not including some fees. That cost can come down with the help of scholarships, grants, and other financial aid.
About the Online Associate Degree in Psychology
The online associate degree in psychology can be your first step into the world of counseling, social work, psychology practice, and much more. It can lay a strong foundation for further education, making it important to know what you're getting into. Look at curriculum, costs, and top career options in the field today.
What will you learn in an associate degree in psychology online?
Though every program is different, you may find similar courses and learning outcomes across programs, no matter the school. During the associate degree, you not only complete general courses that create a foundation good for any degree, but you also take psychology courses that form the basis of knowledge that can carry you into the bachelor's degree program or the workforce.
When earning your associate degree in psychology online, students can expect to walk away with the following:
Basic Research Methods: Learn how to design research, analyze data, and interpret the findings, all while keeping a code of ethics in mind.
A Broader Your Knowledge Base: Many associate degree programs are designed to expose students to major concepts, research findings, and historical trends in psychology and closely related fields, like sociology.
Critical and Creative Thinking Skills: Courses in the program spark the need for a scientific approach, curious inquiry, and problem-solving when related to mental health and human behavior.
Psychology Applications: Students will learn how to apply the principles in psychology to personal, social, organizational, and community issues as they move through the major courses.
An Appreciation for Diversity: Just as individuals are unique, so are communities, social groups, families, and the like. Psychology that takes an approach to these diverse groups, with a cultural sensitivity when conducting research or otherwise interacting with the public, is a key learning outcome.
Popular Associate-Level Courses in Psychology
How will you reach those learning outcomes? The following courses are some of the most common among associate programs in psychology.
Introduction to Psychology
This introduction to psychology is a birds-eye view of research, biology and behavior, how the environment influences behavior, mental states, sensation and perception, learning and conditioning, and how human behaviors can apply in social and cultural contexts. In some courses, there will also be a focus on neurology and how the brain works.
This looks at the way individuals behave in a larger society, including their judgments, beliefs, attitudes, prejudices, and how those can lead to conformity, persuasion, aggression, and peacemaking. Students will learn ways to reduce conflict among groups and find peaceful resolutions to issues that have a group influence.
Human Growth and Development
One of the basic points of psychology is understanding the physical, cognitive, and social development of individuals from birth through childhood and beyond. Heredity, environment, and maturity at different ages all play a role in how a person acts in their later life; this course looks at the theories and research methods used to study people of all ages and cultures.
This course looks at the factors that help form a person's personality, including biological, intrapsychic, dispositional, cognitive, and experiential. It also focuses on social and cultural events, how those can affect and change personality, and how a person's personality helps them adjust to life's adverse events.
This is a deep dive into diagnosis, treatment, and assessment of various disorders, such as anxiety, sexual disorders, mood issues, personality disorders, those related to substance abuse, eating disorders, response to traumas, impulse control issues, and mental health issues such as severe OCD or schizophrenia. There will also be a focus on the biological, social, and psychological factors that can lead to or contribute to these disorders.
How long does an online associate in psychology take?
In most cases, an associate degree takes two years to complete. This is assuming a student is attending school full-time. However, there are also part-time options available that can extend that time to three or even four years. On the other hand, accelerated options – especially if you already have some general education credits – can reduce the time to 12 to 18 months. Check with your desired school to ensure if any credits will transfer, as well as what options are available concerning full-time versus part-time.
Can I get into an online associate program for psychology?
At the associate degree level, a student doesn't have to worry so much about the competitive nature of the psychology degree – those in PhD programs might face an acceptance rate in the single digits, while associate degrees tend to be much more forgiving of a lower GPA or test scores. That said, they can still be tough to get into (depending on the school) and need your full attention during the admissions process. Here are a few things you can expect to include in your application:
A fully completed application and fee (if applicable)
Transcript from high school and any college courses
A personal statement or essay detailing your higher education pursuit
A resume or CV (not all schools will require this)
Letters of recommendation (usually at least two)
A minimum GPA (usually 2.0 or greater)
Standardized test scores, such as the SAT or ACT
How much does it cost to earn a psychology associate online?
As with any other degree program, costs for the psychology associate program can vary widely based on the type of school (private versus public), your state of residency (even if you're an online student), whether you choose full-time, part-time, or accelerated, and how much funding you can get to cover tuition and fees. The following gives you a rough idea of what to expect when it comes to the cost of tuition for a typical online psychology associate degree.

Colorado Christian
University
Associate Degree in Psychology
Total Credits: 60 credit hours
$469/credit (Military: $250/credit)

University of the
Cumberlands
Online Associate Degree in Psychology
Total Credits: 61 semester hours
$199/credit hour

Ashworth
College
Associate Degree in Psychology
Total Credits: 60 credit hours
$69/credit hour
Can I get a license with my associate degree?
Licensure as a psychologist requires a doctoral degree. Therefore, those with an associate degree can't obtain the kind of jobs that require licensure. However, there are some jobs available to those with an associate degree that could benefit from – or require – a certification of some kind. A good example is working as a psychiatric aide, which in most states requires certification through the American Association of Psychiatric Technicians.
Paying for an Online Associate Degree in Psychology
Paying for college may seem tough, but there are many ways to bring down that bottom line. In fact, a good combination of grants, scholarships, internships, and even student loans can help make the costs more manageable. Let's look at a few options.
Scholarships and grants are highly sought-after sources of funding because they do not have to be paid back. There are numerous websites dedicated to scholarships and grants, and some might be offered by your high school (if you're just graduating), your new school, and local organizations. Always apply early for a scholarship or grant, because the money can run out fast. Learn more about these options in our scholarships guide.
If scholarships and grants aren't enough, you might need a student loan to cover the shortfall. The financial aid office at your new school will have all the information you need to make an informed decision on loans. Keep in mind that some loans won't require payments until you've been out of school for at least a few months, and some might not accrue interest while you're actively enrolled. To learn more, visit our student loan guide.
There are some other options available beyond the scholarships, grants, and loans, such a work study. Work study is an option that allows students to work on campus for a certain amount of money, some of which goes to pay their tuition. Other options include internships, part-time work (preferably in an institution in the psychology field), and for some, employee benefits that will allow you to go to school and earn a degree with financial help from your employer.
What's After Your Psychology Associate?
The associate degree can allow for entry-level work in some areas of counseling, as well as prepare you for the bachelor's degree. If you do choose to move into the workforce immediately upon graduation, what can you expect from job opportunities? How about salary?
What you can do with an online associate in psychology?
Those who want to move directly into the workforce have numerous options to choose from, most in a supportive role. For instance, a psychiatric aide or psychiatric technician provides valuable support in mental hospitals and clinics. You can find work in social services, human services, hospitals, clinics, and as supportive roles in private practice. Many of these careers are in demand; for instance, the Bureau of Labor Statistics reports an expected 11% growth of jobs for psychiatric aides, 12% growth for psychiatric technicians, and 13% growth for social and human service assistants from 2018 to 2028. Let's take a look at some of the possible career paths.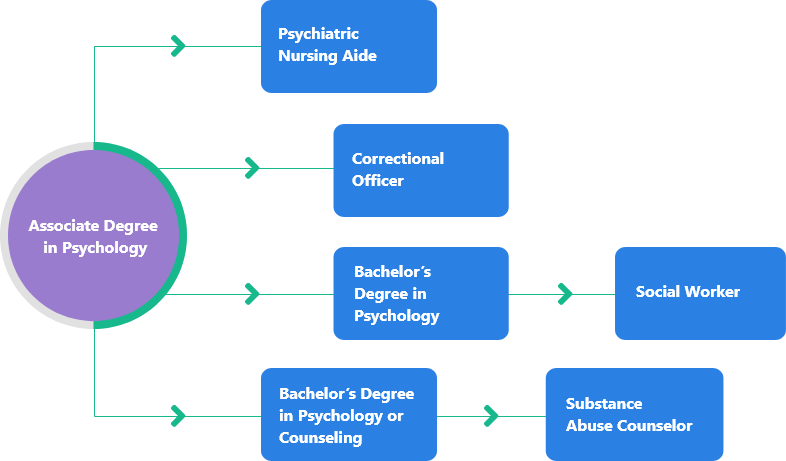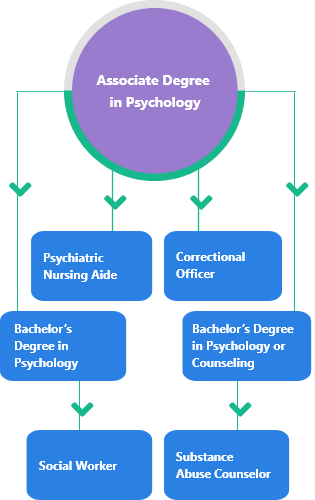 How much can you make with an associate degree in psychology?
This degree provides a great basis for entry-level work in a variety of fields related to psychology. The following provides a good overview of the salary options for that particular job; keep in mind that geographical location and other factors can make a difference in the pay you are ultimately offered for a particular position.
Continuing Education & Related Degrees
The associate degree has long been considered the stepping stone to the bachelor's degree. In fact, many students will take the community college route and earn their associate before transferring their credits to a bachelor's program, saving thousands of dollars in the process. When you're ready to further your education, how do you move forward? These programs are what comes next in the psychology field; or you could take a turn and enter a related degree program, one that gives you a little something different.
Continuing Education Opportunities
Bachelor's degree in psychology
Those who want to work with clients in a setting that allows them to provide counseling services can pursue this degree, which can lead to work as a counselor in substance abuse, mental health clinics, and similar settings. Those who have earned their associate degree can likely transfer their credits into the bachelor's program, making it a two-year pursuit (or possibly less).
The master's degree in psychology is often the basic requirement for earning licensure in certain areas of counseling, such as that of marriage and family therapist. It often takes one to two years of additional work after the bachelor's degree, as well as supervised clinical hours or internships. In some cases, the master's program can be combined with the PhD program to allow for full licensure if someone wants to become a psychologist.
Related Degrees to Consider
Associate Degree in Sociology
Sociology is the study of human behavior, relationships, and interactions, so it has a great deal in common with the field of psychology. Students will learn about social norms, deviant behavior, social dynamics, and how individuals and groups work together – or not. Graduates of a sociology degree are poised to work in areas related to human services and social work.
Associate Degree in Social Work
A degree in social work at the associate degree level is most often a stepping stone to the bachelor's degree; however, in some states those with the associate degree are qualified to work in support service positions for social workers. A few positions available include case management aides or community outreach workers.
Associate Degree in Human Services
This degree can encompass a bit of several disciplines, including psychology, sociology, and social work. Students in the program learn about diversity, cultural differences, addiction treatment, counseling techniques, and the like. Ultimately, this degree can lead to work in a field related to human services or psychology, and in some states, might qualify you to become an addictions counselor, probation officer, correctional officer, and more.
Resources for Psychology Students