Written By

last updated

01/19/2022
The Best Human Services Associate Degrees Offered Online
Knowing you want a career helping people may be easy enough, but choosing the right degree program to get you there might be a different story. Online associate degrees in human services provide a flexible way for students to gain the foundational human services knowledge needed for a variety of entry-level careers. In order to find a fitting program, it's important for prospective students to do their research before enrolling in an online associate degree program. To help in that search, we've pinpointed schools with the best online associates in human services degrees based on quality and affordability.
Northcentral Technical College

Northcentral Technical College offers a 100 percent online associate degree in human services through their virtual college. The program is 60-61 credits and can be taken full-time or part-time. Full-time students can complete their degree in four terms, while part-time students can complete their program over eight or nine terms. Northcentral online students set their own start and completion dates and can access course materials at their convenience. Although the program seems totally autonomous, each student gets an advisor who works with them throughout the entire program. Human services students also have the opportunity to complete two internships to gain career experience in the field. Northcentral also offers a pathways system, which allows students to gain credits toward an advanced degree while acquiring another. Students who begin their education with a Human Services Technical Assistant Diploma earn almost half of the necessary credits needed for their human services associate degree. This can be a great option for students who want to test the waters first.
Brescia University

Brescia University's Associate of Arts in Human Services is a fully online program designed to prepare students for human services careers with a focus on psychology, sociology, biology, and social work. The online human services program has five different start dates throughout the year to make it easier for students to start their associate degree. The program's asynchronous format adds to its flexibility, and students still interact with their peers through chat rooms and discussion boards. Prospective students who want to get a feel for Brescia's online course format can take a look at their online course demo.
Upon earning their human services associates degree online, students can transition seamlessly into an online bachelor's degree program in social work, theology, psychology, or integrated studies. Tuition for online programs is the same for in-state and out-of-state students, and Brescia currently has an undergraduate tuition freeze until 2022, meaning students won't have to worry about an increase in tuition for the next two years.
Herkimer State University of New York

Herkimer State University of New York's Associate of Applied Science is a great option for students who want to specialize early in their educations. Students enrolled in Herkimer's online human services program can either take the program's traditional coursework or alternative coursework that focuses on particular aspects of human services. For instance, students can choose a chemical dependency or developmental psychology course during their third semester. Another one of these alternative courses is the Mental Health Association of New York State (MHANYS) CarePath™ Program. This coursework gives students the opportunity to become certified CarePath™ coaches through MHANYS. Herkimer is the first two-year college to provide this kind of training and certification. Whether they take the CarePath™ course or not, students can gain hands-on experience through their human services internship. Aside from the CarePath™ class, which takes place over three days of interactive classroom training in Albany, Herkimer's human services associate degree is fully online. The program uses Blackboard to deliver coursework asynchronously, and a sample course is available to those who want to check out the online format.
Accreditation and Online Associate Degrees in Human Services
Before applying to an online human services program, make sure it's accredited. Accreditation indicates that a school or program has met certain quality standards set by a board of experts. Look for these two main types of accreditation: institutional and programmatic.
Institutional accreditation can be awarded at the regional or national level. National accreditation is generally reserved for trade or vocational schools. Regional accreditation is generally considered more valuable, but both represent seals of approval for schools, so you can be confident with either. Students must attend an institutionally accredited school in order to qualify for federal financial aid.
Programmatic accreditation assesses individual schools or programs within an institution. For human services degrees, programmatic accreditation may be provided by the Council for Standards in Human Services Education (CSHSE). This organization works to create consistent, high standards for human services education programs. Their qualifications for accreditation are evidence-based and peer-reviewed by experts in the field to help ensure programs around the country are relevant and high-quality. CSHSE accredits human services programs at the associate, bachelor's, and master's levels.
Inside Online Associate Degree Programs in Human Services
Online associate degrees in human services can take many forms, so be sure to choose a program that pertains to your career goals, suits your schedule, and works within your budget. Individual programs vary, but the following information can give prospective students some guidelines to keep in mind when comparing human services associate degrees online.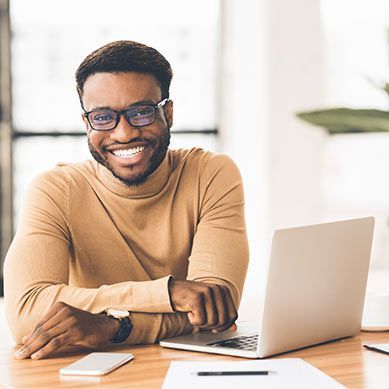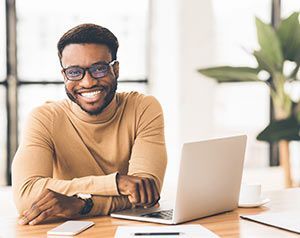 What Classes Do You Take in an Online Human Services Associate Degree?
Human services students may see a range of course options when comparing online associate programs, but there are a handful of common courses and subjects that provide the foundation for human services study.
Intro to Human Services
This course typically provides the foundation for the rest of a human services degree program and may be particularly important to associate degree students with no background in human services. Coursework generally includes an introduction to the human services field and the multifaceted work it can entail. Students may also examine human services theory and common social and ethical issues.
Course titles to look for: Introduction to Human Services
Psychology
Human services programs may offer multiple psychology courses. Introductory psychology classes generally provide a survey of the field and psychological methods and can include study in biology, emotions, perception, therapy, and social factors. Programs often offer additional psychology courses that are particularly useful in human services, like developmental and social psychology.
Course titles to look for: Introduction to Psychology; Developmental Psychology; Abnormal Psychology; Social Psychology
Sociology
Since human services careers tend to involve helping people in a wide range of social systems, basic sociology is often found as part of the course load. Many associate human services programs provide an overview of sociological concepts, such as culture, social stratification, multiculturalism, and deviance.
Course titles to look for: Introductory Sociology; Principles of Sociology
Counseling
Like psychology, counseling may be addressed multiple times throughout a human services associate degree program. Introductory courses tend to provide students with foundational counseling tools and theories. Relationship skills, ethics, boundaries, and counseling techniques may also be taught. Students can deepen their counseling skills through courses in group counseling as well as marriage and family counseling.
Course titles to look for: Introduction to Counseling; Group Counseling Methods; Group Counseling; Counseling Theory and Tactics
Communication
Effective communication with many populations is at the core of human services. Communication classes can help students hone their skills in a variety of contexts, including social, relational, and cultural. Students can develop their listening, speaking, nonverbal, and writing skills through research, presentations, and group activities.
Course titles to look for: Written Communication; Interpersonal Communication
---
Throughout an online associate in human services program, students have opportunities to develop key skills that can help them in their careers. Common skills addressed in these programs can include the following:
Professionalism, professional responsibility, and best practices in human services.
Effective communication with diverse populations.
Identification and assessment of the social, cultural, and relational factors within social systems that impact individuals.
Discovery and effective use of community resources to aid clients.
Accurate documentation of case records.
How Long Does It Take to Get an Associate in Human Services Online?
Online associate degrees in human services typically require around 60 credit hours, but how long it takes to complete those hours generally depends on how many courses a student takes per term. Full-time students can usually finish their programs in four terms, or two years. Part-time study takes around eight or nine terms to complete, depending on the student and the program set-up. Students who enter a human services associates degree program with transfer credits from another institution can often complete their degree in a shorter period of time. Some schools offer programs that combine human services associate degrees with other related diplomas, certificates, and credentials. These programs may take longer to complete, but they come with the benefit of additional education and credentials.
How Much Will an Online Associate in Human Services Cost?
The cost of earning a human services associate degree online can vary depending on a number of factors. The school, the number of credits taken per term, financial aid options, transferability of previously earned credits, and in-state versus out-of-state tuition can all affect how much students pay for their degrees. Prospective students can use the schools in the rankings at the top of the page and those listed below to find cost information for individual online human services associate degree programs.

Western New Mexico University
Associate of Arts in Human Services
---
Total Credits: 60
$207-$323/credit depending on residency, term, and course load

Monroe College
Associate of Science in Human Services
---
Total Credits: 62
$275/credit

New England College
Associate of Science in Human Services
---
Total Credits: 60
$415/credit
Paying for Your Human Services Associate Degree Online
It's important to have sufficient funding to complete your online associate degree in human services before enrolling in a program. Figuring out how to pay for school can be challenging, but there are many financial aid resources available to students. Here are some options to explore:
1
Financial aid
Students attending a regionally accredited school can fill out the Free Application for Federal Student Aid (FAFSA), which can provide an array of federal financial aid, like scholarships, grants, federal loans, and work-study opportunities. Schools also use FAFSA information to help determine student financial aid packages. Check out our financial aid page for detailed information on different types of aid.
2
Scholarships
Students should be sure to apply for as many scholarships as they can since this type of aid does not need to be repaid. Scholarships can be both merit- and need-based, and some can even be renewed for multiple terms. Scholarships are typically offered by schools, professional associations, and private organizations. The National Organization for Human Services, for instance, offers the David C. Maloney Scholarship to student members and is available to those pursuing associate degrees. To learn more about scholarships for human services students, visit our scholarships page.
3
Grants
Grants are similar to scholarships, so students should be sure to seek them out when possible. Unlike scholarships, grants are generally need-based rather than merit-based, and they are usually provided by federal and state governments. Filling out the FAFSA is a great way to apply for federal grants, but students should check with their state and local governments to see what other grant options may be available to them.
4
Private Loans
While federal loans may be available to many students, some may not qualify, or the loans may not be sufficient. When federal loans and other forms of aid don't cover the cost of tuition, students can get loans from banks and private companies. Students should be mindful of interest rates and repayment timelines when taking out private loans. Schools sometimes partner with organizations to help students find private loan providers, which can ease some stress.
What's After Your Online Associate Degree in Human Services?
Before beginning a degree program, students should familiarize themselves with potential career and education paths, what they entail, and the income and job growth they can bring. Researching this information ahead of time can help students make sure an online associates degree in human services is a good choice for them.
What Can You Do with an Associate Degree in Human Services?
Those who earn an associates in human services online can pursue a wide range of professions depending on personal career goals and areas of interest within the human services field. Human services graduates may find themselves in careers in the justice system, social work, healthcare, nonprofits, or community services. All of these areas provide opportunities for people who want careers focused on helping others, whether that's providing mental health support to clients, conducting community outreach, or supporting young people in the juvenile justice system. Associate degrees in human services can also prepare students to move into various bachelor's programs. Many schools even design their human services associate degrees to transfer seamlessly into related bachelor's degrees. This can lead to even more career opportunities, often with greater earning potential.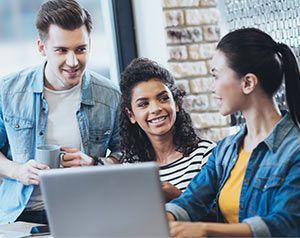 Below is just a small sample of the potential career and education paths that may be available to students who earn a human services associate degree online.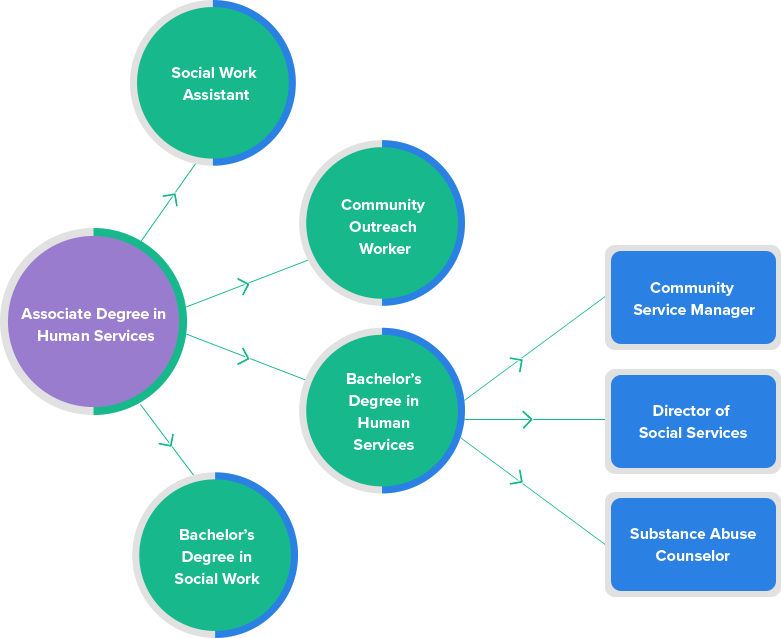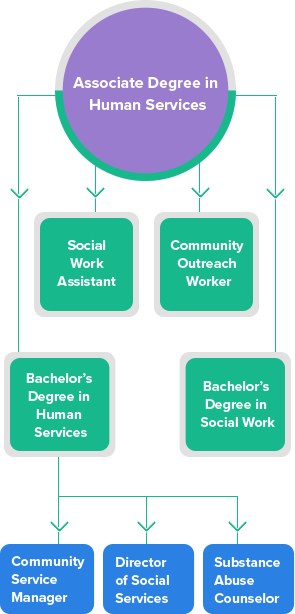 How Much Can You Make with an Associate Degree in Human Services?
Many careers exist under the human services umbrella, so earnings can vary widely. Associate degrees in human services can prepare students for a range of entry-level careers, but earnings will generally increase with more experience and education. The table below illustrates the income progress of popular human services careers.
| Career | # Employed | Entry-Level | Early Career | Mid-Career | Experienced | Late Career |
| --- | --- | --- | --- | --- | --- | --- |
| Social and Human Service Assistants | 384,080 | $21,480 | $26,130 | $33,120 | $41,910 | $53,380 |
| Childcare Workers | 562,420 | $17,490 | $19,180 | $22,290 | $26,610 | $32,780 |
| Health Educators | 58,780 | $32,030 | $39,800 | $54,220 | $74,660 | $98,530 |
| Community Health Workers | 56,130 | $26,070 | $32,280 | $39,540 | $51,650 | $65,890 |
Certifications Available to Human Services Professionals
Some careers require special certifications in order to practice, but in many cases, certifications are optional. These extra credentials can indicate a level of competency, expertise, or commitment to the field. Most entry-level human services careers do not require certification, but students may want to pursue optional credentials to increase employment opportunities. Check out some of these optional certifications human services students can pursue upon earning their online associate degree.
This certification is available to those who have graduated from an accredited human services program at the associate level or above and have completed at least 350 hours of post-degree experience. Earning this credential indicates a level of national competency and commitment to the field, so it can help candidates stand out when applying for jobs.
Those particularly interested in community service work may want to pursue this credential, which is granted to those who have at least one year of documented professional service work experience and can demonstrate a certain level of competency in core areas of community service work. At least 800 hours of formal education in human services is required, so associate degree students may have to continue their educations before pursuing this credential.
This credential is great for prospective health education specialists. Certification is granted to those who pass an exam that measures their familiarity and competency in seven areas of responsibility for health education specialists. Bachelor's-level coursework is typically required, but associate-level work may be sufficient if the coursework has been accepted by an accredited four-year institution.
Furthering Your Education in Human Services
Earning an associate degree in human services can be a nice way to enter the field, but if you're interested in building on the knowledge and skills gained in an associate program, continuing your education may be the next step. In many cases, the coursework completed in an online associates in human services can transfer directly into a bachelor's degree. Students can continue advancing their educations to hone their knowledge and enhance their job skills, or they may want to pivot into a related degree program that still puts their human services knowledge and credits to use. Students interested in human services associate degrees may be interested in these programs as well.

Continuing Education
Online Bachelor's in Human Services
Students interested in expanding their human services education can pursue an online bachelor's degree. With an associate completed, students can often earn their bachelor's in about two years. This is a good option for those who want to begin specializing their knowledge and pursue advanced careers.
Online Master's in Human Services
Those who want to go even more in-depth in a particular area of human services may look into online master's degree programs. These can help prepare students for leadership roles in their chosen specialty or help them transition into research and education careers.

Related Degrees
Online Associate Nursing (ADN) Programs
Online ADN programs help prepare students to become Registered Nurses (RN). Graduates are eligible to sit for the NCLEX-RN exam, which is required for RN licensure. This degree is a great option for students who are interested in helping people in a clinical setting.
Online Home Health Aide Certification Programs
Those who want a career helping others with daily activities but don't want to enroll in a full degree program may be interested in online home health aide certification programs. Home health aides typically work with elderly, sick, or disabled clients, and while training is necessary, a degree typically is not.