Written By


last updated

01/20/2022
Thinking about starting or advancing your career as a nursing professional in Orlando, Florida? There are fully-accredited degree and certificate programs available from many top nursing schools in the Orlando area. With so many choices, how do you know which program is the right one for you? We've surveyed dozens of nursing programs in the Orlando area to help you find the one that best fits your academic needs and career goals.
This guide includes information about the different nursing degrees and certificates available, both online and in-person. It also includes information on where to get financial aid, salary and job demand details for Orlando RNs, and much more. Keep reading to find the best nursing schools in Orlando, Florida for you.
Best Nursing Schools in Orlando, FL for 2022
The best way to know what to expect in a nursing program in Orlando is to see what the best schools offer. To help in your search, we spotlight three of the top nursing schools currently operating in the Orlando area. We selected them based on factors like affordability, accreditation, program and curriculum comprehensiveness, and access to quality student support services. Here's who tops the list of nursing schools in Orlando, Florida for 2022.
Herzing University

Herzing University, a private university headquartered in Wisconsin, operates several campuses throughout the U.S., including one in Orlando. Herzing's Orlando campus offers a variety of undergraduate and graduate nursing degree and certificate options. Students interested in obtaining RN licensure can choose from among several degree programs that prepare them to take the NCLEX-RN exam:
Additionally, current RNs can advance their careers through the RN to BSN program.
Graduate-level offerings include standard MSN and RN to MSN programs, both with five specialization options, and four post-master's certificates. Almost all the nursing programs at Herzing include some distance learning, including those with a few online classes to post-master's certificates completed 100% online. As with most private schools, tuition costs are higher than for most public school nursing programs. However, financial aid options are available, including several scholarships exclusive to Herzing nursing students.
University of Central Florida

Valencia College

Valencia College is an Orlando community college featuring an exceptional nursing department with degree options going well beyond those typically found at most community colleges. Valencia's traditional (five-semester) nursing Associate of Science program prepares students with no previous healthcare experience to take the NCLEX-RN exam and is offered in both daytime and evening/weekend formats. Current LPNs, CVTs, RTs, and paramedics seeking RN licensure can complete the AS Accelerated Track in Nursing program in three semesters.
Valencia is set apart from other community colleges because it offers its own BSN program for RNs with ASN degrees. The program is primarily online except for an in-person clinical practicum and a capstone project and can be completed in one to two years. Valencia additionally offers a Concurrent ASN/BSN program that allows students to earn both degrees by completing ASN courses at Valencia and BSN courses through the University of Central Florida.
As with most public community colleges, Valencia College's tuition rates are among the most affordable of any nursing programs in the Orlando area.
Types of Nursing Programs Available in Orlando, FL
Nursing schools in Orlando offer so many different types of degrees and certificates that, at first glance, it's practically impossible to know which one is the best for you. Here's a breakdown of all the available undergraduate and graduate nursing degrees and certificates available in Orlando, FL to help you figure out the program and school that can best help you achieve your personal and professional goals. Understanding the many nursing degrees and certificate options available from nursing schools in NYC can be confusing. We've put together the following descriptions to help you figure out what program is best for meeting your personal and career goals.
Pre-Licensure Nursing Programs in Orlando
Associate Degree in Nursing (ADN)
The associate degree in nursing (ADN) (also known as an associate of science in nursing or ASN) is an entry-level nursing degree with the coursework and clinical training needed to take the NCLEX-RN exam. ADN degrees normally require two years of full-time study and are most often available at local community colleges, but some four-year college and university nursing schools offer them as well.
Examples of Orlando Nursing Schools with this Program
College of Central Florida
Seminole State College of Florida
Bachelor's Degree in Nursing (Traditional BSN)
The traditional BSN is a four-year pre-RN licensure program for students with little or no previous college and no professional nursing experience. Curriculums include general education coursework along with nursing courses and clinical hour requirements like those in ADN programs. Traditional BSNs are staples at four-year colleges and universities with nursing departments.
Examples of Orlando Nursing Schools with this Program
Accelerated BSN Programs
Accelerated BSN programs (sometimes called second-degree BSNs) are for students with a bachelor's degree in another field who are interested in becoming RNs. They provide the nursing coursework and clinical practice hours needed to take the NCLEX-RN exam, achieve RN licensure, and earn a BSN. Most students complete these programs in 15 months to two years.
Examples of Orlando Nursing Schools with this Program
Nursing Bridge Programs in Orlando for Current Nurses
LPN to RN and LPN to BSN Programs
The LPN to RN program is for current LPNs interested in advancing their careers by qualifying for the NCLEX-RN exam and obtaining their RN license. Graduates typically receive an ADN, ASN, or AASN degree. LPN to BSN programs are for current LPNs seeking RN licensure who want advanced knowledge and skills offered in four-year BSN programs.
Examples of Orlando Nursing Schools with this Program
RN to BSN Programs
RN to BSN programs allow currently RNs to earn a BSN degree, the academic credential quickly becoming a prerequisite for RN jobs with many employers. RN to BSN programs combine previously-earned college credits with additional nursing coursework to earn a BSN. Almost all Orlando-area four-year colleges and universities with nursing programs offer RN to BSN programs.
Examples of Orlando Nursing Schools with this Program
College of Central Florida
Seminole State College of Florida
RN to MSN Programs
RN to MSN programs are for licensed RNs with either an ADN or nursing diploma who want to obtain their master's in nursing without first earning their BSN. These programs sometimes require a previously-earned non-nursing bachelor's degree. RN to MSN programs are usually part-time to accommodate working RNs, but full-time programs are not uncommon. Programs take 3 ½ to 4 years, and RN to BSN to MSN options are sometimes available.
Examples of Orlando Nursing Schools with this Program
Advanced Nursing Programs in Orlando
Traditional MSN Programs (Master of Science in Nursing)
Nurses with a BSN degree interested in obtaining their nursing master's can opt for a traditional MSN (BSN to MSN) program. These programs are often available in three-year full-time and four-year part-time options. Online MSN programs are available but typically include substantial face-to-face contact hour requirements.
Examples of Orlando Nursing Schools with This Program
Doctor of Nursing Practice (DNP) and PhD Doctoral Programs
The DNP degree is for nursing professionals seeking positions in nursing administration, policy-related, and advanced practice leadership positions. DNP programs are typically offered in nurse practitioner and other specialized nursing areas. PhD programs focus on preparing graduates for careers as nurse researchers and academics. Most programs require an MSN degree, but a few offer a BSN to doctorate. Program lengths vary substantially.
Examples of Orlando Nursing Schools with This Program
AdventHealth University (Doctor of Nurse Anesthesia Practice)
University of Central Florida (DNP and Phd)
Post-Graduate Nursing Certificates
Post-graduate nursing certificates allow those with MSN or doctoral degrees to gain additional knowledge and training in specialized areas and expand their career opportunities. Popular specializations include primary care, public health nursing, and nurse anesthesia, as well as the range of nurse practitioner fields. Completion times vary.
Examples of Orlando Nursing Schools with This Program
Inside Look at Online Nursing Schools in Orlando, Florida
Most nursing schools in Orlando now have online components, the extent of which ranges from a few classes featuring didactic coursework to virtual simulation practice labs to entire programs. All pre-licensure programs still include substantial in-person clinical experiences at nursing facilities near the school. Examples of 100% online nursing programs in Orlando include Herzing University's Post-Master's Nursing Education Certificate program and UCF's ASN to BSN. The three nursing schools in Orlando, Florida spotlighted below also have extensive online offerings.
Best Online Nursing Schools in Orlando, FL
AdventHealth University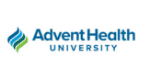 AdventHealth University (AHU) is a private institution affiliated with the Seventh-day Adventist Church and AdventHealth's main healthcare facility in Orlando. AHU offers two online degree programs. AHU's RN to BSN provides current RNs (and recent graduates eligible for the NCLEX-RN exam) with advanced practice and leadership training while increasing their earning potential as working RNs. The program is 100% online through asynchronous coursework. The three-semester curriculum is designed with working RNs in mind and can be completed in as little as one year.
Students in AHU's online MSN program choose one of three specialization tracks: Nursing Education, Nursing Administration and Leadership, and Family Nurse Practitioner (FNP). All three feature online asynchronous didactic coursework along with in-person practicum experiences. FNP curriculum's practicum requires 600 contact hours during which students are advised against working full-time. Additionally, FNP students must come to campus twice, once for a five-day intensive and once for a two-day assessment examination, for the program's Advanced Health Assessment Course. Admission into the MSN program requires a current RN license. Options are also available for nurses with BSN,s ASNs, or nursing diplomas. Program lengths vary based on starting point and choice of specialization track.
Seminole State College of Florida

Seminole State College is a member of the Florida College System. It operates on four campuses located in Orlando-adjacent Seminole County. Seminole State offers several undergraduate nursing degree options with online coursework, beginning with the Nursing Pathway Associate in Arts (AA) degree. The Nursing Pathway AA prepares students for transfer to a four-year nursing program where they can earn their BSN and complete the requirements to take the NCLEX-RN exam and become licensed RNs. The program is highly affordable and fully online.
Seminole State's online RN to BSN program is open to current RNs and recent RN graduates eligible to take the NCLEX-RN exam. The program features 100% online asynchronous coursework and can be completed in as little as one year for approximately $5,000. Students can also take advantage of an RN to BSN/MSN option in which they complete three MSN courses through American Sentinel University that also apply to their BSN. Once they've completed their BSN program, students can advance into a fully online MSN program.
University of Central Florida

UCF's College of Nursing offers the most comprehensive package of nursing degrees and certificates, including seven distance learning programs, of any public school in the Orlando area. There are two online BSN degree options, and the RN to BSN program for current RNs is available entirely online. All requirements can be completed in as few as three or as many as 10 semesters. The Concurrent ASN to BSN program is for students enrolled in an AS in Nursing program at a Florida College System school. It is also available 100% online and can be completed in as few as six semesters.
Online graduate-level programs include an MSN with three specialization options, Advanced Track and Executive Track DNPs, a PhD in Nursing, and post-master's certificates in Healthcare Simulation and Nursing Education. In-state tuition rates are affordable and competitive. Rates for out-of-state residents are, however, substantially higher.
FAQs About Online Nursing Schools in Orlando
Can I earn my nursing degree in Orlando completely online?
That depends on the degree, program type, and the school you attend. All pre-licensure programs include substantial in-person clinical hour requirements. Some non-licensure degree programs and certificate programs can be completed 100% online.
Will my online Orlando nursing degree be considered less valuable by employers?
If your program is fully accredited and state-approved, it's unlikely any employer would consider your nursing degree or certificate any less valuable than one earned in a traditional on-campus program. In fact, they likely won't know you took any courses online unless you tell them.
Are online nursing programs in Orlando more affordable than campus programs?
This also depends on the program. In most cases, students enrolled in online nursing schools in Orlando pay the same tuition rates as their on-campus counterparts. However, the actual total cost of your online nursing program will likely be less once you factor in savings from not traveling to and from campus for classes.
Financial Aid Opportunities for Nursing Students in Orlando, Florida
Most students enrolling in nursing schools in Orlando qualify for funding help from one or more financial aid sources as long as their programs are properly accredited. These sources include scholarships and grants, fellowships and assistantships (mostly for grad students), employer tuition assistance programs, the GI Bill for active-duty military and veterans, and student loans. The most popular source of student loans is the federal government, which also sponsors loan repayment programs for nursing students.
For help in locating funding opportunities for your nursing program, contact your school's financial aid office. Also visit EduMed's nursing scholarship and main financial aid guides for more information and advice on paying for your Orlando nursing program.
How to Become an RN in Orlando: Licensing Requirements
Practicing as an RN in Orlando requires state RN licensure through the Florida Board of Nursing. Obtaining your RN license requires completing an approved RN degree or diploma program and passing the NCLEX-RN exam. There are other requirements as well, so make sure you understand the process before you enrolling in any pre-licensure nursing education program. For a detailed look at the steps, visit EduMed's guide to nursing programs in Florida.
Job Opportunities for RNs in Orlando, Florida
Florida has a critical shortage of nurses brought on by strong population growth, particularly among the elderly. The demand for nurses in Florida is expected to increase, too, with projected long-term job growth (2018 to 2028) of 16.1%, substantially higher than the 12.1% projected for RNs nationwide and much higher than the projected job growth rate for all occupations nationwide combined.
Additionally, there are dozens of healthcare corporations and facilities in and near Orlando. Major RN employers in the area include AdventHealth, Orlando Health, and Nemours Children's Health System. This extensive healthcare setting combined with the increasing demand for RNs in the state means job opportunities for RNs in Orlando, Florida are abundant and will remain so for the foreseeable future.
How Much You Could Make as an RN in Orlando
The U.S. Bureau of Labor Statistics indicates that earnings for RNs in the Orlando area are lower than those in the nation overall but generally in line with those for RNs statewide. What you'll actually make as a working RN in Orlando depends on factors like your specific employer, job title, experience, and seniority both within your current place of employment and within the profession in general. The cost of living in New York City is among the highest of anywhere in the U.S., so salaries for workers there, including nurses, are also among the highest in the nation. In addition to the BLS's estimates in the table below, other recent annual salary estimates for NYC RNs range from $83,192 to $108,600 and depend on variables like job title, employer, and experience.
Earnings for Registered Nurses in Orlando, Florida
| | | | |
| --- | --- | --- | --- |
| | Median Hourly Wage | Mean Hourly Wage | Annual Mean Wage |
| Orlando-Kissimmee-Sanford, FL | $32.23 | $32.37 | $67,330 |
| Florida | $32.46 | $33.42 | $69,510 |
| United States | $36.22 | $38.47 | $80,010 |
Source: Bureau of Labor Statistics, May 2020
Additional Orlando, FL Nursing Resources
The Orlando chapter of Black Nurses Rock brings together nursing professionals to provide community health promotion in Central Florida. Services include health and wellness promotion and social advocacy in vulnerable communities, nursing student mentoring and scholarship opportunities, and more.
Central Florida Advanced Nursing Practice Council (CFANPC)
The CFANPC is a professional association of advanced practice nurses in the Orlando and greater Central Florida area organized to promote and improve the care APNs provide their patients. Resources include current news, event announcements, and a career center where visitors can search for local APN jobs and post their resumes.
Central Florida Black Nurses Association of Orlando (CFBNA)
This regional chapter of the National Black Nurses Association connects RNs, LPNs, and nursing students in the Orlando area whose purpose is to provide community health services to improve the quality of life for minority community members.
Florida Nurses Association (FNA) – East Central Region
The FNA is the Florida constituent of the American Nurses Association, the only professional association encompassing nursing professionals in all practice areas and specialties. The FNA annually awards nursing scholarships and grants to qualifying Florida RNs and students.
Florida Nursing Student Association (FNSA)
The FNSA is a student-run organization representing more than 5,000 nursing students throughout the state. It's also the Florida affiliate of the National Student Nurses' Association (NSNA). Orlando area nursing schools with FNSA chapters include UCF and Seminole State, but your school does not need a chapter for you to join.