Written By


last updated
04/12/2023
Online PhD programs in public health offer the ultimate convenience for students with family obligations or full-time jobs. Many also have the affordability and accreditation you need to make sure employers can trust the knowledge and skills you acquire. At the PhD level, however, most online public health programs are hybrid in nature. They allow you to take some of your coursework online, but require periodic campus visits to complete the full curriculum. While this is changing and more fully online programs become available, now is a great time to see what's out there. This comprehensive guide will help you find the best hybrid or online PhD in public health for you. It outlines tuition costs, specializations, and coursework for the degree. Here's a closer look at one school that offers the fully online public health PhD.

Walden University's PhD programs in public health are designed for professionals who already hold a degree and have practical experience. The university offers two tracks: one is an accelerated curriculum for students with a Master of Public Health (MPH) or MS in Public Health. Students may choose a concentration in either Community Health Education or Epidemiology. Walden requires 88 quarter credits, a dissertation, and four residencies for the PhD. The second track is designed for those who hold at least a bachelor degree in any major field of study. This track offers the same focus areas, Community Health Education or Epidemiology. Students must complete 119 quarter credits, a dissertation and four residencies. Programs take from 5-7 years to complete. Applicants can transfer up to 43 total credits, shortening the time to complete the degree. What sets this program apart is Walden's focus on advancing skills for a role as a scholar-practitioner among diverse populations. The PhD dissertation is designed for students seeking practical and effective solutions using Walden's scholar-practitioner learning model. The dissertation is focused on developing a community health assessment and the creation of a program to address community goals. Applicants can take advantage of Walden's unique limited-time savings offers that include $4,000 tuition grant.
Public Health Doctorates: PhD vs DrPH
Both doctoral programs serve distinct educational and career purposes. PhD programs in public health are designed for students more interested in scholarly research and publication. The PhD programs in public health culminate in a dissertation that can establish you as an expert in the field or as a researcher or university professor. While limited in number nationwide, these online programs offer the flexibility of synchronous and asynchronous training that fits your schedule.
DrPHs are geared toward working public health practitioners — professionals who want to reach the next level working in a more practical or clinical setting. The DrPH prepares you for leadership roles at private and public institutions. Studies focus on interdisciplinary collaboration and advanced training in fields including promotion, public policy, communications, marketing, and budgeting.
The following table offers a specific breakdown of the differences in these doctoral programs:
| | DrPH | PhD programs in public health |
| --- | --- | --- |
| Academic focus | Evidence-based | Research-based |
| Career track | Clinical/professional | Academia |
| Program type (common) | Part-time | Full-time |
| Program length | 4-5 years | 5-7 years |
| Primary students | Mid-career | Early career |
Read about and review some of today's best online DrPH programs and how they work.
Accreditation & the Public Health PhD
Be sure that any doctoral program in public health you're researching holds regional accreditation. Accreditation can cover an entire university or a specific public health program. Employers, publishers, and public health institutions want to ensure that candidates have completed degrees that conform to the academic standards set by professional organizations. These private, non-biased evaluation organizations offer accreditation services to universities on a voluntary level. There are serious ramifications if your target college is not accredited. For example, students at universities without accreditation may not participate in federal student aid programs. The accreditation germane to public health is offered by the Council on Education for Public Health (CEPH). Before enrolling it's important to learn whether the university is accredited, along with accreditations for the PH department at the school.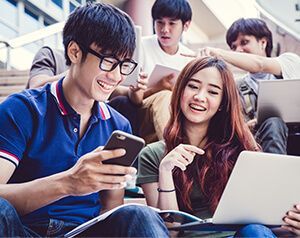 Inside the PhD programs in Public Health Online
When gathering a list of potential PhD programs, be sure to compare the admission requirements, curriculum, total program costs, graduation rates, and where graduates have taken jobs. Have faculty members published, received honors or recognition in the field? What are your options for financial aid? The best decision is an informed decision. Here are key questions you need answered first:
What tracks are available in public health PhD programs?
At the PhD level, you'll need to specialize. Individual programs may vary; you may enter a program that focuses on an aspect of your broader degree, or you can narrow your studies as you progress toward your dissertation or capstone. Here are two of the most common specializations at the PhD level:
Epidemiology
Epidemiology is the study of chronic or infectious disease, how it impacts the community, the causes, and how to develop disease-prevention programs to address risks. Students undertake coursework and research assignments in factors including environmental hazards, infectious disease, terrorism or natural disasters. Students may examine issues at the community, schools, regional, national or global levels.
Research Methods
Community Health Education specializations are well-suited for students who have completed a master's degree in public health. You'll conduct studies of a target population, assessing shortcomings and the quality of life in the community. Following research, you'll develop education programs to best-improve current service offerings. Notice to online students: the program may involve residencies.
---
In addition to these traditional specializations, you may find traditional campus-based programs that offer online elements focusing on the following areas:
Health Policy & Management
This concentration involves the study of health care policy and business. Students delve into courses on policy law and program planning. Students may opt for online or campus-based classes or hybrids involving night or weekend campus classes. Graduates are prepared to assume positions in public health care institutions at the local, state or federal levels.
Global Health
This PhD concentration combines population health measurement, epidemiology, advanced quantitative methods, implementation sciences, and impact evaluations. Implementation science is the study of key factors and critical conditions that lead to success – or failure – of a public health organization. Students use evidence-based methods to determine how to improve or implement solutions.
Biostatistics
The field of biostatistics concerns the scientific evaluation of data from clinical populations, drug or treatment trials, and epidemiology findings in a search for more-effective solutions. The work is especially vital in informed decision-making at the organizational level. Coursework may include statistical study design, advanced regression analysis, and conditional probability.
What will you learn in a public health PhD program?
Every PhD program in the field is different, and they vary depending on your specialization. Here's a detailed look at some of the courses in Walden's online PhD programs in public health with a concentration in community health education, along with the skills on which they focus:
Public Health Leadership and Systems Thinking
This course focuses on contemporary leadership theories and models in systems thinking. You'll evaluate both descriptive and prescriptive systems. Students also explore public health and healthcare resources to address both qualitative and quantitative analysis. You'll create leadership strategies that contribute to success at organizational and community levels.
Global Health and Issues in Disease Prevention
Students evaluate global health-based strategies that address disability and disease among diverse populations. In this cross-disciplinary class, students examine a wide range of influences on disease including social factors, globalization, economics, cultural ecology, cultural competency, and health policy. You'll focus on disease prevention programs at public and community health organizations.
Health Policy and Management
Organizational success lies in the key development of fiscal policies to address economic forces that impact performance at public health institutions. Students are introduced to the range of funding options to build and maintain services. Learn the ins and outs of grant writing, along with financial resources available to you.
Community Health Assessment
Why is a thorough community assessment essential to program planning and finances? Discover the key elements for developing a comprehensive assessment, including the evaluation of community assets, health services funding, and the prioritization of existing problems and anticipated growth. Students create a program planning model and research design from the results of their assessments.
Preparing for Dissertation
Before students can enter the dissertation phase in their degree program, they must take the first step in selecting a dissertation topic. The other tasks include starting your literature review, lining up members of your dissertation committee, and creating an initial premise. Students make a list of research questions leading to a problem statement.
---
The advanced skills you develop in an online PhD programs in public health are necessary for success whether you work at a university or in the public sector. The ability to undertake research projects with initiative is common among the public health professions. Employers are seeking proficiency in these pertinent skills:

Problem-solving
Employing research methodologies
Technical aptitude
Interpersonal skills/communication
Leadership strategies/styles
Analytical/technical aptitude
A strong work ethic
How long will it take to complete an online PhD program in public health?
A doctorate in public health generally takes a minimum of two to three years to complete. According to Walden University, you can complete your PhD program in public health sooner if you already have a Master of Public Health (MPH) or MS in Public Health. Those attending online school part time should expect to complete the program requirements in five to six years. A total of 8 years may be allowed at universities to complete all courses and your dissertation. You can speak with an admissions adviser, the Public Health school, or department faculty to learn the time-frame specifics.
How much does do PhD programs in public health online cost?
The total cost of earning an online PhD programs in public health can vary widely based on a number of key factors. First, tuition and other fees are typically higher at private universities than public schools. Tuition is much higher if you have to pay out-of-state fees. If there are campus-based seminars augmenting online didactic learning, you'll have commuting and parking costs. You may even have to move to find housing within a commuting distance to the campus-based requirements. Next, will you pursue the online degree in a full-time or part-time basis? While tuition remains the same, part-time students will incur additional tuition if they need summer classes to keep pace. Finally, the cost depends on the amount of financial aid you'll need to fund your program.
For the cost of a specific online PhD programs in public health, find a school in the ranking above and visit its tuition and fees page. Here is a sample of in-state tuition rates at five universities offering the online PhD programs in public health and two that are campus-based programs:
Funding Your Online Public Health PhD
By lining up funding before entering a program, you can eliminate financial worries and focus on your studies. So many options exist to pay for all or part of your PhD program. Here's a list of the most common methods:
2
Financial aid
Research schools to see which financial aid programs are available. Federal financial aid for graduate students include Graduate PLUS Loans, Direct Stafford Loans, and Federal Work-Study. To apply for Federal Financial Aid programs, begin the process by completing the Free Application for Federal Student Aid (FAFSA®). Application results are reported to your selected schools.
3
Research or teaching assistantships
PhD programs commonly offer research or teaching assistantships to qualified doctoral students. They cover tuition and a monthly stipend. A research assistant works in concert with a faculty member on studies in their specialization. A teaching assistantship maybe a difficult find at online programs. Look into distance programs where you can work with students entirely online.
4
Private Loans
Private loans from banks/credit unions or other lenders must be paid back fully and payments may begin before you complete the PhD. They come with fixed or variable rates and may have lower interest rates than federal programs. They can also supplement the funds you'll receive from federal programs. Loan origination fees can jack up the total amount you borrow.
5
Employer assistance
An employer in the public health field may offer loans to cover your education. The best chances for this kind of program are at private (for-profit) entities or at governmental organizations. Employers are increasingly accepting online programs from accredited schools for financial assistance. You may have to fully reimburse the employer or agree to stay with the employer for a specific number of years.
After the Online Public Health PhD
Now you understand what it will cost for your PhD and the resources to pay for it. Before applying to programs, however, make sure you know what doors a public health PhD will open (and how much they'll pay). Here's a closer look at the opportunities and salaries available after graduation.
What can you do with a PhD in Public Health?
Before you enroll anywhere, consider the range of career opportunities for grads who've earned a PhD programs in public health. The opportunities may affect your decision or narrow the number of specialties to choose from. Each PhD specialization has its own career growth and salary estimates. Many jobs that meet your degree choices are at settings in universities, research labs, public health organizations, medical facilities, in managed care, or at state and federal public health institutes. Here are some of the major careers and growth estimates to consider: The US Bureau of Labor Statistics has projected job growth for biostatisticians at 30%, 2018-2028. Openings for medical and health services managers is estimated at 18% during the same decade. Job growth for epidemiologists is estimated at 5%, 2018 to 2028. For health educators and community health workers, opportunities will increase by 11%, 2018 to 2028.
The following graph details some of the more-popular career paths for public health PhD holders: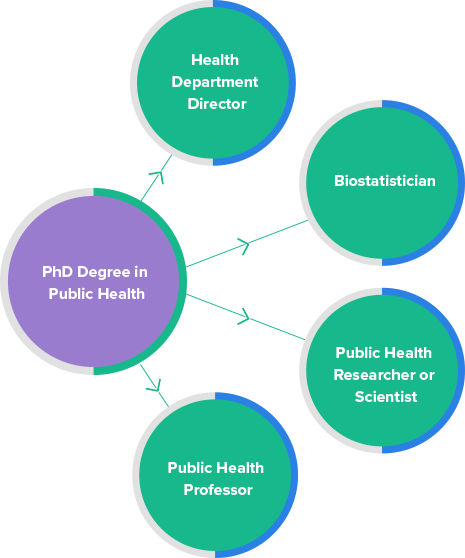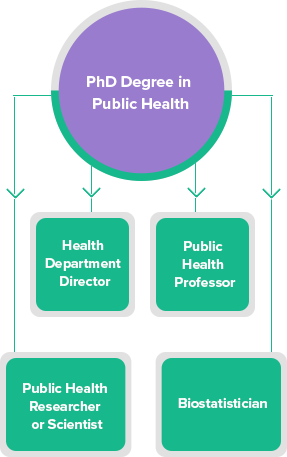 What can you earn with a PhD in Public Health?
Salaries across the spectrum of public health professions vary. Annual wages for the same position can be higher at a for-profit business than at a public laboratory or organization. Job location and cost of living are other factors, as is your degree, your specialty, and pertinent experience in the field.
The following table shows the spectrum of salaries, based on education, experience, and location for various public health professionals:
| Career | #Employed | Entry-Level | Early Career | Mid-Career | Experienced | Late Career |
| --- | --- | --- | --- | --- | --- | --- |
| Epidemiologists | 7,060 | $42,240 | $54,930 | $69,660 | $89,950 | $112,600 |
| Medical Scientists, Except Epidemiologists | 120,320 | $46,810 | $59,580 | $84,810 | $118,040 | $156,980 |
| Environmental Scientists and Specialists, Including Health | 80,480 | $42,520 | $53,580 | $71,130 | $94,590 | $124,620 |
| Health Specialties Teachers, Postsecondary | 199,480 | $43,370 | $61,280 | $97,370 | $160,580 | – |
Related Degrees
In addition to the online PhD programs in public health, there are other opportunities to advance your career. Perhaps you already have a job and undergraduate degree, but you want pivot into a related field by earning a second degree to build your knowledge base and credentials. An MPH, for example, can qualify you for an advanced role in community care. By earning a Doctor of Public Health (DrPH), you'll be prepared to move from patient care to research and program administration. Advanced online public health degree programs allow you to keep your current job while you study.
Take a look at two options that may be a good fit if you're working in public health with an eye on advancing:
Master's in Public Health (MPH)
The MPH degree is for practitioners who want to go beyond the level of direct patient care. It is typically organized around core studies in social and behavioral sciences, health policy and administration, biostatistics, environmental health, and epidemiology. Graduates can work as a Child Health Specialist, Environmental Health Director, Informatics Specialist, Public Health Educator, and Public Health Social Worker.
Doctor of Public Health (DrPH) Online
The online DrPH degree combines distance learning with practical, hands-on training. The degree is designed for students who plan to undertake leadership roles at community-based and non-profit organizations, and at health departments at the local, state, and federal levels. Programs build on the student's abilities in research, public health management, and practice.