Written By


last updated

09/06/2023
The Best Accredited Online DrPH Programs in 2024
When it comes to finding the best online DrPH programs, a number of good options exist, but how do you choose the right one? The answer: research. List the available schools, decide which factors matter the most, and start narrowing your list one by one. To help, we've researched and vetted the top online Doctor of Public Health programs from schools across the entire U.S. These schools are CEPH accredited and have tuition rates that will keep a PH doctorate well within your reach.
or
About the ranking
X
Base Methodology for EduMed's Best Online College Rankings for the '23-'24 school year.
One: Create list of Eligible Schools and Programs
To be eligible, schools were required to meet the following criteria based on data pulled from The Integrated Postsecondary Education Data System (IPEDS), which was self-reported by the schools themselves.
Institutional accreditation from an organization recognized by the U.S. Department of Education.
At least 1 online component in a program within the ranking-subject area.
Two: Assign Weighting
After creating the list of eligible schools, EduMed data scientists assigned weights and ranked schools based on a mix of metrics, which were all self-reported by the schools themselves to the U.S. Department of Education and IPEDS.
The metrics are listed below in order of most- to least-heavily weighted.
Online Programs – Number of online programs in the relevant subject area.
Online Student % – Number of total students who are enrolled in at least 1 distance-learning course in the relevant subject area.
Tuition – The average in-state tuition for undergraduate students studying full-time, as self-reported by the school.
Academic Counseling – Existence of this service on campus or online.
Career Placement Services – Existence of this service on campus or online.
Student/Faculty Ratio
About Our Data: EduMed's rankings use the latest official data available from The Integrated Postsecondary Education Data System (IPEDS). Most recent data pull: July 2023
#

School Name

Type

Tuition

Online Programs

More Details

School Information

Online Students

Academic Counseling

Career Placement

Students w/Institutional Aid

Median Earnings 10yrs After Entry

Accreditation

1

Mercer University

Macon, GA

Private not-for-profit

$$$

1

Mercer University's Doctor of Public Health program is available in both an on-campus and hybrid format. With the latter, many of the classes can be completed online, although students must also complete a practice-based dissertation and integrative learning experience. There are also two specializations to choose from; Social Epidemiology focuses on how social trends and challenges, such as racism and politics, affect the health of groups of people, while the Diverse Populations and Health Equity concentration trains students on how to develop and implement public health programs focused on helping minority or disadvantaged groups.

Program Highlights:

Doctor of Public Health

Credits: 57
Length: 7 semesters
Cost: $1,009.00/credit
Mode: Partially online
Accreditation: CEPH

Academic
CounselingYes
Career
PlacementYes
Student/
Faculty Ratio13/1
Online
Student %39%

2

Samford University

Birmingham, AL

Private not-for-profit

$$$$

1

The online Doctor of Public Health program from Samford University was created to offer several flexible learning options to working professionals. To accommodate those who will continue working while in school, students can complete the curriculum on a part-time or full-time basis. Most of the courses can also be completed fully online, although there are some integrative learning experiences required to graduate. To accommodate students with different academic and professional aspirations, two concentrations are available: Health Management and Policy, and Population Health Analytics and Decision Making.

Program Highlights:

Doctor of Public Health

Credits: 45-46
Length: 5 semesters
Cost: $938.00/credit
Mode: Partially online
Accreditation: SACSCOC

Academic
CounselingYes
Career
PlacementYes
Student/
Faculty Ratio12/1
Online
Student %38%

3

Medical College of Wisconsin

Milwaukee, WI

Private not-for-profit

$$$$

1

The Doctor of Public Health degree from Medical College of Wisconsin is a blended program with both online and in-person components. The online classes are delivered both synchronously and asynchronously, so students can better fit their coursework into their busy schedules. As for in-person learning, there are three required campus visits that take place over the summer. The program is set up as a cohort model to facilitate interactive learning and networking among students.

Program Highlights:

Doctor of Public Health

Credits: 46
Length: About 3 years
Cost: $1,326.00/credit
Mode: Partially online
Accreditation: CEPH

Academic
CounselingYes
Career
PlacementYes
Student/
Faculty Ratio0/1
Online
Student %16%
The Doctor of Public Health (DrPH) degree is the terminal degree for public health professionals working (or looking to work) in a practice-based setting. Students can focus their research and coursework on public health policy, global health, leadership, and a variety of additional tracks that line up with their career goals. Because many students are mid-career and working, colleges and universities have moved some or all of their DrPH programs online, giving those admitted the ability to study part-time, full-time, and with tremendous time and place flexibility.
The following guide to online DrPH programs is a great starting point. It answers key questions that could make a college decision tough. From program basics to understanding accreditation, start your online program journey here.
CEPH Accreditation for Online DrPH Programs
Accreditation is one of the most important aspects of any degree program, no matter the level. Accreditation assures that a school or program has been evaluated by an independent body and found to meet the standards of a solid education. Accreditation ensures quality; that's why many schools will only accept transfer credits from accredited institutions, and why, in most cases, financial aid is only awarded to those students who are enrolled in an accredited program.
Regional accreditation speaks to the quality standards of a school itself; programmatic accreditation comes from independent bodies that focus on a particular area of education, and accredit the programs themselves. The Council on Education for Public Health (CEPH) is the accrediting body for public health programs, including Doctor of Public Health online programs. Choosing a CEPH accredited program helps ensure that employers will recognize the education as a high-quality one, and that graduates will be a good bet for employment in their organizations. If you have any questions about a programs CEPH accreditation, look for the school or program's information on the CEPH website, or contact the school directly.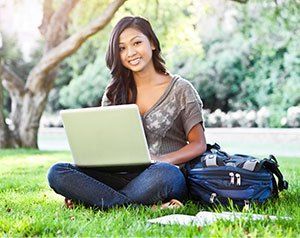 Inside the Online Doctor of Public Health (DrPH)
Getting to know an online Doctor of Public Health program before you apply is a great way to ensure you make the right choices. Remember that the best decision is an informed one. So take your time in reviewing curriculum requirements, costs of tuition and fees, career prospects upon graduation from a particular program, the distance learning aspect (and how often you might need to be on campus), and more. Here are a few key questions you'll want to answer before you leap.
Who is an online DrPH for?
Busy professionals who want to advance their careers often look to Doctor of Public Health online programs. They want the flexibility of online learning coupled with the ability to continue working in their jobs, gaining experience and moving up the ladder as they gain another level of education. DrPH programs are popular among mid-level professionals in the public health field who have some experience, earned a master's in public health, and are now ready to take the next step in career advancement.
But keep in mind that online learning, while incredibly flexible for most, can also provide some challenges. A person must be comfortable working, studying, and communicating online. They must be well-versed in the technology it takes to handle message boards, chat rooms, video lectures, and more. They must be able to work independently for long hours at a time, with some guidance but lots of wiggle room. They should be organized, driven to succeed, have a great deal of self-discipline, and be able to create and meet their own deadlines. Fortunately, many of these skills come easily to seasoned public health professionals.
What's the difference between a DrPH and a PhD?
Though the DrPH and the PhD might seem quite similar, the truth is that graduates from each program are prepared for very different roles in the field. PhD studies focus strongly on academic and scientific roles in public health, helping to prepare students to enter into research or academia. The DrPH is a professional degree meant for those who intend to work hands-on in the field in a leadership role. Here's a bit more about how each degree breaks down:
| | DrPH | PhD in Public Health |
| --- | --- | --- |
| Academic focus | Evidence-based | Research-based |
| Career track | Clinical/professional | Academia |
| Program type (common) | Part-time | Full-time |
| Program length | 4-5 years | 5-7 years |
| Primary students | Mid-career | Early career |
Get information on the online PhD programs in public health.
What do you learn in an online DrPH program?
Despite variety across online DrPH programs, many will have similar core concepts or courses that students need to learn or take. This helps to ensure that professionals graduate with the skills they need to excel in a variety of public health settings. Here's a sampling of what you should see when earning your Doctor of Public Health online.
Organizational Leadership
A study on how to lead effectively in organizations of various sizes, financial abilities, and goals. Leadership courses are an integral part of the doctoral degree programs in public health. They might be presented under names such as Leadership Seminar, Leading Organizations, Advanced Leadership, and the like.
Problem-Solving Seminar
Part of the goal of the Doctor of Public Health online is to prepare students for solving problems, whether that's for an individual or a global community. Problem-solving seminars take real-world issues and challenge students to work through the issue and present solutions that serve the greater good. A few examples of course names might include: The Obesity Crisis, The Opioid Crisis, Protecting the Environment, Safeguarding Workers, or Suicide Prevention.
Data Analysis
Those in the public health field are often faced with reams of data and asked to make sense of it all. Understanding how to analyze that data, condense it down into something meaningful, and convey that through effective communication is what this course is all about. Though many schools simply name this "Data Analysis," this might show up under other names, such as Advanced Data Analysis, Data Workshop, or Methods for Data Analysis.
Research
All that data comes from in-depth research, which public health leaders must understand how to conduct, evaluate, and communicate to others within an organization. Research courses will help students understand what goes into surveys, canvassing, and other forms of collecting information from various populations. The courses might be called things like Qualitative Research, Research Theory and Methods, Quantitative Research, Qualitative Data Analysis, or Mixed Methods in Research in Public Health.
Communication
Those in public health are often in the public eye, offering information to reporters, journalists, news organizations, government organizations, and more. Strong communication skills are an absolute necessity for someone representing public health interests in front of the cameras. These courses, with names like Effective Presentations, News Media Interviews, or Public Health Media, are designed to help students feel at ease when communicating important information to the greater communities.
---
Doctor of Public Health online programs are meant to bolster a student's skills in a variety of areas that will help them become more effective leaders. Many incoming students already have a firm grasp of these skills and just need a bit of polish as they move forward into their leadership roles. A few of these skills include:
Excellent communication
Attention to detail
The ability to disseminate research
Problem-solving skills
Strong leadership abilities
What opportunities to specialize do online DrPH programs have?
Those entering the doctoral program in public health are already well into established careers and seeking a step up along that path. Specializing within a degree program is quite common at this stage, as students usually want to further the career path they are already on and become more proficient in one particular area. Most students already have a specific track in mind that will dovetail with their career goals. Here are a few of the more common concentrations you can choose from in your online Doctor of Public Health program.
Health Leadership
This concentration focuses on preparing students to move into upper-level roles in public health organizations. Their work as administrators can help move these organizations into greater opportunities to foster the public good, engage communities they serve, and touch everyone from the individual to the global community.
Epidemiology
This cornerstone of public health focuses on health and disease in certain populations; this concentration helps students better understand and implement the research, survey, and assessment methodologies necessary to understand what is happening in various communities or populations, then search for solutions that will suit the growing needs of those individuals within those communities.
Community & Behavioral Health
Graduates from this concentration will look at the behaviors of various communities and social environments that affect the public health of individuals and at large. Professionals in this area try to find patterns in behavior that speak to a broader range of issues, and then look for solutions that dovetail with the community's needs as a whole.
Health Systems & Policy
This concentration is for those who work behind the scenes, crafting careful healthcare policy, forming the rules and regulations for health systems, and assisting in keeping organizations running smoothly. The jobs available to those with a strong systems and policies background might range from small local organizations to vast businesses focused on public health to governmental positions.
How long do online DrPH programs take?
The length of your Doctor of Public Health online program depends on a number of factors. Though most schools offer a four year schedule that can be extended to six years for the dissertation completion and defense, this often assumes part-time enrollment for working professionals. Those who devote full-time study to the degree could bring that time down to two to four years (again, much of this depends upon how long the dissertation takes). Other factors include the school itself, the schedule on which it offers online courses, start dates of the various schools, and more.
What's the cost of earning a DrPH online?
Costs vary by the type of school, how long it takes you to complete a program (part-time or full-time), how much financial aid you might be eligible to receive, and even where you live – some schools offer in-state tuition to online students, no matter where they live, while others have entirely different tuition rates specifically for online learning. Here's what the tuition looks like for some of today's best online DrPH programs:
Johns Hopkins University:
$1,162/credit
University of Illinois – Chicago:
$950/credit
Pennsylvania State University:
$21,960/year
University of North Carolina at Chapel Hill:
$742/credit (resident), $1,548/credit (non-resident)
Do I need to take the GRE to get into a DrPH program?
The answer to that question depends upon the particular program. Some are more traditional and want to see GRE scores, no matter what. Others take a completely opposite approach and do not require the GRE under any circumstances. Still others fall in the middle, where they do not require the GRE if an applicant has a certain amount of experience; those schools argue that experience of an applicant tells them much more than a standardized test score ever could. This is becoming more common because most DrPH students are working professionals with significant experience and who may be far removed from standardized testing.
Do online DrPH programs have any campus requirements?
Though most coursework in the DrPH program can be completed entirely online, many schools do require campus visits from time to time. The number of visits can vary by program, and might include anything from a one-time weekend visit for orientation to a visit of several days, occurring each semester. For example, University of North Carolina at Chapel Hill requires DrPH students to attend six campus visits over the span of two years; one of those visits might be held somewhere other than Chapel Hill, such as in the case of a special event that focuses on leadership development.
Paying for Your Online DrPH
Paying for graduate school can be challenging for anyone, whether you have the means to pay out-of-pocket, or you need to leverage every option imaginable to make your degree a reality. No matter where you fall, always make sure you explore as many funding opportunities as possible, from the free ones (scholarships) to the ones you need to pay back (loans). Here are the five places you should look first:
1 Scholarships
Scholarships available specifically for those in public health or a closely related field can be found through organizations that focus on serving communities and specific populations. In many cases, public health scholarships might also fall under the umbrella of medicine, health professions, or graduate school study. Apply for scholarships as early as possible due to high competition and strict deadlines.
2 Financial aid
Start the search by filling out the FAFSA, which many schools use as a benchmark to determine their school-based or program-based awards. Some grants and fellowships might also be available, especially for those engaged in cutting-edge research on the doctoral level. Research financial aid for online health and medical programs.
3 Fellowships
Sometimes called assistantships or even work study, these opportunities usually provide a stipend as well as cover the cost of tuition for each semester in which a student keeps their fellowship. Offered directly by the schools, these programs are highly competitive, so it's important to apply early and showcase the finer points of what you can provide to fellow students.
4 Loans
This is the typical financial fallback plan for graduate students. Scholarships and grants often don't cover the entire cost, and fellowships are tough to get; therefore, a loan might be the answer. Look for loans with low interest rates, especially those that don't begin accruing interest until a student is out of school.
5 Employer assistance
Many employers recognize the value of advanced degrees, and some of them are willing to help you get one. Employer assistance, if offered, usually kicks in after you've worked in a particular job for a set period of time. It might be given on the stipulation that you will continue to work for the organization for a certain period of time after receiving the degree. Talk with Human Resources for more information.
What's Next? After Earning Your DrPH Online
Many people who enter DrPH programs are working public health professionals looking to advance their careers, or to move into a specific career related to their current one. In some instances, students will choose to use the DrPH to open various doors to new jobs in a related field. Whichever bucket you fit into, it's good to review your options so you can take your next educational step with confidence.
What can you do with an online DrPH?
Since the DrPH tends to focus strongly on leadership, it's perfect for those who want to move the move to upper management or executive level in a variety of public health organizations. The jobs available for those with the DrPH can put individuals on the front lines of healthcare as a health program director, put them behind the scenes as an analyst, or even put them in a position that combines these very important positions. Here's a look at a few of the many jobs available to those who earn this terminal degree.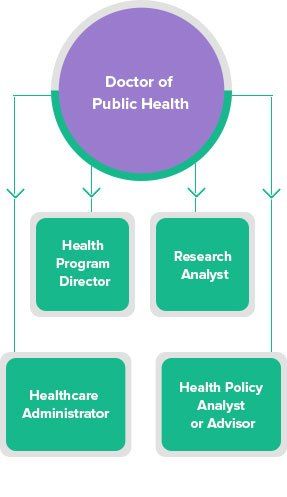 How much can you make with a DrPH?
By the time a person earns their DrPH, they have been in the public health world for many years. That experience is one of the crucial points that affect a person's salary in the field; the other is their level of education. When someone has earned the terminal degree, the years of experience begin to pile up and hopefully lead to better compensation. The following table shows the spectrum of salaries, based on education, experience, and location for various public health professions:
| Careers in Health | # Employed | Entry-Level | Early Career | Mid-Career | Experienced | Late Career |
| --- | --- | --- | --- | --- | --- | --- |
| Top Executives | 135,040 | $46,790 | $65,490 | $96,890 | $148,320 | – |
| Chief Executives | 16,790 | $79,870 | $113,520 | $173,770 | – | – |
| General and Operations Managers | 118,250 | $45,120 | $62,490 | $90,800 | $132,720 | $200,130 |
| Epidemiologists | 1,240 | $48,320 | $66,430 | $80,410 | $97,610 | $117,750 |
| Medical Scientists, Except Epidemiologists | 31,610 | $48,560 | $60,930 | $84,080 | $108,070 | $131,550 |
| Health Teachers, Postsecondary | 16,100 | $59,760 | $83,400 | $126,360 | $183,890 | – |
| Health Specialties Teachers, Postsecondary | 11,900 | $60,140 | $89,920 | $140,070 | $192,260 | – |
Related Degrees
Those who want to boost their career in public health often look to the DrPH to do so, but there are other routes that might serve you just as well, if not better, depending upon your career goals. There's also plenty of room to pivot into a related career with a second degree program. Let's take a look at a few of the degree options that may be a good fit if you're studying or working in public health.
Just as with the Doctor of Public Health, the PhD in the field is often pursued by mid-level or upper-level professionals who want to advance their career. However, the PhD tends to focus on preparing students for positions in research and academia. Graduates of the PhD in Public Health program often work in organizations devoted to researching public health matters, or wind up teaching at the university level.
Online Master's in Public Health
Those who want to work hands-on in the public health world often opt for this master's degree, which allows them to enter jobs with more responsibility in public health organizations. The master's degree opens the door to the PhD or the DrPH, both of which can serve to help a graduate move into higher levels of their career. The master's program is often chosen by those who have been working in the public health field and want to make it a permanent career choice.