The public health industry has a wide range of career paths in client care and health research alike. An online master's in public health is a great degree option for health professionals who are looking to enhance their knowledge, buff up their practical skills, and prepare for leadership roles in the field. However, enrolling in an online MHP program takes careful consideration, so doing ample research is essential. We've collected some of the most useful information on online MPH programs, careers for MPH graduates, and financial aid. We've also put together a list of the best accredited online MPH programs, accounting for both quality and cost, to make finding the right school a little easier.
Dartmouth College

Dartmouth offers a 22-month hybrid master's in public health. While the program combines online and on-campus work, Dartmouth's MPH is a low-residency program, with students spending three weeks per year on campus. This time on campus is minimal enough that professionals don't have to leave work for extended periods but still gives students the opportunity to meet their peers and instructors in person and have live, face-to-face classes. The rest of their program is completed online using virtual classes, video lectures, case studies and problem sets as modes of learning. Dartmouth admits students in cohorts of about 40 peers and boasts a 12:1 student-to-faculty ratio. Students take one course at a time in addition to a practicum course that spans the duration of the program. Dartmouth's practicum combines elements of a traditional master's thesis with internship. Students address a healthcare issue and produce an academic product, like a grant proposal or policy white paper, which they present at the end of their program.
The George Washington University
University of California Berkeley
CEPH Accredited Online MPH Programs
When browsing online MPH programs, students should make sure their potential schools and MPH programs are accredited. Accreditation shows that institutions and programs of study have undergone standardized quality assessments determined by a board of field experts. Regional accreditation is one of the most widely recognized forms of accreditation in the U.S. Seven regional accrediting bodies governed by the Council for Higher Education Accreditation (CHEA) evaluate colleges and universities holistically. This is known as institutional accreditation, and it plays an important role in students' financial aid. Students must be enrolled in a regionally accredited school in order to receive federal financial aid.
Individual programs of study within an institution can also undergo accreditation. The organization in charge of accrediting public health programs is the Council on Education for Public Health (CEPH). CEPH accredits both schools of public health and specific public health programs, like online Master of Public Health degrees. Those who enroll in a CEPH-accredited online MPH not only get an education evaluated on multiple levels by public health academics and professionals, they may also have more job opportunities. Many public health careers limit employment or give strong preference to applicants who have graduated from CEPH-accredited programs and schools. Also, those looking to earn the Certified in Public Health (CPH) credential may not sit for the CPH exam unless they graduated from a CEPH-accredited program.
Understanding the Master's in Public Health Online
Applying to an online master's in public health program is an important decision that should be given careful thought. All programs are different, so prospective MPH students should take time to familiarize themselves with different options. Being adequately informed can help ensure students enroll in an online MPH that works for them. Here are some key things to consider when comparing online master's of public health programs.
What will you learn in online MPH programs?
A helpful way to determine whether or not an MPH is the right program of study for you is to check out the curriculum and see if the courses may help you in your educational and career goals. Curriculum specifics vary between programs, but many online MPH programs have some core courses in common.
Epidemiology
Introductory epidemiology courses introduce students to basic epidemiology principles and methods, like creating research questions and assessing the distribution of health and disease within populations. Students may learn about causal relationships, study design methods and other practical epidemiological techniques and concepts.
Course titles to look for: Epidemiologic Methods; Epidemiology of Health & Healthcare
Research Methods
Research courses often provide an essential framework for MPH final projects. Students learn about research design, data collection and analysis for public health research. They may also go over inferential best practices and learn different techniques for qualitative and quantitative research.
Course titles to look for: Research Methods in Public Health; Qualitative & Survey Research Methods
Health Policy
These courses focus on health policy and finance in the United States. Students may examine how concepts from other disciplines, like economics and political science, are applied to health policy as they learn about the nature of policy-making and the effects of implementing health policy.
Course titles to look for: Health Policy and Management; Health Policy
Program Planning
As the name suggests, students in these courses typically learn how to plan public health programs. Planning methods and research techniques may be introduced and assessed to help students create and evaluate health plans. Collaboration and communication are often featured prominently in program planning courses.
Course titles to look for: Program Planning; Program Planning and Evaluation; Planning, Implementing, and Evaluating Change
Environmental Health
This entry-level course typically covers common environmental factors that contribute to disease. Students may be introduced to exposure assessment, toxicology and risk assessment. Some courses may also explore occupational health issues.
Course titles to look for: Intro to Environmental Health Science; Introduction to Environmental Health; Environmental and Occupational Health
While taking their public health courses, MPH students also gain a range of skills that may help them in their careers. These skills are often developed throughout the course of a program across multiple classes and capstone experiences. When comparing MPH programs online, students can see whether skills and competencies like the ones below have a significant place in the curriculum.
Project development and research
Analytical and quantitative analysis of health care data
Strategic decision-making
Communication, teamwork and leadership
Programmatic improvement
What concentrations can I choose in an MPH program?
For many students, a bachelor's degree provides the foundational knowledge needed to enter a career field, and their master's degree allows them to deepen their knowledge in a particular area of interest within that field. Focusing their studies on a particular demographic or other aspect of public health may help graduates land jobs that require specialized knowledge and skills. These are just a handful of the concentrations available through different online MPH programs.
Aging & Public Health
This concentration may be good for students interested in studying aging populations and understanding the process of aging from their point of view. This area of focus may include studies in health issues for aging populations, changes in the brain and behavior and assessment of policy to better serve diverse aging populations.
Child & Adolescent Health
Students who focus their studies on child and adolescent health may examine a variety of environmental, socioeconomic, demographic and cultural factors to gain specialized knowledge on health issues that affect young people. Students may use their capstone project to study and address a particular issue that affects children's health.
Health Policy and Management
Through a health policy and management concentration, students have the chance to gain focused knowledge on organizational behavior and management in healthcare, the systems through which health policy decisions are made, health policy evaluation methods, economics and financing of health policy.
Epidemiology and Biostatistics
This may be a good specialization for students drawn to quantitative data and analysis. Studies in biostatistics help students interpret statistical data and assess its validity and relevance, while epidemiology involves using data to track diseases and study correlations between disease and other factors. Students typically choose a research question to apply data gathering and analysis skills throughout their program to draw conclusions.
Global Health
Students interested in developing skills and gaining knowledge they can use to improve the health of underserved populations around the world may want to pursue an MPH with a global health focus. Students may spend a significant amount of time learning about global health policy development and implementation.
Program planning and evaluation
Those who are particularly interested in developing and improving health programs can focus their studies on creating health promotion and education programs. Students may take marketing classes alongside courses centered around issues that affect specific populations, like reproductive health in low-income areas, to help them develop and implement effective health programs.
How long do online MPH programs take to complete?
Many online MPH programs are designed for students who have jobs and need a flexible way to advance their careers, so they're often intended to be completed on a part time basis. This often takes around 22-27 months, but MPH programs typically require in-field practicum hours, which may push graduation for students with tight schedules or who currently work outside of healthcare. Some schools offer accelerated degree programs, which can cut completion time to around 18 months, and highly motivated students can seek out full-time online MPH programs, which take about a year to complete.
The One Year Online MPH
One-year online master's of public health programs aren't as common as their part-time counterparts, but options exist for those who want to earn their degree as quickly as possible. While students can earn their degree quickly, one-year online MPHs can make it difficult to work while taking classes. Typical one-year degree course loads are on-par with a full-time job. However, these accelerated programs can be an excellent fit for students taking a gap year while applying to med school.
One program to consider is the University of Southern California's one-year online MPH. The program is fully online with no residency requirement, and students can choose from six concentrations to sharpen their expertise:
Biostatistics and Epidemiology
Community Health Promotion
Global Health
GeoHealth
Health Services and Policy
Generalist
The course load is about 40 hours per week with students taking 2-4 classes a term. During their final semester, students complete a practicum. The program starts in May, but applicants are accepted on a rolling basis. USC advises that students not work while completing their accelerated MPH. However, a few scholarships are available for the Master of Public Health Online program, which can help offset tuition costs while students are away from work.
How much will a master's in public health online cost?
The cost of an online MPH degree depends on a mix of factors, like which school you attend, your financial aid package and how long it takes to complete your degree program. Some online programs even have different tuition for in-state and out-of-state students. Berkeley's online MPH program doesn't differentiate between in-state and out-of-state tuition, but online students must still pay campus fees each term. Tuition for their online MPH costs $1,277 per credit with a $728 campus fee per semester. Therefore, students who take longer to graduate may end up paying more overall. When determining costs, it's best to check with individual online MPH programs and seek out cost breakdown details. Our rankings tool can help you get started.
Do I need to take the GRE for an MPH program?
GRE requirements for online MPHs depend on the program. Some schools do require GRE scores while others waive the score requirement if applicants have a certain amount of relevant professional experience. There are plenty of master's of public health degrees that don't require GRE scores that may be great fits for mid-career professionals or those who have taken a significant gap between their undergraduate and graduate programs.
What's does a practicum entail?
As with traditional master's of public health degrees, online MPH programs have a practicum requirement. The practicum allows students to gain hands-on experience in an area of public health that aligns with their career aspirations, conduct thesis-style research and apply their classroom knowledge in a practical setting. Most master's of public health online weave the practicum component throughout the entire program, but accelerated degrees may focus on coursework first and dedicate the final semester to research and hands-on experience. Students may work with a faculty mentor to develop their practica, which typically focus on a specific public health issue, and then conduct research and use the skills gained in class to create one or more solutions to their proposed issue. Some practica focus more heavily on in-field work, where students work with public health organizations to apply their knowledge to real issues. Students are usually required to write a report, proposal, grant, plan or other publication and present it to faculty and peers. Presentations may occur during short, on-campus residencies.
Paying for Your Online Public Health Degree
Before enrolling in an online MPH program, prospective students should make sure they have their finances together and can pay for their degree. Figuring out how to pay for college can be intimidating, but getting everything sorted out in advance can be a huge stress relief when it comes time to begin classes. There are a range of financial aid options to help students plan for their MPH degrees.
1
Scholarships
Public health master's students can apply for a variety of merit- and need-based scholarships. While applying for them can take time, scholarships are a great form of financial aid. They don't need to be repaid, and many of them can be renewed for multiple terms. Visit our scholarships page to find some of the top scholarships for medical and health students.
2
Financial aid
Filling out the FAFSA is a relatively straightforward way for students to open themselves to multiple federal financial aid opportunities. Students may be eligible to receive grants, scholarships, work-study funds and subsidized loans. Many institutions use the FAFSA to determine their financial aid packages, too, so it's definitely worth filling out. Learn more about the FAFSA and other forms of financial aid.
3
Grants
The FAFSA considers students for federal grants, but MPH students can seek out grants elsewhere, too. Professional organizations and non-profits can be excellent sources of gift aid like grants.
4
Private Loans
If after pursuing other forms of financial aid students still need tuition assistance, they can apply for private loans. These must be paid back, and they tend to accrue interest even while a student is in school.
5
Employer Sponsorship
Sometimes employers will provide tuition assistance to employees who want to advance their educations. Typically, students have to at least be able to explain how the additional education would benefit their employer, but some tuition sponsorship agreements are a little more involve. Berkeley provides some helpful tips on requesting employer sponsorship on your online MPH.
What's After Your Online MPH?
It's a smart move to think about what comes after an MPH well before enrolling in an online program. Understanding potential careers and getting a feel for the industry's future before starting an online MPH can help prospective students make informed decisions about their career and degree paths. Career options, role expectations, industry growth and salary potential are important pre-enrollment considerations.
Are there any certifications or licenses I need with an MPH?
While there aren't any required certifications or licenses for public health professionals, graduates of online MPH programs may opt to get a Certified in Public Health (CPH) credential from the National Board of Public Health Educators (NBPHE). Those who hold this credential indicate advanced public health knowledge and a commitment to continued professional development and industry advancement. A CPH credential also shows potential employers that MPH graduates maintain national standards for public health professionals and are committed to upholding professional values. To earn the CPH credential, graduates of CEPH-accredited online MPH programs must pass an exam administered by the NBPHE.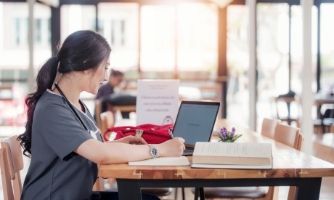 What can I do with an online MPH?
Public health is a broad and varied industry, so those with advanced degrees like an MPH can explore many career paths upon graduation. With backgrounds in research, policy and healthcare, MPH graduates may pursue a range of careers within non-profit, government and private organizations. After earning their master's of public health online, students may track and study health data as epidemiologists or biostatisticians. They may conduct essential research and add to the body of public health knowledge. Others might work in the public sector to develop and implement public health policy. Graduates can also continue their educations and pursue a Doctor of Public Health (DrPH) or a PhD in Public Health, both of which can open up even more career opportunities. The following chart gives prospective master's of public health students a small sample of the career possibilities available to MPH graduates.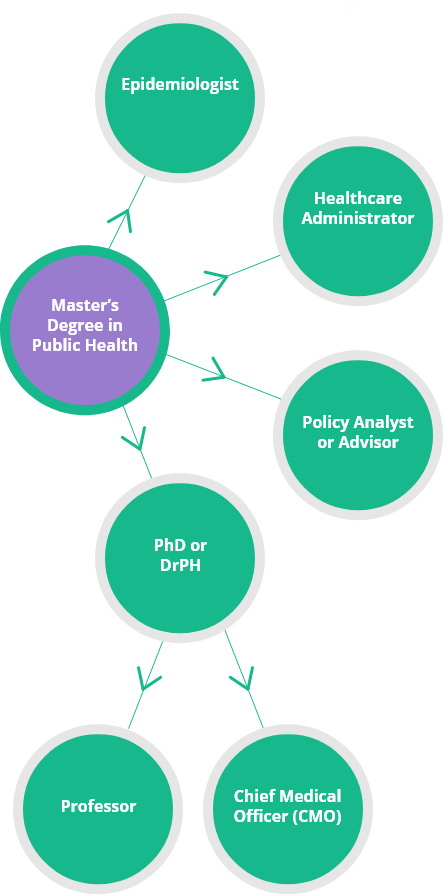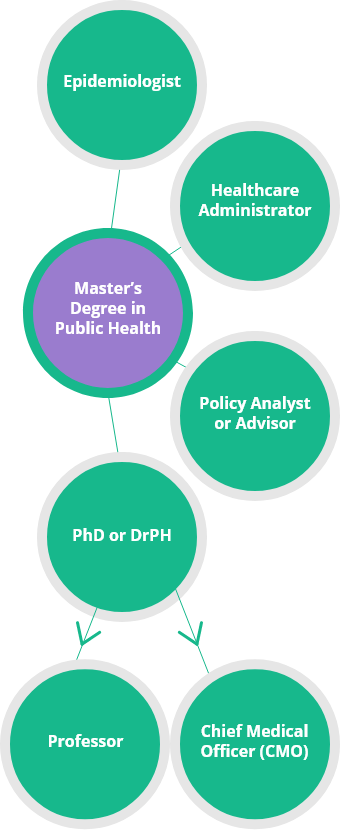 How much can you earn with an MPH degree?
Those who hold an MPH degree can take on a wide range of careers, so earnings vary. Healthcare administrators, for instance, had a median annual wage of $99,730 in 2018, while the median wage for epidemiologists was $69,660. (Bureau of Labor Statistics) Regardless of their specific career paths, salaries for public health professionals generally increase with higher education levels and more job experience. Use the table below to see how education, experience and location affect earnings for various public health careers.
| Career | # Employed | Entry-Level | Early Career | Mid-Career | Experienced | Late Career |
| --- | --- | --- | --- | --- | --- | --- |
| Medical and Health Services Managers | 372,670 | $58,680 | $76,050 | $99,730 | $130,820 | $182,600 |
| Health Specialties Teachers, Postsecondary | 199,480 | $43,370 | $61,280 | $97,370 | $160,580 | – |
| Environmental Scientists and Specialists, Including Health | 80,480 | $42,520 | $53,580 | $71,130 | $94,590 | $124,620 |
| Epidemiologists | 7,060 | $42,240 | $54,930 | $69,660 | $89,950 | $112,600 |
| Healthcare Social Workers | 168,190 | $34,210 | $43,530 | $56,200 | $70,280 | $84,870 |
| Health Educators | 58,780 | $32,030 | $39,800 | $54,220 | $74,660 | $98,530 |
| Substance abuse, behavioral disorder, and mental health counselors | 267,730 | $28,240 | $34,950 | $44,630 | $57,580 | $72,990 |
| Community Health Workers | 56,130 | $26,070 | $32,280 | $39,540 | $51,650 | $65,890 |
Further Education & Related Degrees
Those interested in public health aren't limited to online MPH programs, so if a master's in public health doesn't seem like the right degree path, there are plenty of other options to explore. Some degree programs hone in on more specific aspects of public health or may have a stronger focus on client care over research and policy. Some prospective students may want to explore their options after completing an MPH. Those who aren't sure if an online MPH program is the best fit for them may find these other health degrees worth looking into.

Continuing Education
Online Doctor of Public Health (DrPH)
An Online Doctor of Public Health is a great degree for professionals who have earned their MPH but want to continue their educations and prepare themselves for advanced leadership roles in public health sectors. Students focus their training on a specific area of public health while also developing their leadership, management and communication skills.

Related Degrees
Online Master of Healthcare Administration (MHA)
Prospective students who are drawn to the business side of healthcare may be better suited to an online MHA. Healthcare administration programs involve study in finance, human resources and marketing essential for keeping healthcare facilities functioning. Students also explore ethics, emerging technologies and leadership issues in healthcare.
Online Master's in Health Science
Students who want to earn a specialized degree in a specific area of health science may be good candidates for online master's in health science degrees. Schools offer many different specialization areas to prepare students for subject-specific research or clinical careers.