Written By


Expert Contributor
last updated

11/30/2021
Being the first in your family to attend college is a big accomplishment. Whether starting at a community college or jumping straight into university studies, pursuing higher education can instill a sense of pride in both you and your family. But just like anything worthwhile, college comes with a wide range of challenges. From applying and enrolling to financial aid and academics, it often helps to have someone with experience guide you through the process.
While first-generation college students might not be able to turn to their family members for advice on the college process, there are plenty of other resources out there that can make the journey easier. Being able to locate the necessary support to thrive while enrolled can make all the difference, you just need to know where to look. Find out the unique challenges faced by first-generation college students, find valuable resources, and get expert advice on making your transition to higher education smooth.
Unique Challenges for First-Generation College Students
Whether you're in healthcare or another field, first-generation college students face unique hurdles compared to students whose parents attended college. Identifying these challenges can help learners thrive, both through their own efforts and with the help of college administrators. Here are some of the common challenges you might encounter as a first-generation college student.
Lack of Knowledge about the College Process
If someone in your family hasn't attended college, they can't give you a sense of what to expect about the college process. This means, for example, that first-generation college students may not be aware of standardized tests they need to take, grades they need to make, and references they need to request. They may not even be aware of how deadlines work for the application process. As a result, first-generation college students may feel intimidated by their lack of knowledge and too embarrassed to ask for assistance navigating the process.
Solutions
Plenty of in-person and digital resources are available to help first-generation college students educate themselves and their families. Meeting with a school counselor helps identify the steps to take while still in high school. Visiting college campuses and meeting with representatives when they visit high schools can also help. Online forums, such as Reddit, where students share their experiences of applying are also helpful.
Financial Resources
Since their family members didn't attend college, the parents of first-generation college students may have less personal wealth and struggle more with paying for higher education. Students also may not be aware of the vast number of financial resources available to them based on first-generation status, financial need, academic merit, chosen major, or other factors. Students from financially disadvantaged backgrounds can afford college, but they need to know where to find support services.
Solutions
Most students can't afford to pay for college out-of-pocket, especially as costs continue to rise each year. Filling out the Free Application for Federal Student Aid (FAFSA) qualifies students for a variety of federally backed grants, work-study funds, and loans to make it easier to pay for college. Additionally, many general scholarships exist along with those specifically targeted to first-generation college students.
Self-doubt and Loneliness
Students whose parents or relatives attended college can instill confidence for success based on their experiences. First-generation students don't have this type of support, which can lead to self-doubt. Questions of whether you can succeed or even deserve to attend college can break your spirits and make you feel unworthy. Students caught in this spiral may not reach out to friends and family or make new friends at college, leading to feelings of loneliness.
Solutions
Remind yourself that the university believes in you. They offered you a place after all, and you deserve to be there just as much as the next student. Additionally, first-generation college students should remember that every incoming student feels anxious and overwhelmed, so they're not alone in those feelings, and things will get better.
Guilt
Feelings of guilt in first-generation students are common and normal. As the first person in your family to attend college, you may feel guilty that your parents or loved ones didn't have the same chance. Some families even make first-generation learners feel guilty, though usually not on purpose. Lastly, some first-generation students play integral roles in their families, and their absence makes things more challenging at home.
Solutions
Feeling guilty about these facets of being the first to attend college is normal but should not stop you. Remind yourself that getting a degree provides upward mobility for yourself and your family. Joining a first-generation or minority/immigrant student group at your school provides a community of students experiencing similar feelings where you can safely share what you're going through and get advice.
Family Responsibility
Especially in the case of immigrant and/or refugee families, younger generations often serve as pipelines to the rest of the English-speaking community. They also may contribute a portion of their earnings to their families. Leaving for college can be especially challenging for these students as they feel guilty handing their responsibilities over or leaving a gap when they're gone.
Solutions
While there is no easy solution to this challenge, first-generation college students should remember that they are getting an education for the good of their entire family. Studying closer to home can help by allowing for some availability on weekends. Those living further away can also still contribute a portion of wages earned from a part-time or work-study job.
College Timeline for First-Generation Students
First-generation students can begin taking steps to increase their chances of admission and make themselves stand out even further from other candidates well before they begin the college application process. The timeline outlined below gives you an overview of that process.
Leading up to Senior Year of High School
Once senior year begins, students turn to the tasks required to apply for and get into college. Use the summer months to get in the right frame of mind for the busy year ahead. Find some extracurricular activities to participate in to demonstrate your interests, leadership abilities, and desire to serve your community to admissions panelists. Look into prospective colleges, review admission requirements, think about possible majors, and visit campuses in person and/or virtually.
Senior Year of High School
After identifying prospective schools, follow this timeline to stay on track:
Based on school preferences, take the ACT or SAT so you can submit these scores to schools.
Most schools require a personal essay outlining goals, interests, and life experiences. First-generation students can use this to talk about being the first in their families to attend college.
Begin filling out college applications. Students with financial need can apply for application fee waivers via CollegeBoard and NACAC.
Fill out the Free Application for Federal Student Aid (FAFSA) to be considered for federal grants, work-study, and loans.
Submit completed college applications. Pay close attention to the unique requirements of each school and be sure to meet all deadlines.
By this time, FAFSA information should arrive along with any scholarship offers. Review these to get a sense of out-of-pocket expenses and if you'll need any loans.
After choosing a college and accepting the offer to attend, start considering living arrangements, local jobs, and other day-to-day factors.
Enjoy graduation! You worked hard and earned this. Celebrate with friends and family.
If possible, find a summer job and save as much money as you can. This will help you focus on school rather than work, at least for your first semester.
If attending a college farther from home, enjoy your last full month at home. Spend time with loved ones, create a packing list, and take time to get ready for your new adventure.
Freshman Year of College
Freshman year is overwhelming for everyone, not just first-generation students. Use the following tips to help you feel settled:
Bring photographs, mementos, and foods that remind you of your family and friends.
Get to know your classmates, roommates, and others you see regularly.
Whether it's a first-generation student group or one related to your major, religion, or another topic, student groups help you find others with similar interests and/or experiences.
Services such as counseling, academic advising, and job placement are available to all students as part of their tuition. Take advantage of these resources.
How to Succeed as a First-Generation College Student in Healthcare
Succeeding as a first-generation college student focused on healthcare comes by finding support and advocating for yourself and your future career. Keep these tips in mind, both in school and after you graduate, to help you be successful.
Seek Academic and Emotional Support
Transitioning to college is a challenge for any learner but especially for those who are the first in their families to enroll in higher education. As soon as possible, get rooted in your college. Get to know roommates, chat with your classmates, and introduce yourself to professors. Make sure you know where the school's counseling center is, and don't be afraid to ask for help.
Look for Experiences in Healthcare
Even if your healthcare degree requires an internship or externship, seek additional opportunities for gaining experience and making professional connections. For example, consider volunteering in a clinical setting related to the healthcare area you plan to pursue.
Create a Work-life Balance
Within the world of healthcare, professionals regularly report feelings of burnout and fatigue. Since so many first-generation students work while enrolled, creating balance early on sets you up for success in the future. Learning to create a work-life balance now is key for a long and fulfilling career.
Plan Ahead
First-generation students' families can help and support them in many ways, but they won't be able to provide insight into the college process. Leave plenty of time to plan and execute and remember that parts of the process will take longer if you don't initially know who to contact or where to find help.
Focus on the Future
Inevitably, you'll feel overwhelmed and question whether you have the stamina to finish college. Every student feels this at some point, but these thoughts may weigh more heavily on first-generation learners. Remind yourself that college is relatively short, but the benefits will last your entire career.
Paying for College: Scholarships for First-Generation Students in Healthcare
Scholarships for Low-Income Students
College of Allied Health Sciences Dean's Endowed Diversity Scholarship:
Provided by the University of Cincinnati, this award supports allied health students, and preference is given to first-generation learners.
This award supports first-generation students with minimum 3.0 GPAs who plan to attend college in Arizona and can show financial need.
First Generation Matching Grant Program
The Florida Department of Education provides this award to resident undergraduate first-generation students with financial need. The department matches grant funding received from a student's institution.
Imagine Dragons Origins Scholarship
Four first-generation, immigrant, and/or refugee students who show financial need can receive this $2,500 award each year.
IFSA First-Generation Scholarship
This award provides up to $2,500 for study abroad experiences. Applications are accepted twice annually.
Centre College provides 10 full-tuition scholarships every year to first-generation learners who demonstrate substantial financial need.
Mike Michail Memorial Scholarship
Provided by CAPPS, this award supports first-generation college students and immigrants attending college in California.
Minority First Generation Scholarship
EducationDynamics provides $10,000 to minority, first-generation college students. Applications must arrive by June 30th.
This award supports first-generation BIPOC learners who identify as secular, humanist, agnostic, and/or atheist. Four recipients each receive $5,000.
Advice for First-Generation College Students: Expert Q&A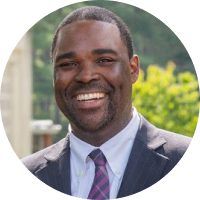 Lowell K. Davis, a Dallas native, graduated from Hampton University with a bachelor's degree in English Arts-Secondary Education. He has a master's degree in counseling with an emphasis on College Student Development. He also holds a Ph.D. from Indiana University in Higher Education Administration and Student Affairs with an emphasis on the History of Education. Lowell serves as the Vice Chancellor for Student Affairs at the University of North Carolina – Wilmington. He previously served as the Associate Vice Chancellor for Student Success at Western Carolina University (WCU). He came to WCU from the University of Alabama, where he rose through the ranks of both Academic and Student Affairs.
Q: What must faculty and administrators consider when working with this population?
A: There are many things that first-generation college students may not understand when it comes to navigating the landscape of a college campus. These students may not understand the true definition of credit hours, the myriad of loan options, and the challenges this population may or may not experience at home
Q: If you could give these learners one piece of advice, what would it be?
A: I would encourage first-generation college students to be active and not afraid to ask questions about anything. Please visit the Financial Aid and Student Accounts office as soon as you arrive on campus. Ask them to talk with you about your bill and any aid you are receiving. Ask them to talk with you about various loan options (subsidized and unsubsidized). Additionally, seek external grants and scholarships. Do everything you can do to bring the cost of attendance down if possible.
Additionally, I would encourage you to visit and engage with two people in Student Affairs. One, meet your Residential Advisor (RA) and let them know who you are. Ask your RA about how you can become engaged in campus activities. Two, talk with someone that specializes in student involvement. It may be a daunting task for a first-generation college student to understand how to get involved. However, there are people on college campuses that specialize in getting students connected to campus resources and activities. 
Q: What are the best on- and off-campus resources for first-generation learners?
A: On-campus resources include offices that focus on diversity, equity, and inclusion and many of the offices that fall under the auspices of Student Affairs (student employment, counseling center, student health, campus recreation, student involvement and leadership, etc.). Off-campus resources oftentimes will revolve around service-learning and faith-based communities.  summer when university housing may not be available.
Q: What are the biggest mistakes first-generation college students make, either regarding the application process or once they get to school?
A: Many first-generation students struggle to understand the financial implications of college. Students may not understand the true cost of attendance. Therefore, they enroll at the university thinking they may be able to afford to attend the university, and they may truly come to understand that they cannot.
Resources for First-Generation College Students
This resource provides tools for students, administrators, and faculty members working with first-generation learners.
This blog is written by a dozen students in Minnesota who were the first in their families to attend college.
Saint Xavier provides this glossary of common college terms to help first-generation students familiarize themselves with the lingo.
Students can find support throughout the application and acceptance process as well as information on scholarships.
This nonprofit supports first-generation learners by providing resources, tips, planning tools, and inspiration.
Students can use this free resource to hear stories from first-generation learners, research colleges, and find support.
See what former First Lady Michelle Obama has to say for first-generation learners.
This article was written by a first-gen student who shares her struggles and triumphs.