Written By


Expert Contributor

last updated

01/18/2023
Higher education is a great way to develop the skills and knowledge you need to succeed as a healthcare professional. Yet in many cases, the most valuable learning opportunities exist outside the classroom. Internships give you the chance to demonstrate what you've learned on campus and gain enough hands-on experience to be competitive in the job market. Even better, internships can lead directly to part-time and full-time positions in a variety of healthcare facilities. According to a 2018 survey by the National Association of Colleges and Employers (NACE), 59% of interns across all industries were offered a job at their internship location.
Internship vs. Externship vs. Clinicals: What's the Difference?
It's important to understand the differences between internships, externships, and clinicals. While you may see some overlap across them depending on your school and program, each generally serves a specific purpose, and in some cases, one may be strongly recommended (or at least preferred) depending on your healthcare specialty. Here's a closer look at all three:
Internships may be paid or unpaid positions and are usually voluntary. These positions tend to be longer in duration and more involved than externships, with some of them lasting up to a year. In these roles, interns typically perform specific hands-on tasks and focus on more specialized skills than individuals completing an externship.
Externships are usually unpaid positions and are often required as part of a degree or training program. These educational experiences also take place outside of the traditional classroom and are typically shorter appointments that allow students to explore a range of specialties within their specific area of healthcare. Because they're relatively short, many externships may focus more on learning by observation than learning by doing.
The intensity and nature of the work for students in clinicals may vary between different areas of healthcare. Clinicals do, however, often involve real-life scenarios with patients and require students to be ready for hands-on interaction alongside their co-workers. Usually several weeks in duration, these programs offer professional experience in a variety of areas. Students typically don't receive any kind of financial compensation for participating in a clinical.
4 Major Reasons to Intern in Healthcare
To Get Hands-on Training in a Real Work Environment
One of the most apparent benefits of an internship is gaining real-world healthcare experience alongside trained professionals. While the skills learned in the classroom are still extremely important and are key to your success after school, there is no comparing the value of hands-on training experiences, especially for those students in patient-facing careers. The Harrison School of Business suggests that healthcare internships provide learners a chance to practice their professional behaviors, from dressing professionally and showing up on time to following through with responsibilities and treating patients and co-workers with respect. By successfully completing an internship, students get a glimpse of the day-to-day responsibilities of their future job while adding an important credential to their resume that potential employers will notice and appreciate.
To Test Drive a Job or Work Situation
Internships provide healthcare students with the perfect opportunity to test out and assess if a job fits with their academic interests, career goals, and financial needs. Interns get the chance to learn about the inner workings of a profession. From work schedules and bedside manner to interacting with colleagues and administrators, students can get a strong understanding of both the potential positives and drawbacks of working in their particular area of the healthcare field.
To Network with Healthcare Professionals
Professional networking plays a huge role in successful job searches, especially in healthcare. While networking takes time and effort, it can be one of the most important investments for students and young professionals trying to build a career in healthcare.
Students who choose to intern are given the chance to meet and work with healthcare professionals who hold positions in their desired area of the field. This is particularly helpful for those in niche fields that contain a fewer number of professionals. The main thing to remember here is that internships are an excellent way to start networking and making connections with professionals who can provide support when you're looking to land that first job.
To Land a Job
Choosing the right internship can help you get a foot in the door with an employer, which is particularly helpful when first entering the competitive job market. Internships also help you to showcase your dependability, knowledge, professionalism, and work ethic in a much more concrete way than you could ever express on a resume or curriculum vitae. Furthermore, internships provide a smoother transition from student life to professional life. Upon completion of a thorough and challenging internship, you will be much better prepared for the realities that come with a job in your area of the healthcare field. Employers know this, too, which gives you a competitive edge.
Finding the Internship that Works for You
What are you looking to take away from your internship experience? What are the must-haves that would make your experience the most fulfilling? Knowing what you want to take away from your internship, and what components of the position are essential to your training experience, can help you narrow down the list of programs and save you time and energy. Before you begin applying for internships that interest you, make sure you understand the different types of internships available in healthcare and how each one of them works. Setting internship goals early on can help you make the most of the experience and prepare you for your first job in the profession. The table below breaks down some of the main types of internships and how they differ.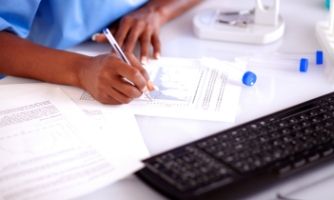 Compensation
Paid
Larger companies in the private sector often have paid internship programs, including Fortune 500 companies. The Department of Labor enacts regulatory protections for for-profit/private sector internships. In most cases, those working for a for-profit institution must be monetarily compensated for their time unless specific guidelines are met, as shown here.
Unpaid
Many internships do not offer monetary compensation. The experience, documented participation in an organized internship program, and access to new resources is essentially what you gain from these positions. Although you are not receiving money for your work, unpaid internships have much to offer students and young professionals in healthcare.
College Credit
For-credit
In many cases, the training one receives in an internship is closely related to the classroom content they study in their program. The number of credits a student can earn per internship depends on their school's program and policies. Learners can expect to earn around 1-6 credits per internship experience. The employer or internship host does not decide whether or not an internship is for-credit. Rather, the college or university decides on the credits.
Not For-credit
Since the college or university decides whether or not a student will receive college credit for their internship, the department may simply deem one internship experience ineligible for credit based on their own private criteria. Additionally, a student may need to perform at a certain level in their position in order to receive credits upon completion of the program. Again, credits are granted at the college's discretion.
Time Commitment
Semester
The number of hours a student will spend at their internship varies between programs and intern appointments. If a student is participating in a semester-long internship while taking classes, it is reasonable to assume that students will spend 10-15 hours per week on internship duties, according to the division of student life at the University of Washington.
Unpaid
Year-long internships often require fewer weekly hours than semester-long or shorter internships. Some intern positions today may even feature a flexible schedule or remote access options. The number of hours a student works per week varies between appointments.
Internship FAQs
If you're unsure about some aspect of the process, chances are that you are not alone. Many healthcare students who are on the hunt for a rewarding internship, externship, or clinical opportunity want the answers to similar questions. Consider these frequently asked questions below to see if we can provide you with some guidance right now.
Is an internship required for my healthcare program?
Most undergraduate and graduate programs require students to complete an internship of some kind so they can put their skills to work in a real-life healthcare environment. Also, healthcare programs understand the importance and benefits of having their students work with trained professionals in their area of expertise. In this way, there is usually some kind of internship requirement, although the duration and details of the internship will vary between programs. These positions may be paid or unpaid, but will allow you to gain some additional experience in your area of interest, further preparing you to enter the competitive job market.
Who is in charge of setting up my internship?
While it partially depends on your department's strategy and how it traditionally assists students at this point in their education, internship-seekers are mostly in charge of setting up their own internship. Your professors and academic advisers may offer some assistance along the way, especially when it comes to offering you access to trusted resources they have utilized in the past. It is up to you, however, to cast a wide net in your searches and follow-up with any contacts that may be able to help you locate a beneficial internship position.
How are internships scored? Will I be graded?
Most internships, especially those that could for college credit, include an evaluative component and in some cases, students are graded on a daily basis. According to Ameritech College of Healthcare, students in some internship positions receive a daily score based on their level of professionalism, general knowledge, critical thinking abilities, and how they handled interactions with patients and co-workers. In other cases, interns receive an overall evaluation at the end of their tenure instead. Depending on your department's policies, the evaluation may be the deciding factor in whether or not you receive credit for your internship.
Are there a required amount of internship hours for licensing?
In most cases, yes. For careers in which you need licensure to practice, the state typically requires learners to obtain a certain number of internship or fieldwork hours to qualify. The number of hours needed, along with other important stipulations, varies between fields, professionals, and states. Your department and academic advisers will know all of the details about licensure and what you'll need to do to qualify. It is helpful to ask any questions pertaining to licensure and licensure preparation sooner than later so you can take the appropriate steps toward that goal.
Internship Application Checklist
Applying for and landing an internship in healthcare doesn't have to be a complex challenge. By planning ahead and following a series of steps, internship-seekers can make sure they cover all their bases while putting their best foot forward. Below we've compiled a list of steps healthcare students can take to improve their chances of securing the internship they want. Students can check off each step as they complete them.
Meet with a college adviser
Search for internships
Prepare your resume and cover letter
Apply early
Apply to multiple internships
Conduct a mock interview
Follow up
Expert Advice: How to Make the Most of Your Internship
In the section below, we've compiled a few of our favorite tips from top experts on finding, applying, and landing internships in healthcare. Our featured expert, Dr. Ryan Kaple, offers some important tips for healthcare students, from taking advantage of networking opportunities and making an impact with your application to obtaining the credentials and experience that help you need to stand out in the competitive job market after graduation.
Dr. Ryan Kaple is currently an assistant professor of medicine at Yale University, where he also earned his M.D. In addition to treating patients, he conducts research on TAVR and mitral valve replacement. He completed his internship and internal medicine residency at Massachusetts General Hospital in Boston. He subsequently held fellowships in cardiovascular disease and interventional cardiology at New York Presbyterian Hospital-Weill Cornell, during which time he served as chief cardiology fellow. He is board certified in internal medicine, cardiovascular medicine, and interventional cardiology.
1
Consult Recent Alumni
When looking for an internship, be sure to check if there's any sort of patterns between alumni at your school and internship or externship locations. There can be a track record with recent graduates and certain institutions and you want to take advantage of that momentum. Your department should have previous graduate's internship information on hand, so be sure to check with them as you search for clinics or hospitals for intern opportunities.
2
Follow Diverse Leads
When you're first looking for opportunities, be sure to cast a wide net and talk to any professionals in the healthcare industry that you have regular or easy access to. In other words, it can be advantageous to talk with healthcare professionals who aren't working in your desired area of the field. They may have leads on internship opportunities or might be able to connect you with a healthcare professional who does. For example, you could talk to your primary care physician to see if there's anyone in their circle who they'd recommend. Many professionals enjoy making those connections for students.
3
Highlight Niche Interests and Abilities
If you have an interest in a non-traditional area of the field, an internship that's outside of the norm can be a significant defining factor on your resume and can help you stand out. For example, some students are interested in the intersection of healthcare and industry. Large companies that design and produce medical equipment often advertise open internship positions for students in surgery, anesthesiology, cardiology, and more. These niche intern positions make for excellent talking points when you're looking for a job.
4
Look for Informal Connections to Opportunities
When looking for an internship or externship opportunities, it is usually a good idea to also seek out less-formal opportunities and take advantage of personal connections. You may need to check with your college to see if you can get credit for this work, but it can be extremely valuable. I was able to obtain a summer research position through a recommendation from a friend. Even though the position was not advertised, I was able to design and carry out a three-month project as I shadowed an M.D. at a large academic medical center.
5
Ask for Extra Support When Appropriate
Applying for multiple positions is useful, of course, but consider having your adviser or one of your professors send an email to the host institution or search committee on your behalf, if possible. This will help the search committee flag your application and call more attention to your skills and qualifications. When I write a letter of recommendation for a student, I will often send a personal note to the head to the search committee and tell them to watch out for an incoming application.
6
Do Your Research
Be sure to do your research on programs before you apply, not just if they offer you an interview. Applications should be tailored to each program with as much detail as possible. Be sure to highlight what's unique about each institutions or programs. You can call out professionals in that program by name, what kind of specialties they have, and why it would be important for you to intern with them. This shows that you've done your research and are invested in your education.
7
Thank Your Interviewers Directly
If you do get an interview, you should send a follow-up thank-you email to everyone you interviewed with that day. Make sure you know how to email them directly, so be sure to obtain their contact information while you're on-site.
8
Explore Career Options and Locations
Your internship, externship, or clinical can be a chance to try out a potential career as well a location. The region will have an impact on your work and overall quality of life. If you have an interest in moving to New England, for example, maybe try to locate an internship in Boston. You'll be able to get a good sense of what it's like to work there while making connections with professionals that may be supportive when you're on the job market.

Healthcare Internship Resources
Aside from your personal connections and academic department's resources, the internet remains one of the best resources for locating internships in health and medicine. Students searching for information about internships in the field should take advantage of the following resources while researching institutions and internships offerings:
Future Health Professions / HOSA
Future Health Professionals, an organization formerly known as Health Occupations Students of America, offers a useful website with an extensive list of available healthcare internship opportunities. This site includes direct links to credible internship programs in the U.S. and abroad.
Chegg offers a site for students and professionals of all backgrounds and experience levels searching for internships. Internship-seekers can take advantage of a variety of free coaching materials and articles, including resume and cover letter writing tips.
WayUp is one of the leading sources for college students and recent graduates who are searching for internships and employment. The site allows users to connect directly with potential employers and take advantage of career resources online.
YouTern allows students and young professionals to easily find internship opportunities with notable companies and organizations. While the site requires users to create a login and profile to access all of its features, browsers can access YouTern's blog to read relevant articles and internship-seeking advice from expert sources.
Go Overseas offers students access to a variety of educational experiences abroad in virtually any field of study. Medical and healthcare internships are easily searchable by location and type.