Written By


Expert Contributor

last updated

11/26/2021
You want to work helping others and have an interest in dentistry. You also want to begin work as quickly as possible and don't have the time or resources to attend dental school. If this sounds like you, becoming a dental assistant can be a smart and fast way to begin building a career in healthcare. Dental assistants play a key role in ensuring dental procedures go smoothly and patients are left feeling informed and taken care of. Without the aid of dental assistants, dentists would have a much harder job, and patients might not receive the personal touch that keeps them feeling like they're in safe hands. If you're ready to learn more about what a day looks like through the eyes of a dental assistant, keep reading to discover what makes this role so unique and rewarding and take away valuable expert insight along the way.
Dental Assistant Responsibilities & Duties
Many dental assistants today carry out a variety of administrative and technical roles in the dentist office, from filling out paperwork to applying topical anesthesia. Depending on the size of the workplace, how many employees it has, and the volume of patients it serves, dental assistants may wear several different hats to ensure daily procedures go as smoothly as possible. Here's what to expect in a dental assisting role:
Scheduling Patients
Dental assistants make sure that patients schedule their appointments at the appropriate times, especially for those returning for follow-up appointments or multi-day procedures. They usually work with front office staff members including front desk personnel to make sure patients return at the appropriate intervals.
Patient History & Documentation
Daily procedures typically require dental assistants to speak with patients directly and carry out some administrative tasks. They usually speak with patients about their dental or medical history to ensure that all of the patient's records are complete and up to date. They also make sure that any new procedures are added to the patient's file.
Cleaning Dental Equipment & Room Preparation
Before and after patient visits, dental assistants make sure that all of the necessary equipment and instruments are clean and ready to be used. Room preparation also includes making sure that all of the necessary items are stocked for use, including disposable materials like cotton and paper products.
Hands-on Assisting & Applications
Dental assistants often work side-by-side with dentists and physicians, handing them the correct supplies and tools as needed. Depending on the state regulations and their training, dental assistants may have specialized duties like coronal polishing, sealant application, fluoride application, and administering topical anesthetics.
Post-Procedure Briefings
Dental assistants often speak with patients after procedures to help them understand what was done, offer any postoperative instructions, and explain how patients can improve their dental hygiene moving forward.
X-Rays
With the proper certifications, dental assistants are qualified to take x-rays. Dental assistants learn how to take a variety of different types or x-rays, including periapical, bitewing, full-mouth, occlusal, and panoramic x-rays. They may also use specialized x-ray procedures when appropriate, such as cephalometric projections, sialography, and computerized tomography.
Essential Skills
There are three main essential skills that every successful dental assistant possesses: administrative, people, and technical skills. With the appropriate skills and attitude, a career as a dental assistant can be rewarding and enjoyable. As you consider your options in this field, bear in mind these skills play an important role in the day-to-day activities of dental assistants.
Administrative Skills
The key administrative skills for dental assistants require excellent organization, professionalism, and the ability to juggle multiple tasks at once.
Depending on the workplace, assistants usually need at least basic computer skills and an understanding of the essential documents and forms used throughout the office.
With a large amount of patient records, dental assistants may benefit from experience in digital asset management.
Organization and time management are key to progress in the workplace. The dental assistant is part of that workflow and needs to carry their weight.
Detail-oriented professionals do well in dental assistant positions. Since these professionals take care of such a wide variety of tasks, the sharper eye they have the better.
People Skills
Dental assistants work directly with both patients and co-workers on a daily basis. With this in mind, it's important that dental assistants treat others with respect and follow traditional professional protocols.
It's key for dental assistants to be warm and friendly. Holding conversation with patients helps them feel more comfortable and at ease.
Clear communication with respectful language, especially when discussing sensitive or health-related information, is essential.
Dental assistants need to be approachable and easy to work with in order to keep a positive environment and maintain functionality in the workplace.
Dental assistants may be asked to take on different responsibilities at a moment's notice. In these cases, they need to remain flexible in the workplace, maintain a good work ethic, and go with the flow.
Technical Skills
Dental assistants are often in charge of inspecting and cleaning the necessary equipment before procedures. They are also tasked with working with their hands on a regular basis.
When working with x-ray machines, dental assistants make sure that the machines are working properly, have sufficient film, and are sanitized.
Dental assistants need to know how to work with dental-specific materials, including how to handle tools, make dental impressions, and more.
Dental assistants also need to be good with their hands, with great hand-eye coordination, when using tools and equipment.
Employers also expect dental assistants to be able to take good notes and provide excellent documentation in patients' files. Additionally, they need to employ critical-thinking and good judgement at all times.
Dental Assistant Specializations & Concentrations
Not all dental assistant jobs are exactly the same. Depending on their work experience, training, certifications, and state, dental assistants can work in a variety of specialized areas of the field. If you have an interest in a particular area of the field or working with a specific patient population, there may be a fitting career path in dental assisting for you. Here are some of the areas dental assistants can concentrate in.
Pediatric
Dental assistants who wish to work with children and younger patients can find work in pediatric special dentistry practices. While these practices may have fewer clients, those working as pediatric dental assistants are typically more involved in their patients' care from early childhood through adolescence. Most states require certification through the Dental Assisting National Board (DANB), which we discuss further below.
Periodontics
Periodontal assistants are specialized dental assistants that work on the gums, connective tissue, and bones around the teeth. They work alongside periodontists, which is a specialized dentist, and offers them support around the office through clerical, surgical, and organizational tasks. Common hands-on practices carried out by periodontal assistants include using a periodontal pocket probe to measure the spaces between the teeth and gum line, taking x-rays, educating patients on gum health, and more.
Endodontics
Endodontic dentistry focuses on the health of the inner pulp of the teeth. Dentists in this area need dental assistants to help them carry out a variety of key procedures, including root canals. Endodontic assistants also prepare patients for treatment, from ensuring their basic comfort to starting the beginning stages of a given endodontic treatment for the dentist. Additionally, assistants keep meticulous patient records, help schedule appointments, sanitize equipment and instruments, take specialized x-rays, and pass the proper endodontic instruments to the dentists as they work.
Prosthodontics
Dentists in this area of the field specialize in replacing damaged or missing teeth with dental implants, bridges, dentures, and crowns. Dentists need prosthodontic assistants who can construct bite and mouth guards and custom trays, make casts and diagnostic impressions, perform acrylic repairs, prepare materials for procedures, and more.
Required Education & Training
In some states there are no formal requirements needed to pursue an entry-level position as a dental assistant. In other states, many learners need to pursue some type of credential at one of the nearly 270 institutions in the U.S. accredited by the Commission on Dental Accreditation (CODA). Most dental assistant hopefuls earn a diploma or certificate that takes about 9-11 months to complete. Check out campus and online dental assistant programs to see which training option works for you.
Students may wish to earn an additional certification by passing the Dental Assisting National Board's (DANB) Certified Dental Assistant (CDA) examination. Only those students who have completed a dental assisting program at a CODA-accredited institution may sit for the exam. Both the diploma/certificate and CDA certification make professionals more competitive in the job market.
Tools & Equipment
Every healthcare professional receives formal or on-the-job training with specific tools and equipment. Dental assistants are responsible for using and taking care of many different essential tools in the facility. Depending on their training and specialization, dental assistants regularly work with items from a tiny dental mirror to large x-ray machines. Here's the tools you can expect to become familiar with as a dental assistant:
Suction hose (also known as saliva ejector or spit-suction device)
High-volume evacuator
Air-water syringe
X-ray machine
Dental tray
Sickle probe
Dental mirror
Burnisher
Bitewing
Scaler
Periodontal probe
Dental retractor
Dental drill
Excavators
Enamel hatchets
Dental hatchets
Computer systems and software
Where Dental Assistants Work
According to the Bureau of Labor Statistics, approximately 90% of dental assistants work in dentists' offices. Only about 4% of these professionals work in physicians' offices or in a government facility. Other less obvious locations where we find dental assistants today include hospitals, insurance companies, dental manufacturing companies, educational institutions, public health facilities, and the armed forces.
In most cases, the work environment requires dental assistants to wear protective clothing, surgical masks, gloves, and safety glasses. Whether they are working alongside the dentist's chair in close contact with patients or operating an x-ray machine, dental assistants need to follow the standard safety procedures that the type of work demands. This is for their own health and well-being as well as the health and safety of their patients.
Who Dental Assistants Work With
Dental assistants typically report to and work alongside dentists and dental hygienists. Depending on the facility, they often work as part of a team of professionals, including administrative staff and specialists. Most dental assistants are working with these other professionals 35-40 hours a week, and sometimes in the evenings or on weekends. Since dental assistants take care of so many different tasks in the workplace, they interact with more co-workers and patients than other professionals. This is why the essential skills listed above, including people and administrative skills, are so important.
Dental assistants can expect to work with just about every type of patient imaginable. They may find themselves working with young children, elderly adults, patients who need simple checkups, and those who are in need of a major invasive procedure. If they happen to work in a specialized area of the field, such as pediatric dentistry, they will spend the majority of their time with that population.
State Regulations for Dental Assistants
For many allied health professions like dental assistants, the scope of their duties depends on the state in which they're working, what type of training they've had, and what type of facility that they work in. Some states have more strict licensing and certificate requirements than others. CareerOnestop offers a good "license finder" search engine for all occupations. The DALE Foundation, an official affiliate of the Dental Assisting National Board, also offers by-state requirements.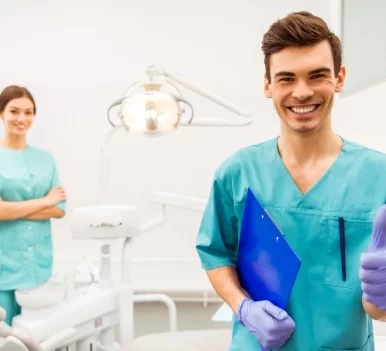 There are currently 15 states that require some type of training, licensure, or certification for its dental assistants. The requirements are usually based around specific procedures, sometimes referred to as expanded functions, like if the dental assistant will be taking x-rays. In more strict cases, dental assistants need to renew their license or certification annually. The DANB also has standards for maintaining its basic certification, which professionals need to renew each year. DANB offers five national certifications, including Certified Preventive Functions Dental Assistant (CPFDA) and Certified Restorative Functions Dental Assistant (CRFDA).
Salary & Career Growth
According to BLS, dental assistants can expect to earn about $40,080 per year, or $19.27 per hour. At this rate, that's approximately $14,000 more than the average earnings of all other healthcare support occupations. As of May 2019, the top 10% of dental assistants earn an average of $56,930. The lowest 10% earned approximately $27,980.
Because of the aging baby-boom population, BLS projects that the need for dental assistants will continue to increase over the coming years. The number of available jobs for dental assistants is predicted to increase by 11% by 2028. Comparatively, BLS projects that the number of jobs in related supporting occupations in healthcare will grow by 17% by 2028. In both cases, that's a lot more promising than the expected average growth for all other occupations in the U.S., which is only 5%.
Related Careers
Your interest in dental assisting may overlap with or share similar qualities with other careers within allied health. We provide an thorough list of resources for students and professionals exploring their career options on our How to Become a Medical and Healthcare Professional page. Here's a list of five careers with essential details from our online catalogue.
Dental Assistant Q&A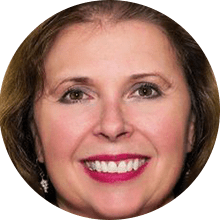 Cynthia C. Durley, M.Ed., MBA, is the Executive Director of the Dental Assisting National Board and the DALE Foundation. She has worked for oral healthcare organizations for more than 35 years.
1. For students and others who are interested in becoming a dental assistant, what's an important thing for them to know right from the start?
Dental assisting is an exciting career with a lot of growth opportunities. If you are interested in a career in healthcare, enjoy helping people, and like a varied and fast-paced work environment, dental assisting could be a great career for you.
2. Are there any standout requirements for dentalassistants by state, in terms of education or being competitive for a job? What's some advice you could offer for students who want to know how to become a dentalassistant in their state?
Every state has different job titles and requirements for dental assistants. This can be confusing to navigate, but the Dental Assisting National Board (DANB) has each state's requirements listed on its website. You can look up the dental assisting requirements in your state by visiting DANB's search-by-state map.
3. What's one important thing that prospective dentalassistants should know about training and certifications in the field?
Because every state has different requirements for dental assistants, there is no single approach to training or education. However, the Dental Assisting National Board (DANB) is the national certifying board for dental assistants. DANB exams and certifications are recognized or required by 38 states, the District of Columbia, the U.S. Air Force and the Department of Veterans Affairs. Earning DANB certification can help you advance your career and meet state requirements. Additionally, those who earn DANB certification report higher wages and higher job satisfaction than those who do not hold certification. You can learn more about DANB's national certification by going to danb.org.
4. What are the advantages or disadvantages of completing formal requirements/training in dental assisting, compared to those who enter the field and rely on on-the-job training?
In almost every state, you can work as a dental assistant and perform basic duties without any training or education.
However, there are many benefits to completing a dental assisting program. In some states, completing an approved dental assisting program or course may be required to perform more advanced duties. There are a lot of dental assisting programs out there, so it can be hard to know where to start. If you can, try to attend a dental assisting program that is accredited by the Commission on Dental Accreditation (CODA). You can view the list of the CODA-accredited dental assisting program on DANB's website.
It's also important to make sure that any program or course you attend meets your state's requirements. Many states recognize or require CODA-accredited dental assisting programs to meet state licensure or registration requirements. Other states may approve specific courses to be eligible to perform certain functions. That's why it's important to check your state's requirements. You can look up the dental assisting requirements in your state by visiting DANB's search-by-state map.
In addition to meeting state requirements, attending a dental assisting program is valuable because of the information you learn. You will gain more in-depth knowledge and the foundation to help you succeed in your career.
5. What are some excellent online resources for students and others interested in learning more about dental assisting?
If you're looking to learn more about dental assisting, visit the U.S. Bureau of Labor Statistics (BLS) website, which has detailed information about the dental assisting job outlook, wages, and other employment information.
Additionally, the DALE Foundation, the official DANB affiliate, has a free online video series that includes interviews with dental assistants about their careers and advice for future dental assistants.
6.How can dental assisting students position themselves for success? Is an externship a big part of that?
There are many paths to becoming a dental assistant, but if you can go to a dental assisting program that meets the requirements in your state, you will be off to a great start. Definitely pursue an externship if you can. Many dental assisting programs will provide an externship opportunity as part of the program. Externships provide great experience to supplement your classroom learning with on-the-job experience and build your familiarity and comfort with the fast past of a dental office.