The number of master's programs in health informatics online continues to grow. This falls in line with an increase in the collection and application of data in medicine and healthcare. Yet with so many degree options now available, it's important to research which ones not only meet your cost and curriculum needs, but which ones stand the best chance to push your career forward. To help, EduMed has collected data on some of today's best accredited online master's in health informatics, and provided a detailed look into the coursework, credit loads, and admissions requirements. See if one of these schools has what you need for 2020.
University of Cincinnati Online

Based in the Queen City, the University of Cincinnati offers a fully online master of health informatics (MHI) that takes two years to complete. Because many degree seekers work while enrolled, the department offers flexible, asynchronous learning options alongside six start dates throughout the year. UC's program does not require previous experience in information technology or healthcare; it also doesn't mandate GRE or GMAT scores for applicants with GPAs of 3.0 or higher.
Once enrolled plan to complete 33 credits in areas of leadership and strategic management in health settings, healthcare science data, and leveraging analytics and business intelligence tools for healthcare. To round out the program, all learners participate in a practicum that allows them to design a program and demonstrate their newly found knowledge. Students can also add on an optional security certificate if they are able to complete an additional nine credits. Application requirements include transcripts, letters of recommendation, application and fee, a letter of intent, and a professional resume.
University of Illinois at Chicago
University of Miami Online
The Importance of Accreditation
Accreditation often gets overlooked, but it can mean the difference between a program that pushes your health informatics career forward, and one that doesn't. Failing to attend a properly accredited institution can result in the inability to transfer credits, seek qualifications, or compete for employment and/or promotions. Because of this, it's critical to ensure you chosen school holds the accreditation you need.
Accreditation comes in two forms: institutional and programmatic. You should look for regionally accredited colleges and universities first. This means the school itself has met rigorous quality standards. The U.S. Department of Education recognizes six regional accrediting agencies, as outlined by the Council for Higher Education Accreditation.
Institutional accreditation is also important because it ensures individual departments and programs meet requirements around curricula, support services, and student preparedness. The Commission on Accreditation for Health Informatics and Information Management Education (CAHIIM) maintains a searchable program directory so you can check the accreditation status of any program you're interested in.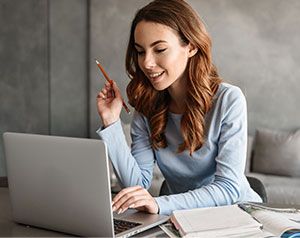 Breaking Down the Online Master's in Health Informatics
With options on the rise, vetting each online master's in health informatics you're interested in is critical. On the surface, a program may seem like it has what you need, until you research the cost structure or the course list. And some programs may seem like they'll fall short at first, until you notice they have a concentration in the exact area your employer wants to grow. The best college decision is an informed one. Here are key answers you need to know before you start applying.
What do you learn in an online master's program in health informatics?
Every master's in health informatics is different, but many have core subjects in common. Some of the courses you can expect to encounter include:
Intro to Health Informatics
Typically taken in the first semester, this class introduces you to the core tenets of the discipline. The plan of study includes a history of the field, studies on how to effectively use electronic health records, and a discussion of various specialization areas.
Principles of Database Applications
This course familiarizes learners with the nuts and bolts of database applications with studies in relational database designs, data mining, SQL, recovery and security methods, data warehousing, and intelligent database query design.
Health Informatics and Population Health
Students taking this class learn how the wealth of information stored within digital health records can help improve health outcomes across communities. They consider questions around evidence-based practice, data mining, and collecting and storing useful information.
Current Trends in Health Informatics
With a look toward the future, this course examines emerging trends and topics within the field. Learners consider newly developed technologies and information management systems and how those can translate to healthcare.
Healthcare Data
With the increased importance of analytics in healthcare informatics, it's important for professionals in this realm to understand how to capture and communicate findings from raw data and translate them into useable information.
---
Aside from developing a deeper knowledge of healthcare informatics topics, graduates also walk away with finely tuned skills that can help them excel in the workplace. When looking at prospective degrees, try to find information about programmatic outcomes. Common skills gained include:
Oral and written communications
Problem solving
Adaptability
Programming
Data mining
What concentrations are available in MHI programs?
Given that health informatics continually expands as the value of patient data grows, more and more programs now offer specializations. These can help you stand out from other job competitors while also allowing you to work in the area of the field that best speaks to your interests. Current specializations include:
Bioinformatics
Perhaps the most science-focused of specializations, bioinformatics looks at how factors such as genetics and biological makeup can be used when designing new medical procedures or pharmaceuticals. By collecting data around these topics, scientists and doctors can make more informed decisions.
Clinical Informatics
Clinical informatics looks to bridge the gap between research and clinical practices. Professionals in this area work to demonstrate how the collection of appropriate patient data can affect and strengthen healthcare delivery while also training practitioners on emerging data management systems.
Health Data Science
Health data scientists look at a variety of medical data, including patient surveys, electronic health records (EHRs), insurance and billing claims, and cost statements to find ways of improving the entire system of healthcare delivery. They work closely with executives to help them make informed decisions.
Healthcare Information Systems
This specialization focuses on the technical side of informatics, with emphasis on proper collection, organization, storage, and safety protocols. Areas of focus include setting up databases, developing security measures, and reducing errors.
Public Health Informatics
Designed for those who want to look at data around larger health questions, this specialization examines epidemics, illnesses, and health problems that affect individual communities or regions in a way to better understand how to eradicate them.
Social Informatics
This branch of the discipline focuses on capturing data around how social environments, lived experiences, and technology connect to health outcomes. Social informatics specialists use data to find links between each, particularly in areas of stress and depression.
What are the prerequisites to master's in health informatics degrees online?
Institutional requirements for admission vary, but generally have a few elements in common. All programs require a bachelor's degree from an accredited institution, but this doesn't necessarily need to be in healthcare or a related subject. Many set minimum GPA requirements but usually don't demand GRE or GMAT scores. Some schools may request scores if the applicant does not meet the GPA benchmark. Other requirements include letters of recommendation, a statement of purpose, an updated resume, and official transcripts.
How long does it take to earn a master's in health informatics online?
As you research online master's in health informatics, you may notice several timelines for graduation. Numerous factors can affect how long it takes to earn a degree, including whether you study on a full- or part-time basis and if the school offers an accelerated path. Many programs are designed to accommodate working professionals and take approximately two years to complete. Carefully research prospective degrees to learn what to expect. If you can't find information online, reach out to a program administrator.
What does a master's in HI cost?
Many factors affect the cost of a master's in health informatics online. Private universities typically cost more than public colleges, part-time learners end up paying more in semester-based fees, and schools in cities with higher costs often charge higher tuition – even for online programs. It's also important to consider how much funding you secure when thinking about how much you can afford. The schools below represent a sample of typical costs for both public and private universities.

---
M.S. in Health Informatics
Total Credits: 36
$1,480/credit

---
M.S. in Health Informatics
Total Credits: 33
$653/credit

---
M.S. in Healthcare Informatics
Total Credits: 18
$773/credit
How to Fund Your Online Master's Program in Health Informatics
Higher education is a serious investment, making it important for students to line up funding before entering a program. A number of funding options exist to help you lessen your financial burden both during your program and after graduation. A few options to consider include:
1
Scholarships
Scholarships for master's in health informatics can be found via a variety of sources, including colleges and universities, professional associations, state and local governments, nonprofit foundations, and hospital corporations. Start your scholarship search early to ensure you don't miss any deadlines.
2
The U.S. Department of Education offers several financial aid opportunities, all of which require you to fill out the Free Application for Federal Student Aid each year of enrollment. Funds are disbursed on a rolling basis, meaning the earlier you apply the better your chance of receiving support.
3
Grants
Like scholarships, grants are a type of funding that do not require repayment as long as you meet the terms of the agreement. Federal, state, and local governments offer grants, as do health informatics associations, medical establishments, and schools.
4
Fellowships
Fellowships are granted by colleges and universities in exchange for work from the student while enrolled. Common requirements include serving as a teaching or research assistant. In exchange, you can receive tuition remittance and/or a stipend.
Careers & Salaries for Master's in Health Informatics Graduates
Before committing to any degree, you need to fully understand the career landscape you will enter after graduating. Take time to research jobs to which this degree qualifies you and how much you can earn. Look at specific job titles and ascertain whether they are projected to grow, stagnate, or decrease in the years to come.
Are there any professional licenses or certifications I need to get?
Health informatics is still seen as an emerging field; because of that, some parts of the discipline have yet to be formalized. No state currently requires health informatics professionals to hold licensure, but many employers view certifications as a way of differentiating candidates and validating their knowledge. Several professional associations and universities offer health informatics certifications in sub-disciplines for students who want to work in a niche area. Consider how these may support your interests before applying, as they may not always be needed.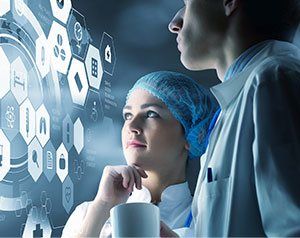 What can I do with my master's?
It's an exciting time to enter the world of health informatics given its meteoric rise in importance over the last decade. As more healthcare providers and insurance companies digitize patient records, opportunities to use this data in innovative ways that improve health outcomes continue to grow. The Bureau of Labor Statistics projects that jobs for medical and health services managers, which include health informatics professionals, will grow by 18% between 2018-2028. A master's degree can help you qualify for high-growth management and executive careers while also getting you one step closer to a Ph.D. Check out a few career options below.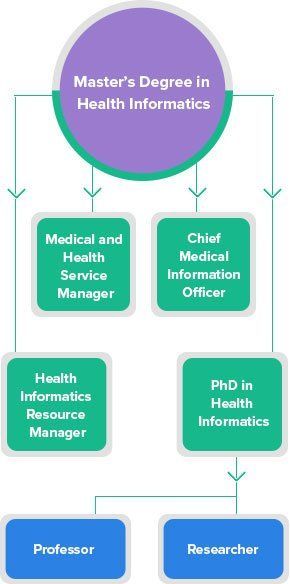 How much can I earn with an online master's in health informatics?
Earning a master's in health informatics can help you command a substantial salary, as evidenced in the table below. When reviewing the numbers, remember that two major factors impact earnings: education level and experience.
| Career | Employed | Entry-Level | Early Career | Mid-Career | Experienced | Late Career |
| --- | --- | --- | --- | --- | --- | --- |
| Healthcare Consultants (Management Analysts) | 684,470 | $48,360 | $62,500 | $83,610 | $112,140 | $152,760 |
| Medical and Health Service Manager | 372,670 | $58,680 | $76,050 | $99,730 | $130,820 | $182,600 |
| Clinical Informatics Manager | | | $86,666 | $93,807 | $101,970 | – |
| Healthcare IT Manager | 195,530 | $85,380 | $110,110 | $142,530 | $180,190 | ≥ $208,000 |
| Chief Medical Information Officer | 195,530 | $68,360 | $115,960 | $189,600 | ≥ $208,000 | > $208,000 |
Related Degrees & Continuing Education
After reviewing details about master's in health informatics programs, you may find you want something a little different. Healthcare offers plenty of opportunities to advance with continuing education or pivot into a related career with a second degree. If you already possess a master's degree, you may want to consider how a doctorate supports your professional goals. Take a look at a few of the options that may be a good fit if you're studying or working in health informatics.

Related Degrees
This degree supports existing registered nurses who hold a bachelor's degree and want to qualify as an advanced practice nurse (APN). Bridge programs typically take two years and emphasize studies in how data collection and analyzation can help nurses better serve patients.
Online Master's in Healthcare Administration
The MHA is a great option for business-minded students who desire to work in the upper echelons of administration. These programs emphasize business functions alongside improvement of patient outcomes, creating a multidisciplinary approach.
Online Master's in Health Science
While the MHI, MSN, and MHA all prepare graduates for professional roles, the master's in health science acts as a stepping stone to research-based positions and/or doctoral studies. Several paths exist within health science, so do your research before committing to a specific program.

Continuing Education
PhD in Health Informatics
Acting as a terminal degree for health informatics professionals, the Ph.D. is a great option if you aspire to senior-level professional roles, research positions, and/or professorial opportunities. These programs typically take five years to complete and give you an expansive and deep knowledge of the discipline.