If you're ready for a career in healthcare management, the first step is to research the best educational options. There are several schools that provide online master's programs in healthcare management, some of which will have exactly what you need to get your career in healthcare leadership on the right path. To help you decide, we've researched and vetted the top online master's degrees in healthcare management from schools around the United States. Learn about the schools, review their programs, and see if the online master's in healthcare management is what you need to succeed.
University of Arizona Online

The University of Arizona's online master's in healthcare management allows students to complete the required 30 credit hour curriculum in about one year, giving students the skills they need to reach their career goals quickly. Core classes include financial accounting, healthcare economics, information technology, and organizational management. In addition, the school gives students the option to enroll in healthcare leadership, healthcare innovation, and healthcare informatics concentrations, so they can tailor additional classwork to their career interests. After they have gone through their coursework, students are required to complete a capstone project that allows them to research and develop a concrete plan that addresses a real-world problem that healthcare managers face.
In order to help online students succeed, the University of Arizona Online provides various resources, including tutors and coaches who can provide guidance about course material and alumni mentors who offer advice on not only how to get through the program, but also how to navigate a job search after graduation.
Southern New Hampshire University
Accreditation for the Online Master's in Healthcare Management
Healthcare management programs are accredited by the Commission on Accreditation of Healthcare Management Education, which evaluates programs based on the quality of their curriculum and their ability to give students the skills employers are looking for. Schools go through a rigorous process to obtain and maintain their accreditation, so students can be confident that the program they're enrolling in will set them up for success. Also, schools may be accredited by regional organizations, such as the Higher Learning Commission, the Western Association of Schools and Colleges, the New England Association of Schools and Colleges, and the Middle States Commission on Higher Education. More information on the importance of accreditation can be found in our guide to accreditation online.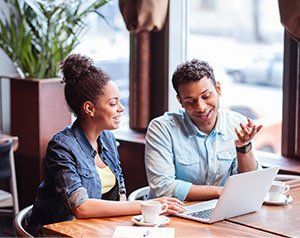 In Focus: Online Master's in Healthcare Management
To find the right school, prospective healthcare management students should look at the programs they're interested in to understand exactly what each one has to offer. People will have several questions as they research, and the following section answers some of those questions to help them make an informed decision.
What do you learn in an online master's program in healthcare management?
Every online master's program in healthcare management is different, which means curricula across them can vary. However, there are some core courses that students can generally expect to find in these programs that provide the foundation they need to be successful in the field. Some of these include:
Healthcare Financial Management
The finances of the healthcare industry are unique, so this class is designed to teach students how to handle the expenditures that are common for the field. Specific topics may cover variance analysis, capital budgeting, and ratios. In addition, students may get the opportunity to analyze and interpret financial statements in order to deepen their understanding of healthcare finances.
Healthcare Informatics and Technology
Students in this course gain expertise in how technology and information are handled in a healthcare setting. The curriculum may cover data analytics, social media, the lifecycle of information technology, and electronic medical records.
Organizational Behavior
People who take this class learn about the roles and responsibilities of a leader in the healthcare field. After completing this course, students will understand how a healthy organizational culture is created, as well as topics like employee motivation, teamwork, negotiation, and conflict resolution.
Healthcare Marketing
Students in this course learn strategies on how to specifically present healthcare organizations to the public in order to attract and retain consumers. In order to do this, the class focuses on subjects like branding, market intelligence, and pricing strategies.
Healthcare Law and Ethics
This class covers the unique legal and ethical standards that healthcare organizations are expected to adhere to. Students learn about the specific policies that govern the field and how they affect all stakeholders, from healthcare administrators to facility employees to patients. In addition, people in this course will learn how to handle business in an ethical manner.
---
When choosing an online master's program in healthcare management, it's also important for people to consider the skills that they'll learn from the course curriculum they'll take. In order to ensure that they are well-prepared for the type of job they're looking for, healthcare management programs may teach students the following skills.
Data analysis
Written and verbal communication
Critical thinking
Technology
Interpersonal
What concentrations are available in MHM programs?
All students have a specific career path they want to follow, and to get closer to their goals, they should look for schools that offer a concentration that focuses on their interests. This section includes information on some of the common concentrations that can be found in healthcare management master's degree programs.
Gerontology
Those who are interested in serving the needs of older populations in settings like nursing homes can enroll in this concentration in order to learn how to treat patients in this age group. Coursework covers the physical, emotional, and social needs of people in this age group and how administrators can create and execute policies that will address these needs.
Health Policy
The impact that policy has on how healthcare is delivered cannot be overstated, so students who choose this concentration get an in-depth look at how healthcare policies are created and the effects they have on medical facilities, and ultimately patients. The class may address the history of healthcare policy, effectively communicating with lawmakers and regulatory agencies, and contemporary issues in the field.
Healthcare Informatics
People who want to focus their studies on the role that information technology plays on the delivery of care can enroll in the healthcare informatics concentration, which covers the technology tools that are commonly used in the field. Specific class topics include programming, biostatistics, data mining and integration, and database applications.
How long does it take to earn a master's degree in healthcare management online?
Depending on the program, students can generally complete an online master's degree in healthcare management within one to three years. If they are studying part-time, students may be able to complete their degree in about four years. The time that it takes to graduate may be influenced by the requirements of the program, such as whether or not students need to complete a capstone project, thesis, or internship in addition to their classwork.
How much will a master's in healthcare management online cost?
Just as programs differ in terms of their curriculum, the cost for an online master's in healthcare management depends on the school. Factors that may influence how much students pay include whether or not they qualify for in-state tuition, how much financial aid they can receive, and how long it takes for them to work through their classes. Here's a look at the standard costs of two different online master's in healthcare management:

Arizona State Online
Resident tuition: $895/credit
Non-resident tuition: $895/credit

Southern New Hampshire University
All student tuition: $627/credit
U.S. servicemembers receive a 25% tuition discount
Paying for a Master's in Healthcare Management
After finding the program that suits their needs, healthcare management students should think about how they are going to pay for their education. Several options that students can pursue in order to cover the cost, including the following:
1 Scholarships
Students may be able to receive a scholarship from their school or academic department, depending on what program they enroll in. In addition, students may be able to win scholarships from industry organizations, such as the American College of Healthcare Executives, the National Association of Health Services Executives, and the American College of Medical Practice Executives. These awards may be provided based on academic performance and financial need. Our scholarship page has additional information on successfully applying for scholarships.
2 Financial aid
The Free Application for Federal Student Aid, or FAFSA, is used by schools to determine how much financial aid students are eligible to receive based on their household income. For more information on how to obtain financial aid, check out our complete guide to financial aid for healthcare students.
3 Grants
Students who demonstrate financial hardship may be eligible to receive grants. This form of financial aid is provided by schools, non-profit organizations, or government agencies. In order to qualify, students need to provide information about their finances.
4 Tuition Reimbursement
Some organizations provide tuition reimbursement for workers in order to invest in their professional development. Students who are employed as they earn their master's degree in healthcare administration may be able to qualify for this type of benefit from their employer. In order to find out what's available, they should consult their company's human resources department.
5 Research Assistantship
Some schools provide funding for students in exchange for working with the professors in their department on research projects being conducted. These programs may cover students' tuition or provide a stipend.
After Your Online Master's in Healthcare Management
Before enrolling in a degree program, it's important for prospective students to research the industry and specific career they want to pursue. The following are some answers to common questions people may have about where an online master's in healthcare management can take them after they graduate.
Are there any licenses or certifications I need to get?
Those who want to work in an administrative role at a nursing home or assisted living facility may be required to earn a state license. In addition to completing a state-approved degree program, licensing requirements may include passing an examination and having a certain amount of work experience. Other healthcare management graduates may not be required to earn a license, but they may choose to get a voluntary certification in order to demonstrate their knowledge and dedication to the profession. The American Health Information Management Association, the Professional Association of Health Care Office Management, and the American College of Health Care Administrators are among the industry organizations that provide these credentials.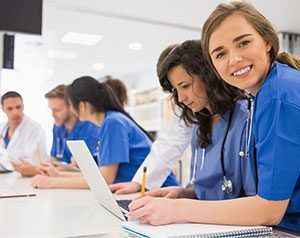 What can I do with a master's in healthcare management?
There are several avenues that people can take in their careers after they've completed their master's in healthcare management degrees. Whether they want to work in a hospital, nursing home, doctor's office, or outpatient care center, graduates can leverage their education to pursue high-growth management and executive careers in the healthcare field. In addition, people may choose to use their master's degree as a stepping stone to continue their education in order to become a healthcare researcher or college professor. The graphic below illustrates some of the careers healthcare management graduates obtain.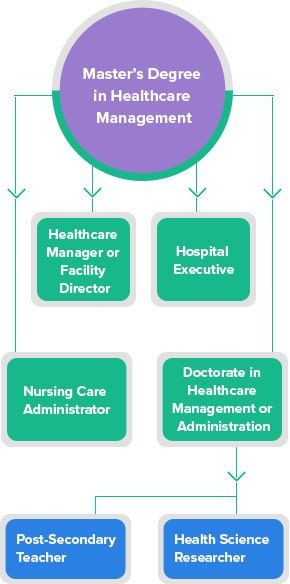 How much can I earn with an online master's in healthcare management?
After advancing in their education, healthcare professionals can command healthy salaries. The amount of money they can make generally is determined by where they are in their career and where they work. The following table demonstrates the salary spectrum for management careers in hospitals and nursing facilities, which are the two most common places where healthcare managers work.
| Career | Employment | Entry-Level | Early Career | Mid-Career | Experienced | Late Career |
| --- | --- | --- | --- | --- | --- | --- |
| Management Occupations – Hospitals | 218,560 | $66,790 | $85,070 | $110,090 | $146,760 | $203,990 |
| Management Occupations – Nursing Facilities | 106,680 | $45,630 | $59,180 | $78,500 | $103,680 | $137,610 |
Related Degrees
Whether people want to advance in the healthcare field or make a career change from another profession, there are several opportunities for them to continue their education to get to where they want to go. The following are some examples of the degree options that may train students to help them reach their career aspirations.
Online MBA in Healthcare Management
These degree programs are designed for those who want to apply managerial principles to the healthcare field, but are interested in focusing their studies on the business side more than the healthcare side. Graduates may become entrepreneurs or work as hospital administrators, health services managers, policy analysts, and pharmaceutical project managers.
Online Master's in Healthcare Administration
These degrees are for those who want to learn how to manage the daily operations of a medical facility or specific department within a practice. People who earn these degrees can go on to work as a health care consultant, nurse manager, clinic manager, and chief operations officer.