Expert Contributor

last updated

06/02/2023
Let's say you currently work in healthcare administration, but want to have a bigger impact. Or maybe you're starting your undergraduate degree and want to play a key role in the healthcare system, but don't see yourself becoming a doctor or nurse. In either of these scenarios, a role in healthcare leadership can be a fulfilling option. Yet even after you decide to pursue healthcare leadership, it can be difficult to identify your dream role. Since hospitals and smaller healthcare facilities require many departments to run smoothly and effectively, there are a plethora of healthcare leadership roles available to you. From being the CFO of a hospital to the director of nursing for a private practice, the leadership options are endless and there's a role for professionals with business and medical backgrounds.
This guide explores those varied leadership roles in the healthcare field. It also outlines the shared traits of successful healthcare leaders, sharing tips to cultivate each of these traits before you take up a leadership role. If you're up to the challenge of pursuing a career in healthcare leadership, it's time to put your ambition to the test. With higher-than-average salaries and a variety of unique roles, learn which healthcare leadership profession is right for you and gather expert advice and resources for pursuing your future career.
What Does Leadership in Healthcare Mean?
Entire books have been written on the subject of leadership. Being a good leader in any industry, including healthcare, requires collaboration, creativity, and team-building. Many different characteristics make up effective healthcare leaders, and not every leader has the same list of skill sets.
In short: Leadership in healthcare means working with your staff to ensure the desired outcome in both clinical and business matters. Dynamic healthcare leaders know how to foster innovation and compassion in those they manage and understand that doing so creates better results for everyone involved. The most important quality in any person who seeks to fill one of these roles is a steadfast commitment to continuing to learn and grow. But of course, there's a bit more to it than that. Let's explore the top characteristics of effective healthcare leaders:
Characteristics of a Strong Healthcare Leader
Strong healthcare leaders often have several characteristics in common that help them lead others effectively, fulfill the mission of their organization, and provide a supportive experience to patients. Let's look at some of the top characteristics to hone if you hope to fill a managerial role.
Empathy
An often underappreciated yet vital characteristic, empathetic leaders in healthcare are incredibly important given the emotional toll that health practitioners can face working with patients. Empathetic leaders know how to understand the feelings of staff and patients and respond with kindness and support.
Communication
Healthcare leaders typically work with an incredibly diverse array of staff, patients, and families. Being able to communicate effectively with each of these is critically important. Whether sharing professional expectations, helping a patient understand a prognosis, or presenting before the board, communication is one of the most important characteristics for a healthcare leader.
Flexibility
Even if you have the most comprehensive strategy, plans, sometimes things will not go according to plan. Perhaps a new law passes at the state level, a long-trusted employee resigns unexpectedly, or grant funding runs out. Being able to roll with the punches and be flexible in your leadership is the mark of a multifaceted leader who knows how to make it work.
Vision
Rather than getting caught up in the minutiae of daily responsibilities and headaches, an effective leader can still step back and create a vision for the future of their organization. This takes both a philosophy of growth and a creative eye to see what's possible over time.
Optimism
Clinicians and administrators alike can sometimes feel overwhelmed when they lose a patient or simply have too much exposure to pain and suffering in their jobs. Good leaders help these employees understand the lifesaving work that they're doing and help their teams feel optimistic about the services provided at their facility.
Passion for Learning
Healthcare leaders who value continued education and learning not only ensure they receive the training needed to stay on the forefront of the industry but also champion learning opportunities for their staff.
Talent Recognition
Recognizing talented professionals can help build up a first-class workforce in both clinical and administrative areas. Healthcare leaders who can see beyond a resume and envisage how a potential hire will fit into their company often end up nabbing some of the best professionals in the business.
Strong Decision-Making
Being able to make both quick and carefully considered decisions is the hallmark of a strong leader, especially when much is on the line with the decision. Leaders must know how to weigh the pros and cons of their decisions and look into the future to see what outcomes to expect based on what they decide.
Self-Awareness
Being aware of how you are perceived by others and whether you present favorably is an important characteristic as a leader. Given this quickly evolving industry, recognizing your strengths and weaknesses can also help you better make plans for any needed continuing education or training.
Commitment
Like the nurses and healthcare professionals they manage, the best healthcare leaders maintain a deep commitment to supporting their staff, serving their patients, and providing comfort to their families. Many leaders see their work as an opportunity to make a difference rather than simply a paycheck.
10 Leaders & Managers in Healthcare
Successful healthcare organizations and facilities demand strong, well-rounded leaders who can rise to the occasion and manage diverse workforces. If you feel you possess the skills and characteristics needed, check out some of the most popular roles in this field.
Director of Nursing / Chief Nursing Director
Also known as Chief Nursing Officers (CNOs), these professionals oversee and plan the nursing activities of individual wards or whole hospitals/facilities. They ensure their staff follow nursing protocols and regulations, work with other hospital leaders to continually improve patient care, and manage budgets for those in their purview. They may also work closely with the HR director to oversee employment needs, including training and continuing education. CNOs must take a hands-on approach to ensure everything runs smoothly, inventories stay stocked, and nurses continue to develop.
What it Takes to Get There
Chief nursing officers must possess a master's degree at minimum alongside state licensure. They should also have extensive experience working as a nurse practitioner, nurse leader, nurse educator, or in another APRN position. Some employers may also ask candidates to seek out additional industry certifications, depending on the role.
Skills Needed to Excel
To succeed in this role, you must possess a clear ability to multitask, a developed toolbox of both administrative and clinical skills, and a drive to continually improve. The most effective nursing directors also have a full and up-to-date knowledge of industry, state, and national laws related to the provision of nursing care.
How Much Can You Earn
Potential Annual Earnings
50th Percentile (Median)
$128,000
Head Nurse
Working in this role allows you to act as the lead nurse during your shift. In addition to overseeing other nurses working at the same time, you are also charged with managing patient care and making sure everything runs smoothly. Other nurses will come to you with questions or issues and look to you for answers and advice. When outside of your purview, you go to the director of nursing to seek help. Other responsibilities include speaking with patients and their families about treatment plans, assigning nurse rotations, and handling staffing issues as needed.
What it Takes to Get There
Most head nurses hold at minimum a bachelor's degree in nursing, although some larger roles may require a candidate with a master's degree and clinical experience in the unit they will oversee. They may also need to complete specific certifications and/or continuing education programming.
Skills Needed to Excel
Head nurses must know how to manage others, provide support and guidance, and oversee a diverse group of nursing staff. They should also be highly organized, able to delegate, and excellent at written and oral communication. Lastly, they must know how to make decisions with efficiency and confidence.
How Much Can You Earn
Potential Annual Earnings
50th Percentile (Median)
$69,000
Healthcare Actuary
These professionals most commonly work for health insurance companies to help them understand risks and figure out how to price premiums for a variety of customers. They usually spend their days looking at health cost data, both from the past and present, as a way of understanding cost trends and providing leadership to insurance companies on how to set their prices. They may also game out potential issues or concerns and advise insurance executives on how to face the financial challenges present within the healthcare industry.
What it Takes to Get There
The minimum education requirement for actuaries is a bachelor's degree in actuarial science or a multidiscipline approach that combines business studies, economics, statistics, data analysis, mathematics, and computer science. Some employers may look for candidates who hold certification or recognition. The Society of Actuaries provides the Fellow of the Society of Actuaries designation.
Skills Needed to Excel
Healthcare actuaries must possess advanced knowledge of statistics, probability, and mathematics and know how to translate those topics into actionable advice for healthcare insurance executives. They must also know how to lead others in assessing risk and creating premiums.
How Much Can You Earn
Potential Annual Earnings
50th Percentile (Median)
$91,000
Healthcare Administrator
Healthcare administrators spend their days overseeing the day-to-day operations of individual departments and areas of a healthcare facility or organization. Some common responsibilities include developing and managing budgets, working with the HR department to locate and hire qualified staff members, creating and implementing ongoing training programs, and meeting departmental goals and benchmarks. Some administrators may also be in charge of creating weekly work schedules, representing their department at board meetings, looking for ways to improve delivery of care outcomes, and attending regular meetings with other departmental administrators to set new goals.
What it Takes to Get There
Most jobs require a minimum of a bachelor's degree, but some larger employers may seek candidates with graduate-level qualifications in healthcare administration or a related topic. If working as a nursing home administrator, prepare to seek licensure. You can learn more about healthcare administration degrees online.
Skills Needed to Excel
Healthcare administrators should be natural leaders and delegators who know how to identify talent and bring the best out of those they manage. They must also be able to communicate effectively and possess above-average interpersonal skills. Knowledge of business functions is also important.
How Much Can You Earn
Potential Annual Earnings
50th Percentile (Median)
$63,000
Healthcare Manager
While healthcare administrators most commonly focus on the daily operations of a single department or area, healthcare managers typically spend their days addressing big-picture work for an entire facility or organization. Common responsibilities can include ensuring the facility complies with all state and federal regulatory requirements, overseeing staff operations, including training initiatives, and setting overall annual budgets. They may also speak before the board of directors or governors and confer with other senior-level healthcare colleagues on ongoing and future initiatives within their organization.
What it Takes to Get There
Healthcare manager roles require a bachelor's degree at the least but don't be surprised if you come across jobs requesting a master's degree. Healthcare management programs emphasize business and management studies alongside some healthcare topics. Those working in a nursing home must possess licensure. Learn more about healthcare management degree options online.
Skills Needed to Excel
To succeed in this job, you must possess an analytical mind that can zoom out on daily responsibilities to set goals and targets for the future. You must possess the skills needed to anticipate shifts and changes in the industry and the interpersonal skills needed to communicate these effectively to both colleagues and stakeholders in your organization and beyond.
How Much Can You Earn
Potential Annual Earnings
50th Percentile (Median)
$100,980
Hospital Chief Executive Officer (CEO)
Hospital CEOs control the levers of power within their facilities, making important decisions and creating a plan for the overall direction of the business. Working alongside other C-Level executives, the CEO ensures the best level of care is provided to patients and their families, cultivates a positive staff and patient culture, and develops relationships with outside organizations that can help bring in new talent and expand the reach of the organization. Some CEOs also oversee procedures and policies related to clinical care and ensure all state, federal, and industry-specific guidelines are followed.
What it Takes to Get There
The vast majority of healthcare CEO positions require a master's degree in health administration, hospital management, business administration, or a related degree alongside extensive managerial and leadership experience in a healthcare setting. They may also be required to possess several specific certifications. Some hospital CEOs may start their advanced education with an MBA in healthcare management.
Skills Needed to Excel
Hospital CEOs must be able to multitask, delegate, and know how to keep things moving across their desk efficiently to be an effective leader. They should also possess advanced skills in connecting with others, providing strong management, and offering an example of professional expectations. If fundraising plays a role in their job, they should also be good at connecting with the community and bringing in donors.
How Much Can You Earn
Potential Annual Earnings
50th Percentile (Median)
$154,000
Hospital Chief Financial Officer
Hospital CFOs hold responsibility for all financial systems and operations within the hospital, making them a critical part of the management team. Creating the overall annual budget, approving individual department budgets, and keeping all financial systems functioning properly represents only a small portion of the work they do. Other tasks include managing other staff working in finance, keeping up with all regulatory requirements around accounting and transparency, and participating in any and all internal and/or external audit requests as needed. They frequently confer with other C-Level executives on the overall function and direction of the facility.
What it Takes to Get There
Some positions may hire an experienced professional with a bachelor's degree in accounting or finance, but many employers now seek graduates of master's in hospital/health administration or a related subject. They should also possess at least five years of financial management experience.
Skills Needed to Excel
Hospital CFOs need advanced skills in accounting and fiscal management alongside the written and oral communication talents to translate complex financial principles to those outside their department. They must also stay up to date on all tax and financial reporting rules at the local, state, and federal levels.
How Much Can You Earn
Potential Annual Earnings
50th Percentile (Median)
$134,000
Patient Care Director
Directors of patient care services develop and maintain an environment for patients and their families that emphasizes best practices, cutting-edge research, and well-trained care providers. Straddling the line between clinical care and business functions, patient care directors must take prime responsibility for clinical functions while also creating strategies that help bring in new clients and improve earnings. They work closely with directors of nursing to ensure nursing staff follow the policies and procedures for providing top-tier patient care. Rather than sitting in an office all day, these professionals can often be found moving from department to department, ensuring that protocols are followed, and everything runs smoothly.
What it Takes to Get There
Most patient care directors possess either a bachelor's or master's degree in nursing, health care administration, business, or a similar topic. Many also pursue a healthcare management certification. They should also have extensive experience working in patient care alongside a resume that demonstrates an understanding of administrative functions.
Skills Needed to Excel
Skills required in this role include the ability to multitask, an appreciation for both clinical and administrative functions, and advanced communication to help support a diverse array of patient care staff. Because they serve in a managerial position, patient care directors must also be able to confidently make decisions in an efficient manner.
How Much Can You Earn
Potential Annual Earnings
50th Percentile (Median)
$112,000
Health Information Management Director
Functioning more on the technical side of things, health information management directors concern themselves with topics such as medical records and coding. With their purview typically expanding across several departments, these directors may manage a large number of medical coding and billing professionals. This includes hiring professionals to fill the roles and ensuring they receive the required ongoing training to do their jobs effectively. Other responsibilities may include researching and implementing new coding systems, ensuring network security for patient records, and working with each department to make sure all laws and compliance regulations are closely followed.
What it Takes to Get There
Health information management directors should have at least a bachelor's degree in medical coding, health informatics, or a related field. Many hiring managers also look for candidates who spent at least 3-5 years working as a medical coder or records professional. Ongoing training may be necessary alongside health informatics certification or a degree in health information management online or in-person.
Skills Needed to Excel
Finely-honed attention to detail goes a long way in this role, which relies heavily on ensuring proper information is recorded and sent out to patients. Directors should also do well managing a large number of supervisees and feel confident delegating responsibilities to mid-level managers in each department in their purview.
How Much Can You Earn
Potential Annual Earnings
50th Percentile (Median)
$72,000
Nursing Home Administrator
Nursing home administrators spend their days ensuring that residents in their charge receive the best care possible. In addition to overseeing and coordinating the work of individual departments, they also have a say in staff hiring and ongoing training programs, financial management and budget development, and regulatory compliance around patient care and delivery. Administrators are expected to understand and follow local, state, and federal laws around nursing home facilities and ensure their staff do the same. They must also present to their board of directors on facility management and ongoing initiatives.
What it Takes to Get There
These professionals usually have either a bachelor's or master's degree in healthcare administration or a master's in nursing administration. They should also possess at least a couple years of experience in working at a nursing home. All nursing home administrators must hold and maintain licensure in their state.
Skills Needed to Excel
Nursing home administrators should enjoy working with a variety of personalities and understand that part of their job is to build relationships with residents and their families. They should also be able to engage in creative problem-solving, demonstrate a commitment to continuing education for themselves and their staff, and a willingness to adjust based on best practices and emerging research.
How Much Can You Earn
Potential Annual Earnings
50th Percentile (Median)
$91,000
Meet the Expert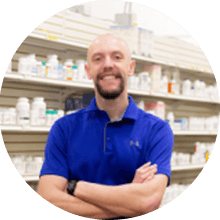 Aaron Gilbert is the Pharmacy Manager at Healthwarehouse.com, an online mail-order pharmacy located in Florence, KY. He received his Doctor of Pharmacy degree from the University of Cincinnati College of Pharmacy in 2004, completing his undergraduate work at Northern Kentucky University.
Aaron has also managed pharmacies for Kroger and CVS in the past, receiving the Outcomes Platform Most Outstanding Quality MTM Services in KY in 2013 at Kroger Pharmacy in Walton, KY. Aaron also serves as the Vice-President of Discipleship House in Independence, a non-profit organization supporting local high school and college students.
1) What is the most rewarding part of working as a healthcare leader?
By far the most rewarding part of leading in healthcare is seeing those whom you mentor succeed in their own careers. Very often, as a healthcare provider, you have the opportunity to interact with or supervise students who are making career decisions. It is exciting to walk with them as they succeed. Personally, having achieved my professional goals, helping someone else do so is extremely rewarding.
2) What are some things you didn't know about the responsibilities you would undertake?
Managing an online pharmacy with its hands in so many various projects and partnerships pulls me in many different directions. Each partnership secured by our business development brings a new set of exciting challenges that are always unique.
Figuring out how to implement each different scenario into our workflow, deciding which employees possess the skill sets to succeed, and ensuring that all patients get what they need in a timely manner is difficult, but exhilarating.
3) What advice would you give to students/professionals considering becoming a leader or manager in healthcare?
Leading in healthcare requires excellent people skills. Most healthcare settings also need individuals who simply possess a lot of knowledge or are extremely efficient, but those called upon to manage must have very strong communication skills.
They must be able to relate to both patient situations as well as corporate and employee needs. The patient needs to feel that their struggle is important. They need to see compassion on the face of their healthcare leader. At the same time, the "game face" must be put on when it comes time to deal with business matters. In the blink of an eye, one must be able to switch those hats on and off.
4) How do you see these roles evolving in the next few years?
Healthcare in the U.S. is always evolving. On the other side of a global pandemic, I would expect that telehealth will continue to grow. Patients will grow accustomed to e-visits and demand more flexibility from providers.
In turn, many provider environments may change as foot traffic decreases. Leading in healthcare will then become a more delicate balancing act: through personal and professional skills, the medical provider will need to bridge the gap created by more physical distance (as employees are either scattered or work from home).
Resources