Written By


last updated

01/19/2022
2022's Best Online Master's in Human Services Degree Programs
As the number of human services master's degree programs offered online rises, researching the program that best matches your needs is critical. Not all degrees are created equally, but EduMed is here to help. Our data experts and statisticians researched and vetted the top online master's degrees in human services from schools across the U.S. to help you find a program with the accreditation employers seek and the affordable cost you need. Read on to learn about common courses, available specializations, degree costs, average salaries, related programs, and helpful resources.
Regent University

The online master's in human services at Regent University is offered via the School of Psychology and Counseling and does not lead to licensure. Students seeking a private Christian education often select Regent, especially if flexible, online learning is an important component in their decision-making process. Degree seekers participate in both asynchronous and synchronous courses that combine group projects, lectures, one-to-one professor assistance, and chat room discussions.
Courses last eight weeks each to help you graduate more quickly. Concentrations currently available include addictions counseling, biblical counseling, Christian counseling, conflict and mediation ministry, criminal justice and ministry, grief counseling, human services counseling, human services for student affairs, life coaching, marriage and family ministry, and trauma and crisis counseling. Regardless of the concentration chosen, all programs require 30 credits in total.
Because many Regent students work while enrolled, the department offers eight different start dates throughout the academic year. Applicants should possess a regionally accredited bachelor's degree with a GPA of 3.0 or higher. Materials required with the application include college transcripts, a completed academic background questionnaire, an updated resume, and a copy of government-issued identification.
Saint Leo University

Operating as a private Roman Catholic liberal arts institution in Florida, Saint Leo University offers its human services master's degree programs online to support students who need the flexibility of distance education. Plan to take one or two classes per eight-week session. Enrolling full-time means you complete 12 classes (36 credits) each year; it takes two years to cover the same material on a part-time basis.
Some of the classes taught for SLU's M.S. in Human Services Administration include Advocacy and Policy Analyses, Funding Sources for Human Services Organizations, Legal and Ethical Issues in Human Services, and Grantsmanship. Learners can also select two electives, including options for a field placement. To qualify for graduation, students must complete 36 credits.
Applicants should possess a bachelor's degree and submit a professional goal statement, letters of recommendation, and a qualifying GPA. Alumni currently work in areas of nonprofit management, mental health, child welfare, and healthcare. Distance learners gain access to supportive services such as academic advising, library resources, mentorship, tech assistance, and disability aids.
University of Northwestern St. Paul

The University of Northwestern St. Paul in Minnesota offers an online master's in human services for students seeking a meaningful degree that can be finished quickly. The program currently comprises 36 credits and takes as few as 18 months to complete by full-time learners. UNSP students enjoy a 14:1 class size ratio, ensuring ample access to professors if and when you have questions about the material being covered.
This M.A. in Human Services is taught fully online, meaning you never need to visit campus if you so choose. Courses covered include Multicultural and Diversity Issues in Human Services, Marriage and Family Dynamics, Theories of Human Development, and Interviewing and Assessment Skills. In addition to general studies, you can also choose to complete a specialization in family studies.
Rather than requiring an internship and/or thesis, UNSP students assemble a capstone project. The institution teaches all classes through a Christian lens, providing an excellent option for individuals who want to highlight their faith within their professional lives. Professors leading courses at the brick-and-mortar campus also provide lectures to online students, ensuring these learners receive the same education as their peers.
Accreditation & Online Master's in Human Services Programs
Before deciding to attend any school offering an online master's in human services, research the accreditation status of both the university and the program. When looking at institutions generally, find a college that holds regional or national accreditation from an organization recognized by the Department of Education.
While institutional accreditation ensures the school as a whole meets student needs, programmatic accreditation makes sure the degree itself adequately prepares graduates for jobs in their chosen field. In the world of human services, the Council for Standards in Human Service Education (CSHSE) is the name to know. Unlike other disciplines, subject-specific accreditation isn't absolutely required at this time, but it does demonstrate to employers that the curriculum you pursued aligned itself to industry best practices.
If unsure whether an institution you're considering holds institutional and/or regional accreditation, you can search for it through the Database of Postsecondary Institutions and Programs.
Inside Online Master's Degrees in Human Services
Earning a master's in human services online involves pledging time, money, and focus, so it's important to know a program fully before applying. Taking time to understand what the curriculum entails, how courses are taught, and which jobs alumni hold can help you make an informed decision. Here are a few questions to consider: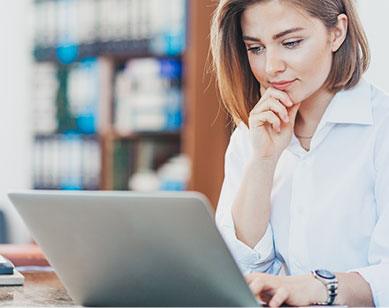 What's the Difference Between an M.A. or M.S. in Human Services?
Schools often offer either a Master of Arts or a Master of Science in Human Services. Differences may seem inconsequential upon first glance, but can really matter in terms of career paths. While the M.A. option typically appeals to students who want to move directly into a professional role upon graduation, the M.S. opens more doors around doctoral studies.
The M.A. also emphasizes more liberal arts-based courses, while the M.S. focuses on developing scientific skills and knowledge that prepare graduates for research positions. When looking at graduation requirements, differences can be found. The M.A. usually requires either a fieldwork placement or a capstone project, while M.S. programs are more likely to mandate the research and writing of a thesis.
Are There Specializations Offered in Human Services Master's Degrees?
Given that human services cover a wide range of topics and social groups, pursuing a specialization can help you concentrate your knowledge and employability in a particular area of the field. We highlighted a few popular options below, but check with individual programs to learn what's offered at each.
Child and Family Studies
This specialization is designed to help prepare graduates interested in providing counseling and mediation services to families. Students with this concentration typically take courses such as addressing child abuse, substance abuse counseling, family dynamics, and managing intervention services.
Gerontology
Gerontology specifically focuses on helping elderly individuals. Courses cover topics such as aging, death and dying, and health services across the lifespan. Students are also taught how to develop human services programming that serves this population specifically. Graduates may work in nonprofits, government agencies, nursing homes, or long-term care facilities focused on serving aging populations.
Leadership Administration
This concentration appeals to individuals looking to take on managerial positions in nonprofits, community service agencies, and other human services organizations. Subject matter typically covers leadership theories, conflict resolution, staff management, and tools for mobilizing and energizing staff.
Non-Profit Management
This wide-ranging specialization appeals to students who know they want to work in organizations focused on giving back to individuals and communities. Whether you aspire to work at the Red Cross, Habitat for Humanity, Planned Parenthood, or a local charity, this specialization instills necessary skills.
Grief & Trauma Counseling
Working with clients experiencing intense grief and trauma is not for everyone, but those who feel drawn to this type of work can make a substantial difference in the lives of those feeling overwhelmed by loss. Courses emphasize counseling techniques, cycles of grief, working through trauma, and creating a holistic plan of care.
Global Social Services
Individuals interested in working with multinational organizations often pursue this specialization as it provides them the cultural knowledge needed to understand how to best serve those living outside the U.S. Special topics include international nongovernmental agencies, multiculturalism, customs, and models of service.
Legal Systems
Whether you want to work in criminal justice, victim or perpetrator rehabilitation, or human services forensics, this specialization provides you with knowledge of how to work inside and outside legal systems to seek justice for those whom you serve.
What Are Common Admissions Requirements for Human Services Master's Programs?
All schools require applicants to possess a bachelor's degree from an accredited institution and most set minimum GPA requirements. More competitive schools often request GRE scores to help differentiate applicants. Other common components include a completed application, application fee, official transcripts from any schools attended, letters of recommendation, an updated resume, and a statement of purpose. Some departments may mandate a certain amount of existing experience, while others may require applicants to participate in an interview.
What Do You Learn in an Online Master's Degree Program in Human Services?
Before spending a year or more working toward an online master's in human services, you want to be clear on the knowledge and competencies you'll walk away with after graduation. Even though every program is different, many offer similar core subjects. Check out a few topics you can expect to encounter:
Foundations of Human Services
Typically taken in the first semester, this core course introduces learners to the history of human services and how it has evolved over time. Topics covered include theoretical frameworks, human services professional duties, emerging issues, and ethics.
Course titles to look for: Foundations of Human Services and Human Services Foundations and Systems
Grant Writing
Many human services professionals work in nonprofit settings, and acquiring the funding needed to carry out organizational missions is often a continuing concern. This course provides students with the skills needed to research, structure, and apply for a variety of grants.
Course titles to look for: Grantsmanship
Human Services Administration
Learners in this class tackle some of the day-to-day issues involved in running a human services organization, with emphasis on stakeholder communications, employee recruitment and management, financial health, marketing and development, and policy development and advocacy efforts.
Course titles to look for: Funding Sources for Human Services Organizations and Human Services Administration
Human Services Case Management
Designed for individuals looking to work one-to-one with clients in counseling or social support roles, this class emphasizes the development of skills in interviews and assessments, client case management, resource development, and communications.
Course titles to look for: Interviewing and Assessment Skills as well as Helping Skills and Techniques
Human Services Research Skills
A popular option for learners who want to work in positions focused on research and/or academia, this class builds skills in areas of research study design, theoretical and methodological frameworks, raw data evaluation, and evidence-based practice development.
Course titles to look for: Research Methods and Human Services
---
Aside from developing a new set of knowledge, students who gain a master's in human services online also build tangible skills that serve in a variety of professional roles. Different programs emphasize different skill development, but some of the more common ones you can expect to gain are as follows:
Emotional intelligence
Multitasking
Oral and written communication
Boundary management
Leadership
How Long Will It Take to Earn a Master's Degree in Human Services Online?
Several factors influence the amount of time you'll spend enrolled in a master's in human services online program. Full-time learners spend, on average, two years working toward their diploma. Part-time students usually need three years to meet all degree requirements.
Some accelerated programs allow you to graduate within 12-18 months by providing truncated courses and offering classes on a 12-month rotation rather than a standard academic year. While tuition does not cost any more or less depending on how quickly you graduate, part-time learners typically pay more in semester-based fees due to staying enrolled for a longer amount of time.
How Much Do Online Human Services Master's Degrees Cost?
The cost of online human services master's degree programs varies significantly based on factors such as whether you attend a public or private institution, whether you qualify for in-state tuition, and if the school offers discounted rates for online-only students.
As distance learning continues to expand, some schools allow distance learners to pay online tuition regardless of where they live. Others maintain compact agreements that allow students living in nearby states to take advantage of lower tuition. If cost is a significant factor in your decision-making process, speak with an admissions coordinator about how to lower the price tag. For the cost of a specific online master's in human services, find a school in the ranking above and visit its tuition and fees page.

M.S. in Human Services
---
Total Credits: 45
$420/credit

M.S. in Human and Social Services
---
Total Credits: 48 quarter credits
$495/credit

M.A. in Human Services
---
Total Credits: 36
$780/credit
How to Pay for Your Online Master's Program in Human Services
The cost of higher education rises each year, making it important for students with limited means to line up funding before starting a master's in human services online. Though tuition rates can be high, many options exist to help lessen your financial burden. Here are some of the best:
2
Fellowships
Some schools allow students to take on teaching and/or research fellowships in exchange for tuition remission and a small stipend. These awards tend to be highly competitive and favor students with impressive academic records from their undergraduate degrees.
3
Employer tuition reimbursement
Individuals already working in the human services field can apply for tuition reimbursement from their employer. This allows them to receive up to $5,250 per year in non-taxable income that goes toward educational costs. Many employers require recipients to remain at the company for a set number of years after graduating.
What's Next? Your Career After Completing a Master's in Human Services
Before jumping into one of the many online human services master's degree programs, you need a clear sense of the industry you will enter after graduation and whether jobs are projected to grow or decrease in the coming years. It's also important to understand the types of jobs you qualify for and if additional steps must be taken.
Do You Need Additional Licensure or Certification in Human Services?
Given the nature of human services, some jobs in the field require practitioners to hold licensure in order to qualify. Positions for marriage and family therapists, substance abuse counselors, and professional counselors often require licensure, with individual states setting unique requirements around each.
Other positions, such as human services manager or community service manager, may not require certification, but taking this extra step can help candidates stand out from other competitors. If unsure whether a job requires a license or certificate, check with prospective employers and local boards of licensure.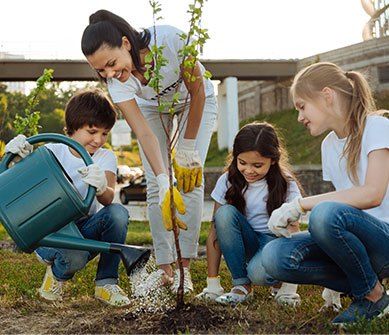 What Can You Do with a Master's in Human Services?
Those who graduate with a master's in human services qualify for more advanced positions in the professional field. Some individuals may want to harness their administrative and leadership skills, while others may feel drawn to positions focused on counseling and community support. Your chosen specialization can help better hone the skills required for your chosen area. Master's studies also open doors to a Ph.D., a required step for advanced research and/or teaching roles. Check out the chart below to get an idea of available careers after completing a master's degree.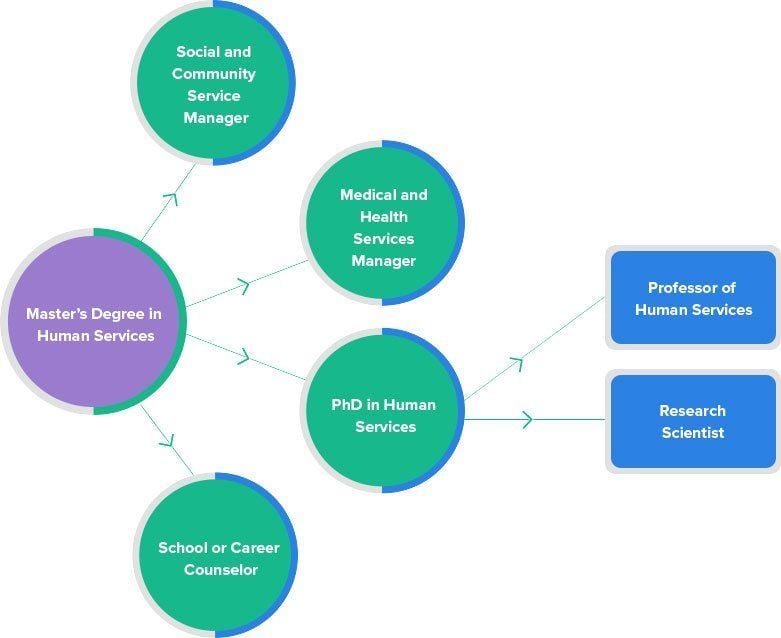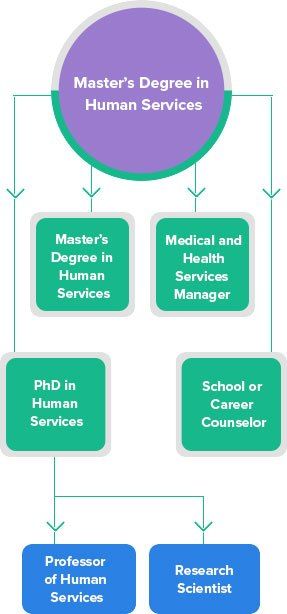 How Much Can You Earn with an Online Master's in Human Services?
Many people pursue a master's in human services online degree because it fits within their professional goals of serving others, but to serve others adequately, you must make a salary that works with your financial needs. Learn more about the earnings potential for online human services master's graduates in the career chart below. Education level and experience will often impact earning potential.
| Career | 2018 National Median Annual Salary | 10th Percentile | 90th Percentile |
| --- | --- | --- | --- |
| Social and Community Service Manager | $65,320 | $40,720 | $111,150 |
| Substance Abuse and Behavioral Disorder Counselors | $44,630 | $28,210 | $72,990 |
| Medical and Health Services Manager | $99,730 | $58,680 | $182,600 |
| School and Career Counselor | $56,310 | $33,610 | $94,690 |
Related Degrees & Continuing Education
Completing a master's in human services online is no small feat, and with its relationship to the healthcare field, it is a versatile degree. However, several related program paths also exist if you're looking to expand on your education or simply change careers. If you find you want something different, consider some of the degrees highlighted here. Healthcare provides plenty of opportunities to advance through continuing education or transition to a similar career via a second degree. Take a look at a few of the options that may be a good fit if you're studying or working in human services.

Related Degrees
Online Master's in Public Health (MPH)
The MPH is a great fit if you want to address systemic health issues affecting populations and communities. This degree traces the history of outbreaks before providing actionable and concrete knowledge and skills around improved public health. Graduates of this degree often go on to hold positions as an epidemiologist, healthcare administrator, or policy advisor.
Online Master's in Health Science
While health services programs focus more on developing administrative and leadership skills to be used in business functions, the master's in health science spotlights studies in more medically focused topics, such as epidemiology, health and nutrition, anatomy, and pharmacology. Graduates typically enter the field as community health organizers or audiologists or continue on to complete pharmacy school.

Continuing Education
Online Ph.D. in Human Services
If your eventual goal is to work at a research facility and/or university, a Ph.D. in Human Services may be in your future. This degree, which can take five to seven years, builds the advanced skills required for top-tier roles. Aside from coursework, learners complete a dissertation on an approved topic.