Best Accredited Online ABA Master's Programs for BCBA Certification
Pursuing a master's in applied behavior analysis online can be an exciting next step in attaining your future career goals. Before diving headfirst into your program, however, it's important to do your research and feel confident in your decision about which school to attend. We researched and vetted the top online applied behavior analysis (ABA) master's programs in the U.S. to ensure you find a university that meets your needs. Each of the schools highlighted below effectively prepares graduates to sit for the Board Certified Behavior Analyst (BCBA) examination.
University programs on this list meet the following standards:
Holds programmatic accreditation or Verified Course Sequence (VCS) approval (Fifth Edition) from the Association for Behavior Analysis International (ABAI). Provides eligibility to take Board Certified Behavior Analyst (BCBA) certification exam.
Has a BCBA exam pass rate of 75% or higher for first-time candidates in 2018 who completed VCS sequence.
Holds institutional accreditation from an accrediting body recognized by the U.S. Department of Education
St. Cloud State University

St. Cloud State University in Minnesota provides an online M.S. in Applied Behavior Analysis that maintains a 100% pass rate for the Board Certified Behavior Analyst (BCBA) certification exam. It is also one of only 21 graduate degrees accredited through the Association for the Behavior Analysis International and the only online ABA-accredited program.
The degree consists of 45-46 credits, with studies in advanced applied behavior analysis, behavioral foundations of autism treatment, and behavioral applications. Students can choose whether they write a thesis or sit for a comprehensive examination. Those considering doctoral studies typically choose the former, while students who want to enter the workforce immediately choose the latter.
The department offers three start dates and flexible learning schedules to make it easy for working professionals to graduate in a timely manner. Students who qualify for a graduate assistantship receive partial tuition reimbursement and a stipend of up to $9,250 per year.
Why Accreditation Matters for Online ABA Master's Programs
Finding an accredited online ABA master's program is of critical importance as it can dictate whether you're able to transfer credits to a different school, apply for BCBA certification, and compete against other job candidates for roles. Within the world of applied behavior analysis accreditation, the Association for Behavior Analysis International (ABAI) is the name to know.
ABAI uses two methods to approve programs, including direct program accreditation and verified course sequences (VCS). Both methods provide paths to take the BCBA exam and receive certification, but key differences exist. The direct accreditation path is the most traditional option and provides a rigorous review of the program as a whole. The VCS option looks solely at the curriculum. If selecting a VCS school, it's important to make sure it also maintains regional institutional accreditation.
If you aren't interested in becoming a BCBA, institutional accreditation may be sufficient. To check the programmatic accreditation of a school, be sure to review the ABAI website. If you're looking for details on institutional accreditation, review the U.S. Department of Education's Database of Accredited Postsecondary Institutions and Programs.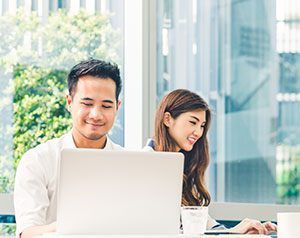 FAQs About Getting Your Master's in Applied Behavior Analysis Online
When researching prospective online master's in applied behavior analysis programs, it's important to consider a few critical factors that can affect your overall experience. These variables can differ by student, but they typically include plan of study, cost of attendance, career prospects, and rates of graduation. Here are key questions you need to answer first.
What do you learn in an online master's ABA program?
Online applied behavior analysis master's degrees provide knowledge and skills that translate to multiple career paths. Plans of study emphasize the importance of open communication, empathy, perception, awareness, and interpersonal dynamics. Regardless of whether you want to support children with autism or conduct market research studies, these skills will come in handy.
When looking at prospective programs, pay close attention to the type of degree offered. While M.Ed. degrees focus on education-based roles, M.A. programs focus on the development of skills used in professional roles. The M.S., conversely, is routinely pursued by those who want to conduct ABA research and/or eventually teach the subject. Though these degree programs differ in their outcomes, a list of common courses are provided below.
Common Courses
Principles of Applied Behavior Analysis
Usually taken in the first semester, this overview course lays the groundwork for advanced studies. Online students will build their vocabulary while developing an understanding of how ABA principles can be applied to a variety of cases.
Foundations of Applied Behavioral Analysis
Behavioral Analytic Assessments
Applied Behavioral Analysis Ethics
Research and Design Methods
How long does it take to get a master's in ABA online?
The time spent working toward an online master's in applied behavior analysis can vary based on several factors. Full-time learners usually need two years of study to graduate, while those enrolled on a part-time basis may need three or four years. If you're hoping to complete your degree before the typical two years, some universities offer accelerated programs that make it possible to graduate in as few as 18 months. In addition, students may be able to transfer existing graduate-level credits that cut down their time in school. If time spent enrolled is a big factor for you, be sure to speak to a program administrator to learn more about your specific situation.
How much does an online ABA master's degree cost?
The cost of an online master's in applied behavior analysis depends wholly on several important factors. The type of school can have the biggest impact, as public universities receiving governmental funding typically cost less than private institutions—especially if you qualify for in-state tuition. Other influences include how long it takes you to complete the degree and how much funding you manage to secure. To give you a better idea of what to expect for tuition, we provided costs for three different programs below.

---
Master's in Applied
Behavior Analysis
Total Credits: 30
$378/credit (in-state);
$1,037/credit (out-of-state)

---
M.Ed./M.S. in Special Education with a Concentration in Applied Behavior Analysis
Total Credits: 36
$974/credit (in-state);
$1,475/credit (out-of-state)

---
M.S. in Applied
Behavior Analysis
Total Credits: 45
$977/credit
Where to Get Help Paying for Your Online ABA Master's Degree
The price of higher education continues to rise each year, creating a need for cost-conscious students to find ways of lessening their financial burden. While it may require some legwork to find funding, taking advantage of scholarships, fellowships, and other awards can help you avoid substantial debt. A few options to consider include the following:
Scholarships
Scholarships are a popular funding option given they do not require repayment, so long as you meet the terms of the award. Colleges, professional associations, nonprofits, private foundations, and organizations typically offer this type of funding for students who qualify. You can learn more by visiting our scholarship page.
Career Options and BCBA Certification After Your ABA Master's
Before diving into any online master's in applied behavior analysis, you need to fully understand whether the industry is slated to grow, decline, or stagnate. You also need to ensure it qualifies you to take on the types of roles that offer a livable salary for yourself and any dependents. We take a deeper dive into average wages and common careers in the following sections.
What can you do with a master's in applied behavior analysis?
Completing an online ABA master's qualifies you for numerous roles focused on helping others live their best lives. The most common path is to become a Board Certified Behavior Analyst and work with individuals who have been diagnosed with autism or other behavioral/developmental disabilities. BCBAs spend their days assessing current behavioral needs, instilling new behaviors, and working with the overall goal of helping clients live healthier, more independent lives. Specific responsibilities include setting treatment objectives, using evidence-based therapies, creating progress reports, and updating objectives to reflect current client needs.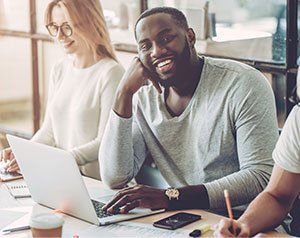 While many graduates choose to work with individuals diagnosed with autism or other behavioral disorders, skills learned in this degree also translate to other positions. One benefit of this career path is that ABA grads have the luxury of finding jobs that cater specifically to children, elderly, individuals, or group settings. Regardless of your interests, the most important thing is to take your time to find a job that speaks to your long-term interests. The chart below highlights a few roles to consider with this degree.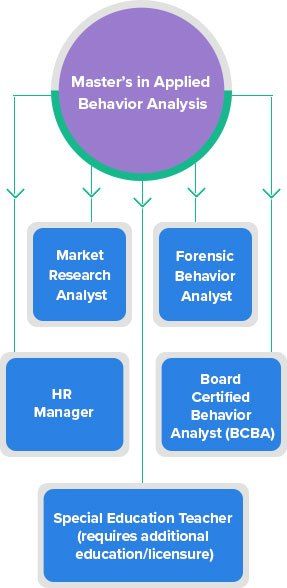 How much can you earn with a master's in ABA?
As demonstrated in the following table, graduates of applied behavior analysis master's degrees can earn substantial salaries. When looking at these numbers, however, remember that several variables can affect the bottom line. The most impactful of these include where you live, the industry in which you work, the level of education you possess, how much experience you've gained, and whether or not you maintain certification.
| Career | Median Salary | Lowest 10% | Highest 10% |
| --- | --- | --- | --- |
| Board Certified Behavior Analysts* | $59,711 | $43,000 | $76,000 |
| Behavioral Disorder Counselors ** | $44,630 | $28,410 | $72,990 |
| Special Education Teachers ** | $59,780 | $39,680 | $97,070 |
* Payscale.com as of Nov 29, 2019; Based on 2,055 individuals reporting
** BLS.gov as of May 2018; behavioral disorder counselor data reflects earnings for substance abuse, behavioral disorder, and mental health counselors
How do I get my Board Certified Behavior Analyst (BCBA) certification?
The Board Certified Behavior Analyst certification is provided by the Behavior Analyst Certification Board. When applying for this credential, you can choose from four different paths to qualify, including completion of coursework, faculty teaching/research, postdoctoral experience, or qualification via past certification. Eligibility requirements and pathway options are changing slightly for candidates who apply after January 1, 2022.
The process for receiving certification consists of these elements:
Meeting eligibility requirements, including graduating with an approved graduate degree and completing supervised experience for most candidates.
Completing an application.
Submitting supplementary documents.
Waiting for a determination email.
Passing the BCBA examination, which consists of 160 multiple-choice questions and takes four hours to complete.
Are there any other professional certifications I should consider?
While not required, some behavior analysts opt to pursue a Certified Autism Specialist qualification to help stand out during the job hunt. Offered via the International Board of Credentialing and Continuing Education Standards, this certification requires a master's degree, two years of experience, 14 continuing education hours, and passage of an exam.
Continuing Education & Related Degrees
After reviewing this page, you may decide you want to pursue education beyond a master's in applied behavior analysis by enrolling in a doctoral program or that you want to add another graduate-level degree to your list of accomplishments. Check out the next two sections to gain additional details on both.

Continuing Education
Online PhD in Applied Behavior Analysis
Individuals who pursue a Ph.D. in Applied Behavior Analysis typically want to work in an academic and/or research setting. These programs prepare you for such roles by building skills in research and writing alongside a deepened and nuanced understanding of the discipline. The ABAI offers credentials at this level in the form of the BCBA-D certification.
Online Doctorate in Occupational Therapy
While behavior analysts work to improve everyday behaviors of their clients, occupational therapists work to improve an individual's ability to perform everyday activities. An online OT doctorate can build upon existing knowledge in behavioral analysis to create a well-rounded practitioner.

Related Degrees Programs
Graduate Certificate in Applied Behavior Analysis
These programs typically appeal to students who already hold a master's degree in a related subject but want to build specific knowledge and skills around applied behavior analysis. They usually require approximately 18 credits and take 9-12 months to complete.
Master's in Occupational Therapy
A master's in occupational therapy is a great fit if you want to help clients better carry out activities that became difficult due to illness or injury. This degree offers a wide-ranging curriculum and usually takes two to three years to complete.